Two Key Areas That Man United Must Improve Upon to Challenge for the Title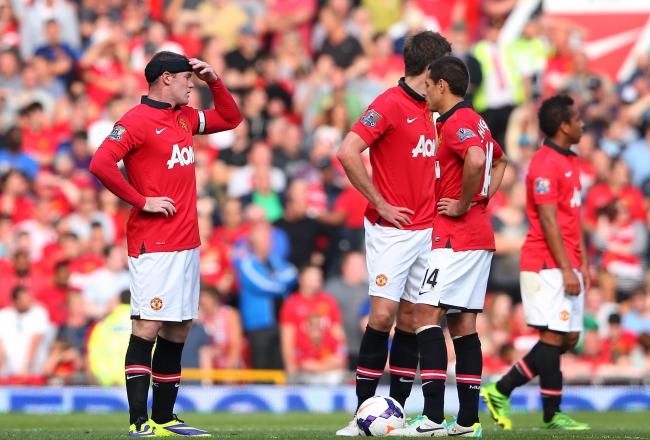 Alex Livesey/Getty Images
Manchester United fans are currently experiencing one of the most unnerving patches of the clubs illustrious history.
Things were always going to be tough after Sir Alex Ferguson stepped down as United boss, and with the demonic run that the Red Devils faced in their opening five games of the EPL season, their woes were only worsened.
Unsurprisingly, United struggled to pick up many victories in these matches, amounting a somewhat pitiful seven points after a milestone of games.
Perhaps what was most concerning for fans of the champions however, was the performances in some of these games.
Against Liverpool, Chelsea and, in particular, Manchester City, David Moyes' men looked shoddy at the best of times. They were unable to penetrate their opponents' defence, and defensively themselves they were incapable of dealing with what was thrown at them.
This handful of horrific matches came to an end this Saturday, with United facing an "easy" tie at home to West Bromwich Albion.
Of course no game in the Barclays Premier League is ever really easy—but most stalwart followers of the league would have bet their house on Wayne Rooney and co. picking up all three points against a far from elite Baggies side.
Somehow, the team from the Midlands managed to cause what is probably the biggest upset of the season so far, by overcoming the title holders 2-1 at Old Trafford.
This game against a mediocre team emphasised the two key weaknesses that have plagued United continuously so far this season, and—perhaps more abruptly—must be improved upon if they want to continue to compete with their nearest rivals.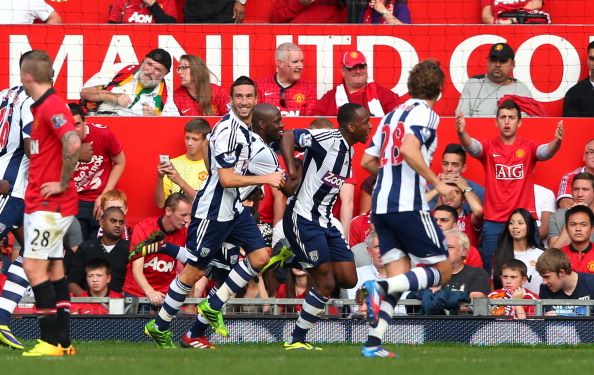 Alex Livesey/Getty Images
It was painfully obvious watching the match that while the addition of Marouane Fellaini does add to the centre of the midfield, this solitary signing was nowhere near enough to compensate for the lack of depth in this area of the park.
It baffles this reporter to think that a player liked Christian Eriksen (who had been one of United's top scouting targets for the best part of two years) was somehow allowed to join Tottenham Hotspur without so much as a fuss kicked up.
Similarly, the acquisition of Mesut Ozil by Arsenal—again Ozil being a player strongly linked with United on numerous occasions—makes one wonder if David Moyes and co. are trying to give themselves a humongous challenge for the year ahead.
Will failing to sign Christian Eriksen and/or Mesut Ozil cost United this year?
Both of these players provide the exact creative spark that the clubs needs going forward, while also filling in defensively.
Eriksen is probably going to go down as one of the "finds" of the season for Spurs. Why, oh why, was the Dane not snapped up by a United side in desperate need of his talents?
On this we can only speculate, but it's been made more than apparent in the last few games that the squad still isn't up to scratch in this department.
In fact, with the exclusion of the opening day demolition of Swansea, United haven't scored a goal from open play in the league.
Against Liverpool and Chelsea, the champions were completely shut out. Other than that, three Rooney free-kicks and a Robin van Persie penalty were all Moyes' men could muster.
This simply isn't good enough for a team like United.
Aside from the continuing issue of a poor midfield, in recent weeks and months there has been another aspect of the first team which has come under scrutiny from some of the more eagle eyed fans.
Since 2008, Patrice Evra has been on a very (very) gradual decline.
In fairness to Evra, the Frenchman has been able to maintain a standard of football good enough to earn a spot on the team-sheet for a lengthy period of time. But with the left-back now aged 32, and his best days seemingly behind him, he just isn't consistently putting in the same world class performances that he used to.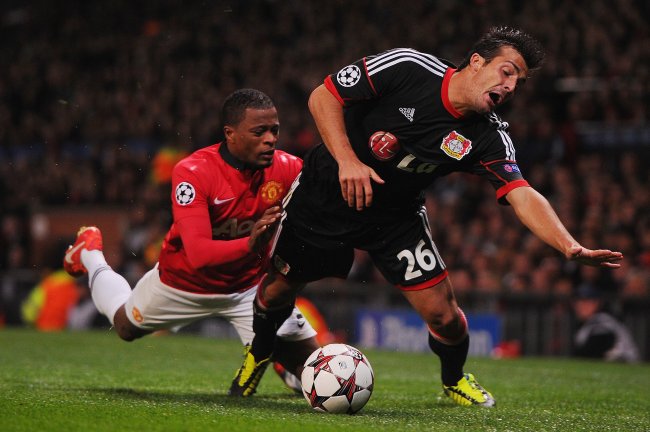 Michael Regan/Getty Images
As a direct result of this, David Moyes decided to play Alexander Buttner against West Brom, in the hopes of seeing a future great starting to earn a regular spot in the side. In reality, it only confirmed most fans doubts about the Dutchman's inability to play for a team like United.
It may surprise many to learn that Buttner is now aged 24, and will turn 25 at the start of February. This is no fledgling talent we're talking about here.
The time for development has long passed, and we are pretty much witnessing the finished article in regards to his future potential.
At this age, Evra (who, despite recent poor showings, will always go down as one of the great wing-backs) was already a Champions League finalist, and was carving out a solid reputation as a world class defender.
Alexander is as far away from this as one could imagine right now.
As such, United suddenly find themselves without a (continuously reliable) elite left-back.
In the defence of the new United manager and chief executive, this was clearly something they had taken into account.
Attempted deadline days signings of Fabio Coentrao and Leighton Baines emphasised United's desire to improve upon this easily exploitable weakness.
Unfortunately for Moyes and his team, neither of these deals came to fruition, leaving the side with at least another four months of lacklustre performances on the left flank to come.
The potential arrival of Baines in the winter transfer window, may be the only immediate solution to this problem.
A solid left-back, and a world class creative central talent are what the Red Devils are crying out for right now.
Something as simple as the signing of just two players can turn United's currently declining side back into genuine title contenders once again.
This article is
What is the duplicate article?
Why is this article offensive?
Where is this article plagiarized from?
Why is this article poorly edited?

Manchester United: Like this team?