Jake Locker Late Hit: Will Muhammad Wilkerson Be Fined or Suspended?
September 29, 2013

Jim Brown-USA TODAY Sports
In the midst of a blowout game in which the Tennessee Titans dominated the New York Jets to the tune of a 38-13 final score, a flagrant foul by defensive end Muhammad Wilkerson took place. Titans quarterback Jake Locker, who was having a spectacular game, took a huge hit by the defensive end after throwing a pass in the third quarter.
At the time, the Titans were holding on to a 24-6 lead, and the hit that ensued may have been the result of frustration, as the Jets defense did not have an answer for the third-year quarterback. Despite the blatant illicit hit on Locker, there was not a penalty flag thrown.
After the play, Locker remained on the ground. He was immediately carted into the locker room where he was diagnosed with a fractured right hip.
Take a look at the hit for yourself: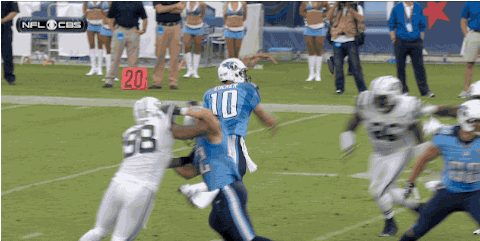 Does that hit look like a punishment will ensue? Yes. But, the question is: What kind of punishment should we expect? Is Wilkerson looking at a fine, or will he be suspended?
Illegal hits of the same degree have taken place in the past—most recently by Ndamukong Suh, the NFL's poster child for these situations. Suh was fined $100,000 for his hit on Minnesota Vikings center John Sullivan in Week 1 this season:
Suh was at it again in Week 2 against the Arizona Cardinals. He appeared to throw an elbow at tackle Eric Winston. The NFL reviewed the play, but no fine was handed to the defensive tackle.
Why bring Suh into this conversation? Because he has a history with this sort of thing. His history helps the league determine the allowances given toward other defenders when this type of foul occurs. Consider Suh the benchmark for these instances.
Take Suh's hit on Chicago Bears quarterback Jay Cutler back in 2010 for example. Suh tackled Cutler by driving his forearm into the back of the quarterback's helmet. He was penalized on the field and later fined $15,000.
Simply put, the NFL does not tolerate that kind of hit on a quarterback.
Moving forward to today's incident, Wilkerson does not hit Locker blatantly late or with an apparent intention to hurt the quarterback—that much is certain. However, looking at the hit, Wilkerson's helmet gets directly under the chin of Locker during contact. Locker did not attempt to lower his body, so a simple conclusion can be drawn: Wilkerson targeted the upper body of the quarterback, which is something that is under heavy scrutiny by the NFL.
Due to the fact that the hit does not seem to be intentional or malicious, there really should not be any kind of suspension forthcoming. However, Wilkerson should expect a fine in the $15,000 realm for his actions.
Take a look at the play one more time. This time, pay very close attention to Jets outside linebacker Quinton Coples: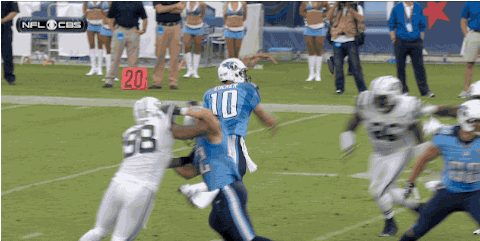 Coples leans into Locker as the quarterback is on his way down and appears to deliver a forearm to the side of Locker's helmet. If the NFL is in agreement that this is the case, Coples should be in line for the same fine as Wilkerson.
There is one thing these two players can learn from Suh in this situation: Do not make this a habit.
Suh has made a habit out of these types of plays and now finds the NFL targeting him for slight transgressions. The defensive tackle really cannot complain either—he put himself in that situation.
A fine for Wilkerson and Coples is all they will get, but it may not be enough. These players need to learn a lesson from this incident. If they continue to go down this road, they will fall out of favor with the league's officials, and their lives could become rather difficult on the field in a hurry.
Perhaps a call to Suh is in order.