MLB Power Rankings: Final Regular Season Breakdown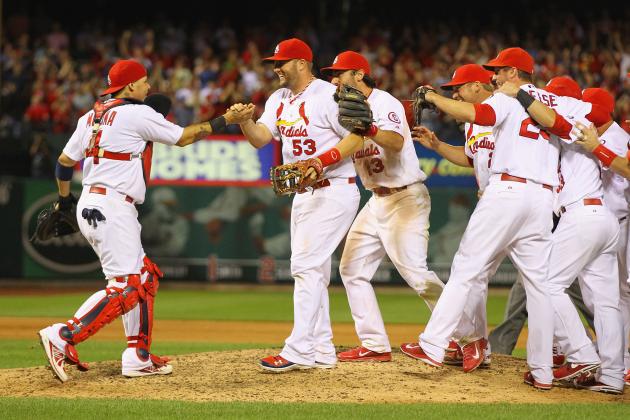 Dilip Vishwanat/Getty Images

The 2013 MLB regular season is over—at least for 28 of the league's 30 teams—as the Texas Rangers and Tampa Bay Rays will meet up on Monday night for Game 163 in order to determine who the second wild card in the American League will be.
It's been another terrific season of baseball, and the final day of the season provided yet another memorable moment, as Marlins right-hander Henderson Alvarez threw a no-hitter but had to wait until his Miami Marlins teammates finally scored their first run of the game in the bottom of the ninth on a passed ball to celebrate.
In the National League, the Pittsburgh Pirates and Cincinnati Reds will battle it out in the Wild Card Round, with the winner taking on another NL Central team (St. Louis) in the NLDS. The Los Angeles Dodgers and Atlanta Braves will meet up in the other NLDS.
Over in the American League, the Cleveland Indians await the winner of Monday's game in order to see who they will play in the AL Wild Card Round. Then, the winner of that game will take on the Boston Red Sox in the ALDS. The Detroit Tigers and Oakland A's round out the AL playoff pool in the other ALDS matchup.
So with the regular season behind us (almost) and the postseason on the horizon, here is a final look at where all 30 teams stack up in my final regular-season power rankings.
For fun, I've included a look at where I had each team ranked on Opening Day along with what I had to say about them entering the 2013 season.
Begin Slideshow

»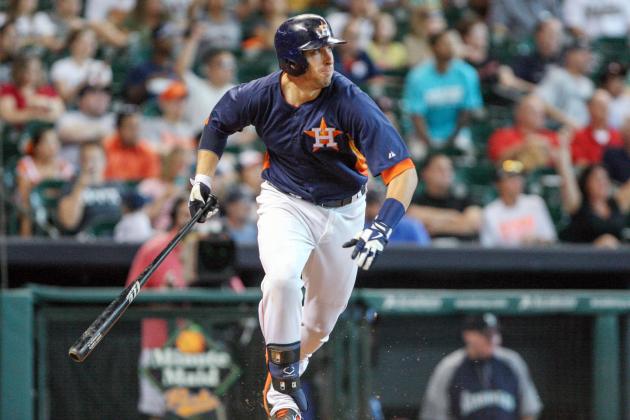 Troy Taormina-USA TODAY Sports
C Jason Castro
Last Week's Results: 0-6
at Texas Rangers (0-3)
vs. New York Yankees (0-3)
My Opening Day Rank: 30
My Preseason Outlook:
The Astros are in store for another long season. They made the move to the AL West and will continue to rebuild their roster from the ground up.

Carlos Pena was signed as a free agent, and slugger Chris Carter was acquired from the A's for Jed Lowrie. So the offense should have a bit more firepower this season.

The pitching staff is poor, to put it mildly. Bud Norris and Lucas Harrell anchor a rotation that will likely see a good deal of turnover in the season ahead. The bullpen lost its best arm in Wilton Lopez and turns to Jose Veras to close.
Season Breakdown
It was a lengthy season for the Astros, as expected. In fact, they set a franchise record with 111 losses, the third-straight season in which they've lost at least 100 games.
It hasn't been all bad though, as the continued development of some of their low-level minor leaguers has left them with one of the best farm systems in baseball. The future looks very bright.
The emergence of Jason Castro behind the plate and solid performance by rookie pitchers Brett Oberholtzer and Jarred Cosart are also a positive, as they now look to have some big-league pieces to start building around.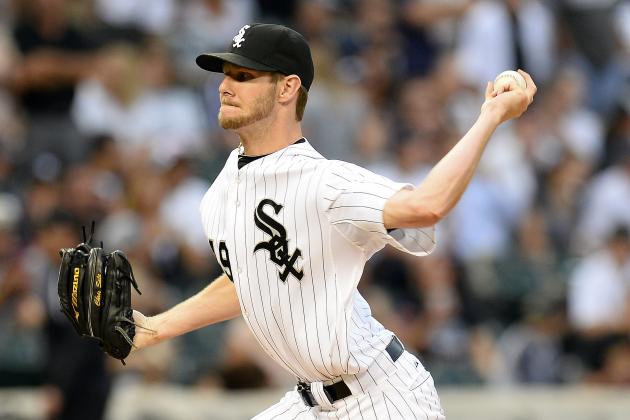 Mike DiNovo-USA TODAY Sports
SP Chris Sale
Last Week's Results: 2-5
vs. Toronto Blue Jays (1-0)
at Cleveland Indians (0-2)
vs. Kansas City Royals (1-3)
My Opening Day Rank: 20
My Preseason Outlook:
The White Sox exceeded expectations last season, pacing the AL Central for much of the year before faltering down the stretch and coughing up the division lead to Detroit.

Alex Rios and Adam Dunn both enjoyed big bounce-back seasons, and they'll need to again thrive if the offense is going to be a plus. An aging Paul Konerko is still a weapon, but the rest of the infield is below average.

Chris Sale won 17 games last season in his first year as a starter, and he has as high a ceiling as any young pitcher in the game. Jake Peavy was re-signed after a rebound season, but the rest of the rotation is suspect.
Season Breakdown
The White Sox crashed back to earth this year after a season of surprise contention in 2012, and it looks like a major franchise overhaul is on the horizon.
Peavy and Rios were both traded during the season, but there is more work to be done building up what is one of the worst farm systems in baseball. Also, aside from the aforementioned Sale, there is little in the way of pieces to build around at the big-league level.
Alexei Ramirez had a nice bounce-back season and could have some legitimate trade value in the offseason. Young outfielder Avisail Garcia, who was picked up in the Peavy deal, looks like he should be a solid big-league regular as well, but expect more moves to be made in the offseason.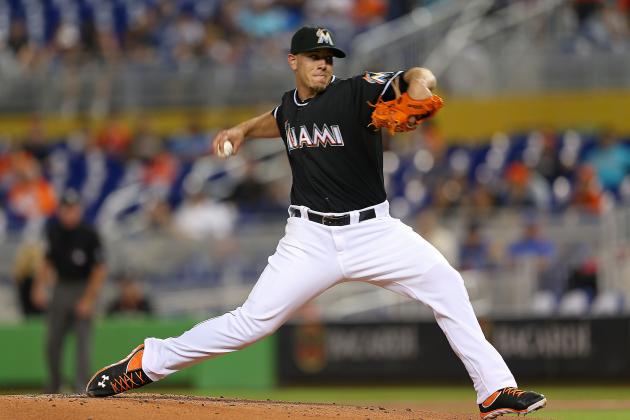 Mike Ehrmann/Getty Images
SP Jose Fernandez
Last Week's Results: 5-1
vs. Philadelphia Phillies (2-1)
vs. Detroit Tigers (3-0)
My Opening Day Rank: 29
My Preseason Outlook:
After spending big last offseason, the Marlins entered the 2012 season with sky-high expectations and a team that looked ready to contend for a postseason spot.

Instead, they struggled mightily. As a result, the front office blew things up this offseason and dealt most of the roster's veteran talent. They are likely in for a long season.

While Giancarlo Stanton gives the Marlins a legitimate superstar and is worth the price of admission, filling the seats in their new stadium will be tricky in 2013.
Season Breakdown
A solid final week, capped by a no-hitter from Henderson Alvarez, pulls the Marlins out of the No. 29 spot in the rankings—though they still finished with the worst record in the National League.
The offense was a disaster this season, as they scored 85 less runs than the second-worst team in baseball and averaged a dismal 3.2 runs per game overall.
The pitching staff, on the other hand, looks like it could be awfully good moving forward, as a number of young arms gained some valuable experience this season. In fact, 21-year-old Jose Fernandez broke through as a bona fide superstar in his rookie season.
It could take a few more years, but the Marlins have the young pieces to be competitive once again in the not-too-distant future.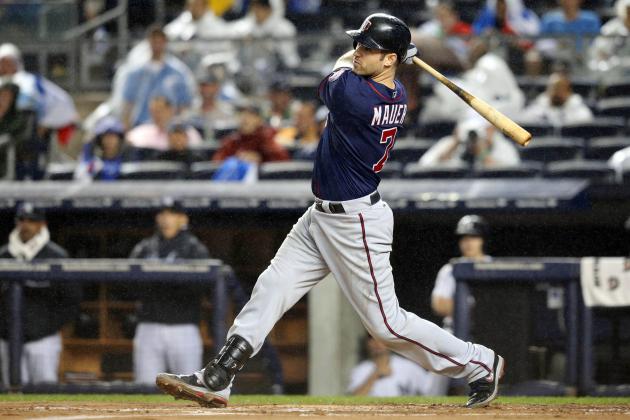 Anthony Gruppuso-USA TODAY Sport
C Joe Mauer
Last Week's Results: 1-6
vs. Detroit Tigers (1-2)
vs. Cleveland Indians (0-4)
My Opening Day Rank: 26
My Preseason Outlook:
A perennial contender just a few years ago, the Minnesota Twins are now among the worst teams in the American League and are in need of a major overhaul.

Pitching held the Twins back last season. As a result, they added Vance Worley, Kevin Correia and Mike Pelfrey this offseason to provide some stability.

Joe Mauer and Josh Willingham give the offense a pair of dangerous bats, while Aaron Hicks is a dynamic rookie who could make a run at AL Rookie of the Year.
Season Breakdown
The Twins were a disaster for most of the season, and aside from Mauer and closer Glen Perkins, no one on the roster had an above-average season. Willingham and Hicks were both major disappointments.
The offseason additions to the pitching staff did absolutely nothing to improve the rotation, as the Twins ranked dead last with a 5.26 starting pitcher ERA, a full 45 points higher than the next-worst team.
There is relief in sight, though, as the Twins have arguably the best farm system in all of baseball, fronted by a pair of future superstars in Byron Buxton and Miguel Sano. But until they arrive, it will likely be more of the same.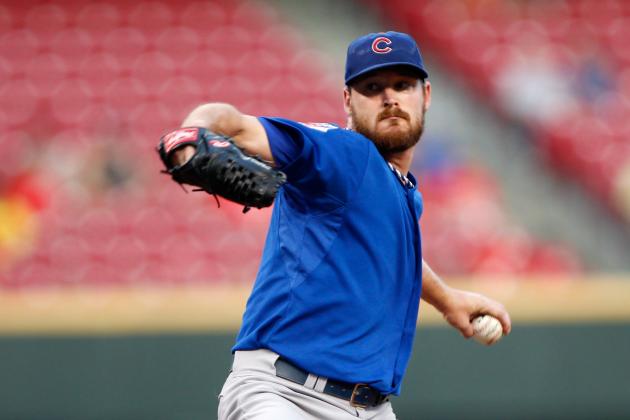 Frank Victores-USA TODAY Sports
SP Travis Wood
Last Week's Results: 1-5
vs. Pittsburgh Pirates (1-2)
at St. Louis Cardinals (0-3)
My Opening Day Rank: 24
My Preseason Outlook:
With a new front office in place and a rebuild under way, the Cubs lost 101 games last season. They should be improved this season, though avoiding a last-place finish in the NL Central will be tough.

Young stars Starlin Castro and Anthony Rizzo give the team a pair of building blocks in the lineup and, along with Alfonso Soriano, a productive middle of the order.

Jeff Samardzija enjoyed a breakout season last year and could emerge as the team's ace long-term if he can build off last year. Meanwhile, the rest of the rotation was filled out with veteran additions this offseason and could serve as trade chips.
Season Breakdown
Year 2 of the new regime in Chicago was strikingly similar to the first season from a results standpoint, as the team improved their record by five wins but was nowhere near contention the entire season.
Both Castro and Rizzo took a step back in 2013, which is troubling for the future success of the team, but catcher Welington Castillo and starter Travis Wood both had nice seasons and look to be part of the core moving forward.
The trades of Matt Garza, Scott Feldman and Alfonso Soriano brought a terrific crop of young talent to an already vastly improved farm system, with the Garza deal in particular looking like a major win for the Cubs. The 2015 season remains a realistic time frame for when the team can be expected to start winning with regularity.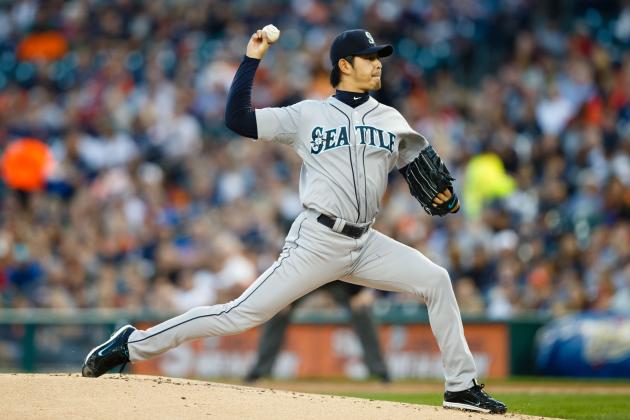 Rick Osentoski-USA TODAY Sports
SP Hisashi Iwakuma
Last Week's Results: 3-3
vs. Kansas City Royals (2-1)
vs. Oakland Athletics (1-2)
My Opening Day Rank: 23
My Preseason Outlook:
The Mariners are a team on the rise. They have one of the best collections of top-end prospect talent in baseball and a solid young core in place.

Felix Hernandez returns atop the staff as one of the best pitchers in the game. Youngsters Taijuan Walker, Danny Hultzen, James Paxton and No. 4 starter Brandon Maurer will give the team a dynamic rotation moving forward.

After ranking last in the AL in runs scored each of the past three seasons, the team acquired Michael Morse and Kendrys Morales in hopes of improving that in the short term. Jesus Montero, Justin Smoak and Dustin Ackley need to turn potential into production.
Season Breakdown
The Mariners offense was slightly improved this season, thanks in large part to the additions of Morales and Raul Ibanez, while a number of top prospects saw varying levels of big league action.
The middle infield of Nick Franklin and Brad Miller saw the most playing time of any rookies, and they should both get a crack at holding down their respective positions long-term. The future Ackley and Montero, however, is shaky at best.
The real breakout story in Seattle was not a rookie. Rather, it was second-year starter Hisashi Iwakuma, who went 14-6 with a 2.66 ERA after splitting last season between the bullpen and rotation. Along with Felix Hernandez—as well as Walker and Paxton, who both got their feet wet in the majors this year—the rotation looks solid moving forward.
Overall, this is a team that could surprise in 2014.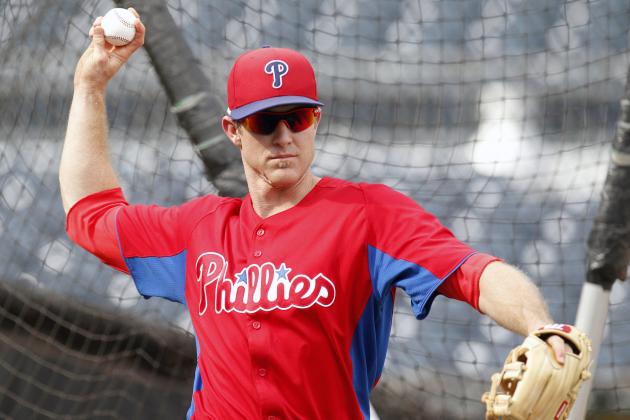 Charles LeClaire-USA TODAY Sport
2B Chase Utley
Last Week's Results: 2-5
at Miami Marlins (1-2)
at Atlanta Braves (1-3)
My Opening Day Rank: 14
My Preseason Outlook:
Injuries to their core superstars hurt the Phillies badly last season. Once they finally got healthy and strung together some wins, it was already too late, as they'd dug themselves too big of a hole.

Age is certainly not on their side. But if they can avoid filling up the disabled list, the Phillies may have the horses to make one last playoff push before they start to think about rebuilding.

Cole Hamels is expected to step forward as the ace of the staff. Newcomers Michael Young, Ben Revere and Delmon Young will look to spark the lineup around stars Ryan Howard and Chase Utley.
Season Breakdown
The one last playoff push was not to be. While Utley enjoyed a solid season and earned himself a two-year extension in the process, Howard was limited to just 80 games, and the $85 million left on his deal over the next three years looks absolutely ridiculous now.
Cliff Lee had another stellar season, and Cole Hamels turned things around after a terrible start, but the rest of the rotation was a disaster. At least they'll be out from under Roy Halladay's $20 million salary looking ahead to next year.
A breakout season from Domonic Brown and a positive showing by Darin Ruf in somewhat limited action gives some hope for the future, but this remains a team caught between contention and rebuilding.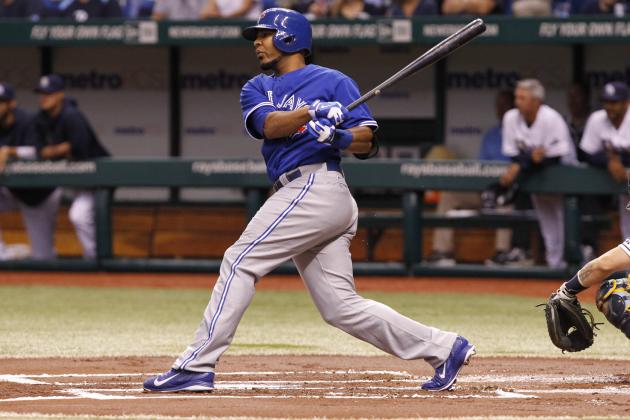 Kim Klement-USA TODAY Sports
1B Edwin Encarnacion
Last Week's Results: 3-4
at Chicago White Sox (0-1)
at Baltimore Orioles (1-2)
vs. Tampa Bay Rays (2-1)
My Opening Day Rank: 6
My Preseason Outlook:
The Blue Jays went all in this offseason, tapping into one of the league's best farm systems to pull off blockbuster trades with the Marlins and Mets.

Jose Reyes and Melky Cabrera are new faces in a lineup that features the high-powered duo of Edwin Encarnacion and Jose Bautista and should score plenty of runs.

The rotation, meanwhile, welcomes the trio of R.A. Dickey, Josh Johnson and Mark Buehrle. Alongside Brandon Morrow and J.A. Happ, they have a formidable staff.
Season Breakdown
Like many people, I was drinking the Blue Jays Kool-Aid entering the season—a season that turned out to be an absolute disaster after what was such an exciting offseason.
Injuries hurt the lineup, but it was the horrible showing by the starting rotation that really did them in. Dickey (14-13, 4.21 ERA), Buehrle (12-10, 4.15 ERA) and Johnson (2-8, 6.20 ERA) all fell short of expectations, and a grand total of 13 different pitchers made at least one start this season.
Johnson will be gone in free agency, but for the most part, the rest of the roster will be back in 2014. They'll undoubtedly look to add a frontline starter, but it will be essentially the same core of players that will look to turn things around next season.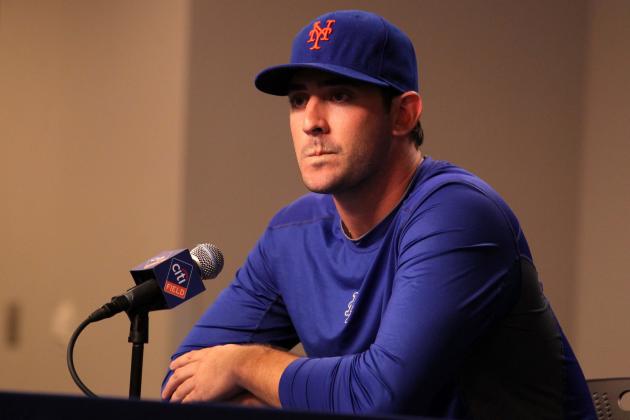 Brad Penner-USA TODAY Sports
SP Matt Harvey
Last Week's Results: 3-4
at Cincinnati Reds (2-1)
vs. Milwaukee Brewers (1-3)
My Opening Day Rank: 25
My Preseason Outlook:
Surprise contenders in the first half last season, the Mets eventually fell off and finished a distant fourth in the NL East.

David Wright was locked up on a long-term deal to once again lead the offense, while Ike Davis provided some solid pop with 32 home runs and has room to improve.

Jonathon Niese assumes the role of staff ace, though Matt Harvey and Zack Wheeler should push him for the job before too long. The bullpen is improved with a number of veteran pieces, but it is still relatively weak.
Season Breakdown
The bright spots for the 2013 Mets were few and far between, but the team looks to have a bright future. With a ton of payroll room, the upcoming offseason will be an incredibly important one for the franchise.
Niese fell well short of expectations after a breakout season in 2012, but Harvey quickly emerged as the ace of the staff and is arguably the best young pitcher in baseball. He earned the starting nod at the All-Star Game, and he looked like a legitimate Cy Young candidate before a UCL injury ended his season.
Wheeler had a nice rookie campaign and should slot behind Harvey nicely for the long term, while Wright proved to be worth every penny of the extension he signed in the offseason. Outside of Wright and second baseman Daniel Murphy, there was little in the way of consistent offensive performers, though.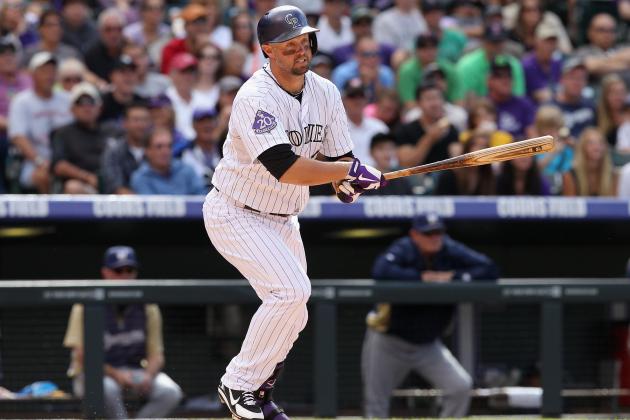 Doug Pensinger/Getty Images
RF Michael Cuddyer
Last Week's Results: 3-2
vs. Boston Red Sox (1-1)
at Los Angeles Dodgers (2-1)
My Opening Day Rank: 27
My Preseason Outlook:
The Rockies were unable to overcome their disastrous pitching staff last season, and it's an issue that will likely plague them once again this year.

Getting Jhoulys Chacin, Jorge De La Rosa and Juan Nicasio back healthy should lead to some improvement. But in the end, they just don't have the horses.

A healthy Troy Tulowitzki is a major addition for the offense, and the Rockies should score plenty of runs. It's just a matter of having to out-slug their opponents as a result of their weak pitching staff.
Season Breakdown
The Rockies opened the season 13-4, as they were perhaps the biggest surprise of the season's first couple weeks. While they still managed to hold a share of the NL West lead on May 25, they eventually tailed off due, once again, to an inconsistent rotation.
Chacin (14-10, 3.47 ERA) and De La Rosa (16-6, 3.49 ERA) both pitched great, and Tyler Chatwood (18 GS, 8-5, 3.15 ERA) was a solid third arm when healthy, but no other starter had an ERA under 5.00.
Tulowitzki returned to form and managed to stay healthy for most of the season, while Michael Cuddyer bounced back from a disappointing first season in Colorado to win the NL batting title (.331 BA).
Top prospect Eddie Butler should give the rotation another plus arm, but they have to sort out of the staff as a whole before they'll have a real chance to contend.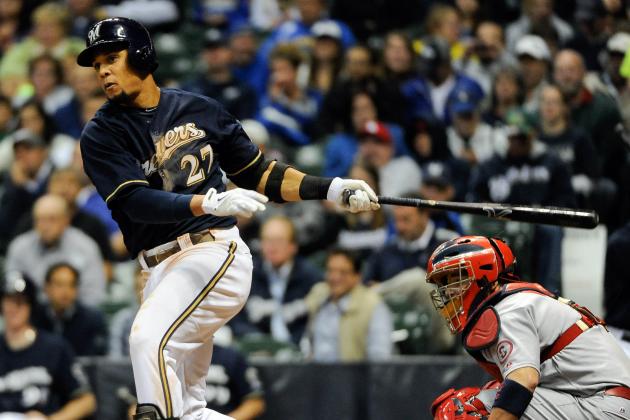 Benny Sieu-USA TODAY Sports
CF Carlos Gomez
Last Week's Results: 5-2
at Atlanta Braves (2-1)
at New York Mets (3-1)
My Opening Day Rank: 16
My Preseason Outlook:
If not for the worst bullpen in baseball, the Brewers likely would have made the playoffs last season. They had the highest-scoring offense in the National League and a solid rotation.

Burke Badenhop, Tom Gorzelanny and Mike Gonzalez were added to improve the bullpen, and the bigger question now may be the rotation. Kyle Lohse was signed as a second front-line arm alongside ace Yovani Gallardo, but the rest of the rotation is unproven.

They'll open the season without Corey Hart, but they should once again score plenty of runs with an offense led by MVP candidate Ryan Braun.
Season Breakdown
Injuries to Corey Hart and Aramis Ramirez, followed by the eventual suspension of Ryan Braun, derailed the Brewers offense. The pitching staff was also disappointing, once again, as the team battled to stay out of the cellar for most of the season.
Lohse was a solid addition, and rookie Wily Peralta had a decent all-around season, but the rest of the rotation was a mess, and Gallardo was far from the staff ace he was expected to be.
Breakout seasons from shortstop Jean Segura and center fielder Carlos Gomez kept the season from being a total wash, and there is still talent on this roster, but it's hard to see the Brewers contending in the NL Central any time soon.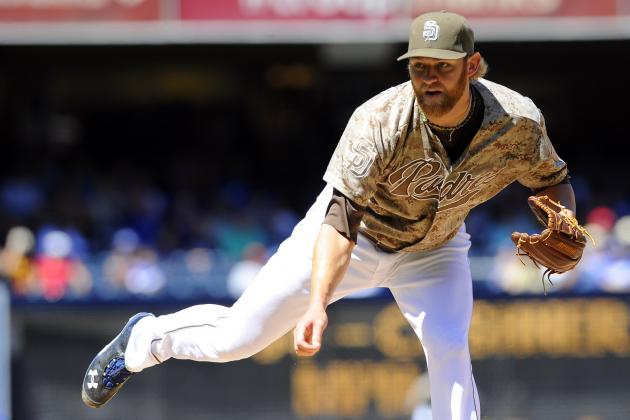 Christopher Hanewinckel-USA TODA
SP Andrew Cashner
Last Week's Results: 4-3
vs. Arizona Diamondbacks (3-1)
at San Francisco Giants (1-2)
My Opening Day Rank: 19
My Preseason Outlook:
The Padres are headed in the right direction as a franchise, though they are still at least a few years from contention. San Diego continues to implement pieces from its deep farm system.

Jedd Gyorko has the potential to make a serious impact offensively as a rookie. Alongside Carlos Quentin and Yonder Alonso, the team has a decent offense.

Edinson Volquez and Clayton Richard front their staff, but they profile more as No. 3 starter types in the grand scheme of things. The rest of the staff is weak and will likely be the reason the Padres struggle to avoid a last-place finish in 2013.
Season Breakdown
It was another subpar season for the Padres, as they continue to rebuild. A 10-2 stretch in June did make things interesting, as it pulled them to 36-34 on the season and just one game out of first in the NL West. However, they fell back down to earth shortly after.
Eventually, their lack of pitching caught up with them, but Andrew Cashner (11 GS, 5-4, 2.14 ERA in second half) looks like he could anchor the staff moving forward. The team also bought low on Ian Kennedy at the deadline in hopes that he can return to form.
The offense is still a work in progress, but Gyorko (23 HR, 63 RBI) had a nice rookie season, and Will Venable (.796 OPS, 22 HR, 22 SB) earned a two-year, $8.5 million extension with a strong second half.
It's been a slow climb, but the Padres could surprise some people in 2014.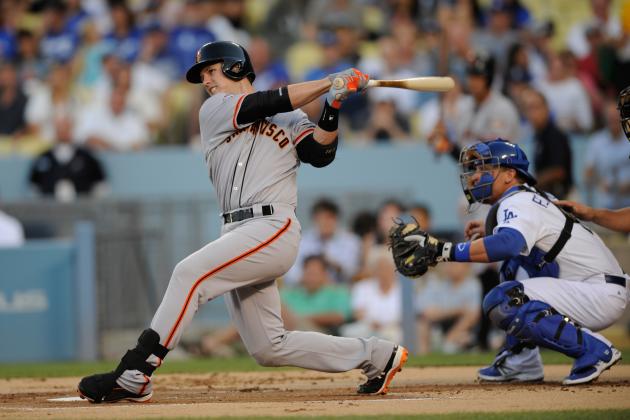 Kelvin Kuo-USA TODAY Sports
C Buster Posey
Last Week's Results: 4-2
vs. Los Angeles Dodgers (2-1)
vs. San Diego Padres (2-1)
My Opening Day Rank: 1
My Preseason Outlook
The reigning champs have owned the top spot in my rankings all offseason, and that's where they'll start 2013 as they look to defend their crown.

Pitching is still the strength of the team. Though it remains to be seen if Tim Lincecum can return to form, the rest of the rotation is solid, and the bullpen is one of the best in baseball.

Offensively, the whole is greater than the sum of its parts. The Giants find ways to back their pitching staff without a high-powered offense. NL MVP Buster Posey will once again be asked to do the heavy lifting.
Season Breakdown
It's hard to pick against the Blue Jays, but the Giants may well have been the biggest disappointments of 2013. They returned essentially the same roster that won it all in 2012 and were expected to be in a good position to defend their title, but instead, they finished 10 games under .500.
Madison Bumgarner was again among the best starters in the NL, but the rest of the rotation struggled, and the starting pitching that had been a hallmark of their recent run of success was simply not there.
The offense was again below average, and while Posey and Hunter Pence both had nice seasons, they simply didn't have the firepower to make up for the lack of pitching. Now, they have some decisions to make, with Tim Lincecum and Barry Zito both headed for free agency.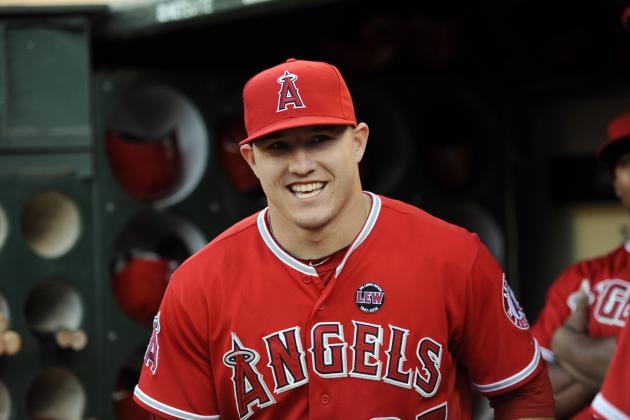 Bob Stanton-USA TODAY Sports
CF Mike Trout
Last Week's Results: 2-5
vs. Oakland Athletics (2-1)
at Texas Rangers (0-4)
My Opening Day Rank: 7
My Preseason Outlook:
A year after spending big to add Albert Pujols and C.J. Wilson, the Angels opened their wallets again this winter when they signed slugger Josh Hamilton to a five-year, $125 million deal.

With Pujols and Hamilton alongside Mike Trout and Mark Trumbo, the Angels have plenty of impact talent in their lineup. There is no real hole from an offensive standpoint.

The pitching staff has a new look, as Zack Greinke, Dan Haren and Ervin Santana were replaced by Jason Vargas, Joe Blanton and Tommy Hanson. Whether their rotation is better remains to be seen, but the bullpen should be improved with the additions of Sean Burnett and Ryan Madson.
Season Breakdown
The Angels finished strong (going 16-12 in September), but the season as a whole was a disaster for a team that was expected to, at the very least, contend for a postseason spot.
Pujols (.258 BA, 17 HR, 64 RBI) and Hamilton (.250 BA, 21 HR, 79 RBI) both fell miles short of expectations, and while Trout (.323/.432/.557, 27 HR, 33 SB) again had an MVP-caliber season, the offense was far from the juggernaut it was expected to be.
On the pitching side of things, Jered Weaver and Wilson were solid, and Vargas was a nice addition when healthy, but Hanson (15 G, 13 GS, 4-3, 5.42 ERA) and Blanton (2-14, 6.04 ERA) were not the answer. It will be back to the drawing board this offseason as far as piecing together a staff.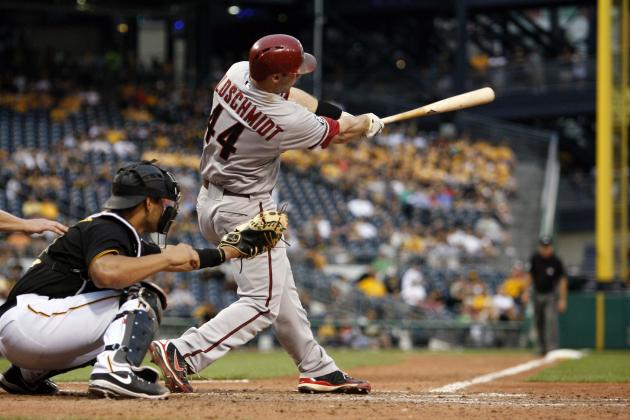 Charles LeClaire-USA TODAY Sports
1B Paul Goldschmidt
Last Week's Results: 2-5
at San Diego Padres (1-3)
vs. Washington Nationals (1-2)
My Opening Day Rank: 13
My Preseason Outlook
It was a busy offseason in Arizona, as the Diamondbacks finally pulled the trigger on dealing Justin Upton. They also moved Chris Young and Trevor Bauer in separate three-team trades.

The offense will once again be led by catcher Miguel Montero and young slugger Paul Goldschmidt, who could take a big step forward in his second full season in the majors. The versatile Martin Prado is a welcome addition, and he'll spend most of his time at third base.

The rotation should be strong once again. If newcomer Brandon McCarthy can stay healthy, he'll give the team a second front-line arm atop the rotation. The bullpen is a question mark of sorts, though the late-inning duo of David Hernandez and J.J. Putz is lights-out.
Season Breakdown
The Diamondbacks looked like the early favorites to come out of the NL West, as they held a 2.5-game lead in the division at the All-Star break. However, once the Dodgers got hot, the D'Backs didn't stand a chance, and they wound up settling for a .500 season.
That said, there were plenty of positives to take away from the season, with none bigger than the emergence of Paul Goldschmidt (.302/.401/.551, 36 HR, 125 RBI) as one of the top offensive threats in all of baseball.
Patrick Corbin had an equally impressive first half, going 11-1 with a 2.35 ERA, but he was just 3-7 with a 5.19 ERA in the second half to take some of the luster off of his breakout season. Still, the Diamondbacks have a good, young core in place and should again be in position to contend in 2014.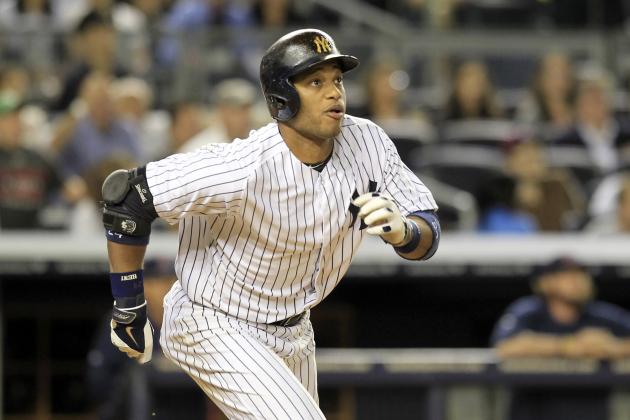 The Star-Ledger-USA TODAY Sports
2B Robinson Cano
Last Week's Results: 3-3
vs. Tampa Bay Rays (0-3)
at Houston Astros (3-0)
My Opening Day Rank: 21
My Preseason Outlook
No team has been hit harder by injuries this spring than the Yankees. Mark Teixeira, Alex Rodriguez, Curtis Granderson, Derek Jeter and Phil Hughes are all expected to open the season on the disabled list.

With guys like Brennan Boesch, Travis Hafner, Lyle Overbay and Vernon Wells now counted on to pick up the pieces in the lineup, the Yankees could struggle to score runs to start off the season.

They return the same rotation as last season after re-signing Hiroki Kuroda and Andy Pettitte. The bullpen gets back legendary closer Mariano Rivera after he missed most of 2012 with a torn ACL.
Season Breakdown
The fact that it took until Sept. 25 for the Yankees to officially be eliminated from the postseason is a testament to what they were able to overcome this season, as a patchwork offense and an inconsistent pitching staff could have very easily resulted in a last-place finish.
Big decisions lie ahead for the team, starting with the free agency of Robinson Cano, and early reports have him looking for a 10-year, $305 million deal (h/t ESPN.com). That won't happen, but he won't come cheap either. The team also has Hiroki Kuroda, Phil Hughes and Curtis Granderson hitting free agency.
Throw in the fact that CC Sabathia (14-13, 4.78 ERA) was far from his usually dominant self, and the rotation looks like the biggest offseason priority. Crazy as it may sound, the Yankees may be headed for a rebuilding period of sorts, while they wait for some of their bloated veteran contracts to run out.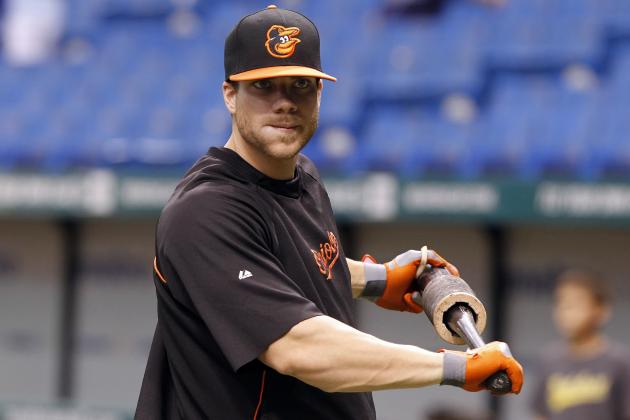 Kim Klement-USA TODAY Sports
1B Chris Davis
Last Week's Results: 4-3
at Tampa Bay Rays (0-1)
vs. Toronto Blue Jays (2-1)
vs. Boston Red Sox (2-1)
My Opening Day Rank: 12
My Preseason Outlook:
The Orioles came out of nowhere last season to land a wild-card spot. Their young team will look to once again contend for a playoff spot in the deep AL East in 2013.

Adam Jones showed signs of a being a bona fide superstar last season, and Chris Davis finally tapped into his vast potential with a 33-home run season. A healthy Brian Roberts and a full season of young star Manny Machado should help the cause as well.

On the pitching side of things, Wei-Yin Chen was the only starter to make over 20 starts last year. The team will look to avoid a similar carousel approach to the rotation this season.

The O's will once again have the benefit of one of the game's better bullpens. Breakout closer Jim Johnson saved 51 games last year.
Season Breakdown
The offensive duo of Chris Davis (1.004 OPS, 53 HR, 138 RBI) and Adam Jones (.811 OPS, 33 HR, 108 RBI) was as good as any in baseball this season. The Orioles offense, as a whole, ranked fifth in baseball in runs scored and first in home runs.
However, their starting rotation was an issue once again, and even with the July additions of Scott Feldman and Bud Norris along with a terrific all-around season from Chris Tillman (16-7, 3.71 ERA), they were still unable to back their dynamic offense.
Getting top prospects Dylan Bundy and Kevin Gausman entrenched in the rotation and pitching up to their potential would go a long way in shoring up the rotation, and this remains a team with the talent to contend.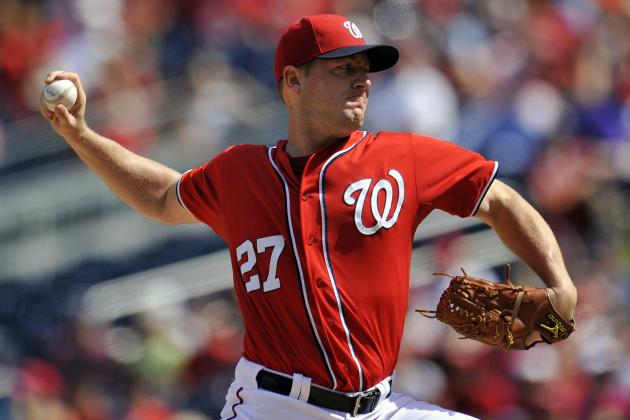 Joy R. Absalon-USA TODAY Sports
SP Jordan Zimmermann
Last Week's Results: 2-4
at St. Louis Cardinals (0-3)
at Arizona Diamondbacks (2-1)
My Opening Day Rank: 3
My Preseason Outlook
The Nationals won an MLB-best 98 games last season, but they bowed out of the playoffs early when the Cardinals beat them in the NLDS. Now, they'll be looking to build off that success as they push toward a title.

Denard Span was acquired from the Twins, giving the team two things it needed badly: a plus defensive center fielder and a legitimate leadoff hitter. He'll set the table for Ryan Zimmerman and Bryce Harper, who could be in for a huge sophomore campaign.

The pitching staff is the real strength of the team, however. Ace Stephen Strasburg will be off the leash following a 2012 season in which he was shut down in September. Dan Haren was signed to replace Edwin Jackson in the rotation, and Rafael Soriano takes over as closer in a talented bullpen.
Season Breakdown
It took a 26-12 run to close out the season for the Nationals to even be on the outskirts of contention in the National League, as the team picked by many to come out of the National League fell well short of expectations, just a year removed from having the best record in baseball.
The offense was a big reason for the early struggles, as the team hit just .241 and averaged just 3.8 runs per game in the first half. Compare that to totals of .265 and 4.5 after the break, and it's easy to see why the team was able to turn things around.
This remains a team with all the pieces to contend for a title, with a terrific trio atop the rotation and an offense led by budding star Bryce Harper. Expectations will likely be tempered heading into next season, but there's no reason they can't contend for the NL East title in 2014.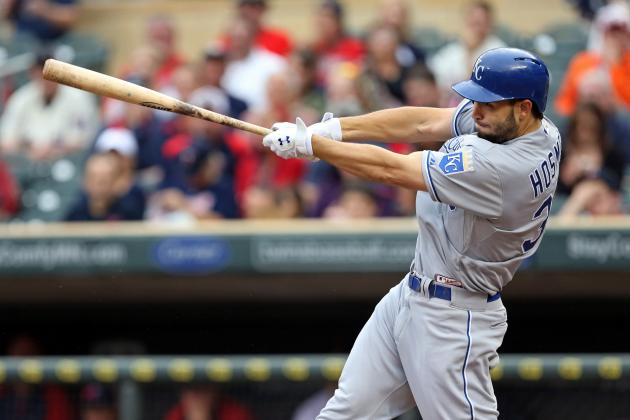 Jesse Johnson-USA TODAY Sports
1B Eric Hosmer
Last Week's Results: 4-3
at Seattle Mariners (1-2)
at Chicago White Sox (3-1)
My Opening Day Rank: 17
My Preseason Outlook
Looking to add some pitching to a good core of young hitters, the Royals completely reworked their starting rotation this offseason. They have an outside shot at contention as a result.

James Shields and Wade Davis were acquired in a huge trade with the Rays, giving them the staff ace in Shields that they've been sorely lacking. The Royals also traded for Ervin Santana and re-signed Jeremy Guthrie. Kansas City should once again have a top-tier bullpen.

Billy Butler enjoyed a breakout season last year, and guys like Mike Moustakas, Eric Hosmer and Salvador Perez could all take a similar step forward this season.
Season Breakdown
Much like the Nationals, the Royals struggled mightily at the plate in the first half, and that undermined what was a vastly improved starting rotation. They got on track in the second half, though, and nearly earned themselves a playoff spot.
Hosmer bounced back nicely from a disappointing sophomore campaign, Perez is already among the best catchers in the game, and closer Greg Holland (47-of-50 SV, 1.21 ERA, 13.8 K/9) was arguably the best closer in the AL.
A 19-3 stretch that began at the end of July got them back in contention, and a 17-10 month of September kept things interesting, as the team posted their first winning season since 2003 and their highest win total since 1989.
Now, all that remains is to get over the hump and reach the postseason for the first time since they won it all in 1985.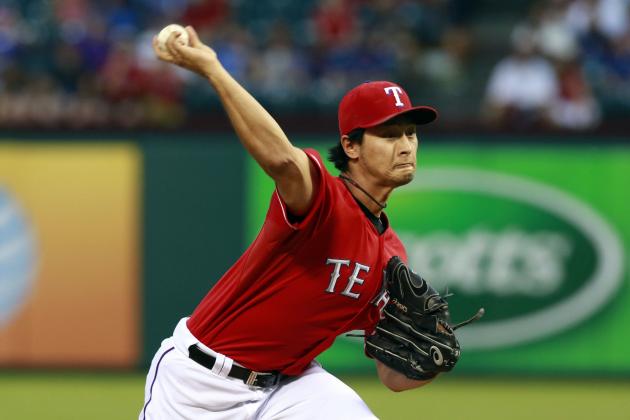 Tim Heitman-USA TODAY Sports
SP Yu Darvish
Last Week's Results: 7-0
vs. Houston Astros (3-0)
vs. Los Angeles Angels (4-0)
My Opening Day Rank: 15
My Preseason Outlook
The Rangers were hit harder by free agency than perhaps any team in baseball. They lost a number of key players—including Josh Hamilton, Mike Napoli and Michael Young—from their highly regarded lineup.

What's left of their roster is still more than capable of competing, however. And while the lineup may not lead the league in scoring, guys like Adrian Beltre, Ian Kinsler and Nelson Cruz are solid weapons.

The pitching staff is led by the duo of Matt Harrison and Yu Darvish, who should rank among the top starters in the league. Jason Frasor and Josh Lindblom were added to serve as the primary setup men for Joe Nathan, and the bullpen looks strong entering the year.
Season Breakdown
The Rangers entered the season with lowered expectations due to everything they lost in the offseason offensively. However, it was starting pitching that wound up being their biggest issue early on, as rookie starters Justin Grimm and Nick Tepesch were leaned on heavily in the first half.
Despite that, the team remained in good shape in the AL West, leading by as many as seven games in May and sitting at 80-58 with a one-game lead on Sept. 3.
However, a 1-10 slide after the point allowed the A's to run away with the division title, and it has left Texas to play in a one-game playoff with the Rays for the second wild-card spot. Rookie Martin Perez (10-5, 3.55 ERA) will take the ball for Texas, as they look to salvage their season.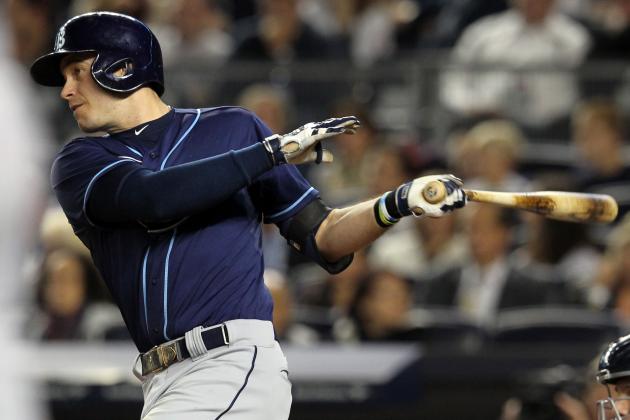 Brad Penner-USA TODAY Sports
3B Evan Longoria
Last Week's Results: 5-2
vs. Baltimore Orioles (1-0)
at New York Yankees (3-0)
at Toronto Blue Jays (1-2)
My Opening Day Rank: 8
My Preseason Outlook
The Rays have had one of the best pitching staffs in baseball for the past several seasons, but they have struggled at times to score enough runs to back their arms.

As a result, the team pulled the trigger on trading workhorse James Shields this offseason to acquire top prospect Wil Myers. Myers could be playing right field by midseason, and he'll join Yunel Escobar, James Loney and Kelly Johnson as newcomers in an improved lineup.

Even with Shields gone, the rotation is deep. Reigning AL Cy Young winner David Price and youngsters Matt Moore and Jeremy Hellickson lead the way. Meanwhile, Fernando Rodney was one of the best closers in the game last year. The bullpen is solid top to bottom.
Season Breakdown
The offseason trade for Wil Myers stole the headlines, and rightfully so, as he's been a huge addition to the Rays' offense since being called up. But the trio of Escobar, Loney and Johnson have been just as crucial to the team's improved performance at the plate.
The rotation rounded into form late, but they dealt with injuries for much of the season, and Hellickson is still not right after what was a trying year. Rookie Chris Archer (9-7, 3.22 ERA) helped shore things upa bit, and now, the team looks to have one of the strongest staffs in baseball.
First, they'll need to beat the Rangers in Game 163 to secure the second wild-card spot, with David Price taking the ball in that game. Then, they'll face the Indians in the Wild Card Round, so it's a steep hill to climb if they hope to make a playoff run.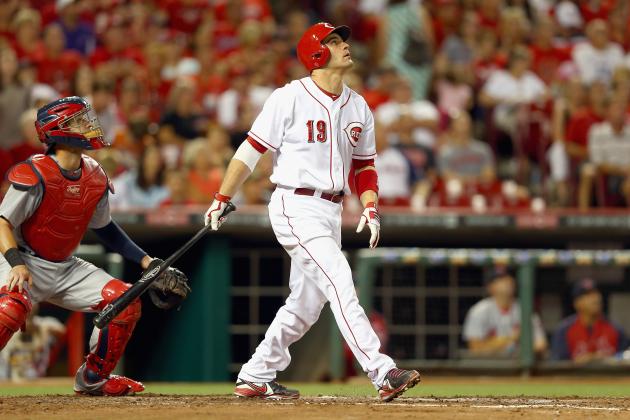 Andy Lyons/Getty Images
1B Joey Votto
Last Week's Results: 1-5
vs. New York Mets (1-2)
vs. Pittsburgh Pirates (0-3)
My Opening Day Rank: 4
My Preseason Outlook
The Reds return essentially the same team that won the NL Central crown last season. They have to be considered the favorites to win the division again this year.

The one major addition the team made shored up a huge hole. The Reds acquired Shin-Soo Choo from the Indians to serve as a high on-base table-setter atop a potent lineup led by MVP candidate Joey Votto.

Health was certainly on the Reds' side last year in the rotation, as their five Opening Day starters made all but one start during the course of the season. If they can enjoy similar health this season, they should have one of the top pitching staffs in the game.
Season Breakdown
The offseason addition of Choo could not have worked out better for the Reds, as he hit .285/.423/.462 with 21 home runs and 20 steals, giving the Reds the high on-base threat they desperately needed atop their lineup.
Meanwhile, Joey Votto led the NL in on-base percentage (.435) for the fourth-straight season, and both Jay Bruce and Brandon Phillips topped the 100-RBI mark for the first time in their respective careers, as the Reds' offensive attack has been solid all year.
Combine that with a deep pitching staff that has only gotten better with the addition of a healthy Johnny Cueto, and they look like a team capable of making a deep playoff run. First, they must get past a Pirates team in the Wild Card Round that swept them in a series to close out the year.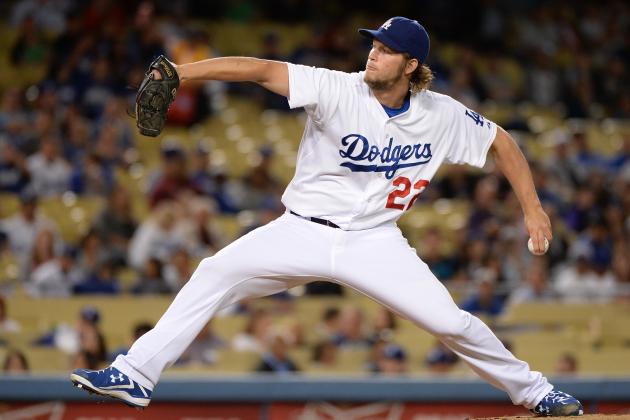 Harry How/Getty Images
SP Clayton Kershaw
Last Week's Results: 2-4
at San Francisco Giants (1-2)
vs. Colorado Rockies (1-2)
My Opening Day Rank: 10
My Preseason Outlook
The free-spending Dodgers were at it again this offseason, signing Zack Greinke and Hyun-Jin Ryu to bolster their pitching staff. After adding so many new faces in the past 10 months, they'll now need to work on coming together as a team.

A healthy Matt Kemp is joined by Adrian Gonzalez and Andre Ethier in the middle of the lineup. Carl Crawford will be looking to prove he's still a star after a rocky tenure in Boston and Tommy John surgery in August.

The rotation will once again be led by Clayton Kershaw. And though he's battled elbow problems this spring, Greinke should give them a second ace-caliber arm once he's healthy.

The Dodgers may have more rotational depth than any team in baseball, and that will only help them over the course of a full season.
Season Breakdown
A 9-15 finish to the season knocks the Dodgers down the rankings a few spots, but they're as dangerous as any team in baseball heading into October. They'll take on the Braves in the NLDS.
Kershaw (16-9, 1.83 ERA, 232 K) turned in a season for the ages, and with Zack Greinke, Hyun-Jin Ryu and Ricky Nolasco to follow, their postseason rotation will rival any in baseball. Midseason addition Brian Wilson (18 G, 0.66 ERA) has helped shore up the bullpen as well, and the staff, as a whole, is a major plus.
Offensively, Hanley Ramirez (.345/.402/.638) would likely be the NL MVP front-runner if not for the fact that he's only played 86 games after battling injury early in the season. Adrian Gonzalez, Yasiel Puig and Carl Crawford join him to give the team a dangerous offensive attack, even with Matt Kemp sidelined.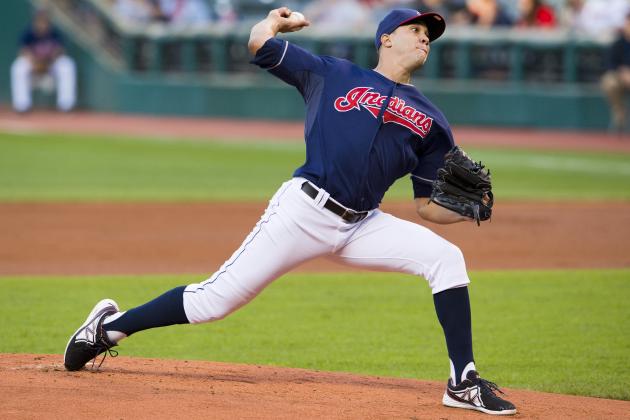 Jason Miller/Getty Images
SP Ubaldo Jimenez
Last Week's Results: 6-0
vs. Chicago White Sox (2-0)
at Minnesota Twins (4-0)
My Opening Day Rank: 18
My Preseason Outlook
Expected by most to be sellers this offseason, the Indians instead added a number of veteran pieces as they look to make a run at the Tigers in the AL Central.

Nick Swisher, Michael Bourn and Mark Reynolds join an offense that already had some nice pieces in Carlos Santana, Jason Kipnis and Asdrubal Cabrera. They should be much better as a group this year.

Pitching will be what holds them back, though, with Ubaldo Jimenez and Justin Masterson fronting a below-average staff and looking for bounce-back seasons.

The bullpen is a strength, led by All-Star closer Chris Perez and Vinnie Pestano. But how many leads the starters can turn over to the 'pen remains to be seen.
Season Breakdown
There may be no hotter team in baseball right now than the Indians, as they closed out the year on a 10-game winning streak and a 15-2 tear overall. They still have to play their way through the Wild Card Round, but momentum is certainly on their side.
The resurgence of Jimenez has given them a legitimate ace, and the rotation, as a whole, has far exceeded expectations this season, with Zach McAllister, Corey Kluber and Scott Kazmir all pitching well. Masterson is the wild card in October, as he recently returned from injury and will likely pitch out of the bullpen.
It's that bullpen that is their biggest concern, with Chris Perez being removed from the closer's role in the season's final week. The ninth inning role likely going to Joe Smith or Cody Allen now. They'll now hope their veteran offense and surprise rotation can carry them to a surprise postseason run.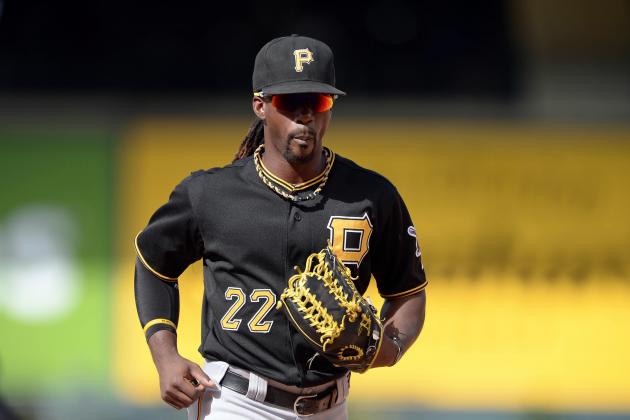 Ron Chenoy-USA TODAY Sports
CF Andrew McCutchen
Last Week's Results: 5-1
at Chicago Cubs (2-1)
at Cincinnati Reds (3-0)
My Opening Day Rank: 22
My Preseason Outlook
The Pirates have remained in contention throughout the first half in each of the past two seasons, only to fall apart down the stretch. But they'll be looking to get over the hump in 2013.

Andrew McCutchen is a bona fide superstar, but he needs more consistent secondary production from the lineup around him if the Pirates are going to contend. Pedro Alvarez, Garrett Jones and Neil Walker are solid complementary pieces.

The rotation will benefit from a full season of Wandy Rodriguez, but beyond him and A.J. Burnett, the staff is weak. Top prospects Gerrit Cole and Jameson Taillon are pushing ever closer to their debuts, and they could make an impact in 2013.
Season Breakdown
For the first time since 1992, the Pirates find themselves with a winning record and getting set to play baseball in October. They'll have to knock off the Reds in the Wild Card Round, but after sweeping them over the weekend, they'll at least get to host that game.
Francisco Liriano has emerged from the rubble to fill the role of staff ace for the Pirates, while Cole has locked down the No. 3 spot in the rotation since making his debut in June. Charlie Morton has been a pleasant surprise as well since returning from injury.
The offense has been improved around McCutchen, and it only became better with the August additions of Marlon Byrd and Justin Morneau. Slugger Pedro Alvarez tied for the NL lead in home runs with 36, though he hit just .233/.296/.473 in the process.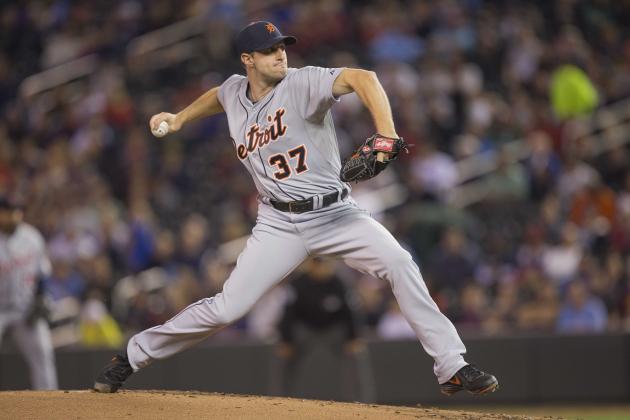 Jesse Johnson-USA TODAY Sports
SP Max Scherzer
Last Week's Results: 2-4
at Minnesota Twins (2-1)
at Miami Marlins (0-3)
My Opening Day Rank: 2
My Preseason Outlook
Though it took a late-season push to even make the postseason, the Tigers captured the AL pennant last year. And at least on paper, they look to be an even better team now.

Victor Martinez is back after missing all of last season with a torn ACL. The Tigers also add Torii Hunter, who was signed to shore up the glaring hole in right field. They'll join the dynamic duo of Prince Fielder and Miguel Cabrera in the team's high-powered offense.

The pitching staff is among the best in all of baseball, led by the best pitcher in the game, Justin Verlander. They'll employ a closer-by-committee—with prospect Bruce Rondon optioned to the minors to get a bit more seasoning—but they have the arms to make that work.
Season Breakdown
The Tigers didn't exactly run away with the AL Central like most expected them to, but that's more of a testament to how well the Indians and Royals played in the second half than anything else.
It was a far-from-dominant season from Verlander, but that was offset by terrific campaigns from Max Scherzer (AL-high 21 wins) and Anibal Sanchez (AL-best 2.57 ERA). Throw in Doug Fister, and the Tigers have a staff built for postseason success. Joaquin Benoit has locked down the closer job as well after early bullpen issues.
Martinez and Hunter were both terrific additions to the Tigers offense, but the story was once again Cabrera, who likely would have had a real chance at a second Triple Crown had he not been hobbled by a groin injury down the stretch.
Brett Davis-USA TODAY Sports
1B Freddie Freeman
Last Week's Results: 4-3
vs. Milwaukee Brewers (1-2)
vs. Philadelphia Phillies (3-1)
My Opening Day Rank: 5
My Preseason Outlook:
Though they finished behind the Nationals in the NL East last season, the Braves ran away with a wild-card spot. And after making a pair of huge additions to their lineup, they'll look to push Washington for the title this year.

After losing Michael Bourn in free agency, the team signed B.J. Upton as a free agent to replace him in center field. Two months later, they pulled off a blockbuster deal to acquire his brother, Justin. They'll join Jason Heyward and Freddie Freeman in a talented lineup.

The bullpen remains one of the best in the game, led by flame-throwing closer Craig Kimbrel. And they'll support a staff that will benefit from a full season of Kris Medlen and a potential breakout from Julio Teheran.
Season Breakdown
The Braves were incredibly streaky this season, but when they're firing on all cylinders, there's no better team in baseball. That was clear during a 19-4 stretch at the end of May and also during a 15-game winning streak at the end of July into August.
Getting Heyward back healthy and atop their lineup can't be overstated heading into the playoffs, and a 5-for-5 game on Thursday was a promising sign that he's ready to make a major contribution. The only constant in the Braves lineup this season has been Freeman, who enjoyed a breakout year in his third full season.
The rotation is young, but the trio of Medlen, Teheran and Mike Minor should not be taken lightly, while the bullpen was the best in baseball this year even with the early-season losses of Eric O'Flaherty and Jonny Venters.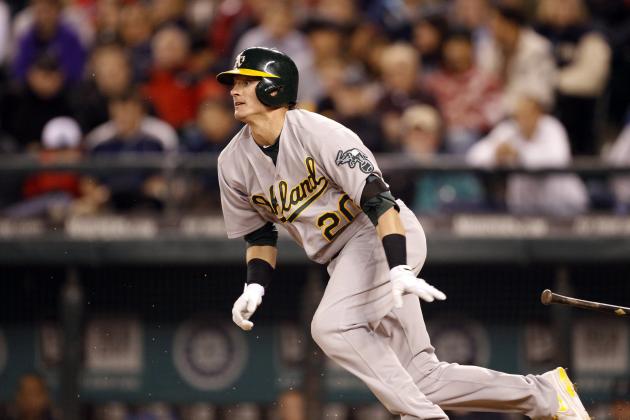 Joe Nicholson-USA TODAY Sports
3B Josh Donaldson
Last Week's Results: 3-3
at Los Angeles Angels (1-2)
at Seattle Mariners (2-1)
My Opening Day Rank: 11
My Preseason Outlook
One of the biggest surprises of 2012, the A's used a fantastic second half to capture the AL West title with a group of unproven youngsters and unheralded veterans.

They're not likely to surprise anyone this time around, but they'll once again rely on the performance of the team as a whole rather than turning to a few superstars.

The starting rotation will benefit from a full season of Brett Anderson atop the staff. The lineup should be improved with the additions of Jed Lowrie and Chris Young.
Season Breakdown
The A's ran away with the AL West title with the Rangers scuffling late, leading by as many as 8.5 games in September and finishing the year with a 5.0-game lead over Texas.
Their lineup still lacks a household name, but Josh Donaldson was one of the biggest breakout stars of 2013, and alongside Yoenis Cespedes, Brandon Moss and Lowrie, the offense has again managed to pile up runs.
On the mound, 40-year-old Bartolo Colon (18-6, 2.65 ERA) turned in the best season of his 16-year career, and he leads a young but talented staff into the postseason. Rookie Dan Straily will likely be the odd-man out in the ALDS rotation, despite going 4-1 with a 2.00 ERA over his final six starts.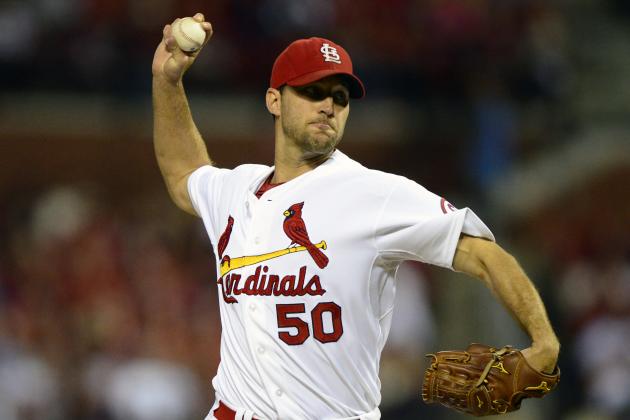 Jeff Curry-USA TODAY Sports
SP Adam Wainwright
Last Week's Results: 6-0
vs. Washington Nationals (3-0)
vs. Chicago Cubs (3-0)
My Opening Day Rank: 9
My Preseason Outlook
The Cardinals used a late-season push to sneak into the postseason last year. Manager Mike Matheny will be looking to lead his team into October once again in his second season at the helm.

Kyle Lohse left in free agency, while Chris Carpenter is sidelined indefinitely, so the pitching staff has some question marks. But top prospect Shelby Miller earned the No. 5 starter spot out of camp, and he projects as a future staff ace.

Offensively, the team has some questions up the middle, but it also has an emerging star in Allen Craig and solid veterans like Carlos Beltran and Yadier Molina. The Cardinals have work to do, but I wouldn't bet against them.
Season Breakdown
The pitching staff that was a question mark entering the season would up being a strength of the team, and it could be three rookies that follow ace Adam Wainwright in the postseason rotation—Miller (15-9, 3.06 ERA), Joe Kelly (10-5, 2.69 ERA) and Michael Wacha (4-1, 2.78 ERA).
The bullpen was a disaster early, as Jason Motte was lost for the season and Mitchell Boggs was unable to fill the closer's role, but Edward Mujica filled the ninth inning role for much of the season and was an All-Star. He faltered late, though, and it now looks like the rookie duo of Trevor Rosenthal (74 G, 2.63 ERA) and Kevin Siegrist (45 G, 0.45 ERA) will fill the role. Fellow rookie Seth Maness (66 G, 2.32 ERA) has also played a key role out of the 'pen.
The offense hit a ridiculous .330 with runners in scoring position on the year, a full 48 points higher than the next best team, but they will be without the league's leader in that category in Allen Craig (.454) for the start of the postseason as he battles a foot injury. Matt Carpenter has been a star in his first season as an everyday player, leading the majors in hits (199), runs (126) and doubles (55).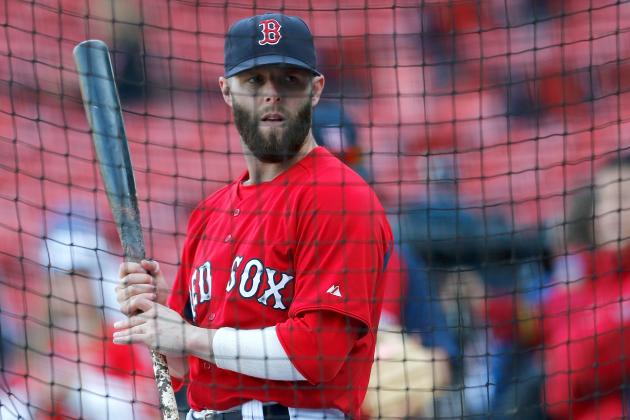 Jim Rogash/Getty Images
2B Dustin Pedroia
Last Week's Results: 2-3
at Colorado Rockies (1-1)
at Baltimore Orioles (1-2)
My Opening Day Rank: 19
My Preseason Outlook
After freeing up a ton of payroll in their August blockbuster with the Dodgers, the Red Sox filled out their roster this winter with a number of mid-level veteran pieces.

Mike Napoli, Shane Victorino, Jonny Gomes and Stephen Drew were all added on the offensive side of things. If Jacoby Ellsbury can bounce back and Will Middlebrooks can build off a solid rookie season, they'll have a terrific offense.

The pitching staff was the biggest issue last season, with Jon Lester and Clay Buchholz both struggling to pitch up to their abilities atop the staff. Ryan Dempster was added in free agency, and John Lackey is healthy after missing all of 2012.
Season Breakdown
I was somewhat critical of the Red Sox decision to spend their newly freed up payroll space on a collection of mid-level veterans, but that group has helped them turn things around after a 69-93 record in 2012.
Perhaps the biggest offseason signing has been Koji Uehara, who was signed to setup Joel Hanrahan but wound up closing games early when both Hanrahan and Andrew Bailey went down with injuries. The veteran converted 17-of-18 save chances with a 0.22 ERA from July 1 on, and he retired 37-straight batters at one point during that span.
Offensively, they have an absolutely relentless attack from top to bottom, and their 853 runs scored this season were 57 more than anyone else. In the rotation, things have been shaky at times, but a staff of Jon Lester, Clay Buchholz, Jake Peavy and John Lackey looks strong heading into October.