Big Ten Football: Power Ranking Every Team Post Week 5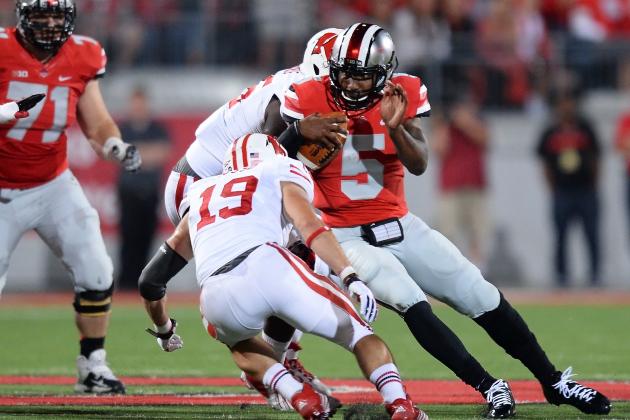 Jamie Sabau/Getty Images
Ohio State QB Braxton Miller
It was a relatively quiet Saturday in the Big Ten with half the conference on a bye week.
It was difficult to learn much about what teams will do heading forward, and the power rankings probably won't look much different than in previous weeks.
Oh, except there was that one game in Columbus, Ohio.
Despite the lack of fireworks elsewhere in the conference, Ohio State-Wisconsin still made prime-time headlines Saturday evening, and it helps to sort through the top-tier teams in the Big Ten.
Check out our power rankings after Week 5.
All stats via ESPN
Begin Slideshow

»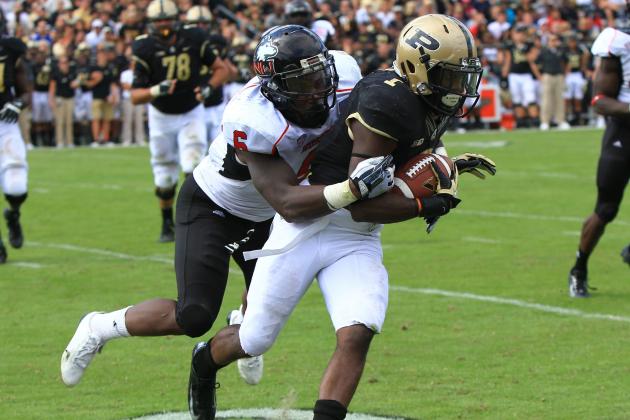 Pat Lovell-USA TODAY Sports
Purdue RB Akeem Hunt
After a 55-24 loss to Northern Illinois, it's difficult to see another win on the schedule.
Unless Purdue can come up with an effort similar to the one it had when Notre Dame came to town, a one-win season is very much in the cards, and the Boilermakers are undoubtedly the worst team in the Big Ten this season.
The loss brings their record to 1-4, and the lone win was a 6-point nailbiter over Indiana State. The other three losses were to Cincinnati, Notre Dame and Wisconsin.
It may be awhile until fans have the pleasure of seeing this team become competitive again. Purdue has a bye week before playing host to Nebraska.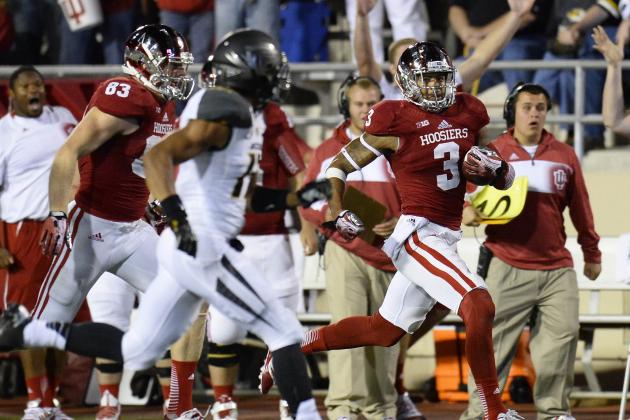 Mike DiNovo-USA TODAY Sports
Indiana WR Cody Latimer
It's not basketball season, although you can bet Indiana fans have a countdown going.
The Hoosiers were off this week, so they didn't have a chance to hurt (or help) themselves in the standings, and Saturday provides a very winnable game with Penn State coming to town.
Still, the team is just 2-2 on the year with losses to Navy and Missouri.
The offense is high-powered and can score points, which bodes well for a Big Ten that is currently experiencing a power outage. But the defense needs to show major improvement before Indiana can move up in the power rankings.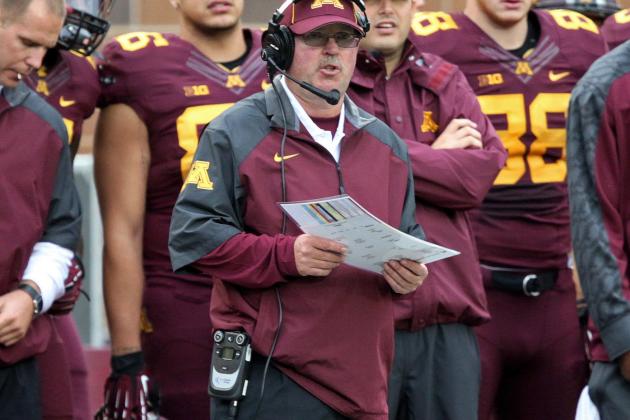 Jesse Johnson-USA TODAY Sports
Minnesota head coach Jerry Kill
Perhaps sliding Minnesota down to the No. 10 spot is a bit harsh, but nothing on their resume indicates that it should be any higher.
The 4-0 start had fans dreaming of a potentially special season, but reality came crashing down on Saturday in a 23-7 defeat to Iowa.
The Golden Gophers are part of the middle pack in the Big Ten. They have the skill to compete with almost anybody in the conference, but it's tough to tell what kind of effort you're going to get each week.
A 16-point loss to the Hawkeyes, however, doesn't instill much confidence moving forward.
Coach Jerry Kill's team heads to Michigan next Saturday.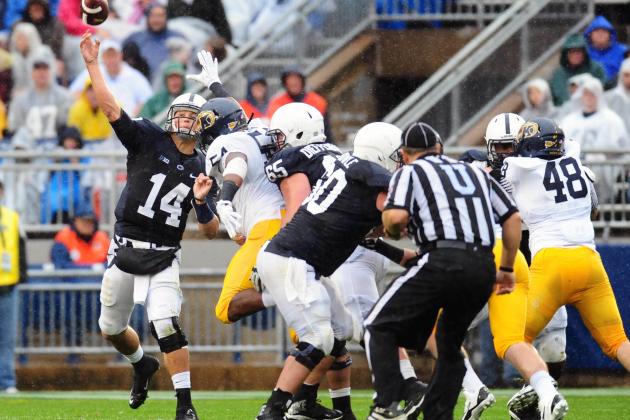 Evan Habeeb-USA TODAY Sports
PSU QB Christian Hackenberg
Like Minnesota, Penn State is also part of a muddy middle group in the Big Ten.
On one hand, the Nittany Lions are 3-1 with comfortable wins over Eastern Michigan and Kent State, and a third, much closer victory over Syracuse.
But they also lost by three to Central Florida. The Knights have proven themselves to be a worthy team this season, especially after nearly beating South Carolina, but it still isn't a very good loss.
Their resume is all we have to go off of, and right now, it isn't great.
Penn State can start the Big Ten slate in a strong way with a win at Indiana next Saturday.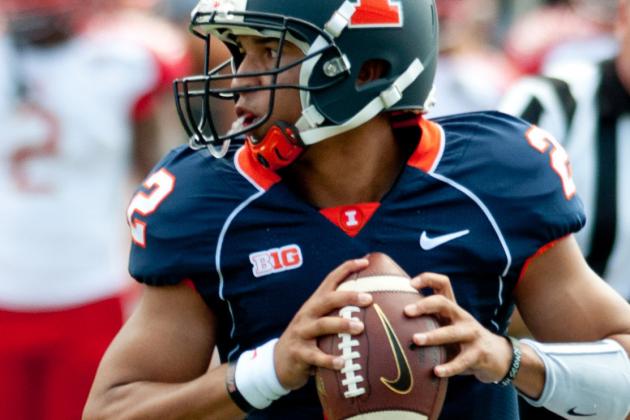 Bradley Leeb-USA TODAY Sports
Illinois QB Nathan Scheelhaase
A 3-1 record with dominant wins over Cincinnati and Miami (OH) is nice, but like Penn State, Illinois' resume isn't strong enough to put them higher than the eighth spot.
The lone loss to Washington is nothing to scoff at as the Huskies are in the Top 20, but Illinois has looked equally great and terrible throughout the season.
Fans should be pleased with the record thus far, and the Fighting Illini's spot in the power rankings will likely fluctuate throughout the season.
In order for it to be in an upward direction, however, the team must bring its A-game to Nebraska next Saturday.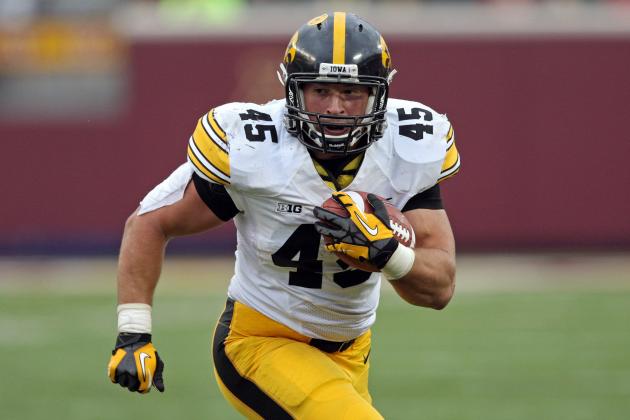 Jesse Johnson-USA TODAY Sports
Iowa RB Mark Weisman
Don't look now, but Iowa sits atop the Big Ten conference standings at the end of September, along with Ohio State.
That won't last very long, but the Hawkeyes have shown marked improvement from their Week 1 loss to Northern Illinois. They've since reeled off four straight victories, including a 23-7 win over Minnesota on Saturday.
The team is really starting to play Iowa football with strong defense and a powerful rushing attack. Its most recent victory sets up an intriguing matchup with Michigan State next Saturday.
A win would give Kirk Ferentz's team some great momentum heading into the bye week before a trip to Ohio State on October 19th.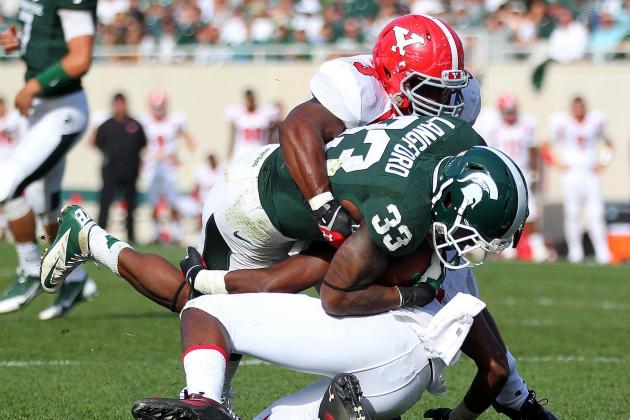 Mike Carter-USA TODAY Sports
MSU RB Jeremy Langford
Michigan State was off on Saturday, so we weren't able to learn anything about their season moving forward.
There are still some big questions in need of answering before this team can really compete with the upper tier of the Big Ten conference. The majority of those questions comes from the offense, where the team has yet to get any sort of consistent play from the quarterback spot.
A loss to Notre Dame wasn't terrible, but we're learning that the Fighting Irish may not be very good after all.
A visit from Iowa next Saturday will provide a clear indication about where the Spartans are headed in 2013.
Bruce Thorson-USA TODAY Sports
Nebraska head coach Bo Pelini
What have we learned about Nebraska football in 2013 from the non-conference slate?
The offense is explosive but inconsistent and (at times) ineffective against good defenses, and the defense may be good enough in the Big Ten but probably won't fare well against well-oiled offenses.
So we have no idea where this team is headed as it hits conference play.
The schedule isn't particularly difficult because the only ranked team left to play on the road is Michigan, a squad with plenty of issues.
But if the Nebraska that gave up 38 straight to UCLA shows up in the next few weeks, easy games will take a darker turn.
Bo Pelini's team hosts Illinois next Saturday.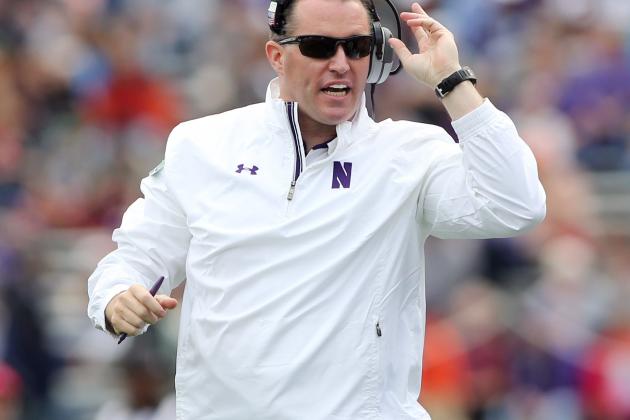 Jerry Lai-USA TODAY Sports
Northwestern head coach Pat Fitzgerald
All Northwestern has done thus far is taken care of business on the schedule.
There aren't any marquee victories, and the team hasn't showed signs of being elite, but the Wildcats have four solid wins and are in great shape heading into Big Ten play.
But the small tests are over, and the biggest one will be coming to Evanston next Saturday. Ohio State heads to town in what will be one of the most-hyped games in school history.
If Northwestern pulls off the upset, it becomes an immediate conference contender and potentially a dark-horse candidate for the title.
But they must first take on the Buckeyes in a game that will provide an excellent measuring stick of just how good this team is in 2013.
Rick Osentoski-USA TODAY Sports
Michigan WR Jeremy Gallon
Oh, the grief that is sure to come along with this one.
Michigan, despite being undefeated and knocking off Notre Dame, is in the No. 3 spot in this week's Big Ten power rankings.
Resume plays a huge factor in where teams are placed, but you also have to just sit back and think, "How good is this team?"
Michigan, although 4-0, isn't good enough to be placed higher.
Everyone points to close wins over Akron and UConn, and yes, those were embarrassing. Heck, the Huskies were just blown out by Buffalo.
But the marquee win on the schedule over Notre Dame looks a lot less appealing right now, too. The Irish barely beat Purdue and were smacked down by Oklahoma on Saturday at home.
So what has Michigan really done? The Wolverines have the talent to a compete for a Big Ten title, but they haven't shown it yet.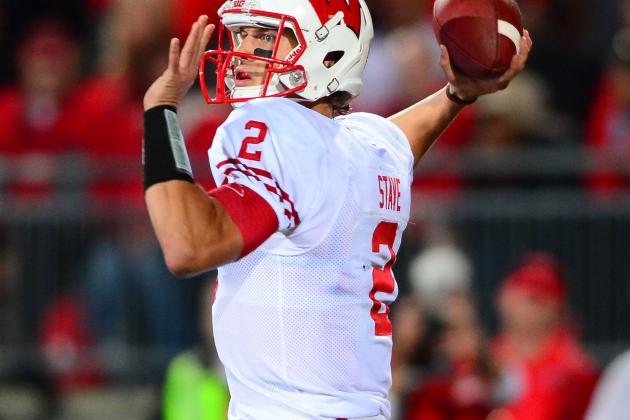 Andrew Weber-USA TODAY Sports
Wisconsin QB Joel Stave
On Saturday night, the two best teams in the conference were in action.
Wisconsin lost 31-24, giving the Badgers their second loss of the season. But before you laugh at where they are placed in the power rankings, answer this: Would any team below them have a better record through four games?
If you said yes, also remember that Wisconsin was given a raw deal at Arizona State in what could have very easily been a road win over a strong team from the Pac-12.
The Badgers fought hard all night against the Buckeyes, and in the end, the comeback fell just short.
Still, the tandem of James White and Melvin Gordon is outstanding, and the only ranked team remaining on the schedule is Northwestern, whom the Badgers get at home. This team may not lose again for quite some time.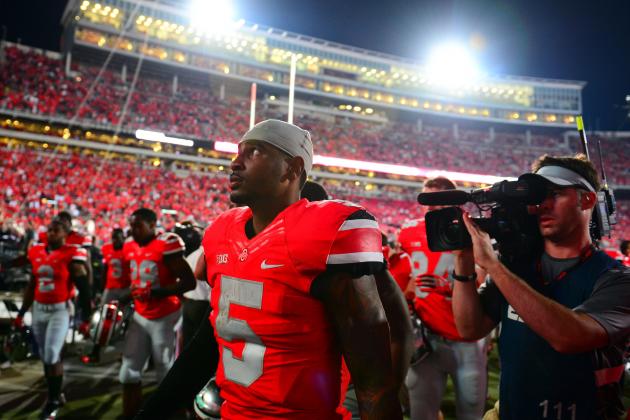 Andrew Weber-USA TODAY Sports
Ohio State QB Braxton Miller
Any and all questions about the Ohio State Buckeyes this season were answered in dramatic fashion on Saturday night.
Braxton Miller returned from injury and led the charge with 198 yards through the air and four passing touchdowns to go along with 83 yards rushing.
Like we've said all along, this team had to prove it can be explosive on offense with Miller in charge. It also needed to show a strong defensive effort against a good team.
Both of those things occurred in a 31-24 win over Wisconsin, and the victory puts the Buckeyes in the driver's seat to reach the Big Ten championship game at the end of the season.