Washington Redskins vs. Oakland Raiders: Live Score and Analysis for Washington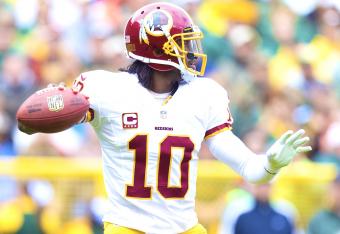 Washington Redskins 24-14 Oakland Raiders Final Score
The Washington Redskins overcome a 14-0 deficit to record their first win of the season. Surprisingly, much of the credit belonged to their usually suspect defense.
Coordinator Jim Haslett's unit played soft coverage and used a swarming front to get pressure. Their performance gave the offense time to get its act together.
Robert Griffin III was blighted by inaccuracy, but did throw a scoring pass to Pierre Garcon. But it was the rushing attack that finally got the offense going.
Alfred Morris and Roy Helu Jr. combined for 113 yards, with Helu managing to score a touchdown on the ground.
All screen shots courtesy of Fox and NFL.com Gamepass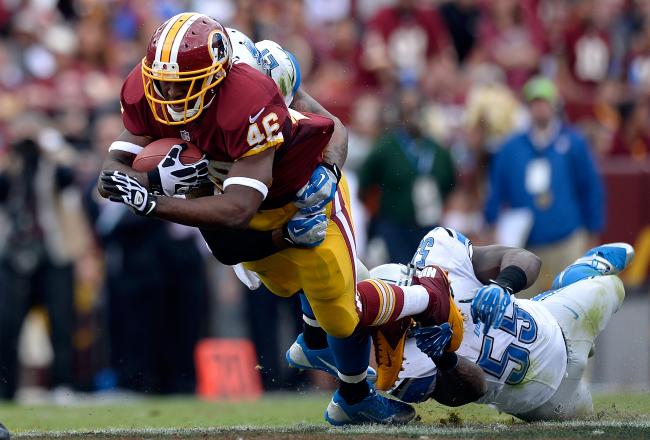 Shanahan: Alfred Morris did not beak any ribs. #Redskins

— Grant Paulsen (@granthpaulsen) September 29, 2013
There is some really encouraging news emerging from head coach Mike Shanahan's post-game words. Apparently, Morris is not seriously injured, having avoided broken ribs, according to Paulsen.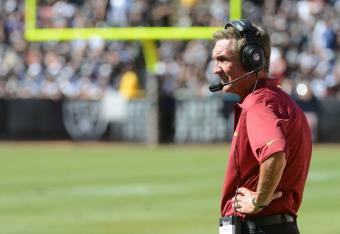 That is the end of the game and Washington gets its first win. They topped the Raiders 24-14 and owe a large debt of gratitude to their defense.
The coverage was disciplined and the pass rush relentless. Offensively, things were shaky for large portions of the game, but leaning on the run more often in the second half, made a big difference.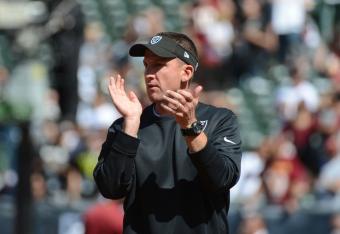 Bad strategy. Take the 3, get the TD later. Have two timeouts.

— Rich Tandler (@Rich_TandlerCSN) September 29, 2013
The choice to go for it on a fourth down was a surprising one by the Raiders. There was certainly enough time to kick a field goal, stack up for the run and bank on stopping Washington.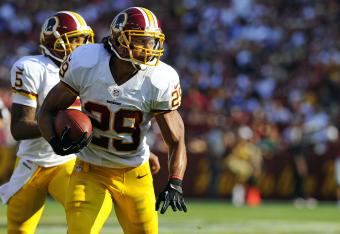 Helu has rushed for a first down on three carries. The increased balance on offense in the second half has gradually made a big difference.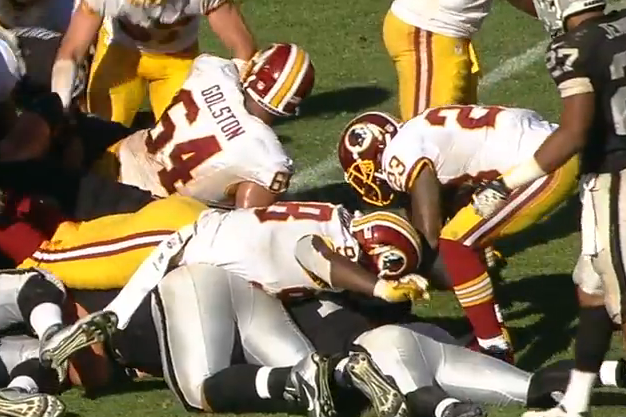 Huge play for the Redskins who stuff Flynn on a quarterback sneak on fourth down at the 15-yard line. The interior of the line has been magnificent for Washington's defense today and they had that play stopped cold.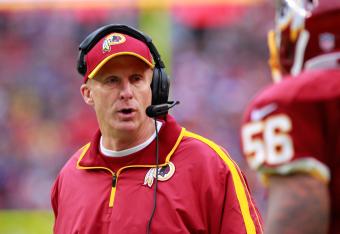 Haslett may be playing things a little too cautious on this drive. He kept the base 3-4 in, but never rushed more than four.
It is too early for a prevent mode on defense. Raiders already in the red zone.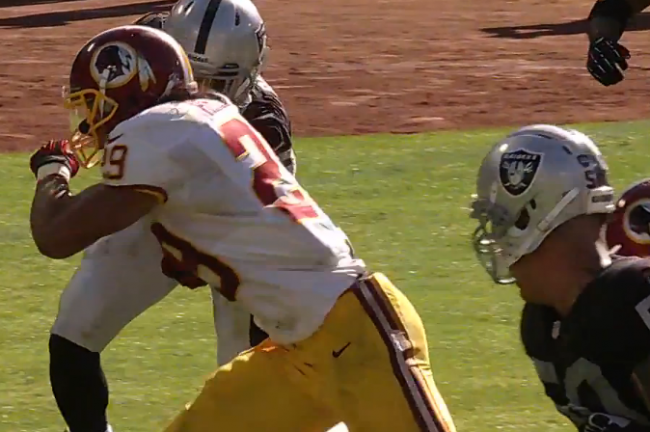 Touchdown Redskins!
Helu goes straight up the middle from a shotgun handoff. He made a nice move early in the hole and then showed off surprising power to muscle his way in for the score.
Helu proved his value to the offense with those two plays.
24-14, Washington.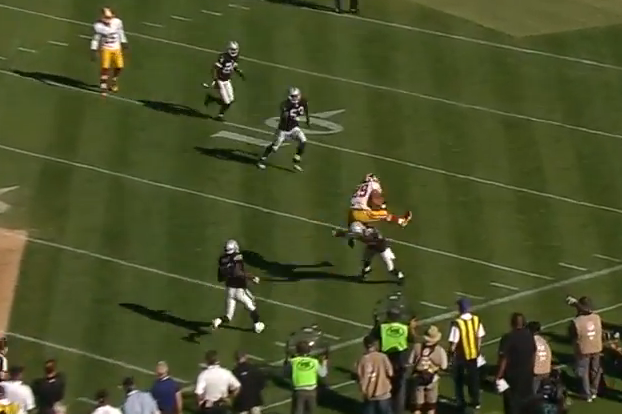 Helu turns the clock back to his rookie season, with a stunning hurdle to cap a critical catch and run. The play also owed a lot to Griffin's escape act in the pocket.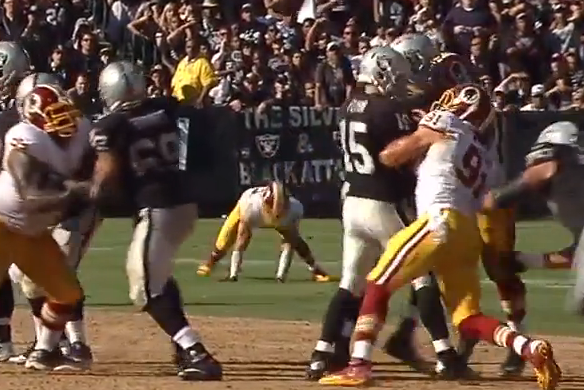 Fumble! The seventh sack of the day, this one by Kerrigan, results in a fumble that Cofield recovers.
The pair have been the stars of the show up front and combine for the game's biggest play.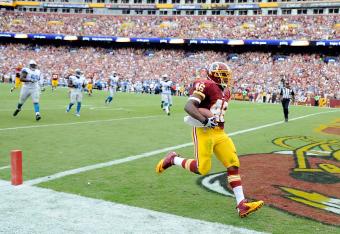 Alfred Morris done for day..Coming back..No pads. #Redskins

— Chris Russell (@Russellmania980) September 29, 2013
More bad news for the offense, as Morris is confirmed as out for the remainder of the game. The Redskins were unable to run down some clock on their last possession.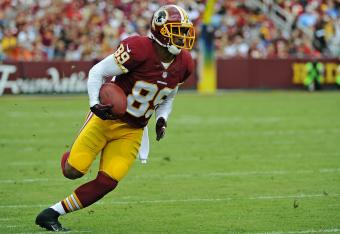 Griffin badly overthrew Santana Moss on 3rd-and-2. His inaccuracy has been the main reason for Washington's stale offensive effort.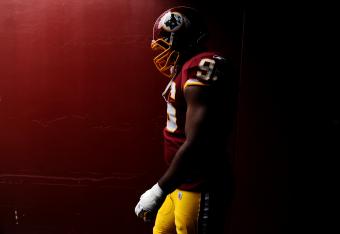 Riley with some heavy pressure there to force INC..Good thing, Reed looked like he couldn't get call on defense and was late getting to WR.

— Chris Russell (@Russellmania980) September 29, 2013
Cofield tallies Washington's sixth sack, forcing a punt. Believe it or not, that was a coverage sack, as Flynn paused in the pocket a long time before the front four flushed him out.
Pressure was good on that drive, as Haslett mixed a blitz in on second down and the element of surprise stymied the Raiders.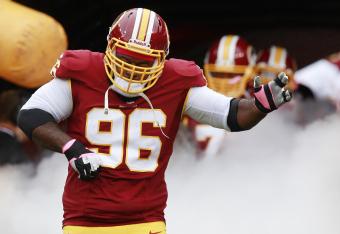 The #Redskins have managed five sacks today: Orakpo 2, Kerrigan 1, Cofield 1, Tapp 1.

— Grant Paulsen (@granthpaulsen) September 29, 2013
Barry Cofield and Brian Orakpo notch consecutive sacks to destroy Oakland's offense. The Redskins are relying on a deep and loose coverage shell and just trusting their front to get pressure.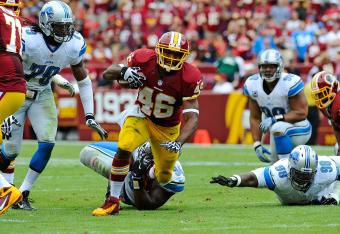 Alfred Morris Rib contusion. Questionable to return.

— Mike Jones (@MikeJonesWaPo) September 29, 2013
Potentially a huge blow for the Redskins as Morris is injured. It could be one good drive and done for Morris, but Helu should be able to cover.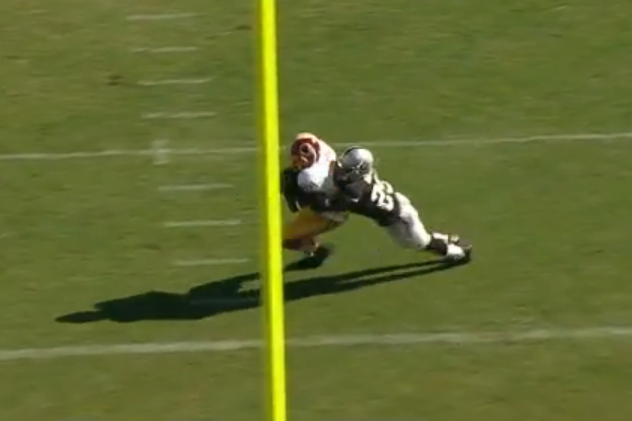 Touchdown Redskins!
Griffin fires a low slant pass to Garcon, who makes the tough catch and falls into the end zone to put Washington into a well-deserved lead.
The key play was the 17-yard catch by Hankerson, as well as some great work from Morris. It is amazing what a difference true offensive balance makes.
17-14, Redskins.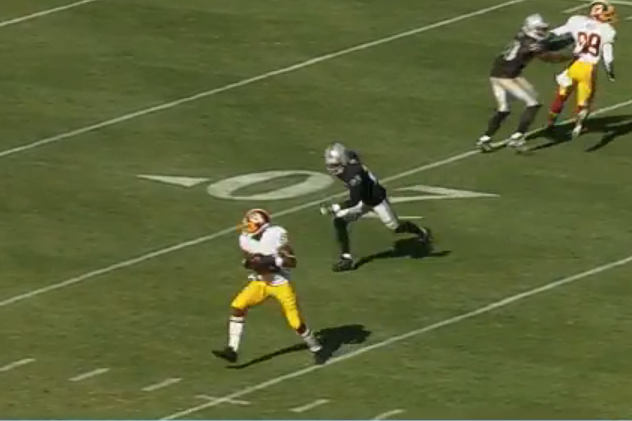 Leonard Hankerson continues to show a nice habit for making clutch plays. He makes a key catch to sustain this drive.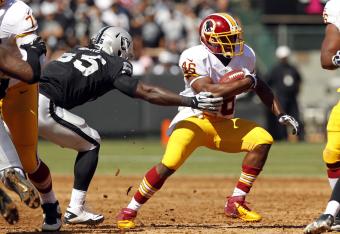 Morris finally gets it going with a pair of nice runs. The first showcased his power, the second was a lesson in quick cuts.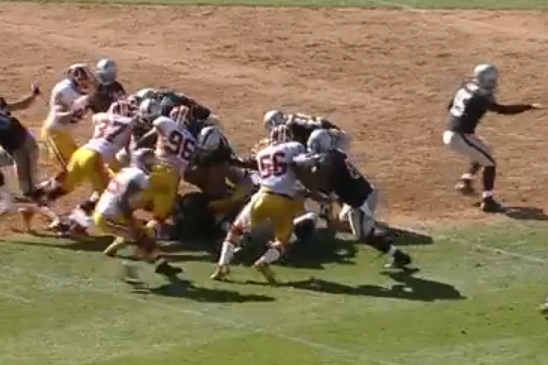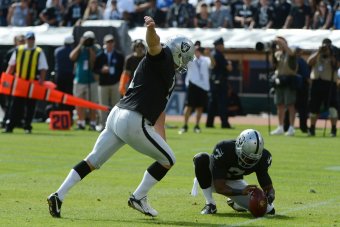 Kyle Terada-USA TODAY Sports
Missed field goal!
The defense continues its heroic effort, as Orakpo rejects the Raiders running game on 3rd-and-1.
Things get better, as Sebastian Janikowksi missed his field goal attempt. This game is within Washington's reach, but the offense has to produce a big play or two.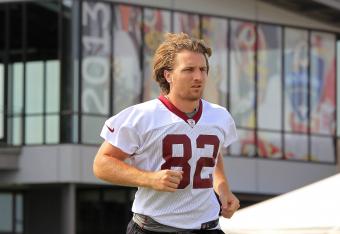 Fumble! A disaster for the Redskins as Logan Paulsen spills it after easily converting a third down. He was dragging would-be tacklers, but his zeal proved to be his undoing.
Oakland driving near Washington's 30-yard line.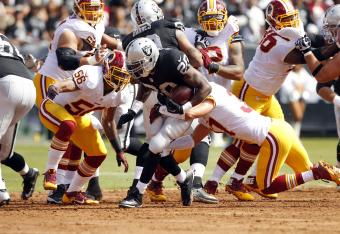 Chris Neild is out with a right calf strain. And for Oakland, McFadden is out. Hamstring.

— Mike Jones (@MikeJonesWaPo) September 29, 2013
Of course, I would be remiss not to note that the defense has benefited from the injury to McFadden. Along with Pryor's absence, the Raiders offense is without its two primary playmakers.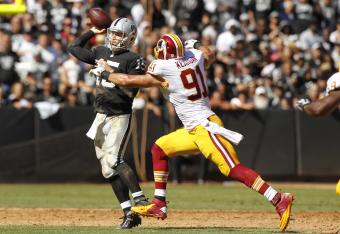 The defense comes to the rescue again. Another three-and-out is forced. Haslett rushed just four on this particular third down.
His front line did their part, quickly forcing Flynn out of the pocket and rushing him into an errant throw. A more cautious approach on defense is really paying off.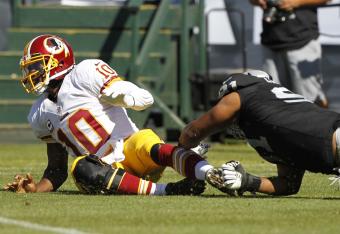 #Redskins were pressuring with five there, Meriweather off left edge.. INC went other way. Good start.

— Chris Russell (@Russellmania980) September 29, 2013
The offense punts again. Oakland's overload bltizes have caused problems. Free rushers are in Griffin's face most plays.
It is surprising how often teams have blitzed the Redskins and had success this season. Defenses would not have risked that bold an approach in 2012.
The fact that more are willing to blitz this often probably reveals all we need to know about Griffin's diminished mobility.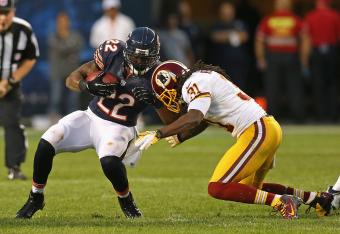 The defense forces a quick three-and-out to start the second half. Haslett played very vanilla on the first two downs, but unleashed the blitz on third down.
Safety Brandon Meriweather blitzed late to rush Flynn's throw. It was a nice blend of calls from Haslett.
The defense is doing its part and now it's time for Griffin and company to do theirs.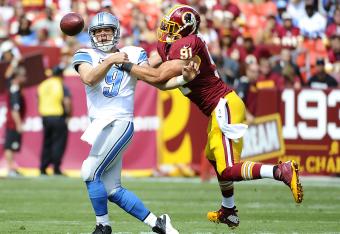 That is halftime with Oakland leading 14-10. A good fight back from Washington after surrendering two early scores.
The pass rush is swarming on Flynn, but the Redskins own offense is not being consistent enough.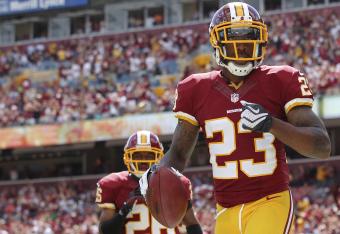 With Deangelo Hall on the sideline the #Redskins are now taking on a speedy WR group with EJ Biggers and David Amerson outside in nickle.

— Grant Paulsen (@granthpaulsen) September 29, 2013
A worrisome injury to DeAngelo Hall could stretch an already depleted secondary to its breaking point.
This article is
What is the duplicate article?
Why is this article offensive?
Where is this article plagiarized from?
Why is this article poorly edited?