What We Learned About the Big Ten in Week 5
September 29, 2013

Despite having just four games and just two conference matchups on the slate, the Big Ten race became a lot clearer in Week 5 of the season. 
With big matchups in Minneapolis and Columbus and blowouts of epic proportions, the hierarchy of the Big Ten also became quite clear. 
You would think with so few matchups to look at that we wouldn't learn a lot, but that isn't the case as Saturday solidified a lot for this writer. 
So, what did we learn in Week 5 across the Big Ten? Let's take a look. 
Purdue is Bad, but Etling Provides Some Hope for the Future. 
Who's worse—the 2012 Illinois team or the 2013 Purdue team? Right now, that is a more-than-fair question.
On Saturday, the Boilermakers were completely dominated by the visiting Northern Illinois Huskies, plain and simple. The 55-24 scoreline should say it all.
They also allowed NIU to make history by becoming the only MAC team to win two games against the Big Ten. Way to go, Boilermakers. 

Pat Lovell-USA TODAY Sports
Despite all the bad, there was some sort of a silver lining in the form of freshman quarterback Danny Etling. 
Head coach Darrell Hazell had wanted to keep the redshirt on Etling, but when starter Rob Henry went 5-of-16 passing for just 130 yards with two awful interceptions that killed promising drives in the first half, Hazell really didn't have a choice. 
Off came the redshirt, and Etling was inserted into the game. Sure, it wasn't perfect, but a 241-yard, two-touchdown performance was not half bad at all for a guy making his first-ever throws in a college football game. 
More importantly, though, the fans and the players around Etling seemed more energized following his insertion into the game.
Hazell and Co. were in serious danger of losing the fans in the stands and likely the locker room had he not made the change, and that is the kiss of death for a first-year head coach. Luckily for him, Etling didn't disappoint. 
Now, it's a far cry from showing promise to actually being a competent quarterback, and Etling is about to thrown to the fire of Nebraska, Michigan State and Ohio State over the next three weeks.
Illinois Won't be a Pushover This Season and Can Thank an Improving Defense for That 

Bradley Leeb-USA TODAY Sports
I always hesitate to heap praise on a team when it is doing it against—how shall I say this nicely?—awful opponents. However, watching Illinois from Week 1 to yesterday, it is clear this team is improving every week. 
That's a good sign that the Illini won't just lay over and die for the majority of their upcoming Big Ten schedule, and they could even pull off an upset or two down the road. 
No doubt, Nathan Scheelhaase will be getting the headlines, and his numbers warrant it, but for me it's the improvement on the other side of the ball that matters most. 
Sure, the offense can get into a track meet with any opponent and may still have to win a game or two that way, but this year the defense will be more than just "along for the ride," if you will. 
They'll be in the co-pilot's seat and have their hands on the wheel the rest of the way. 
Since the opener when they allowed 34 points to Southern Illinois, the Illini haven't allowed a non-ranked opponent to score more than 17 points, while scoring an average of 47.5 points in the wins over Cincinnati and Miami (OH). 
I'm not saying the Illini defense is going to win football games—it's a far cry from that good just yet—but this is a youthful group that is getting better every week they are on the field. 
This defense will at least give its offense a chance to win football games, and with a hot hand like Nathan Scheelhaase, there isn't much more you could ask for if you are an Illini fan.
Move Over, Allen Robinson: Jared Abbrederis is the Big Ten's Best Receiver
Allen Robinson put up crazy numbers last season (77 receptions, 1,018 yards and 11 touchdowns) and is doing it again this season with 26 catches for 448 yards and three touchdowns in four games. 
However, Robinson hasn't seen a corner the likes of Bradley Roby yet this season.
Jared Abbrederis did on Saturday night, and he simply torched the Buckeyes star corner to the tune of 10 catches for 207 yards and a touchdown. 
More important than just the numbers alone was how Abbrederis did it. For example, there was this ridiculous throw and catch for his touchdown: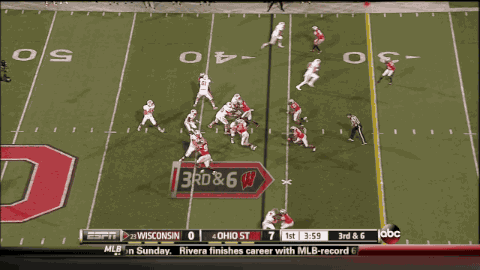 Then Abbrederis showed how good his hands are by grabbing a jump ball out of mid-air. 
What we all witnessed on Saturday night was the Jared Abbrederis of two seasons ago, the one who nearly crushed Oregon on his own in the Rose Bowl. 
As we sit here on Sunday before Week 6, Abbrederis now leads the Big Ten in receptions per game (6.6) and receiving yards per game (114.4). Only Corey "Philly" Brown has caught more touchdowns than Abberderis. 
Abbrederis may not show up huge on the stat sheet again this season, but that doesn't mean he's any less of a wide receiver—it likely means the running game is going full steam ahead.
On Saturday night in the Horseshoe, he proved why he is the best receiver in the Big Ten. 
Ohio State is the Big Ten's Best Team, No Questions Asked Anymore.
Some Wisconsin fans may point to two really dubious penalty calls as the reason the Buckeyes beat their Badgers, but the reality is that the best team in the conference won that game. 
Ohio State had an answer for every punch the Badgers threw at them all game long and never trailed in winning 31-24. 
Braxton Miller had 281 yards of total offense and four touchdowns in his return to action, cementing why he deserved to be the starter all along. 

Andrew Weber-USA TODAY Sports
Wisconsin just had no answer for Carlos Hyde in big situations as he added a team high 89 yards in his first time starting all season long.
Yet on the flip side, the explosive Badger run game was held largely in check, only gaining 104 yards on 27 carries.
The final score may have made this game close, and it was. But watching it, you should've felt like Ohio State was in control from start to finish, and that's a sign of a dominant football team.   
Now, the question is: Can the Buckeyes avoid the trap games they've fallen prey to nearly every year as of late? 
*Andy Coppens is the Big Ten Lead Writer for Bleacher Report. Follow him on Twitter for more of the Big Ten discussion.