Philadelphia Eagles vs. Denver Broncos: Live Score, Highlights and Analysis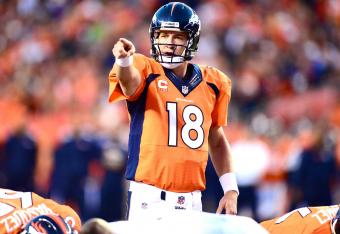 It was billed as a meeting between the top two offenses in the NFL. Only one showed up.
Peyton Manning remained perfect, throwing four touchdowns and no interceptions. The Denver Broncos remained perfect, winning their fourth game in four chances, steamrolling the Philadelphia Eagles 52-20 at Sports Authority Field at Mile High.
Just how bad did it get for the Birds? Their starters on offense were actually outscored 14-13 by Denver's special teams, while both clubs' backup quarterbacks made appearances in the game.
Simply put, the Broncos are in a separate class from most of the NFL, especially rebuilding teams like the one from Philly. That played out on the field today, as Manning and company completely embarrassed the Eagles on a national stage.
The Broncos move to 4-0 on the season, and you have to wonder if anybody can hang with them. The Eagles drop to 1-3, but remain only one game out of first place in the NFC East. Scroll through the live blog for more analysis of this absolute massacre.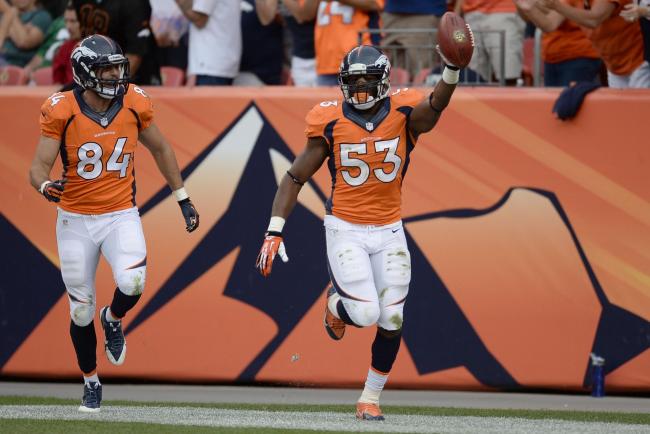 Final: 52-20, Broncos
It's over. The Eagles were completely outclassed today on offense, defense and special teams. Peyton Manning is amazing, and it's likely Philly never had any chance of stopping him, but that doesn't explain why the starters on offense were outscored by 14-13 by Denver's special teams.
The Broncos are a Super Bowl contender, while the Birds are purely a rebuilding team. That showed on Sunday in what was one of the worst blowouts of the 2013 NFL season.
Chip Kelly isn't responsible for the Eagles' 2013 talent level. But people expect to see promise, hope, aren't getting it right now.

— Les Bowen (@LesBowen) September 29, 2013
52-20 Denver, 2:00 fourth quarter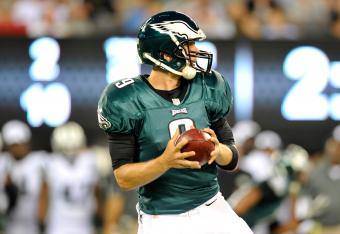 52-20 Broncos, 4:35 fourth quarter
Foles comes in and quickly leads the Eagles on the most meaningless seven-play, 80-yard scoring drive in recent memory. Last one out of the stadium, please don't forget to turn out the lights.
Here's the good news for Eagles fans: The San Diego Chargers are probably going to defeat the Dallas Cowboys, which means they will remain only one game out of first place in the NFC East.
By the way, Nick Foles is in for Vick at quarterback. Chip Kelly is waving the white flag.
52-13 Broncos, 6:53 fourth quarter
Obviously Philadelphia's defense and special teams played poorly today, but the Eagles offense needed to be sharper if they were to have any chance today. They settled for field goals three times in the red zone (twice when it could have mattered), and after starting sharp, Mike Vick crumbled as the game went on. He's connected on 14 of 27 passes for 248 yards, which simply is not efficient enough when Peyton Manning is standing on the other sideline.
But hey, there wasn't much they could have done. Total annihilation in Denver.
Brock Osweiler enters the game for the Broncos. There is 10 minutes and 42 seconds remaining.

— Zach Berman (@ZBerm) September 29, 2013
And now for the ultimate humiliation, the Broncos have pulled Peyton Manning and in comes the backup quarterback. It doesn't get any worse than that.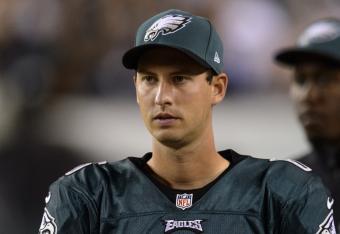 49-13 Broncos, 10:14 fourth quarter
Alex Henery misses a field goal for the third consecutive game, which obviously means nothing right now, but probably does suggest the Eagles may want to consider acquiring a new kicker, among other things.
49-13 Broncos, fourth quarter
Denver has a great team and all, but the Eagles are getting absolutely humiliated. Blocked punt? They have been absolutely dismantled in all three phases of the game.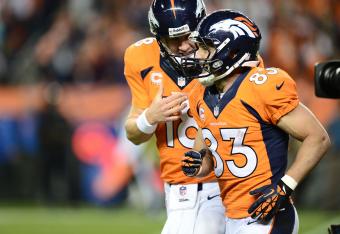 Old Spice lied to me. They claimed Wes Welker's legs had been eaten by lizards. #FalseAdvertising
@LesBowen If you lose by 3+ TDs, a dozen bigger problems on personnel, scheme, etc. that come into play before "Why didn't you go for it?"

— Brian Solomon (@Brian_Solomon) September 29, 2013
42-13 Broncos, 0:22 third quarter
Eagles completely outclassed today. End of story.
35-13 Broncos, 1:05 third quarter
Moral victory for the Eagles. They've forced Peyton Manning to take a timeout on third down. Things are looking up! (No, they're not.)
Unlike Michael Vick. RT @espn: Real game Peyton Manning > Video game Peyton Manning

— MileHighReport (@MileHighReport) September 29, 2013
This one is for... well, they know who they are.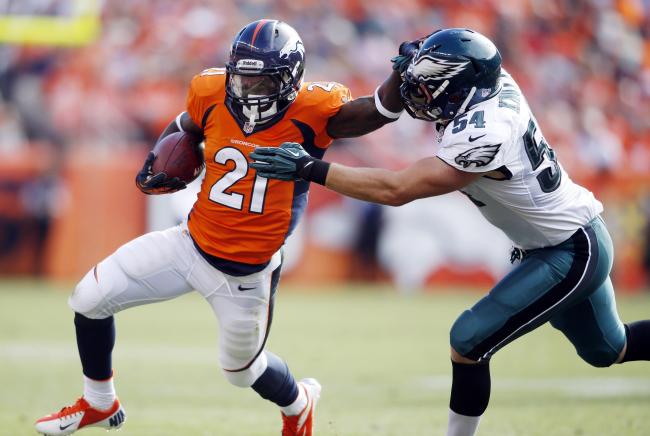 35-13 Broncos, 5:10 third quarter
The Eagles simply do not have the defense for this. Peyton Manning now with four touchdown passes on the afternoon.
And now Manning has a new career high for consecutive passes without an INT: 191 and counting. #PHIvsDEN

— Denver Broncos (@DenverBroncos) September 29, 2013
Obligatory Peyton Manning update.
There was a dropped pass, but three straight passes after two big McCoy runs was questionable.

— Jeff McLane (@Jeff_McLane) September 29, 2013
McCoy has been shuffled in and out of the lineup today with various bumps and bruises, but it's fair to question the play-calling there. Give the ball to your workhorse, Chip.
28-13 Broncos, 8:22 third quarter
This game might be over if the Eagles don't get some kind of stop here. Their offense can put up points, but 35-13 is a deep grave. No room for error at that point.
Manning has Eagles' D totally figured out now, and also has officiating crew thoroughly cowed. That's quite a combo.

— Les Bowen (@LesBowen) September 29, 2013
Presented without comment.
Manning to D. Thomas. PFM's 2nd touchdown of the day ties him with K. Warner for most TD passes through 4 games in NFL history.

— MileHighReport (@MileHighReport) September 29, 2013
Peyton Manning: still perfect in 2013.
Seen several replays and that was not pass interference against Fletcher. Another terrible job by the refs there. Missed hold on kickoff too

— Edward Kracz (@kracze) September 29, 2013
28-13 Broncos, 9:54 third quarter
The Broncos come out of the locker room and go on a long, methodical march against a helpless Eagles defense. Yes, Denver's march was aided by an awful pass interference call in the end zone, but was Philly stopping it anyway? It took them just 10 plays to advance 80 yards. Even if the Eagles respond, you have to wonder whether they can climb out of the hole they've already dug.
Eagles need to send a thank you to Knowshon Moreno for that extremely stupid penalty that helped knock the Broncos out of FG range.

— Jimmy Kempski (@JimmyKempski) September 29, 2013
The Broncos definitely missed a chance to tack on at least three points at the end of the half, maybe more. The Eagles caught a break. Now they need a stop to start the second half.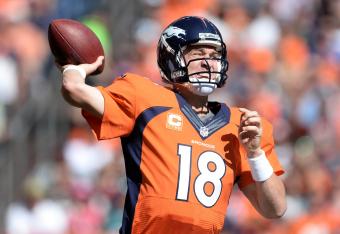 21-13 Broncos, start of the third quarter
Telling stat of the first half: The Eagles have scored touchdowns on one of three trips inside the red zone, while the Broncos have converted for six on both of theirs. That means the Eagles have left at least eight points on the board, which just happens to be the difference in the score after 30 minutes.
Plenty of time remaining to make it up, but Denver will start with the ball, and Peyton Manning is still perfect. The Broncos signal-caller threw his 13th touchdown pass of the season earlier and has yet to throw an interception. Good luck stopping him, Chip Kelly and Bill Davis.
21-13 Broncos, halftime
Punting was probably the right decision for the Eagles, as they manage to keep Peyton off the board this time. Going into the locker room trailing by one possession isn't bad, all things considered. Plenty of back-and-forth action, as anticipated.
HATE punting when you are inside the other team's 40-yard line. Can't believe Chippah willing to take penalty then punt there. #eagles

— Jordan Raanan (@JordanRaanan) September 29, 2013
A lot of people are questioning the Eagles' decision to take a delay of game penalty and punt rather than go for it on 4th-and-6. I don't blame Chip Kelly at all for that choice. I'd rather give Peyton Manning the football at his own 10-yard line than his own 40.
This article is
What is the duplicate article?
Why is this article offensive?
Where is this article plagiarized from?
Why is this article poorly edited?