SEC Football: Ranking Top 10 Performances from Week 5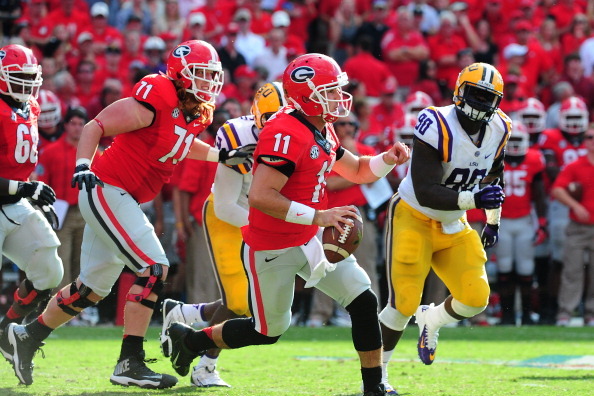 Scott Cunningham/Getty Images
UGA QB Aaron Murray
Georgia vs. LSU highlighted a tremendous Week 5 slate in the SEC, and if the game was any indication, this season may be as wild as any we've seen in recent memory.
Both the Bulldogs and Tigers showed themselves to be among the best teams in the nation, and the game contained a number of plays from guys who seem to make this list every week.
Aside from the showdown in Athens, however, Saturday featured a strong day from the running backs.
College football is a lot different today than it was five years ago, but if we get to see more games like the ones from yesterday, people are going to jump on board the high-octane offense train and stay there.
Here are the top 10 performances in the SEC from a wild Saturday.
All stats via ESPN
Begin Slideshow

»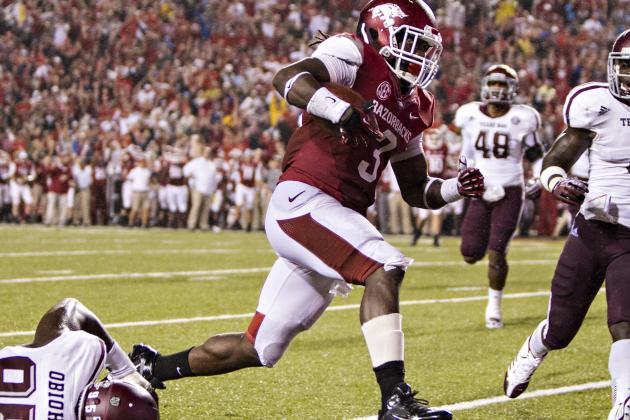 Wesley Hitt/Getty Images
RB Alex Collins
Running back Alex Collins put on another great show Saturday against Texas A&M.
The true freshman running back carried the ball 14 times for 116 yards and a touchdown. If you're keeping track, that's over eight yards per carry and it gives Collins nearly 600 yards on the season.
The stat line is nice, but the part to really focus on is "true freshman." The fact that he continues to have great games after being in high school just a year ago makes everything look a lot more impressive.
Of course, everyone will want to see if he can do it against better defenses, too, but he'll get that chance against the next two opponents, South Carolina and Alabama.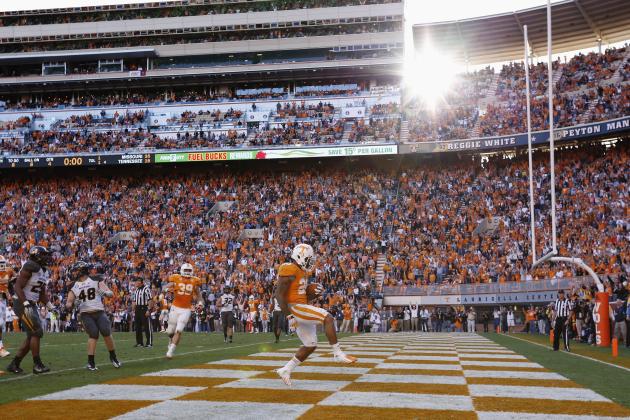 Joe Robbins/Getty Images
Tennessee RB Rajion Neal
Tennessee hung on against South Alabama on Saturday for a 31-24 win. It was a disappointing performance for a Volunteers team looking to make progress.
None of that stopped running back Rajion Neal from having his best game of the season, however.
The senior back had 25 carries for 169 yards and a touchdown, providing consistency to an offense in sore need of it. He also caught three passes for 14 yards out of the backfield.
Unfortunately for Butch Jones' team, they now get the pleasure of facing Georgia, South Carolina and Alabama in what could be a very long October.
But if Neal can keep his momentum moving forward, the Vols may be able to hang around in a game or two.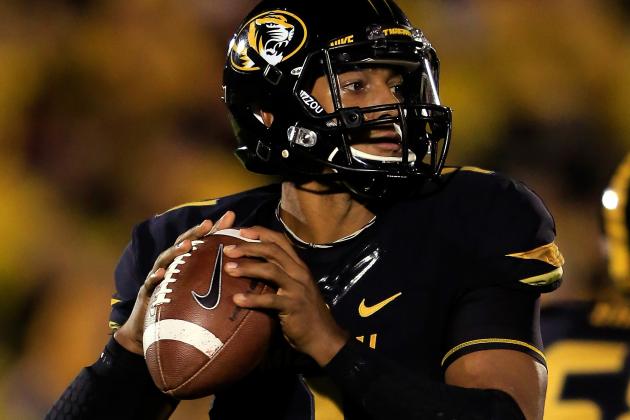 Jamie Squire/Getty Images
Missouri QB James Franklin
James Franklin continued his spectacular 2013 season with a great performance against Arkansas State on Saturday.
The dual-threat senior threw for 255 yards and three touchdowns while adding 33 more yards on the ground.
He has Missouri 4-0 after a disappointing 2012 season, and the Tigers will have a chance to make this year truly special with five ranked opponents remaining on the schedule.
Franklin's numbers have come against underwhelming competition, but the strong start should have him heading into the SEC slate with a ton of confidence.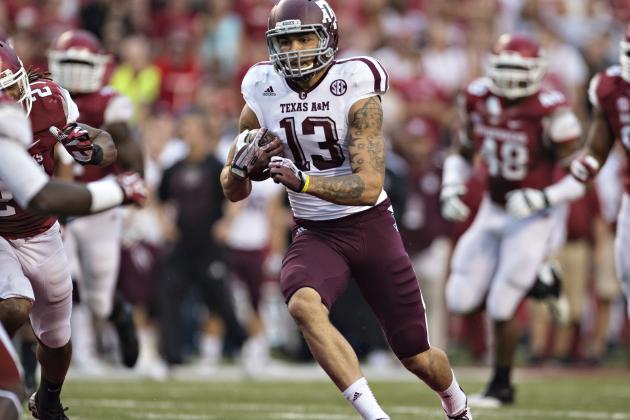 Wesley Hitt/Getty Images
Texas A&M WR Mike Evans
Wide receiver Mike Evans can do it all.
Against Arkansas, the sophomore caught just six passes but turned those into 116 yards and two touchdowns. The longest went for 49 yards.
Quarterback Johnny Manziel also had a strong game, so consider this a dual-player slide if you want. But it was ultimately Evans' performance that had the biggest impact on the Aggies' victory.
Great games against teams like Arkansas can be dismissed, but we also have his effort against Alabama firmly in our football memories.
In a year when receivers have dominated the grandest stages of the game, Evans might be the very best of them all.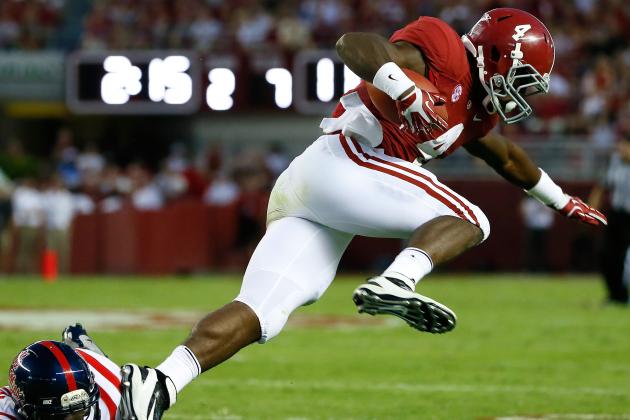 Kevin C. Cox/Getty Images
Alabama RB T.J. Yeldon
Players can make this list for a couple reasons. It usually requires a big statistical day, but occasionally one big play will do it.
In a game in which points were tough to come by, Alabama running back T.J. Yeldon made a huge play in the third quarter to push this thing much closer to blowout status.
Yeldon took a handoff, dashed up the middle, cut right and put a ridiculous spin move on a poor defensive back before scampering the rest of the 68 yards to the end zone.
On the day, the sophomore back had 17 carries for 121 yards and a touchdown.
It wasn't his greatest game, but his long run in the third quarter was a thing of beauty and it puts Yeldon on the list of top 10 performances from the SEC on Saturday.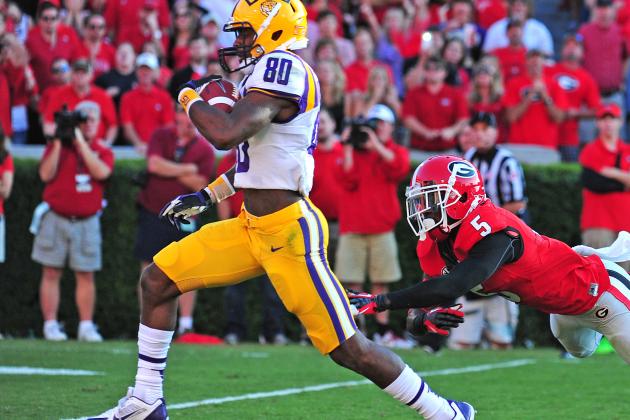 Scott Cunningham/Getty Images
LSU WR Jarvis Landry
Saturday provided confirmation that LSU has the best tandem of receivers in the game. Between Jarvis Landry and Odell Beckham, you won't find a better pair.
But while Beckham has seen his name on this list a couple times, the honor belongs to Landry this time around.
Even in a loss, the junior wideout caught 10 passes for 156 yards and a touchdown. He made several grabs in the fourth quarter that you had to see to believe, and there doesn't seem to be a defense that can contain either of these guys.
Making this list won't provide any solace for Landry, whose team fell to Georgia in a 44-41 thriller. But his performance was a memorable one, and Bulldogs fans are probably happy their team won't have to see him again for awhile.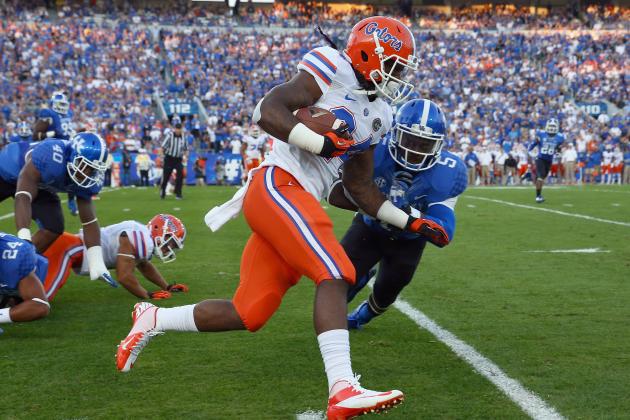 Andy Lyons/Getty Images
RB Matt Jones, Florida
Now there's the Matt Jones that seemed like a trendy pick to sneak up and capture a spot on the all-conference team.
The Florida running back had easily his best game of the season on Saturday in a 24-7 win over Kentucky.
Jones, a sophomore, had 28 carries for 176 yards and a touchdown to go along with three receptions for 20 yards.
Make no mistake, the Gators offense still has a ton of work to do. But the reemergence of Jones makes Will Muschamp's team a lot scarier today than it was a week ago.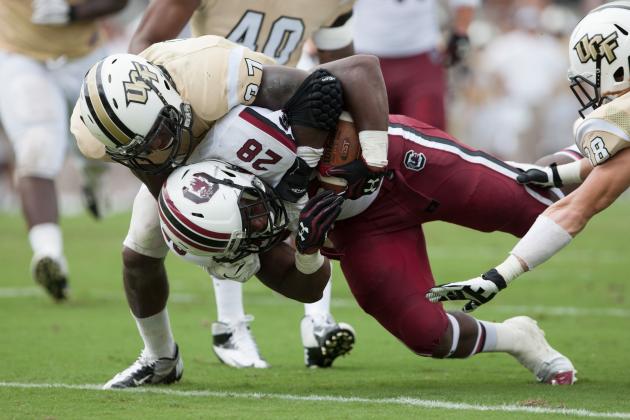 Rob Foldy-USA TODAY Sports
USC RB Mike Davis
In case you weren't a believer in South Carolina running back Mike Davis, well, Saturday proved that the sophomore back is good. Like, really good.
Davis carried the ball 26 times for 167 yards and three touchdowns against a surprisingly feisty Central Florida team. He also caught two passes in the 28-25 victory.
After opening his 2013 campaign with a couple of strong performances, Davis is showing no signs of slowing down. His growth gives the SEC the deepest stable of running backs in the nation.
Davis will have a chance to continue his strong play with upcoming games against Kentucky and Arkansas.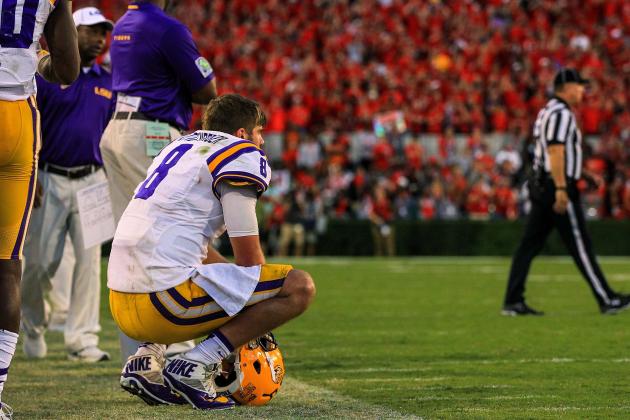 Daniel Shirey-USA TODAY Sports
LSU QB Zach Mettenberger
On Saturday, LSU quarterback Zach Mettenberger officially graduated into the realm of the elite players in the game.
Yes, the Tigers lost and no, he wasn't able to lead a game-winning drive in the final minute-and-a-half.
But if you watched the game, you saw a poised quarterback with a huge arm and much more accuracy than he's shown in the past.
His final two touchdown drives, in particular, were marvelous. He finished 23-of-37 for 372 yards and three touchdowns.
LSU may have lost, but we learned a lot about Les Miles' team on Saturday, and it should make the November matchup with Alabama all the more interesting.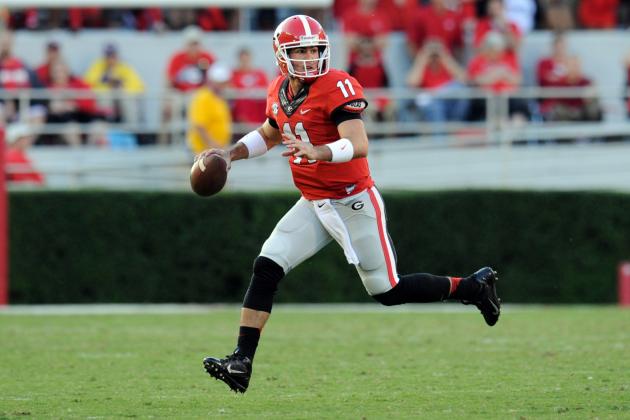 Dale Zanine-USA TODAY Sports
UGA QB Aaron Murray
Aaron Murray was the star of the day in college football and his masterful performance should land him in the thick of the Heisman Trophy race.
Against a stout LSU defense, the star senior finished 20-of-34 for 298 yards and four touchdowns.
He led the Bulldogs on a game-winning drive with less than two minutes remaining in the game, and the victory puts Georgia squarely in the national-title talk once again. If the Bulldogs win out, they'll be in the SEC Championship Game for the second year in a row.
Murray's game should shake off any doubters who inexplicably remained. He is one of the game's very best, and his effort against Les Miles and Co. earns him the top spot.