Julio Cesar Chavez Jr. Exposed After Gift Decision Against Brian Vera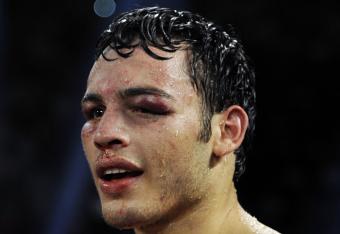 Jeff Bottari/Getty Images
Julio Cesar Chavez Jr. (47-1-1, 32 KOs) returned to action last night for the first time in over a year. He was awarded a unanimous decision against Brian Vera (23-7, 14 KOs), which was an absolute travesty.
Going into this fight, Chavez Jr. reached a new level of criticism from fans and boxing experts. The old questions regarding his work ethic and dedication to the sport of boxing multiplied as he was unable to make the original contract weight of 163 pounds. His team scrambled to come up with a solution, and did so after they successfully renegotiated the fight weight with Vera. They settled on a fight weight of 173 pounds.
Chavez Jr.'s inability to meet the original contracted fight weight is a huge sin in the boxing world. Professional boxers are expected to be exactly that...professional. The tactics of Team Chavez were incredibly dishonorable.
Despite Chavez Jr.'s unpreparedness, the show went on. Brian Vera came into this fight searching for an upset win, and to most viewers, it seemed like he earned it.
When the final bell rang, CompuBox statistics revealed that Vera threw twice as many punches as Chavez Jr. and out-landed him by over 50 punches. That usually earns a boxer the win, but not in this case.
The few punches that Chavez Jr. connected with were more powerful than Vera's punches. He is the bigger man, and everyone knew that he had better power than Vera.
The problem is that being the more powerful fighter should not equate to an automatic victory.
The crowd and fight fans all over the world were stunned when the judges returned a unanimous decision for Chavez Jr. He did not earn the win in this fight.
Julio Cesar Chavez Jr. reaffirmed the criticism he has received throughout his career. He came into this fight out of shape. He was heavy, slow and inactive.
Somehow, Chavez Jr. managed to disgrace himself even more with his antics during the fight. Throughout the 10-round affair he complained constantly to the referee about low blows and headbutts that were nonexistent. At one point, referee Lou Moret told Chavez Jr. to "stop crying."
Last night, Julio Cesar Chavez Jr. proved to be a spoiled brat, living off the famous name he inherited from his father.
Unfortunately, the judges further reinforced Chavez Jr.'s poor behavior by rewarding him with a victory that he in no way deserved.
This article is
What is the duplicate article?
Why is this article offensive?
Where is this article plagiarized from?
Why is this article poorly edited?