Chicago Bears vs. Detroit Lions: Live Score, Highlights and Analysis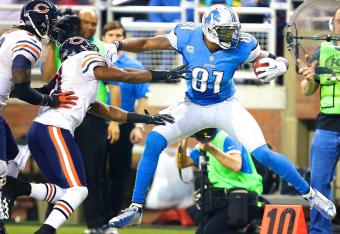 The Detroit Lions win 40-32 after jumping out to a 40-16 lead early in the fourth quarter. Here are some final thoughts on the game.
The offensive line dominated the interior of the Chicago Bears defensive line all afternoon. Rob Sims and Larry Warford faced little resistance in run blocking, opening big holes and sealing the lanes wide open.
Rookie Darius Slay had to fill in for a concussed Rashean Mathis, and by and large he played well. Alshon Jeffery did make a great catch for a touchdown on Slay, but it was tight coverage and Slay had a hand on the ball. He looked much more comfortable, which is a great sign going into Green Bay next week.
Ndamukong Suh deserves serious consideration for Defensive Player of the Year. He thoroughly dominated Kyle Long, who Bears fans talked up a bit too much for his liking. Two sacks, two other tackles for loss and at least three quarterback hits for Suh today.
Detroit fumbled four times, losing two. Chicago once again does a good job of attacking the football. The Lions were very lucky the loose ball security didn't bite them today.
Chicago accomplished the comeback largely against a very passive coverage scheme. Prior to that, the Lions coverage was very solid. Louis Delmas really showed great range in this one and came up with two breakups.
The Lions will head to Green Bay next week at 3-1 and tied with Chicago for first place in the NFC North. But this win gives the Lions the early tie-breaker over the Bears, which is critical.
I will have takeaways from the game and a full team report card coming soon. You can also follow along with my musings on Twitter @JeffRisdon. Thanks for following along!
Valiant comeback by Chicago, good effort to claw back into the game after falling well behind. Detroit holds on for the 40-32 victory. Both teams are now 3-1.
On the Earl Bennett touchdown, it appeared he did not have full control in the actual end zone, but rather that he completed the process of the catch outside.
It was still an impressive catch, but that is a play I've seen several times now. If it's not a touchdown when the process is not complete in the end zone, how can it be when the process gets completed outside the end zone?
Bennett with the touchdown reception, also marking Chicago's first third-down conversion of the game. The two-point conversion to Brandon Marshall is good, and the Bears narrow the score to 40-32.
Two-minute warning. On a side note, I'm not wearing any Lions gear today, the first time all year I have not. This might be a new trend for watching, however.
Bears still have a ray of hope. Joique Bell fumbles, Chicago takes over at its own 40, down 16, 2:59 to play.

— Dave Birkett (@davebirkett) September 29, 2013
That was a nice play by Corey Wootton, but Joique Bell has to know better in that situation. Get on the ground!
Grown man catch from Alshon. #Bears

— Laurence Holmes (@LaurenceWHolmes) September 29, 2013
Very nice catch for the touchdown by Alshon Jeffery. Darius Slay was in good position but Jeffery seized the ball with strong hands. Cutler rewards him by hitting Jeffery with the two-point conversion as well.
Lions 40, Bears 24
The Bears are now 0-for-11 on third down, but 1-for-1 on 4th down, so, there's that.

— Kevin Fishbain (@kfishbain) September 29, 2013
Lions playing full "prevent" defense but still taking care of business on third down
Lions went with a two-man line on that third down, with Suh getting a running start from an inside backer position. He crashed into a double team and sent them both backwards. It must be fun to play with that level of confidence.
I have always been a fan, but after watching today I have even more respect for Chicago's starting corners Tim Jennings and Peanut Tillman. They are so effective even though the safety play behind them is truly awful. Chris Conte has been brutal today.
David Akers nails the 43-yard field goal, and the Lions go up 40-16 with 8:57 remaining. Kris Durham had a pair of 24-yard receptions on the drive. Big day for the youngster.
For the Chicago fans in attendance here, I can only imagine what AM 670 is going to sound like tonight. I suspect it's something like this...
Wow, no QB in the league with wider variance between his ceiling and floor. Makes today hard to watch. #Bears

— Hunter Hillenmeyer (@hthill) September 29, 2013
Up until today, Cutler was one of the 2 or 3 best QBs in 2013. Nobody's had a day this bad.

— Andrew Dannehy (@ADannChiBears) September 29, 2013
One of the perks of living in West Michigan is that I get Chicago radio loud and clear.
Chicago is now 0-for-10 on third-down conversions in the game. Brandon Marshall could not secure the tough sideline catch. Ansah nearly got the sack and Fairley will get credit for a quarterback pressure. Cutler looks completely rattled but his receivers are not helping him one iota.
From the occupational safety department:
Never let Nick Fairley chest-bump you. He just knocked Suh to the ground in celebration ... Too funny ...

— Paula Pasche (@paulapasche) September 29, 2013
Suh strip sack and Fairley picks it up for TD. Suh having a game. He should have some consideration for Defensive Player of Year so far.

— Tim Twentyman (@ttwentyman) September 29, 2013
Ndamukong Suh blows away Kyle Long and gets the strip sack on Cutler. Fairley scoops it up and ambles into the end zone for the touchdown.
Detroit 37, Chicago 16
Very fluky interception off of Calvin Johnson's foot to Zackary Bowman's awaiting arms. I don't like the play call on 2nd-and-1 in the red zone.
Reggie Bush with another outstanding jump cut, helped by a strong block by Kris Durham on the edge.
Cutler with an arm punt - he extended the play and had Alshon Jeffery, but Cutler overthrew him.

— Kevin Fishbain (@kfishbain) September 29, 2013
Cutler with an arm punt - he extended the play and had Alshon Jeffery, but Cutler overthrew him.

— Kevin Fishbain (@kfishbain) September 29, 2013
Louis Delmas with the interception. Bad throw by Cutler, he had Jeffery crossing the field but missed him badly. Third pick of the day by the Lions defense.
Stafford wildly overthrows Theo Riddick there on 3rd-and-5. Two possessions, two punts. Just my impression but it seems more about Detroit not executing than anything the Bears have done well.
This was a hot topic on the radio feed:
Re: the thrown beer at the end of the half RT@MrTuktoyaktuk Guy in Bears jersey threw it, got escorted out by security.

— Pride Of Detroit (@PrideOfDetroit) September 29, 2013
The defense holds after Cutler found Alshon Jeffery with a beautiful deep ball. Robbie Gould kicks the field goal and cuts the deficit to 30-16 in favor of Detroit.
Rashean Mathis OUT for rest of game. Concussion. #Lions

— Michael Rothstein (@mikerothstein) September 29, 2013
Looks like we'll be seeing a lot of Darius Slay, who just made a nice play in the end zone on Alshon Jeffery.
I was watching the Levy that whole play. He read it all the way. He's playing great this year. #CHIvsDET

— Tim Twentyman (@ttwentyman) September 29, 2013
Great play by DeAndre Levy on 3rd-and-5. Ziggy Ansah also read the play and nearly picked off the lazy throw while dropping into coverage.
For your viewing pleasure, here is Reggie Bush in action. Share this one with your friends, folks!
This article is
What is the duplicate article?
Why is this article offensive?
Where is this article plagiarized from?
Why is this article poorly edited?

Detroit Lions: Like this team?