10 NBA Players with the Most to Prove in Training Camp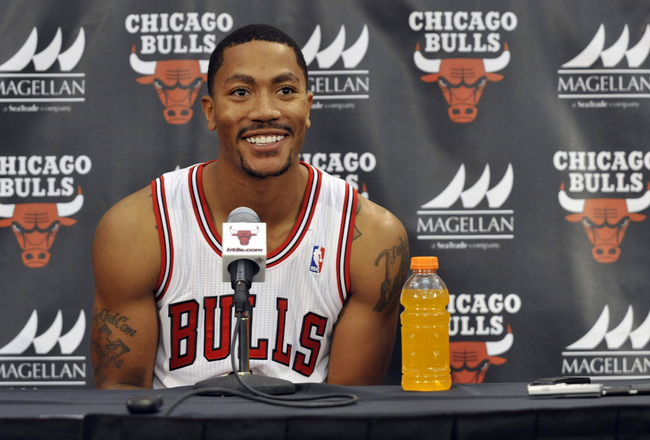 David Banks-USA TODAY Sports
Whether they're trying to revive their careers, return from injury, justify a huge contract or show they're ready for a bigger role, there are plenty of NBA players with a lot to prove in this year's training camp.
These players aren't all necessarily competing for a roster spot—in fact, a lot of them will be playing major roles on their respective teams—but the stakes are definitely high as they move into the new season.
Each individual case is different, with some players trying to prove their health and others simply trying to prove they're good enough for the NBA, but these are the 10 players who really need to show us something in camp.
(Note: Because there's such a variance in what they have to prove, this slideshow isn't ranked and instead is simply listed in alphabetical order.)
Andrea Bargnani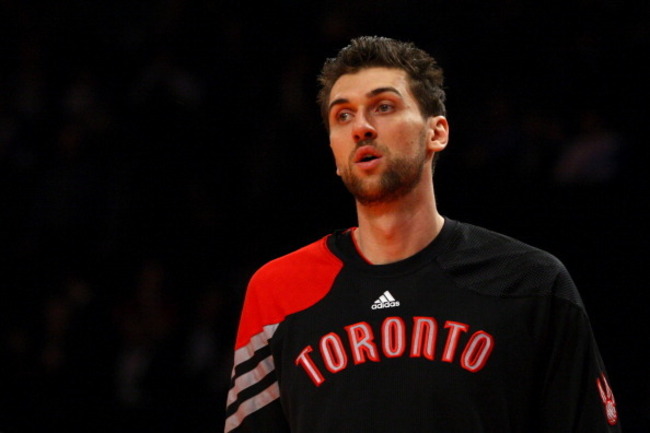 Chris Chambers/Getty Images
Italian forward Andrea Bargnani is at a crossroads in his NBA career. His spell with the Toronto Raptors was disappointing at the best of times, but the past two injury-plagued seasons have been particularly tough to watch.
With that said, Bargnani is clearly a talented offensive player, and the New York Knicks have given him a lifeline with an opportunity as a role player on a more talented team than he's ever been on.
The Knicks took a gamble giving away three draft picks for Bargnani, and he now has to prove he was worth the risk while also looking to earn another big contract in two years' time as he enters his prime.
If Bargnani can shoot efficiently from outside—which he hasn't done for a while—he's a very good fit with the Knicks, but it's difficult to see him being a fit on any team playing the way he has recently.
Playing alongside Carmelo Anthony and a trio of talented point guards will undoubtedly help Bargnani's transition to New York, but ultimately, the onus is on him to prove himself worthy of significant playing time.
Bargnani has had his focus and desire questioned in the past, and this first training camp under Mike Woodson means those traits will continue to be scrutinized. It'll be interesting to see how he responds, because if he steps his game up, he could push the Knicks over the top.
Michael Beasley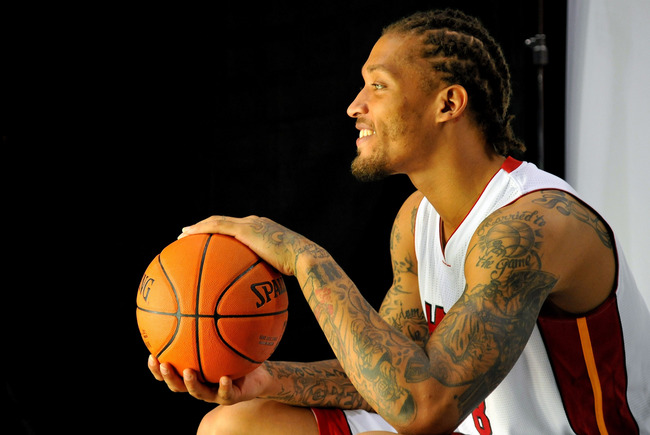 Steve Mitchell-USA TODAY Sports
When he was cut by the Phoenix Suns in September, many thought Michael Beasley's career could be heading toward a premature end, but the Miami Heat have given him a second chance with a non-guaranteed contract.
Now with his career on the line, Beasley needs to prove he has the attitude and consistency to stick in the NBA. With plenty of veterans around him, on a team that valued him enough to draft him No. 2 overall in 2008, Beasley is in a good situation, but the Heat aren't tied down by him in any way.
Miami could use a player like Beasley, but they don't necessarily need him to defend their title. For the first time in his career, he'll need to earn a roster spot based on performance alone—not because the team needs to justify what he's being paid, what they traded for him or where he was drafted.
Beasley has shown flashes of brilliance throughout his career, and if he has a good camp, he could end up playing a big role for the Heat off the bench, but it remains to be seen whether that'll be the case.
Eric Bledsoe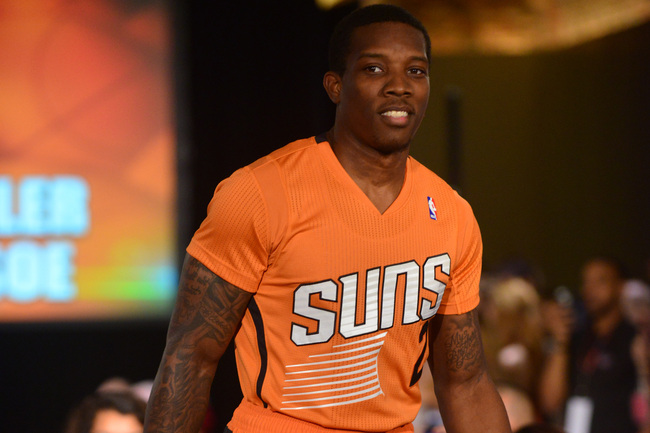 Barry Gossage/Getty Images
Eric Bledsoe could be set for a breakout season with the Phoenix Suns, but the first step will be proving in training camp that he can play with Goran Dragic and that he's ready for a full-time starting role in the NBA.
During his time with the Los Angeles Clippers, Bledsoe showed us flashes of brilliance off the bench, but now it's time for him to do that more often with less talent around him.
Bledsoe undoubtedly has the athleticism, drive and pure talent to be a star in the NBA, but the process of putting that all together begins in camp.
At such a young age, Bledsoe doesn't need to make the transition right away, but with his contract expiring at the end of the season, he could be in for a big payday if he proves to the Suns that he can be a foundational piece as they continue to rebuild.
Developing a strong partnership with Dragic could be difficult considering they're both point guards, but with the Clippers, Bledsoe had plenty of success playing off the ball alongside Chris Paul.
The Suns didn't give away a major package to bring in Bledsoe and they aren't paying him very much for the time being, but nonetheless, the pressure is on him on a personal level to prove he's ready to run a team.
DeMarcus Cousins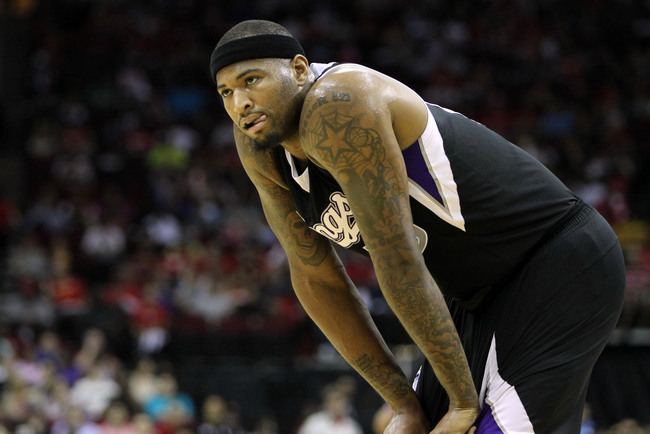 Brett Davis-USA TODAY Sports
Entering his fourth season with a huge payday under his belt, it's time DeMarcus Cousins gives Dwight Howard a run for his money as the best center in the NBA.
In terms of skill set, Cousins is fine offensively. He can shoot and score in the post, and he's a pretty good passer for a center, but he needs to continue improving his efficiency and finding easy baskets. There's plenty of talent there, but we don't see him making easy baskets at the rim often enough.
That shouldn't be a major issue for Cousins—especially with a pass-first point guard like Greivis Vasquez on his side—but it's the other end of the floor that will require a lot of work.
Cousins is arguably the most well-rounded offensive center in the league, but defensively, he's anything but, in large part due to the poor attitude that has plagued his NBA career.
Now that he's being paid like one, Cousins needs to carry himself like a franchise player. He's been suspended by the team in both of the past two seasons and that won't stand anymore.
Cousins needs to come into camp like a professional, taking it upon himself to work on his game and prove the Kings right for the huge contract extension they just gave him.
If he puts in the extra effort and commits to the team, Cousins could be in line for his first All-Star appearance this season.
Derrick Favors (and Enes Kanter)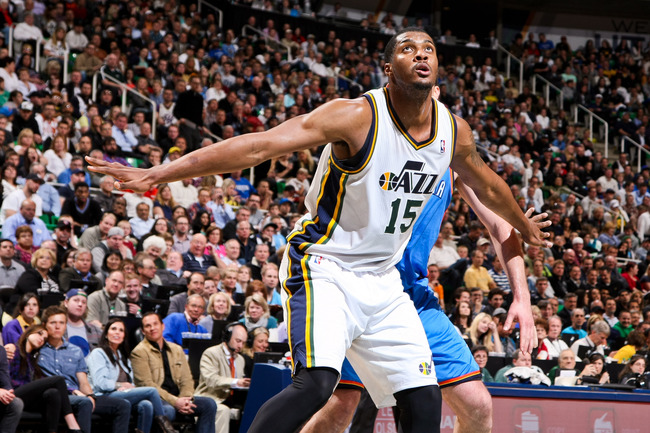 Melissa Majchrzak/Getty Images
The Utah Jazz are rebuilding the right way as they collect draft picks and young talent, but their long-term success will in large part come down to the play of their young big men.
Utah's front office made a bold decision in letting both Al Jefferson and Paul Millsap—one of the West's better frontcourt partnerships—go, but they did so in the hope that Derrick Favors and Enes Kanter will be able to replicate their success.
The talent is certainly there and both have looked good in limited action, but the transition from coming off the bench to essentially being two of the team's marquee players isn't an easy one.
In training camp, both players will need to step up and prove the Jazz right for choosing them over their two best players. They won't turn into stars right away, but they need to give Utah's loyal fans something to look forward to ahead of what should be a tough season.
Favors in particular needs to take it upon himself to impose his will on opposing bigs, as there have been serious questions as to whether or not he has the mentality to be a go-to player in the NBA. It'll also be his job to aid Trey Burke's transition from college, providing a safety net in the post and the pick-and-roll.
How these two players respond to their new roles in training camp could be telling for how things will shape up down the line.
Eric Gordon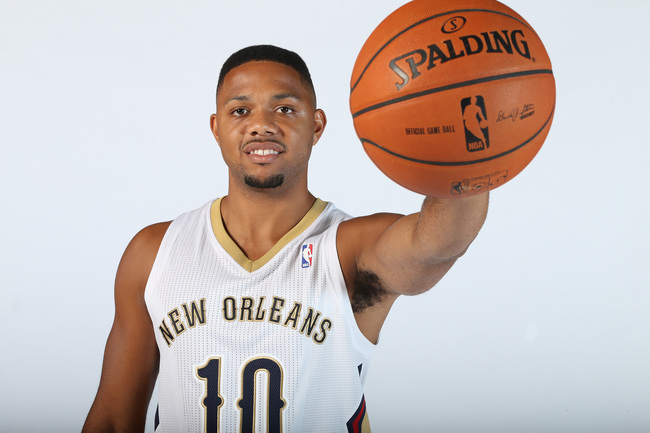 Layne Murdoch/Getty Images
Eric Gordon's time in New Orleans has been underwhelming to say the least, but with the franchise looking for a fresh start, there's still an opportunity for him to establish himself as a franchise player.
With Tyreke Evans in the mix, the Pelicans could feasibly put Gordon on the trading block at some point this season, so he'll need to use training camp to show that he can stay healthy and that he's worthy of a major role on the team.
According to the Pelicans' official website, Gordon is already slated to miss the first two weeks of preseason as a precaution, which isn't a good sign, especially considering how unclear the extent of his injuries have been over the last year.
Exactly what New Orleans' plans with Gordon are at the moment are unclear. They could line him up with Evans on the wing, play one off the bench or even look to trade Gordon, but his play in camp will likely dictate the final outcome.
Whether he's going to be displayed for potential suitors or kept as a building block, first and foremost for Gordon is getting back on track in camp.
Danny Granger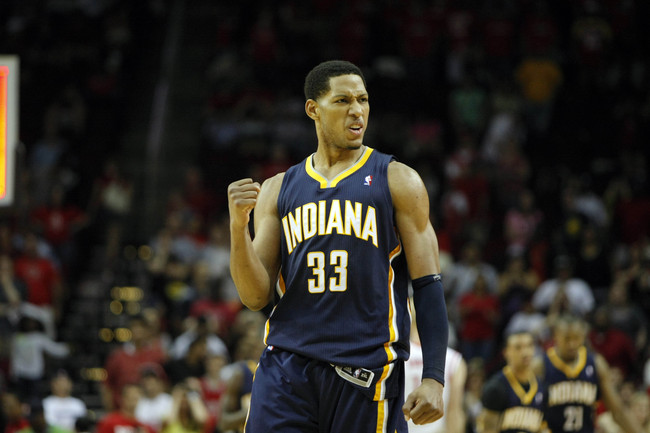 Brett Davis-USA TODAY Sports
The return of Danny Granger will no doubt improve the Indiana Pacers' offense, but it remains to be seen just how big of a role he'll play—and whether that'll be as a starter or off the bench—coming off of his injury.
Granger was one of the Pacers' key players the last time we saw him, but the team has taken strides without him, with Paul George and Lance Stephenson looking particularly impressive on the wing.
Whether or not he starts isn't of major importance to the Pacers, but in camp, Granger is going to have to prove himself to find minutes on the wing over George, Stephenson and new signing Chris Copeland.
On the one hand, having so much depth means Granger should be able to take it easy as he gets back into form, but he's still only 30 and may be motivated to regain his role as a franchise player.
Potentially, Granger could be one of the Eastern Conference's biggest X-factors this season. If he can prove he's close to the player he was before the injury, the Pacers' offense suddenly looks a lot better, which will be tough to beat in tandem with their elite defense.
Jeff Green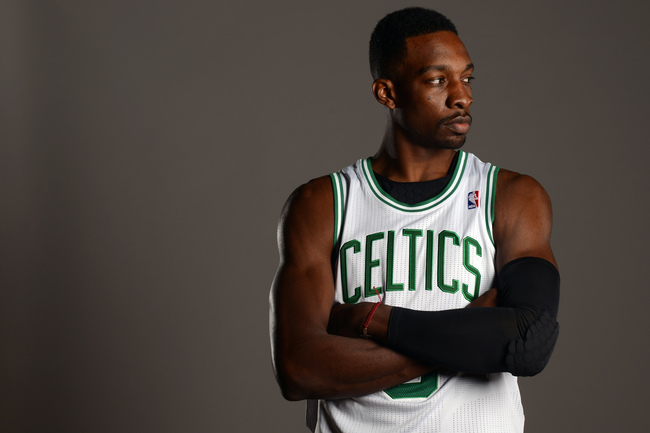 Brian Babineau/Getty Images
While the rebuilding Boston Celtics insist that Rajon Rondo is central to their future plans, there hasn't been much word yet on whether they feel the same way about Jeff Green.
Green would make a fantastic role player for any contending team and could probably be had in exchange for some good draft picks and a bad contract to match the salaries. Whether or not the Celtics would be open to such a trade, however, could depend heavily on how he handles the step up to a bigger role in training camp and preseason.
At times last season, Green looked like an All-Star in the making, but with Paul Pierce and Kevin Garnett out of the picture, he'll have to perform at that level a lot more often.
Seeing how Green reacts to a more featured role could be one of the more interesting stories in the NBA this year. If he comes into camp focused, it's not out of the question for him to be lining up for the Eastern Conference in February, but it also wouldn't be too surprising to see him struggle with more weight on his shoulders.
With Rondo likely to miss the start of the season, Green needs to prove in camp that he can handle being the man for the Celtics, especially if they want to stay somewhat competitive as they rebuild.
Jeremy Lamb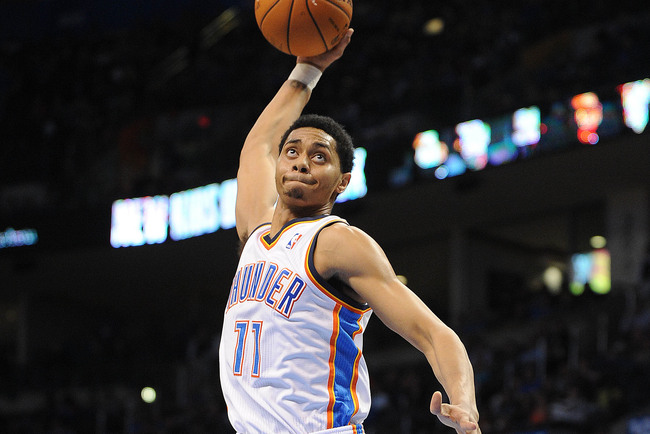 Mark D. Smith-USA TODAY Sports
In James Harden and Kevin Martin, the Oklahoma City Thunder have lost a key player at shooting guard for two years running, leaving a huge role to fill as the team's sixth man.
Because of worries about the luxury tax, the Thunder haven't been able to add a quality replacement and will instead be hoping that young Jeremy Lamb can fill the void.
Lamb was impressive in summer league as the team's leading scorer, but playing at that level in the NBA with so little playing time under his belt is a different story.
When healthy, the Thunder desperately need Lamb to step up, but Russell Westbrook's injury only adds to their need for him to break out this year. The pressure's on him now to live up to his high expectations and build on a strong performance in training camp.
Lamb didn't appear very often for the Thunder in his rookie season, so camp will be particularly important in getting him used to the offense and his teammates.
As long as they have Kevin Durant leading the way, OKC will remain competitive, but whether they can compete for a title will hinge on how much their unproven players—led by Lamb and Reggie Jackson—can contribute off the bench.
Derrick Rose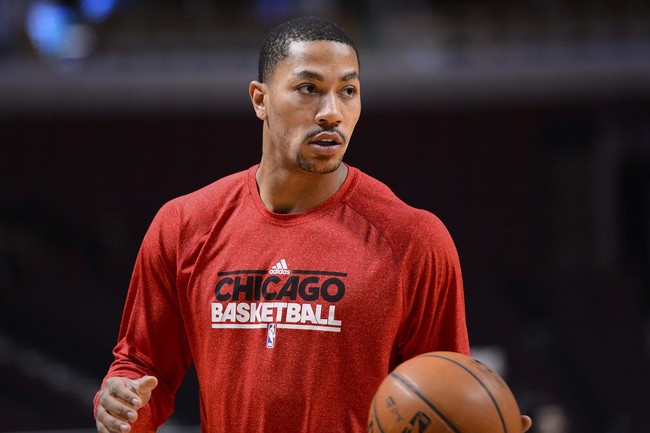 Mike DiNovo-USA TODAY Sports
We all know how great Derrick Rose can be, but 18 months removed from the last time we saw him in action, it's time for the former league MVP to prove he can still play at the same level.
To expect elite play from Rose right from the get-go is unfair, but after waiting so patiently for his return, there's plenty of anticipation amongst Chicago Bulls fans that they can pick up where they left off in 2011.
With it being his first taste of full basketball in such a long time, preseason and training camp are particularly important for Rose. As the team's point guard, he'll have to build chemistry with his teammates—new and old—right away.
The Eastern Conference is a lot deeper than it was before Rose's injury, with the Brooklyn Nets, Indiana Pacers and New York Knicks all emerging as genuine contenders over the past year, and the Bulls will need the Rose they remember to stay ahead of the competition.
Tom Thibodeau's defense should continue to keep Chicago in games in the short term, but with the conference growing around them, they need Rose to live up to his expectations.
With camp underway, all eyes are on Rose's comeback, and the talk won't stop until he proves he's still the same player.
Keep Reading