We have a final from London, and for the first time in 45 years, the Pittsburgh Steelers are winless after four games. Adrian Peterson and the Vikings offense blasted the Steelers defense for 34 points and nearly 400 yards.
Pittsburgh had a chance to tie the game in the final minutes, but the line collapsed inside the Minnesota 10-yard line, leading to a Ben Roethlisberger fumble and, in effect, ending the game.
Final
Pittsburgh: 27
Minnesota: 34
Pittsburgh Steelers Game Grades

| | | |
| --- | --- | --- |
| Positional Unit | 1st-Half Grades | Final Grades |
| Pass Offense | B+ | B+ |
| Run Offense | C | C+ |
| Run Defense | C+ | C |
| Pass Defense | C- | C- |
| Special Teams | A | B+ |
| Coaching | D | F |
vs. Minnesota, Week 4
Final Analysis
Pass Offense: Ben Roethlisberger was pretty masterful in the second half of this game, trying to drag his team back into contention. Unfortunately, it wasn't enough. Ben continued to make plays in spite of a poor offensive line but did throw one costly interception and fumbled while driving for the tying score. The Steelers pass offense is improving every week, but it may be too-little-too-late for this team.
Run Offense: One good takeaway from this game is the fact that Le'Veon Bell can play some football. He scored twice on the day in his first career NFL game. Despite the awful blocking up front, Bell certainly got his. The Steelers rushing offense looks like it can improve going forward with Bell.
Run Defense: It all boiled down to one drive, and Adrian Peterson had his way with this Steelers defense. Peterson broke tackle after tackle when he reached the second level and found the end zone twice in this game. He rushed for 140 yards on the afternoon, but they did stop Peterson on a key 3rd-and-4 when they needed to make a play.
Pass Defense: This might be the worst tackling secondary in football. Besides that, the Steelers had absolutely no answer for Jerome Simpson. Cortez Allen needs a ton of work at the other corner position and Matt Cassel played with ease today. This was not a good afternoon for the Steelers pass defense whatsoever.
Special Teams: The kick coverage continues to be among the best in the NFL, but the Steelers need to get someone better than Felix Jones returning kicks. It was a pretty solid day for the special teams unit.
Coaching: It was another poor performance by the Steelers' coaching staff and for a whole new set of reasons today. Their clock management was atrocious at the end of the game and half, and they did little defensively to adjust to the Vikings game plan. This is undoubtedly the softest Steelers team I've ever witnessed. That falls on coaching.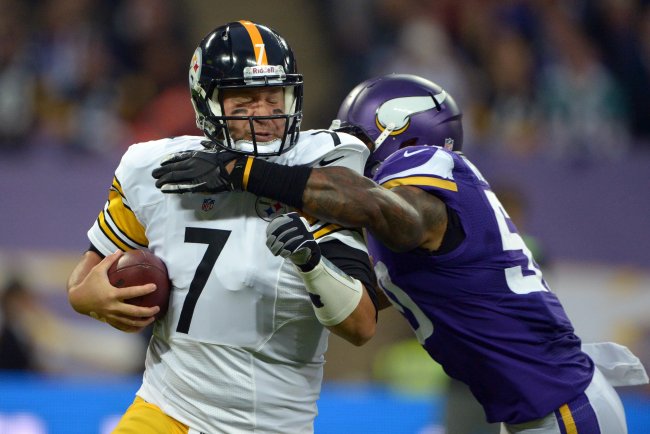 Kirby Lee-USA TODAY Sports
First-Half Analysis
Pass Offense: Despite some of the worst offensive tackle play in professional football, the Steelers pass offense has actually been clicking in this game. The big reasons for that are Antonio Brown and Heath Miller. The two have combined for 9 catches and 97 yards through the air in the first half. Big Ben will need to find those two if the Steelers want to come back in the second half.
Run Offense: The Steelers' offensive line has killed any chance of a successful rushing performance by Le'Veon Bell. However, Bell has created some running room of his own to the tune of 10 carries, 34 yards and a beautiful touchdown run.
Run Defense: Besides the 60-yard touchdown run Adrian Peterson ripped off against this poor-tackling defense, they've actually done a respectable job against the reigning MVP. The Steelers' front three have played very well, but the second and third levels need to do a better job of tackling.
Pass Defense: Matt Cassel may only be 6 for 15 throwing the ball, but he's looked like an Adonis against the Steelers today. Pittsburgh has had no answer for Jerome Simpson, who has four receptions for 52 yards. Add in the big 70-yard touchdown by Greg Jennings, and it really hasn't been a banner day for the Steelers secondary.
Special Teams: It's been another very good day for Pittsburgh's special teams. Cordarrelle Patterson escaped once but was run down quickly. Other than that, Minnesota started inside their own 20 three times in the first half.
Coaching: Between the horrendous clock management at the end of the half and continuing to set up with poor matchups on offense, it's been another poor coaching performance by the Steelers. Todd Haley has made a strong effort to get the ball into the hands of Antonio Brown, but running a fade to Heath Miller while he's lined up against a corner is a pretty bad move. Defensively, this is some of the worst tackling I've ever seen from the Steelers.
Follow on Twitter: @dsnyder34