Dwyane Wade, Like Old Times, Is the Miami Heat's Most Compelling Story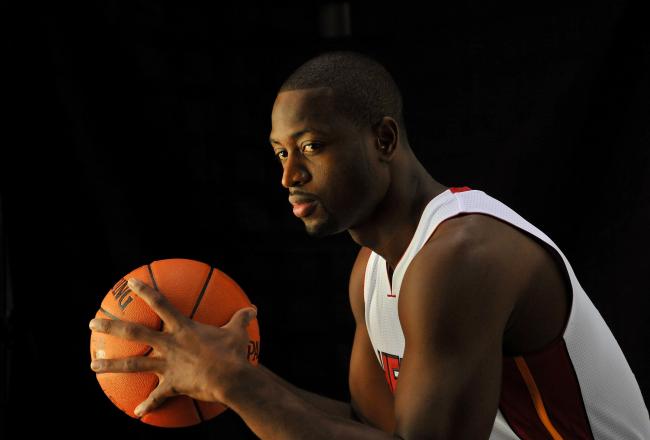 Steve Mitchell-USA TODAY Sports
Some things haven't changed for Dwyane Wade.
He still gets the honor of the final introduction at AmericanAirlines Arena, even with a four-time NBA MVP by his side.
He still circles the court before the tip, raising his hands in recognition of the crowd (though now, to conform with league rules, he does it a little faster).
He still has the full support of South Florida for just about everything but his wacky wardrobe, with his pants sometimes tighter than last year's Game 6 of the NBA Finals.
So it's not as if he's faded into the shadows in the past three years, as he's gone from singular Miami Heat star to LeBron James' somewhat less-celebrated sidekick.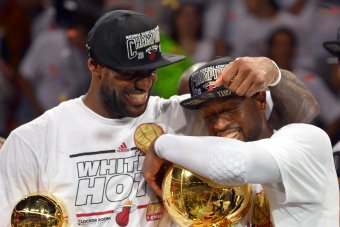 Steve Mitchell-USA TODAY Sports
Still, he hasn't been the story.
But this season, in my eyes, he is.
Simply put, there's little left for James to prove at this stage. Even if this next title chase falls short, his performances in the past two springs—and the spoils they secured—have cemented his status as the greatest in the game today.
The bombastic carnival barkers will never stop claiming that he possesses some sort of mental shortcoming; acknowledging otherwise would be bad for business. More sane observers will see the bigger picture, knowing that if the Heat fail to capture a third straight crown, the supporting cast will be at fault.
And they won't waste many words on the likes of Mario Chalmers, Shane Battier, Ray Allen, Udonis Haslem, Michael Beasley or even Chris Bosh. It will be about Wade, and whether he's still pushing James toward immortality or somehow holding him back. It will be about whether Wade is still a worthy second violin, so James stays put in the summer of 2014 instead of taking his talents to another orchestra.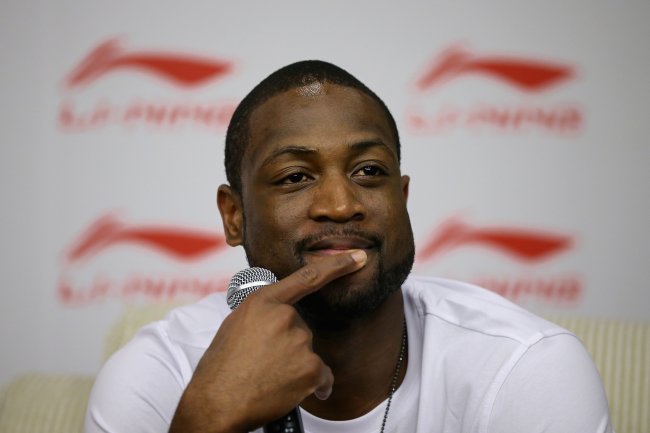 Feng Li/Getty Images
No doubt Wade knows it.
No doubt he hears the doubts, which have become as fashionable as anything modeled at his RunWade charity event last Thursday.
All of them. From everywhere. On every platform.
From those who won't credit him for sacrificing shots in the name of efficiency. From those who say he's down, or done. From those with far less credibility than Kevin Durant, the latest to rank him outside the NBA's top 10 players.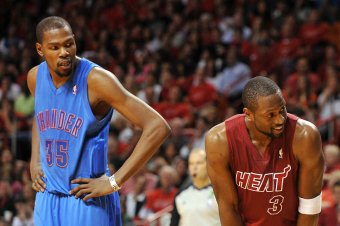 USA TODAY Sports
No doubt he finds all these slights and skeptics irritating, but somehow, strangely comforting. After all, this has become his most familiar, ferocious place from which to play.
Some players can't play angry. Haslem, Wade's longtime teammate, has acknowledged being among them. That's why he has marveled at Wade's ability to do so, again and again.
As Wade reflected late last season: "I realized that when I'm frustrated, I don't play well. I realized when I'm angry, I play well. So I had to kind of find the fine line between frustrated and angry."
He found that line back in 2008, after two injury-plagued, unremarkable post-championship seasons had many talking irreversible decline. He responded with a 2008-09 season-long masterpiece that probably should have earned him the league MVP.
He found that line after his most embarrassing on-court episode, yelling at coach Erik Spoelstra, while playing poorly in the 2012 playoffs' second round against Indiana. He responded with 99 points over three wins.
He found that line during the last NBA Finals, even as both knees ached, sinking shot after shot, jumper after jumper, in the championship clincher.
Will he find it again?
He's certainly found some fuel. Prior to his RunWade event, his handlers only allowed him to field one basketball question, so three beat reporters pooled it.
Was Durant's comment uncalled for?
"Everyone has an opinion," Wade said. "We're in the age now where everyone uses their opinion. So that was it. He had an opinion, I had a response. And there you have it."
No, the real response comes later. On the court. In his element. In the winter, but more importantly in the spring.
Introduced last. Scrutinized first.
This article is
What is the duplicate article?
Why is this article offensive?
Where is this article plagiarized from?
Why is this article poorly edited?