Every game on the NFL's schedule for Week 4 is pivotal, because every team still has a chance to turn things around or start trending in the wrong direction so early in the 2013 season.
However, four undefeated teams in particular stand out as those facing ideal opportunities to establish themselves as clear-cut Super Bowl favorites—and two of them will be facing each other on Monday night.
The week wraps up with the upstart Miami Dolphins visiting the New Orleans Saints, but before then, the Chicago Bears look to stay on top of the NFC North against the Detroit Lions. Many also believe the Seattle Seahawks don't travel well, but they can disprove that notion by beating the Houston Texans.
Below is a breakdown of each of those three contests, followed by a complete list of straight-up, last-minute picks for every remaining game on the Week 4 slate.
Seattle Seahawks vs. Houston Texans
The difference in this one is Seahawks quarterback Russell Wilson's mobility, which can keep plays alive and help neutralize the Texans' rabid defense featuring J.J. Watt.
Wilson's counterpart, Matt Schaub, is a statue in the pocket for the Texans and will also have his top wide receiver in Andre Johnson grinding through a shin injury, per NFL Media insider Ian Rapoport:
#Texans WR Andre Johnson (shin) was listed as questionable. Source says he's playing, as Gary Kubiak hoped he would as of Friday

— Ian Rapoport (@RapSheet) September 29, 2013
Who is likelier to lose on the road?
As strong as rookie wideout DeAndre Hopkins has been in taking on a huge, immediate role, he hasn't faced a secondary quite like Seattle's. If Johnson isn't quite himself, Hopkins will be asked to shoulder even more of the burden in the passing game.
That's something even a talent like Hopkins isn't ready for against the likes of massive corners Richard Sherman and Brandon Browner, along with ball-hawking, hard-hitting free safety Earl Thomas.
Houston should keep it low-scoring in the friendly confines of Reliant Stadium, but Wilson will make one more critical play than Schaub to boost the Seahawks to 4-0.
Prediction: Seahawks 20, Texans 13
Chicago Bears vs. Detroit Lions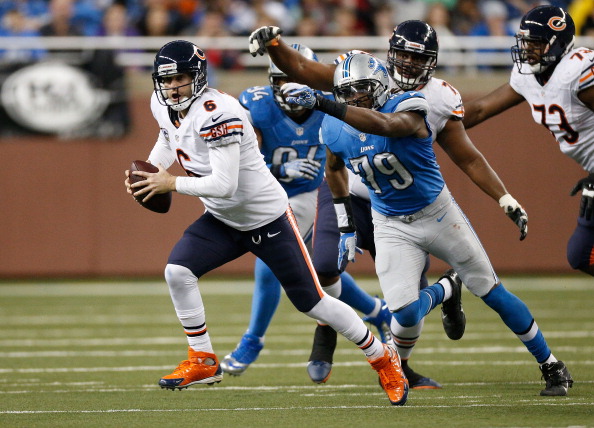 Gregory Shamus/Getty Images
It all comes down to whether the Bears' improved offensive line can protect quarterback Jay Cutler against a ferocious front four at Ford Field.
Ndamukong Suh and Nick Fairley are a lot to handle as it is on the inside, but first-round rookie Ezekiel Ansah is an X-factor coming off the edge. Unfortunately, he's questionable due to an abdomen injury, per Tim Twentyman:
Defensive end Ziggy Ansah (abdomen), safety Don Carey (hamstring), tackle Jason Fox (groin) and tackle Corey Hilliard (groin) questionable.

— Tim Twentyman (@ttwentyman) September 27, 2013
Cutler can take solace in the fact that Chicago's own first-rounder, guard Kyle Long, has done his part in enhancing pass protection and paving running lanes for Matt Forte.
B/R expert Matt Miller places Long as his top rookie on the offensive side of the ball thus far:
Three weeks in, my Rookies of the Year would be OG Kyle Long (#Bears) and LB Kiko Alonso (#Bills). Mingo, Ansah, Lotulelei up there too.

— Matt Miller (@nfldraftscout) September 24, 2013
The Bears' defense is better on the back end than the Lions', which will give Detroit QB Matthew Stafford problems in a pass-happy attack. A more balanced offense and superior cornerback play will give Chicago an early two-game lead in the division.
Prediction: Bears 31, Lions 20
Miami Dolphins vs. New Orleans Saints
Outside of the addition of former University of Texas star Kenny Vaccaro in the first round of the draft, the Saints' defense hasn't changed in terms of personnel all that much.
Thus, new coordinator Rob Ryan has to be given a massive amount of credit, but head coach Sean Payton deserves praise for raising the team's spirits after missing all of last season.
New Orleans quarterback Drew Brees hasn't had to try to win games all by himself—a development that makes the Saints as dangerous as anyone to make a Super Bowl run, assuming the defense keeps up its high level of play.
The Dolphins have a bend-but-don't-break style of defense, ranking 22nd in yards allowed but giving up only 17.7 points per game.
Video Credit: NFL Network
Second-year QB Ryan Tannehill has shown huge strides and has the benefit of a speedster like Mike Wallace to blow the top off of a defense.
This could be a big statement game for Tannehill, who should perform well and use his athleticism to escape Ryan's exotic 3-4 blitzes at times to extend plays. However, Brees and Co. won't drop this prime-time affair at home.
Prediction: Saints 24, Dolphins 17
Week 4 NFL Picks

| | | |
| --- | --- | --- |
| Away Team | Home Team | Pick |
| New York Giants | Kansas City Chiefs | Chiefs |
| Baltimore Ravens | Buffalo Bills | Ravens |
| Cincinnati Bengals | Cleveland Browns | Browns |
| Chicago Bears | Detroit Lions | Bears |
| Arizona Cardinals | Tampa Bay Buccaneers | Cardinals |
| Indianapolis Colts | Jacksonville Jaguars | Colts |
| Seattle Seahawks | Houston Texans | Seahawks |
| Pittsburgh Steelers | Minnesota Vikings | Steelers |
| New York Jets | Tennessee Titans | Jets |
| Washington Redskins | Oakland Raiders | Raiders |
| Philadelphia Eagles | Denver Broncos | Broncos |
| Dallas Cowboys | San Diego Chargers | Cowboys |
| New England Patriots | Atlanta Falcons | Falcons |
| Miami Dolphins | New Orleans Saints | Saints |
Source: NFL.com. Picks are personal opinion.