The Arizona State Sun Devils won an entertaining Pac-12 shootout on Saturday night at Tempe's Sun Devil Stadium, 62-41.
Arizona State entered this game with a top 10 passing attack, but running back Marion Grice was the big star. The senior ran for two touchdowns, including one in the fourth quarter that put the Trojans' comeback bid to a halt.
#USC had given up 44pts in 1st four games. Marion Grice's 4th TD has #ASU scoring 55 tonight... So far. #USCvsASU: http://t.co/36AshPVRdN

— ESPN CollegeFootball (@ESPNCFB) September 29, 2013
Grice also caught two touchdowns from quarterback Taylor Kelly, who threw for 351 yards and three scores.
The pivotal sequence unfolded in the third quarter, when Trojans running back Tre Madden capped off a quick scoring drive with a 24-yard touchdown run to give his team the 21-20 edge.
From there, the Sun Devils scored 28 unanswered points, including a pick-six by safety Alden Darby:
#USCvsASU 3TDs, 2mins. SC's Tre Madden: http://t.co/rIuzRgSfOR, ASU gets this: http://t.co/GKvyi2aDIh & #PickSix: http://t.co/5zXcB7PcA9

— ESPN CollegeFootball (@ESPNCFB) September 29, 2013
Kiffin summed up the sequence in an appropriate manner after the game:
Lane Kiffin post game, says third quarter was disastrous for #USC

— Lindsey Thiry (@LindseyThiry) September 29, 2013
As important as this win was for the home team after falling out of the AP Top 25 with a loss to Stanford last week, the majority of the talk will likely be about the Trojans.
Not only does this loss put USC head coach Lane Kiffin even more on the hot seat, but the Trojans also lost star wide receiver Marqise Lee in the fourth quarter. Lee injured his left knee returning a punt and couldn't leave the field on his own, per Rich Hammond of the Orange County Register:
Marqise Lee had to be helped off the field. Could not put any pressure on his left leg.

— Rich Hammond (@RegisterUSC) September 29, 2013
That overshadowed Lee's impressive milestone, as his seven catches for 92 yards were good enough to become the program's career leader in receiving yards:
Marqise Lee just became #USC's career leader in receiving yards. #USCvsASU

— Josh Nacion (@Josh_Nacion) September 29, 2013
Credit the Trojans for hanging tough, though, once their captain and only viable wide receiver went down. A rally was mounted in the final 15 minutes, beginning with Madden's scamper for 48 yards to pay dirt off a screen pass from Cody Kessler.
A subsequent onside kick got USC the ball back, which resulted in a fourth-down conversion and a 15-yard rushing touchdown by Justin Davis to cut the lead to 14.
But then Grice imposed his will to finish the Trojans off. Check out this stat from Doug Haller of AZCentral.com:
In 17 games, ASU running back Marion Grice has scored 31 touchdowns. ASU, 55-34 over USC.

— Doug Haller (@DougHaller) September 29, 2013
Arizona State matched the highest point total ever put up on USC, and accumulated a whopping 611 yards of total offense.
The Trojans had 527 yards of their own, but the most surprising aspect of the game was that their sixth-ranked scoring defense got gashed to such an extent.
AZ Central's Doug Haller summed it up:
ASU coach Todd Graham: "We didn't just win. We dominated those guys."

— Doug Haller (@DougHaller) September 29, 2013
Let's take a brief look at some of the game's top performers, along with a quick bit on what each team faces next.
Grades
Cody Kessler, QB, USC: B-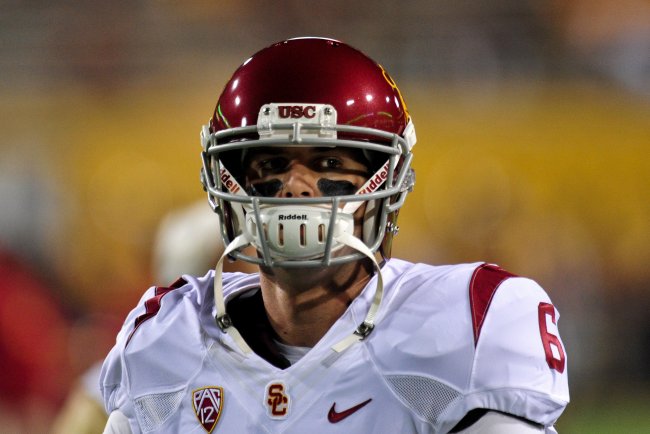 Matt Kartozian-USA TODAY Sports
Although Kessler's pick-six really hurt the Trojans' chances of pulling this one out on the road, he did throw for a career-high 280 yards and completed 20 of 29 passes to go with two TDs.
The sophomore was forced into obvious passing situations as USC tried to play catch-up, and orchestrated three scoring drives in the fourth quarter. It was too little too late, but Kessler at least showed signs that he can be the Trojans' No. 1 quarterback moving forward.
Marion Grice, RB, Arizona State: A+
Seven catches for 35 yards produced two touchdowns, and 12 carries for 63 more yards also saw Grice hit the end-zone twice. There is no denying his nose for the goal line when the Sun Devils are in striking distance.
Grice is a fantastic complement to the pass-happy Sun Devils, and doesn't put pressure on Kelly to have to make snap decisions and tight throws in the red zone.
USC's Running Backs: A
On only 10 carries, the 6'1", 200-pound freshman Davis had three touchdowns, proving that the Trojans can still recruit top-flight prospects who can make an immediate impact.
Then there was Madden, who had two receiving touchdowns and another on the ground in racking up 194 total yards. Perhaps Kiffin can more readily rely on the rushing attack for the remainder of the season in light of these standout performances.
Alden Darby, S, Arizona State: A-
For any defender who participated in this game to get a positive grade seems rather offensive, but Darby made the play that turned the tide in the Sun Devils' favor.
Darby, in fact, had both Arizona State interceptions and knocked down two other passes. If not for his ball-hawking, it's hard to imagine how much worse things could have been on the back end.
What's Next?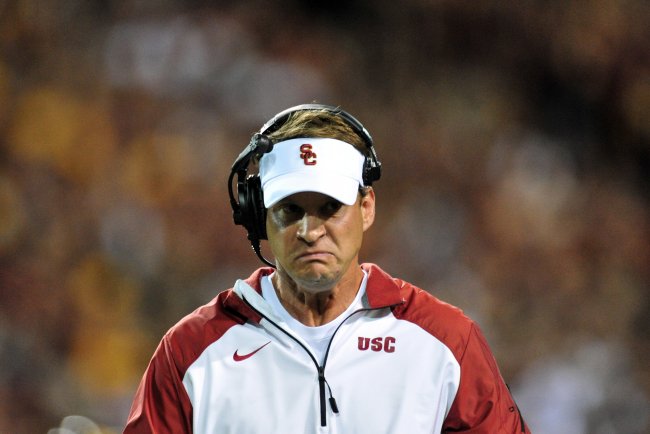 Matt Kartozian-USA TODAY Sports
Cowboys Stadium will be the site of the Sun Devils' next contest against the Notre Dame Fighting Irish. It's a great opportunity for the program to expand its profile at a massive venue against another marquee opponent.
Meanwhile, a short week is in store for the Trojans, so they will have to put this latest disappointment behind them in a swift manner. They will host the Arizona Wildcats on Thursday, who at least are coming off a 31-13 loss to Washington.