Cal vs. Oregon: Live Score and Highlights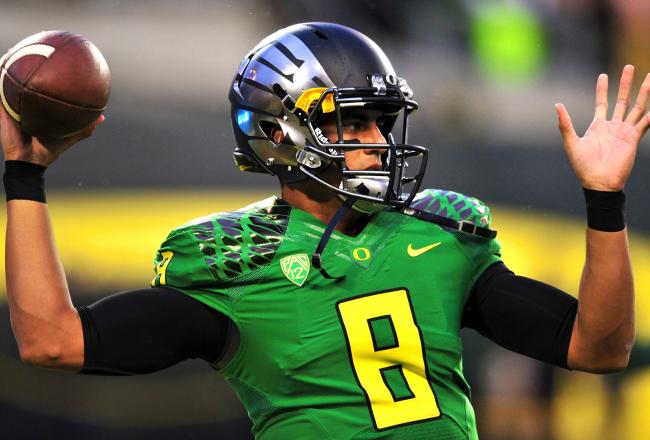 Oregon 55, Cal 16 ; FINAL
The No. 2 Oregon Ducks took care of business, and handily defeated Cal Golden Bears Saturday night in Eugene by a score of 55-16.
The weather was the real story in this ballgame. Torrential rain and windy conditions forced a mass amount of turnovers. Cal fumbled the ball four times alone in the first quarter. Oregon also coughed the ball up three times in the first period.
Ultimately, the depth and overall talent of Oregon was too much for Cal to overcome. Bralon Addison returned two punts for touchdowns, while Thomas Tyner and Byron Marshall combined for over 200 yards on the ground.
Bleacher Report appreciates you following the live blog. Stay here for up-to-the-minute analysis, commentary and updates.
The box score for the game can be found here.
Thank you guys for following throughout the game.
Have a great night!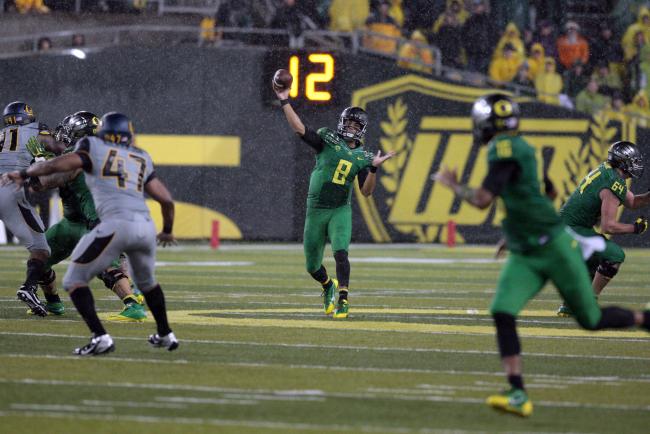 Final Thought:
Oregon did what it needed to do. The Ducks dominated an inferior opponent at home, and got out relatively unscathed.
The only negative of the night was the injury suffered by De'Anthony Thomas. The speedster from Crenshaw High School left after the opening kickoff due to an ankle injury.
One thing is for sure, and that's that Oregon is for real.
At this point, the Ducks look like the best team in the nation.
Cal just isn't deep nor talented enough right now to be super competitive.
The cupboard on both the offensive and defensive lines have hurt Sonny Dykes' ability to win football games. To be fair, injuries have completely decimated the defense.
Guys like Mustafa Jalil, Chris McCain, Brennan Scarlett and Avery Sebastian were expected to be staples for Andy Buh's defense. Without the aforementioned quartet, the defensive line has been pedestrian, at best.
Dykes needs to hit both lines hard in recruiting. The quarterback position and wide receiver unit seems set for the foreseeable future. However, it's all about getting the beef up front for the Golden Bears.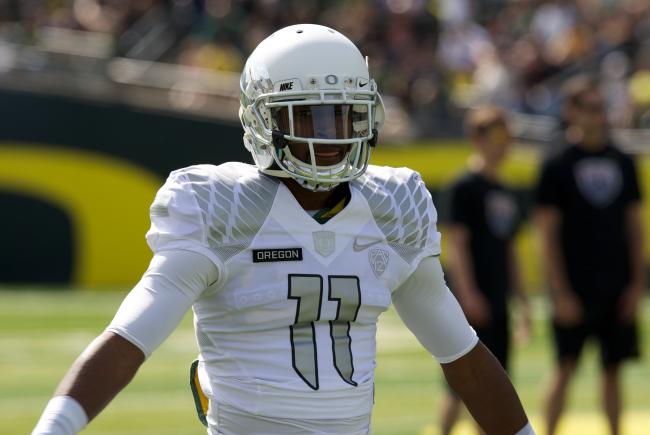 So, @BralonAddison11 is the second Duck ever, and first since Cliff Harris in 2010, to return two punts for touchdowns in the same game.

— Rob Moseley (@DuckFootball) September 29, 2013
Player of the Game: Bralon Addison
Addison returned two punts for touchdowns, one for 75 yards and the other for 67. He's the second Duck in Oregon history to return two punts in the same game for touchdowns.
Without De'Anthony Thomas in the lineup, Addison stepped up big time. It just shows how deep Oregon is at the skill positions.
FINAL!
Oregon 55, Cal 16
The Oregon Ducks defeated the Cal Golden Bears by a score of 55-16.
Stay tuned for my thoughts on the game...
TOUCHDOWN!
James Grissom snags a nine yard pass from Kline and takes it into the end zone for a score.
The Golden Bears have made the scoreline a bit more respectable. On a brighter note, that was Kline's first career touchdown pass.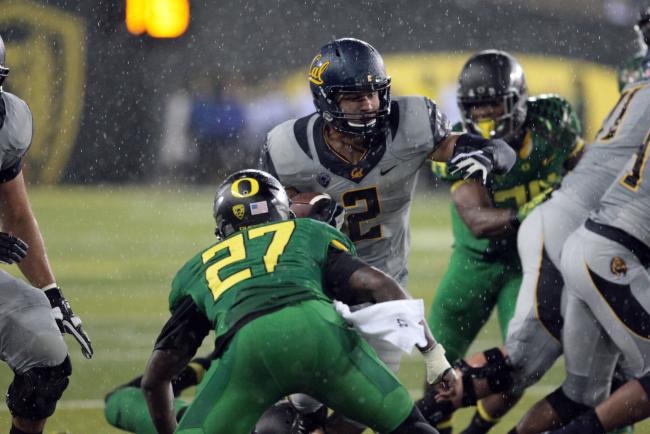 Perhaps the biggest bright spot has come in the form of tailback Daniel Lasco. He leads the Golden Bears in rushing with 46 yards on 14 carries. He also has 5 catches for 36 yards.
Sonny Dykes will eventually right the ship in Berkeley, but it will take some time.
Kudos to Cal for allowing only 10 points in the second half (up to this point). The Golden Bears played hard throughout, but are grossly short-handed when compared to Oregon.
Thomas Tyner closing in on first career 100-yd rushing game: 12 att, 89 yds, TD #GoDucks #UOvsCAL

— Andy McNamara (@McNamaraUO) September 29, 2013
Thomas Tyner is a star in the making. Not only does he possess world-class speed, but he's elusive for a bigger back.
He complements both Thomas and Marshall quite well and gives Oregon a true three-headed attack in the backfield.
My Pac-12 standings in terms of tiers:
Top: Oregon
Next: Stanford
Third: Washington, UCLA
Middle: Arizona State, Oregon State, Utah, USC
Bottom: Arizona, Cal, Colorado, Washington State
At this point, Oregon is head and shoulders above anyone else in the conference. Helfrich has a deep, fast, athletic team that plays relentlessly.
The biggest defense with this Oregon team compared to ones in the past is the overall amount of talent on the defensive line.
Taylor Hart, Arik Armstead, DeForest Buckner, etc. comprise a VERY talented unit.
Wait. There're still 15 MORE MINUTES to play?

— Cal Rivals (@CalRivals) September 29, 2013
Yes, yes there is.
Late Night Horror Show: - #Boise up 54-7 #USMvsBOISE - #Oregon up 55-10 #CALvsUO - #Stanford up 55-10 #STANvsWSU - #ASU up 48-27 #USCvsASU

— ESPN CollegeFootball (@ESPNCFB) September 29, 2013
As the start of the fourth quarter is upon us, here's a look at the other late night games currently going on.
It appears as if Lane Kiffin isn't having a very good night.
Also looks as if Mike Leach will most likely challenge a reporter to a sword fight out of frustration.
Again, Torrodney Prevot is making his presence known off of the edge. He's got an extremely bright future with his combination of length and athleticism.
He does need to gain some bulk and mature physically, but the overall talent is there.
Reserves have entered the game for both teams. With a minute left in the third quarter, it might be a good idea to have a running clock for the final quarter #wishfulthinking #iusedahashtag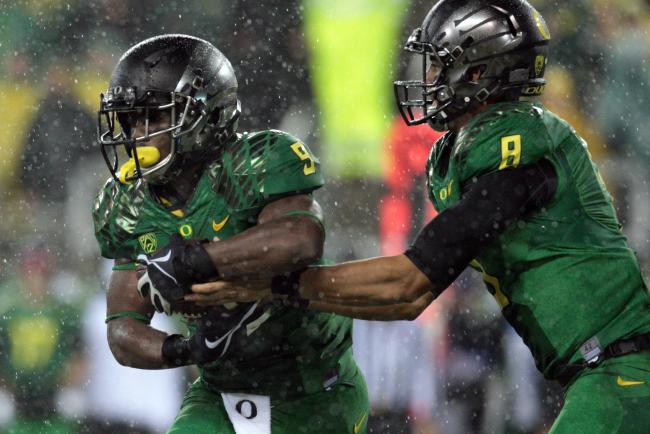 Jeff Lockie has now replaced Marcus Mariota.
Mariota finished 11/24 for 114 yards and 2 touchdowns. He also had 33 yards rushing.
TOUCHDOWN!
Former defensive back and current running back Jeffrey Coprich scores from two yards out, and Cal gets its first touchdown of the contest.
Kline did a very nice job driving the offense down the field. His arm strength is very noticeable when forcing the ball vertically.
After a pass interference penalty, Cal is in the red zone for the first time tonight. A touchdown here should really help boost Cal's morale.
It's been a very tough night for Dykes' team.
I guess the Oregon punt return unit is human, after all.
Chad Delaney muffed the punt and Cal linebacker Lucas King recovered. Cal now starts with the ball at the Oregon 25 yard line, hoping to score its first touchdown of the night.
First time in school history Oregon has scored 50 or more points in four straight games.

— Matt Prehm (@Prehmmr247) September 29, 2013
Quite a feat accomplished by Mark Helfrich's squad...
TOUCHDOWN!
Duck fans get a glimpse of the future, as running back Thomas Tyner outruns the Golden Bears' defense with a 21 yard touchdown run.
Tyner now has four touchdowns on the season.
De'Anthony Thomas returns to the field for the 2nd half on crutches.

— Matt Prehm (@Prehmmr247) September 29, 2013
The Black Mamba will not return tonight.
Bralon Addison joins Cliff Harris as only the second Duck to ever return two punts for touchdowns in one game.
Khalfani Muhammad (head) and Kam Jackson (lower leg) are out for the game per Cal officials. Once again confirmed nothing wrong with Goff

— Hunter Hewitt (@HunterHewitt) September 29, 2013
Here's a recent injury report for the Golden Bears...
This article is
What is the duplicate article?
Why is this article offensive?
Where is this article plagiarized from?
Why is this article poorly edited?

Oregon Ducks Football: Like this team?