Ole Miss vs. Alabama: Score, Grades and Analysis
September 29, 2013

It wasn't always pretty, but the Alabama Crimson Tide continued to roll through their schedule with a 25-0 win over Ole Miss. 
The two-time defending national championships, who improved their record to a perfect 4-0 (2-0, SEC), looked sluggish offensively in the first half. Field goals of 28, 53 and 42 yards from Alabama kicker Cade Foster represented the only offensive output from either team. 
Fortunately for Nick Saban and Co., the Tide offensive unit has a running back in T.J. Yeldon who can break the game open at the drop of a hat. Less than one minute into the second half, the sophomore sensation broke off a 68-yard run—certain to be one of the more impressive highlights of the week—to put the Tide ahead, 16-0.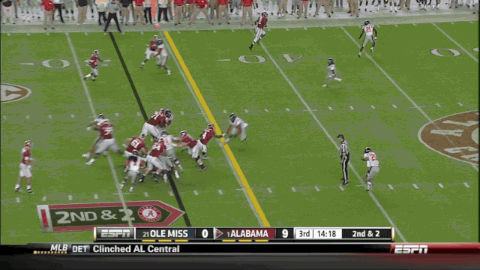 Though the Tide's offense was more efficient than it was thrilling, the defense was in full-on Alabama mode as it shut down Bo Wallace and the Ole Miss offense. The unit got the rare opportunity to put itself on the scoreboard with a safety with 5:43 left in the fourth quarter. 
A 50-yard Kenyan Drake touchdown scamper put the finishing touches on the Tide's convincing 25-0 victory. 
Player Grades
T.J. Yeldon, RB, Alabama: A-

Kevin C. Cox/Getty Images
Let's start with the best individual performance of the game. Coming into this game, there were some concerns about the 'Bama rushing game after a 66-yard performance against Colorado State. 
Well, apparently Yeldon heard those naysayers and has a response for everyone: The Tide can still run the ball. 
His 68-yard touchdown was easily the climax of this game. It set the stage for 'Bama's domination in the second half and finally got the Alabama offense a touchdown. He finished the game with 17 carries for 121 yards and score.
Bo Wallace, QB, Ole Miss: F

John David Mercer-USA TODAY Sports
Wallace might have come into this game confident that the Rebels could score points against the Tide, but he certainly didn't do much to help that cause. The junior signal-caller was just 17-of-31 for 159 yards and no touchdowns. 
That's nowhere near the quarterback play needed to upset Alabama. 
AJ McCarron, QB, Alabama: B-

John David Mercer-USA TODAY Sports
It's a cliche phrase, but AJ McCarron really was a "game manager" in this contest. He completed a high percentage of his passes, going 25-of-32, but his yardage (180) was indicative of the conservative passing game 'Bama employed. 
With an interception and no touchdowns to his name, this was an underwhelming performance from the senior leader. 
What's Next
The undefeated Crimson Tide will welcome the Georgia State Panthers to Bryant-Denny Stadium. Ole Miss will take its 3-1 record right back to Alabama to square off with fellow 3-1 SEC squad Auburn.