Minnesota Vikings Staff Report: Offensive Coaches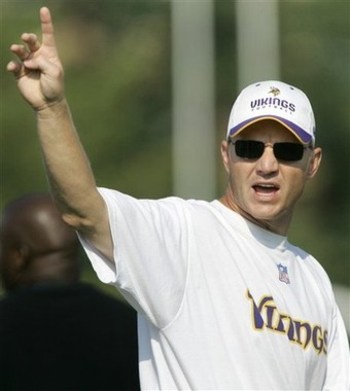 The old quote goes that "defenses win championships," but offenses are the ones that get you there.
The Minnesota Vikings offense premiers one of the finer running games in the league today and one of the up-and-coming passing games heading into the 2009 season.
Today, we enter the second part of the three-part series on the Minnesota coaching staff and focus on the offensive coaches and what they bring to the organization on and off the field.
As we focus today, we'll take a look at the histories and tendencies of all the inner workings that is the Vikings offense that make them tick.
Offensive Coordinator: Darrell Bevell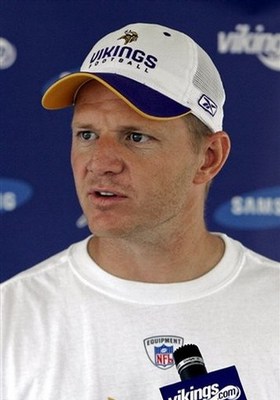 As if the Green Bay/Minnesota rivalry wasn't enough, they at one point got to the point of stealing coaches, including Darrell Bevell. Bevell was the quarterbacks coach in Green Bay before old time friend and Minnesota head coach Brad Childress coaxed him over to Minnesota to be their offensive coordinator.
Bevell, though, has proven a big hit with Minnesota's explosive offense, starring running back Adrian Peterson. The Vikings offense has broken several team records in 2007 and 2008, most notably a team record with a 5.33 yard-per-carry average.
When Brad Childress began building his Minnesota Vikings coaching staff he had certain qualities in mind for the men who would lead the team into the future. Childress wanted coaches who were good teachers, hard workers and dedicated to the task.
Bevell was born on January 6, 1970 in Yuma, Arizona. After graduating from Chaparral High School in Scottsdale, Arizona, Bevell redshirted as a freshman quarterback at Northern Arizona University.
It was then he went on an LDS mission to Cleveland, Ohio. Upon relieving this mission, he was given offers to complete his schooling and return to play at NAU or to take up a scholarship at Utah. Instead, he chose to follow Childress to Wisconsin where he was the quarterbacks coach.
Wisconsin's football program had been struggling for some time and Bevell was eventually named starting quarterback in 1993. It was at this point that he had his "Cinderella" season and led the Wisconsin Badgers to 10-1-1 record with which the Badgers won their first Big Ten title since 1963. They also went on to defeat UCLA in the Rose Bowl by the score of 21 to 16.
Bevell would lead Wisconsin to a second bowl win of 34 to 20 over the Duke Blue Devils in the Hall of Fame Bowl. Bevell would finish his four-year career at Wisconsin with several school records, including most passing yards in a single game with 423 and in a career with 7,686.
He began coaching after graduating in 1995, including stints at Westmar University in Iowa (QB Coach), Iowa State University (Grad Assistant), and the University of Connecticut (Wide Receivers Coach).
It was after that, that Bevell was hired by the Green Bay Packers in 2000 as an offensive assistant, quarterbacks coach starting in 2003. It was during this stretch that Bevell coached Packers legend (and possibly new Viking) Brett Favre.
It was this friendship these two formed that caused a commotion between the 2007 and 2008 season when Favre asked for his unconditional release from the Green Bay Packers. The problem was the Packers traces of Brett Favre calling Bevell while he was the Vikings offensive coordinator on a Packer-issued phone.
The Packers would file tampering charges against the Vikings, but to no avail. As we all know, Favre was then traded to the New York Jets, where he played 2008 season and retired afterward and asked again for his unconditional release, which unlike the Pack, the Jets granted.
Bevell is now entering his 9th year in the NFL, all in the NFC North.
Bevell and his wife, Tammy, have 3 daughters- Kylie, Morgan and Hailey.
Quarterbacks Coach: Kevin Rodgers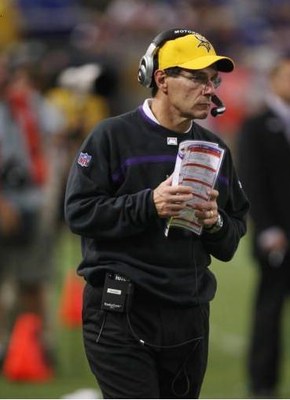 Rodgers is now entering his fourth year as the Vikings quarterbacks coach with now four quarterbacks on the roster and two that have started in the NFL. Obviously, every year since Childress has come in, Rodgers has had his work cut out for him.
A 1974 graduate from the College of William & Mary, where he also played linebacker, Rogers went on to receive his master's degree from Ohio State University in 1978. He then began his coaching career in 1974 as head coach at Virginia Beach's Bayside High School. He continued this short stint until 1976.
At which point, Rodgers started his first college ball stint as a graduate assistant with Ohio State under the legendary Woody Hayes until he returned to coach at his alma mater, William & Mary, for three seasons until 1982.
In 1983, Rodgers began a new tenure at Navy. He spent seven seasons working with the offense and helping produce future NFL standout Napolean McCallum.
It was after Navy that Rodgers had his longest coaching tenure with the Syracuse Orange from 1991 to 1998. Rodgers helped the Orange to a combined 68-26-1 record and six bowl appearances is his time there. He joined the team as quarterbacks coach on Coach Pasqualoni's staff, was named assistant head coach in 1995, serving as the recruiting coordinator from 1995-97 before being promoted to offensive coordinator in 1997.
During Rogers' time with Syracuse, the team tied for the 1996 Big East title and won the crown outright in 1997 and '98, becoming the first team in conference history to win three straight championships. It was also during that time that Rogers first became acquainted with Vikings' head coach Brad Childress, as the Philadelphia Eagles began evaluating Rogers' star pupil, Donovan McNabb, before the 1999 NFL Draft.
McNabb excelled under Rogers' tutelage, leaving Syracuse with the majority of the school's passing records and earning three straight Big East Offensive Player of the Year awards from 1996-98 before being drafted No. 2 overall by the Eagles. Rogers also helped groom future NFL stars Marvin Harrison, Qadry Ismail, and Rob Konrad.
Rogers spent the 1999-2001 seasons at Notre Dame as the offensive coordinator/quarterbacks coach on Coach Bob Davie's staff. He played a part in the 2000 Irish squad that finished 9-3 and was invited to the Fiesta Bowl in the school's debut in a Bowl Championship Series game.
In 2002, Rogers began a three season success at Virginia Tech. It was here that Rodgers led two quarterbacks, Bryan Randall and Marcus Vick, to become two of the most celebrated quarterbacks in Hokies history. The team also advanced to bowl games in each of his four seasons.
In 2005, Rodgers began his pro football coaching career in Minnesota and is currently on his toughest task yet with the young Tarvaris Jackson and journeyman Sage Rosenfels heading into 2009.
Rogers and his wife, Betty, have three children—Kevin, Megan and Ryan. Kevin is a former Villanova QB and works as a pro scout for the Super Bowl XLI Champion Indianapolis Colts. Ryan earned his degree from Notre Dame and is in grad school at Syracuse's Newhouse School of Communications.
Megan is a former Notre Dame soccer player and currently the Coordinator of Labor Operations at the NFL office.
Running Backs Coach: Eric Bieniemy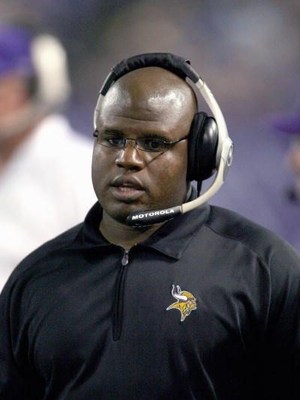 Everyone get ready. Here is that mastermind behind the training and coaching of current NFL running back Adrian Peterson. Bieniemy certainly has his share of accomplishments to be shepherding such a big name running back.
Eric began his college ball career playing for the University of Colorado at running back, naturally. He remains the school's all-time leader in rushing (3,940 yards), all-purpose yards (4,351), and touchdowns (42).
He was the nation's second leading rusher in 1990 with 1,628 yards, along with 17 touchdowns, when he finished third in the Heisman Trophy balloting that year behind BYU's Ty Detmer (the winner) and Notre Dame's Raghib Ismail.
In 1990, Bieniemy earned consensus All-America honors. He was a two-time first-team all Big-Eight performer, in 1988 and in 1990, earning the conference's offensive player-of-the-year honor as a senior.
As a junior, he was named to CU's prestigious 25-member "All-Century Football Team," the only active player at the time to be selected to the group honoring the first 100 years of Colorado Buffalo football.
Bieniemy's success in college did not translate into the professional ranks however. He played from 1991 through 1999, and finished his career with 1,589 yards rushing, 1,223 yards receiving, 276 yards returning punts, 1,621 yards on kickoff returns, and 12 touchdowns (11 rushing and one kickoff return) while playing for the San Diego Chargers (1991-1994), Cincinnati Bengals (1995-1998) and Philadelphia Eagles (1999).
Two years later, Bieniemy returned to his alma mater to be the running backs coach at Colorado in 2001 and 2002. He then went on to coach at UCLA, again, as a running backs coach through the 2003 and 2004 season. He was then named the team's recruiting coordinator in 2005. Following UCLA's 2005 Sun Bowl victory, Bieniemy accepted a position as running backs coach for the Minnesota Vikings, joining Childress' new staff.
Since joining the Vikings, he's been the center of the offense's training in veteran Chester Taylor and the young Adrian Peterson. In that time, Peterson broke the single game rushing record to record 296 yards (team-record, 378 total yards combined) against the San Diego Chargers in 2007 and combined with Chester Taylor to set a team-record of 2,185 yards.
Bieniemy and his wife, Mia, have two sons, Eric III and Elijah.
Wide Receivers Coach: George Stewert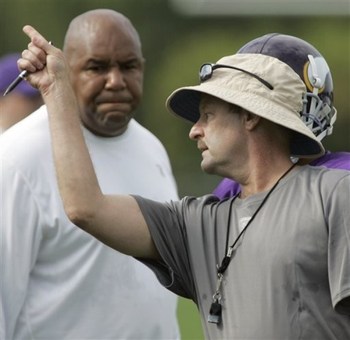 For Vikings wide receivers coach George Stewart, the 2009 season marks his third campaign with Minnesota and his 21st year on an NFL sideline. Having previously coached in Pittsburgh, Tampa Bay, San Francisco and Atlanta, Stewart has a proven track record of working with top-notch collegiate and NFL talent.
Throughout Stewart's coaching career, he has been fortunate to learn from some of the game's all-time greats, beginning both his playing and early coaching careers under college legend Lou Holtz. Stewart got his start in coaching as an Arkansas graduate assistant, working with the Razorbacks' tight ends in 1983 working with Holtz.
When Holtz came to the Minnesota Golden Gophers to head coach in 1984, Stewert followed suit and became the teams offensive line coach. his first exposure to the state where he would return in 2007.
In two shorts seasons, Holtz and his staff quickly turned the Gophers program around, finishing 7-5 in 1985 and winning the Independence Bowl over Clemson, the first bowl victory for the Gophers since the 1962 Rose Bowl.
Before making the move to the NFL, Stewart spent several years in the college ranks, making his final stop as the Notre Dame linebackers coach from 1986-88. Under Holtz's tutelage, the Irish steadily improved from the coach's opening season in '86 to become national champions in 1988, a year in which the team finished 12-0 and defeated West Virginia in the Fiesta Bowl.
The stingy Irish defense allowed opponents to score over 20 points only twice during the season. Stewart's unit, which included Arnold Ale and Andre Jones highlighted by consensus All-America choice Frank Stams played a prominent role in the defensive success.
Stewart's first taste of NFL coaching came with the Pittsburgh Steelers from 1989-91, as he served as the special teams coach on Chuck Noll's staff. In his debut season in 1989, Stewart helped Rod Woodson earn a Pro Bowl berth as a kickoff return man. Following his three seasons with Pittsburgh, Stewart went on to spend four years working with the special teams unit in Tampa Bay, where he helped K Mike Husted earn All-Rookie honors in 1993.
Stewart was then hired to the San Francisco 49ers' as a wide receivers coach and was a large of part of their success from 1996-2002, as the team advanced to the playoffs five times in those seven seasons. In 1997, the 49ers won the NFC West with a 13-3 mark and eventually lost to Green Bay in the NFC Championship game.
During that time, Stewart tutored the 49ers wide receiving corps and helped elevate each of Terrell Owens, J.J. Stokes and Tai Streets performances, with Owens making Pro Bowl appearances in three straight seasons from 2000-02 as well as earning consensus All-Pro honors in each of those years.
It was in 2003 that Stewert found himself in Atlanta as the Falcons wide receivers coach. He was most remembered there for his contributions to the Falcons 2004 NFC South division title and the work of Jenkins, Lelie and Roddy White.
In 2007, Stewert was brought into Minnesota to rebuild a receiving core to its former glory of the late 90's. Stewart had the challenge of coaching a unit that included 4 fresh faces in Allison, Ferguson, Rice and Wade. Nonetheless, each of the new players found success under Stewart's tutelage.
While Wade set career-highs with 54 receptions and 647 receiving yards, Ferguson finished with his 2nd-best season, pulling in 32 catches for 391 yards, and Rice led the team with 4 receiving TDs. Rice, who ranked 3rd on the team with 31 catches for 396 yards, was second among NFL rookies with 4 TDs.
Stewart has a bachelor's degree in education from Arkansas and is a native of Little Rock, AR, where he graduated from Parkview High School in 1977.
Offensive Line Coach: Pat Morris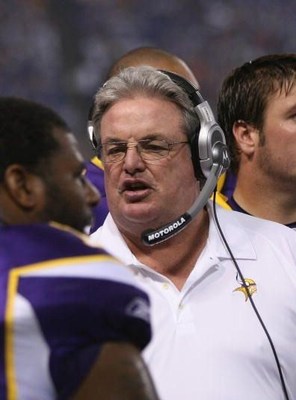 The Vikings take pride in having a top notch and strong offensive line. Thanks to that line, the Vikings offense has slowly been able to creep up to a top caliber squad thanks in large part to the Vikings offensive line coach, Pat Morris.
The long time coach has a wealth of experience in football since the mid-70's since he graduated from the University of Southern California in 1976. After that year, he became a graduate assistant with USC until after the 1977 season.
Morris spent a year as a grad assistant at Northern Arizona before he became the Minnesota Golden Gophers offensive line coach from 1979 to 1982.
Morris then broke into the NFL coaching level as the tight ends coach with the San Fransisco 49ers in 1997. After two years as the tight ends coach, Morris became the offensive line coach for the remainder of his five years in San Fransisco.
In 2004, when former San Fransisco Head Coach Steve Mariucci was named Detroit's new head coach, Morris followed suit and became the offensive line coach for the Lions through the 2005 season.
It was after Mariucci was dismissed from Detroit that Brad Childress brought Morris on over to Minnesota to help build an offensive machine starting with the offensive line. Under Morris' leadership, the Vikings have amassed one of the most dangerous running games in the NFL ending in the top every year since Morris came to the Vikings.
Morris will be entering his fourth year with the purple this year and his 13th as an NFL coach.
Keep Reading

Minnesota Vikings: Like this team?