Colts vs. Jaguars: Live Score, Highlights and Analysis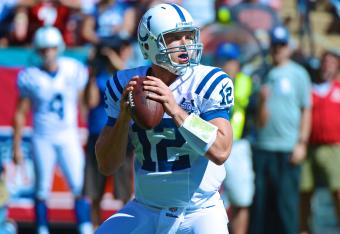 FINAL
Indianapolis: 37
Jacksonville: 3
The Indianapolis Colts move to 3-1 with a win over the still winless Jaguars (0-4). The Colts got off to a slow start offensively but dominated on defense and found the end zone both through the air and on the ground. Stay tuned to Bleacher Report for post-game analysis.
Luck on team trying to throw early: They have a good front four we wanted to spread it out #Colts

— Larry Hawley (@Fox59Larry) September 29, 2013
Now, the @Colts (3-1) will return home next Sunday to take on Seattle (3-0). The Seahawks are currently in OT down in Houston right now.

— Kevin Bowen (@KBowenColts) September 29, 2013
And we have a final! The Colts defeat Jacksonville 37-3, dominating in all phases of the game.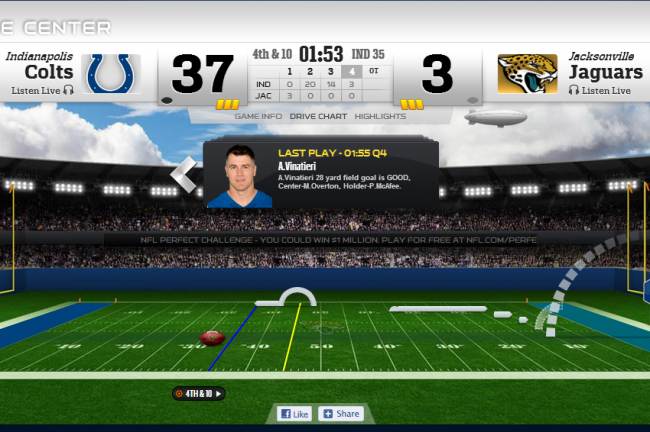 The Colts take a 34-point lead with another Vinatieri field goal.
4th 4:50
The Colts intercept Gabbert again, this time off of WR Ace Sanders' hands. Josh Gordy got the pick for the Colts, and Andrew Luck sits down on offense.
4th 5:20
The Colts started to run the ball well on that drive, but a failed stretch play for Trent Richardson on 3rd-and-1 ended the drive. Richardson finally broke a run for 12 yards but overall has been ineffective.
Why is Andrew Luck still playing in a 34-3 game?

— Bart Hubbuch (@HubbuchNYP) September 29, 2013
12:52 4th
The Colts' defense holds once again, this time at the goalline as the Jaguars fail to punch it in after having a 1st-and-goal at the 2-yard line. The Jaguars turn the ball over on downs.
Prior to season, Vegas very down on Colts. Projected 7-8-9 win team. Nobody could have seen this defense being so good. Host Seattle Sunday.

— Jason McIntyre (@jasonrmcintyre) September 29, 2013
Fourth 15:00
The Colts finish the third quarter with a sack by Cory Redding, and the Colts go into the fourth up 34-3.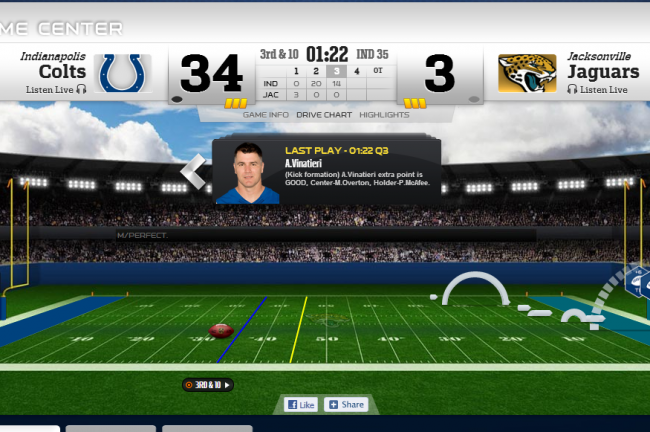 TOUCHDOWN
3rd 1:22
Reggie Wayne catches a five-yard touchdown from Andrew Luck in the back of the end zone.
3rd 2:20
Coby Fleener is having a really strong game with five catches for 77 yards and a touchdown. He's looked very strong at the catch point.
Richardson saved by inadvertent whistle. Still looks like he's thinking more than playing. #Colts

— George Bremer (@gmbremer) September 29, 2013
While Gabbert wilts in the face or pressure, Luck slides or climbs the pocket, keeps eyes downfield.

— Bob Kravitz (@bkravitz) September 29, 2013
Mathis w 3 sacks today to give him 99 for his career. He'll become 30th player in league history w 100 in his career w his next sack

— Mike Wells (@MikeWellsNFL) September 29, 2013
I questioned whether Robert Mathis could be a franchise pass rusher during training camp. Yeah, he's the answered that big time.

— Andrew Mishler (@andrewmishler) September 29, 2013
This was the game I expected to see. Dumb Jax penalties and efficient Colts offense. Indy up 27-3 in the 3rd. #HasslebeckAlert

— Jason Spells (@JasonSpells) September 29, 2013
TOUCHDOWN
3rd 12:15
Coby Fleener catches a wide-open 31-yard touchdown.
3rd 13:19
The Jaguars offense continues to struggle, going three-and-out on the first drive of the half. Jacksonville is 1-9 on third down today.
Halftime Summary: The Colts defense is dominating a poor Jaguars offense, who only scored three points after an Andrew Luck interception. Jacksonville's defense hasn't been awful, but Indianapolis has 20 points thanks to a 50-yard run by Donald Brown and a few nice plays by Andrew Luck and Reggie Wayne. The Colts offense still isn't quite as smooth as it could be, but they've scored 13 so far.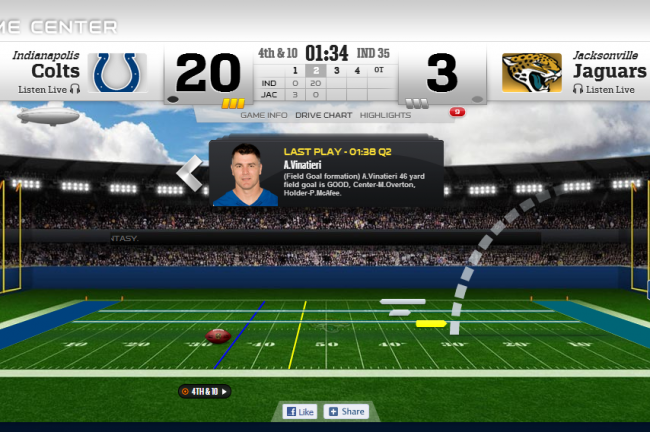 Adam Vinatieri hits the field goal to put the Colts up 17 going into the half.
Unbelieveable. Luck finds Wayne for a TD, but it's coming back for a O-line penalty on Linkenbach.

— Colts 101 (@Colts_101) September 29, 2013
2nd 3:40
The Luck-Wayne connection continues to pay dividends on third down, as Indianapolis converts on third down with a 31-yard catch on 3rd-and-4.
1st 4:53
The Colts defense continues to impress, forcing another Jacksonville punt. The back end has been phenomenal, and the Jaguars have been held to just 22 yards rushing.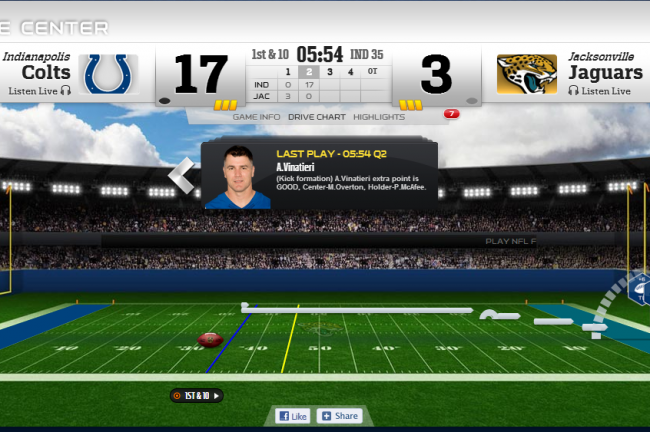 The Colts take a double-digit lead on the Richardson touchdown.
This article is
What is the duplicate article?
Why is this article offensive?
Where is this article plagiarized from?
Why is this article poorly edited?