USC vs. Arizona State: Live Score and Highlights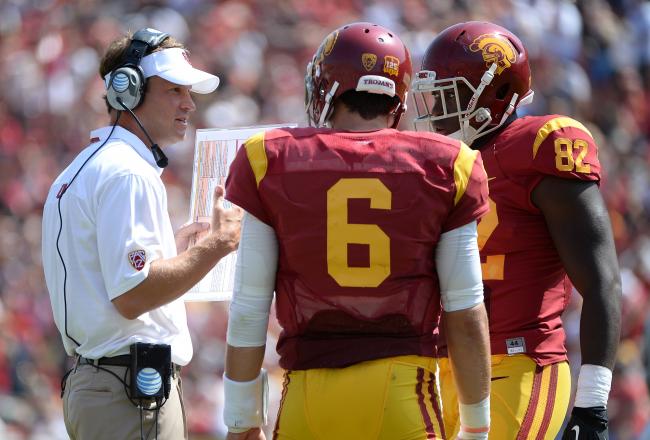 Harry How/Getty Images
USC - 41
Arizona State - 62
FINAL
There were a total of 103 points but that doesn't mean the game was pretty. USC's defense struggled mightily, the offense ran hot and cold and injuries seemed to take place every 45 seconds. The Sun Devils came prepared in this one-sided affair but the Trojans didn't put up much of a fight until it was far too late.
Arizona State scored four unanswered touchdowns in the third quarter to put the game away and running back Marion Grice was the player of the game, rushing for 63 yards and scoring four touchdowns.
The Sun Devils improve to 3-1 on the season and USC drops to 3-2.
USC will play Arizona in a couple of weeks, while Arizona State will battle Notre Dame next week in another statement game.
There was a lot to take away from this game:
FINAL THOUGHTS
USC is in serious trouble. The offense still has major issues, especially with Marqise Lee injured, and the defense showed a few chinks in the armor. Is this team even motivated to play anymore? You could make a strong case that the Trojans have mailed it in for the season.
It was an ugly performance by USC, and this bye week coming up will allow everybody to take a strong look in the mirror to figure things out.
As for Arizona State, it did what it had to do by protecting home field and picking up a strong victory. The Sun Devils remain in the Pac-12 race and made everybody take notice in this blowout. When this team is clicking on both sides, they can be tough to beat as we saw tonight.
It's quite clear both of these programs are heading in opposite directions.
Who knows what it means - it could be fairly normal - but USC's AD and prez had lengthy chat late in 62-41 loss. Prez sought out Haden.

— Travis Haney (@TravHaneyESPN) September 29, 2013
The writing may be on the wall.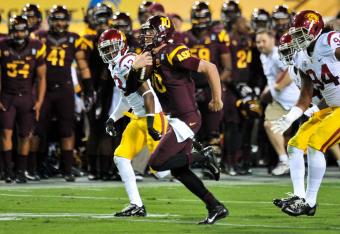 Arizona State: 62
USC: 41
FINAL
The beat down has finally come to an end.
USC: 41
Arizona State: 62
It's safe to say that USC is set at running back with Justin Davis, as the freshman shows his incredible speed on a 58-yard touchdown run. Of course, it's not going to impact this game but it is nice to see that some of the players aren't willing to give up.
Despite the score, there were a few positives that the Trojans can build on moving forward.
Arizona State: 62
USC: 34
The Sun Devils were trying their very best to work the clock but USC defenders couldn't even stop the run when they knew it was coming. Deantre Lewis adds to the lead by rushing for a one-yard touchdown.
Expect USC to sit on the ball and call it a night.
55 points is the most ASU has ever scored against USC.

— Craig Morgan (@cmorganfoxaz) September 29, 2013
It's been that kind of night...
Marqise Lee has a $10M total disability policy if he never plays again. But also has loss of value draft insurance http://t.co/gsL7qJ4n7U

— darren rovell (@darrenrovell) September 29, 2013
Darren Rovell reminds us all, but hopefully he won't need to use that insurance policy.
Arizona State: 55
USC: 34
The comeback story was nice, but running back Marion Grice likely put an end to it with a 28-yard touchdown. That is now his fourth score of the game!
With the injuries piling up, USC should just hope to get out here without seeing any more key players go down. Forget the win at this point.
The injuries continue to pile up for USC, as freshman safety Su'a Cravens is now being looked at.
Yikes.
Allison Williams of ESPN is reporting that Marqise Lee has suffered a left knee injury and it may be a sprain. The star receiver is being carted to the locker room. She asked Lee if it was a "thumbs up" or "thumbs down," and he smiled and gave a "thumbs up."
Hopefully this is good news.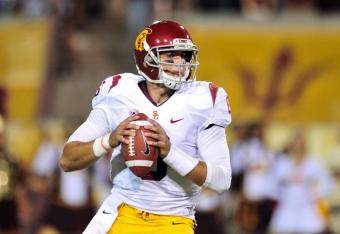 USC: 34
Arizona State: 48
The Trojans aren't going to go down quietly, as freshman Justin Davis scores his second touchdown of the game from 15 yards out. Still down two scores, but this game is a lot more interesting than it was just a few minutes ago.
Can USC actually pull it off?
Marqise Lee is sitting up on the trainers table, ice on his ankle. #USC only has Agholor and Blackwell available at receiver.

— Lindsey Thiry (@LindseyThiry) September 29, 2013
Apparently it's Lee's ankle that's hurt.
Just when USC's passion is questioned, the players are actually playing with energy and acting like they want to win. The Trojans are diving in hopes of inching that much closer.
Dude!
That was a brilliant onside kick!
USC recovers and still has a little bit of life left if it can manage to score another touchdown.
Marqise Lee now has a bag of ice on his left knee. Still sitting on trainer table.

— Rich Hammond (@RegisterUSC) September 29, 2013
Lee update
USC: 27
Arizona State: 48
Well, there's a spark that USC needed.
Cody Kessler hooks up with Tre Madden for a 49-yard score. The question is, is it too little too late?
Still, it's hard not to think about the severity of the injury to star wide receiver Marqise Lee.
Lee is being carried on the sidelines by teammates. It doesn't need to be mentioned how important he is to this team. He's not only one of only two receiving threats for USC, but he's easily the best wide receiver in the country.
He's in serious pain on the training table. Needless to say, it doesn't look good.
A lot of players kneeling around Marqise Lee, who is down but is now sitting up on the field.

— Rich Hammond (@RegisterUSC) September 29, 2013
Just breathe, USC.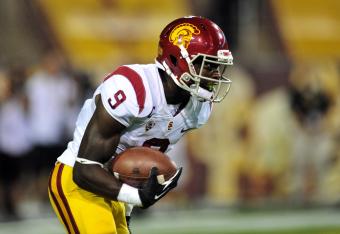 As if it couldn't get any worse, Marqise Lee appears hurt after returning a punt.
Oh, boy.
Here's where I blame Lane Kiffin: Where is the will to win? To deal with the adversity? Pete Carroll would be firing up the sidelines #USC

— InsideUSC (@InsideUSC) September 29, 2013
There isn't any. Just a blank stare on the sidelines like he has no idea what's going on.
I heard a loss to Boston College, Utah State, or an embarrassment in the desert would be the end of Lane Kiffin. Could this be it? #USC

— Lindsey Thiry (@LindseyThiry) September 29, 2013
Welp.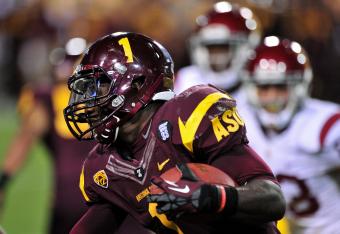 Arizona State: 48
USC: 21
That will do it, folks.
Marion Grice scores yet another touchdown.
Arizona State is firing on all cylinders and USC has no answer for any of it. The defense can't get a stop and the offense has lost all confidence. This game can't end soon enough, as it's going to be a long flight back home.
Oh my goodness.
USC was forced to go for it on fourth down once again and decided to pull a play out of the wildcat package. The result was an interception thrown by Tre Madden.
You have to wonder what the coaching staff is doing at this point.
This article is
What is the duplicate article?
Why is this article offensive?
Where is this article plagiarized from?
Why is this article poorly edited?