Florida vs. Kentucky: Live Score and Highlights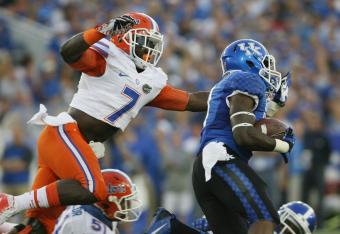 Mark Zerof-USA TODAY Sports
Tyler Murphy had few jitters in his first career start, and he led the Florida Gators to a much-needed victory over the Kentucky Wildcats.
Florida 24, Kentucky 7: Final
For a complete box score, head to NCAA.com.
That's all for now. Be sure to check back in a bit to see what we learned from this Gator victory.
Happy Sunday and have an awesome night!
Final thoughts:
Florida is in better shape with Tyler Murphy under center. Aside from one poor decision that resulted in an interception, Murphy played a fantastic game and looked very comfortable in his first start.
If Florida can continue to receive contributions from Vernon Hargreaves, Cody Riggs and other non-superstar defenders, the Gators will remain an SEC contender.
Meanwhile, Kentucky is on the right track. You can tell there is talent on the roster, and it should only grow.
However, the Wildcats just don't have the ability to put together a complete performance where everything clicks. They are likely staring at a three-win season.
One of the huge positives for Florida tonight was Matt Jones. He looked like the breakout runner that many people saw prior to the start of this season. He and Mack Brown are a valuable one-two punch.
Give Stoops a lot of credit, though. He emptied his bag-of-tricks plays and reverses in an attempt to win this game. Without the fake on the field goal, his team would have been shut out.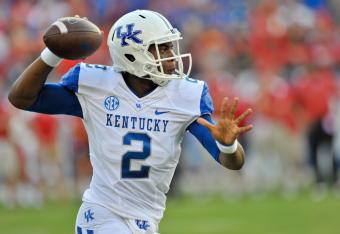 The problem for Kentucky remains the offense. Neither Jalen Whitlow nor Maxwell Smith could find any sort of rhythm during the game, and the Cats never got off the ground.
That's all she wrote. The Gators answered a lot of questions with this victory and improved to 2-0 in SEC play.
Kentucky dipped to 1-3 overall.
Florida just ate up the clock like Pac-Man at an all-you-can-eat yellow dot buffet late in the game.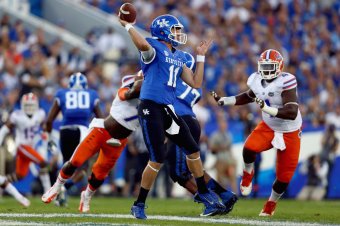 Andy Lyons/Getty Images
At least Kentucky was the better team at getting the snap off before the play clock ran out tonight.
No points for the Cats. Oh well, maybe the 28th time is the charm?
Kentucky is driving but running out of time. I think you need to start the hurry-up offense at this point.
ESPNU just cued the famed Tim Tebow "promise" speech from five years ago. It will forever give Gator fans chills.
Hardin redeemed himself with that field goal. I know stranger things have happened, but I get the feeling that those three points were the final nail in the Wildcat coffin.
It might do the Gators some good to invest in a clock on the sideline. That's at least the third time that they have needed to burn a timeout to avoid a delay of game.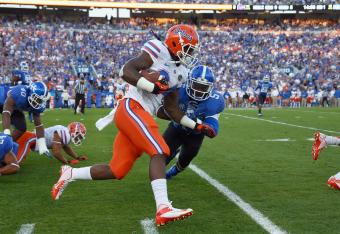 As the fourth quarter begins, Florida has a 2:1 advantage in terms of possession time.
By about the length of a house key, Florida gets a BIG first down to keep the drive alive.
Is it just me, or is anyone else sick of seeing Bill Cowher in all these Time Warner Cable commercials?
Vernon. Hargreaves. That was his third interception of the season. If you don't know much about him, you might want to read this.
Mark Stoops is pulling out more tricks than Harry Houdini at a magic convention. However, the latest one, an attempted halfback pass, goes for an 11-yard loss.
That interception by Forrest was the first interception by any Wildcat this season.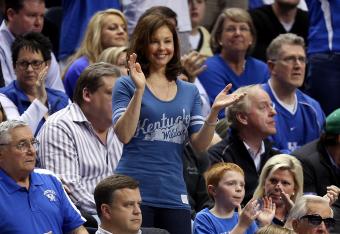 I wonder if Ashley Judd is watching this game. If so, she just jumped for joy. Tyler Murphy throws his first interception of the season, and Kentucky stays alive for now.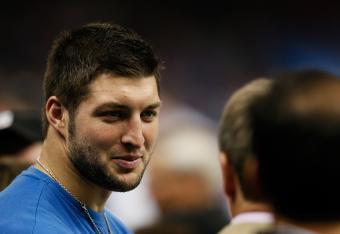 The last Gator quarterback to start a game with 12 straight completions? This guy, until Murphy tonight.
So much for that. The Cats run a questionable reverse and it backfires. The Gators will have the football on their own 31.
Kentucky needs to get something going on this drive. In my opinion, we're at the most pivotal point of the game.
We are all witnessing Jeff Driskel's worst nightmare come to life...Tyler Murphy playing very well

— Jason Spain (@JasonPSpain) September 29, 2013
Not surprisingly, Tyler Murphy has already captured the heart of Gator Nation.
Someone get me Dawn Davenport's number ASAP.

— Will Muschamp (@Will_Muschamp) September 29, 2013
It appears the owner of the Will Muschamp parody account on Twitter has fallen in love with sideline reporter Dawn Davenport.
This article is
What is the duplicate article?
Why is this article offensive?
Where is this article plagiarized from?
Why is this article poorly edited?