For a number of NFL teams, the start of the 2013 season has not gone according to plan. Fortunately, there is plenty of time to turn things around.
Six squads started the year 0-3 and are still looking for their first win. This includes a couple of 2012 playoff teams in the Washington Redskins and Minnesota Vikings, as well as perennial contenders in the Pittsburgh Steelers and New York Giants.
In a few cases, these teams will have to wait a little longer in order to get a victory. However, a few clubs will finally get into the win column with strong performances in Week 4.
Pittsburgh Steelers over Minnesota Vikings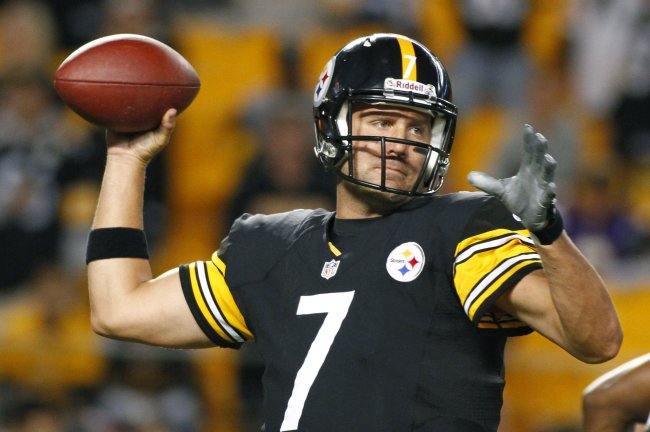 Justin K. Aller/Getty Images
In this matchup of 0-3 teams, someone will have to get a win, unless there is a tie. Based on what we have seen recently, it is much more likely to be the Steelers.
Matt Cassel will start for the Vikings in place of the injured Christian Ponder, after going 1-7 as a starter for the Kansas City Chiefs last season. The veteran quarterback struggled to complete passes at a high rate and was extremely turnover prone.
It is hard to imagine him turning things around this season, and the Steelers defense will be able to crowd the line of scrimmage to stop Adrian Peterson.
On the other side of the ball, the Vikings have struggled to stop anyone this year. While the Steelers have had a hard time moving the football, they looked better against the Chicago Bears and will have an easy time in this game against a weak secondary.
Minnesota will not have a home-field advantage with this game being played in London, and Pittsburgh's talent will carry the squad to victory in this international contest.
Washington Redskins over Oakland Raiders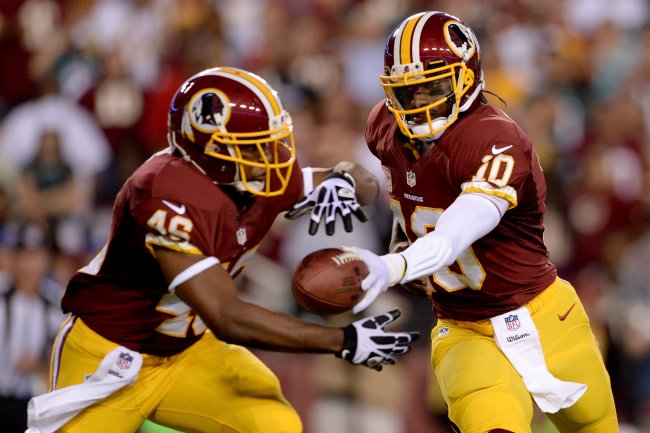 Patrick Smith/Getty Images
Robert Griffin III
missed the entire preseason while recovering from a torn ACL, and unsurprisingly he has been rusty in his first few games. However, things have looked better recently.
Against the Detroit Lions, the quarterback completed 64 percent of his passes and looked confident throwing the ball down the field. More importantly, he appeared comfortable running the ball and had 37 yards on six carries.
Against the Raiders, he should start looking more like the quarterback who took the league by storm last season.
Of course, the biggest problem in Washington has been the terrible performance by the defense. The unit has allowed the most yards in football while currently ranking second to last in points allowed.
Still, the key for opposing teams has been efficient passing. Opposing quarterbacks have a league-best 120.1 quarterback rating against the Redskins, but Terrelle Pryor will not have the ability to take advantage of this.
This should allow Washington to outscore its opponent on the road to get back on track.
Tampa Bay Buccaneers over Arizona Cardinals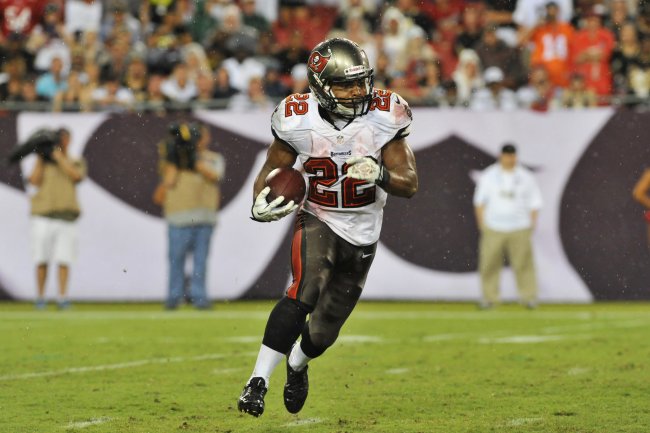 Al Messerschmidt/Getty Images
There are certainly those who will doubt a rookie quarterback starting in his first game. However, the reason for Mike Glennon starting is because Josh Freeman was hurting the offense. Anyone else under center will be an improvement.
Glennon will probably make some mistakes, but he has a strong arm and should be able to find receivers Vincent Jackson and Mike Williams on deep routes. This will open up space for Doug Martin to have a big game on the ground.
While Arizona has the skill players to keep up on the scoreboard, the team struggles offensively due to a weak offensive line. If Carson Palmer does not have time to get the ball away, he cannot be successful.
Additionally, the Buccaneers defense has played well against some strong offenses like the New Orleans Saints and New England Patriots. This assignment will be no problem for the rebuilt secondary.
NFL Week 4 Picks

| | |
| --- | --- |
| Game | Winner |
| Baltimore Ravens at Buffalo Bills | Ravens |
| Cincinnati Bengals at Cleveland Browns | Browns |
| Chicago Bears at Detroit Lions | Bears |
| New York Giants at Kansas City Chiefs | Chiefs |
| Pittsburgh Steelers at Minnesota Vikings (London) | Steelers |
| Arizona Cardinals at Tampa Bay Buccaneers | Buccaneers |
| Indianapolis Colts at Jacksonville Jaguars | Colts |
| Seattle Seahawks at Houston Texans | Texans |
| New York Jets at Tennessee Titans | Titans |
| Philadelphia Eagles at Denver Broncos | Broncos |
| Washington Redskins at Oakland Raiders | Redskins |
| Dallas Cowboys at San Diego Chargers | Chargers |
| New England Patriots at Atlanta Falcons | Patriots |
| Miami Dolphins at New Orleans Saints | Saints |
Follow Rob Goldberg on Twitter for the latest breaking news and analysis.