The Top Five Players of the 2009 NBA Playoffs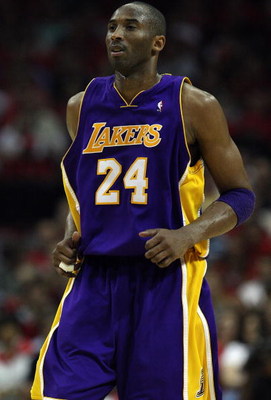 The NBA playoffs are truly where amazing happens. And the 2009 NBA postseason has been nothing short of amazing. Overtimes, game winning shots, spectacular dunks, and highlight worthy plays have all characterized this year's playoffs.
This list is the top five performers of this years playoffs and not necessarily statistically. These are the players who have meant most to their team and are the most intangible when it comes to helping their team win.
5. Aaron Brooks - Houston Rockets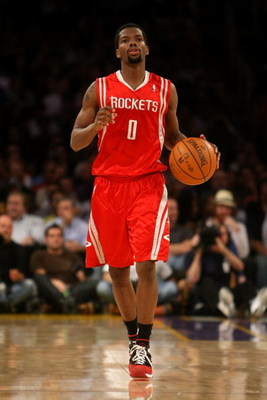 While the Rockets were recently eliminated by the Lakers, Aaron Brooks deserves lots of credit for how far the Rockets made it.
Houston traded away Rafer Alston, lost Tracy McGrady to injury in the regular season, and then lost both Yao Ming and Dikembe Mutombo to injuries in the postseason. You think that rattled the Rockets?
Nope. Without their two superstars, and led by Ron Artest and a supporting cast, the Rockets took the Lakers to the brink of elimination. And Aaron Brooks was a major part of that success.
He became Houston's replacement starting point guard and stepped up in a big way. He averaged 16.8 points per game in the postseason to go along with 42 percent shooting from beyond the arc.
He was truly invaluable in the second round, averaging 26.3 PPG in the Rockets three wins.
4. Kobe Bryant - Los Angeles Lakers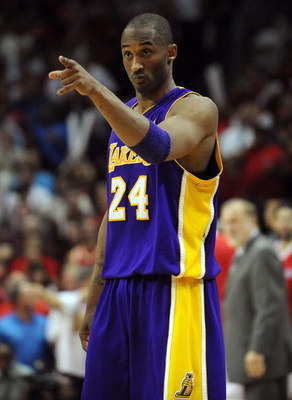 Simply put, Kobe Bryant is Kobe Bryant. While his numbers aren't anything extremely out of the ordinary (27 PPG, 5.0 boards, and 4.5 assists), his leadership and veteran presence have been willing the Lakers.
LA, the top seed in the West, has not been having the easy road they expected through the first two rounds of the postseason.
They are battle-tested, having played in 12 games while there counterpart Cavaliers have only played in eight. But under Kobe, they have fought off their competition and made it back to the West Finals.
In addition to Kobe's offensive numbers, he is putting up big numbers defensively with 2.2 steals per game and almost one block per game.
3. Dwight Howard - Orlando Magic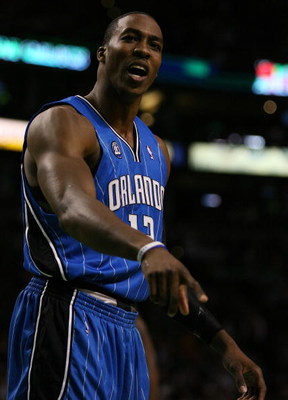 Dwight Howard has elevated his game to another level in this year's playoffs. He has been a monster in every aspect of his well-rounded game. He is posting 18 points, 15.3 boards, and 2.5 blocks per game to go along with a 60.6 field goal percentage in the postseason.
More importantly, he has finally become the leader the Magic want him to become. After two straight years of upsets in the postseason, Howard finally brought Orlando to the next level by beating the defending champion Boston Celtics and leading his team to the Eastern Conference Finals.
What truly made it special was that the Magic were down 3-2 to Boston when Howard made a guarantee that Orlando would come back and win the series. And true to his word, the Magic won two straight games to advance to the next round.
In Game Six, with Orlando trying to fight off elimination, he posted 23 points, 22 boards, and three blocks to save his squad. His play has been Magical for Orlando in this year's playoffs.
2. LeBron James - Cleveland Cavaliers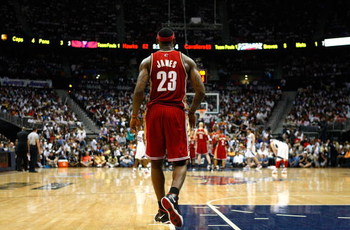 Where will Amazing happen this year? In the form of LeBron James. James has been an absolute beast in the playoffs, showing the world that he's ready to elevate his status to greatness and win his first ring.
He is posting outrageous, MVP-like numbers in the postseason with 32.9 points, 9.6 rebounds, 6.8 assists, and two steals per game. He has helped the Cavs breeze through the first two rounds, going 8-0 and all wins have been double-digit victories.
From halfcourt shots to showboat dunks, James has done it all in this year's playoffs. And the scary part: The playoffs are only half way over, which means we will be seeing more amazing from "King James."
1. Chauncey Billups
One word to describe Chauncey Billups in this year's playoffs: Leader
Billups has taken the Denver Nuggets to new heights. Just one year ago, the Nuggets had another dissapointing first round exit. They looked like a team that was not even close to be championship contending.
Then came the deal that sent Billups to Denver and their whole makeup shifted. Under Billups veteran leadership, the Nuggets have exploded to the Western Conference Finals for a highly anticipated matchup with the Lakers.
Not only has Billups helped his team, he has elevated his play to another level in the playoffs. He is posting 22 PPG, 7.3 assists, and 1.2 steals to go along with an outstanding 54.1 percent mark from beyond the arc and a near-perfect 96 percent from the free throw line.
His 22 PPG is a four-point improvement from the regular season and his 54 percent from the three-point line is a 13 percent increase from the regular season.
Billups is the primary reason the Nuggets have advanced this far.
Keep Reading