Oklahoma vs. Notre Dame: Live Scores and Highlights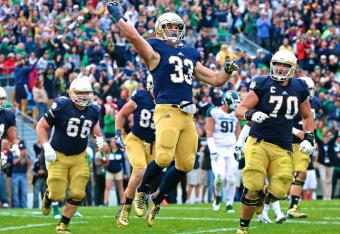 Oklahoma 35, Notre Dame 21—FINAL
The Oklahoma Sooners took advantage of three interceptions thrown by Tommy Rees to walk out of Notre Dame Stadium with a 35-21 victory over the Notre Dame Fighting Irish.
That's going to do it for our live blog of Oklahoma at Notre Dame.
Make sure you check out all the great college football coverage on Bleacher Report, and don't forget to follow me on Twitter @davidrluther!
The loss today for Notre Dame not only ends all hopes of another run to the BCS title game, it puts a serious damper on the chances of making any BCS game.
While a 10-2 Irish team could still back their way into an at-large spot, the loss today will drop Notre Dame out of the Top 25. It's all uphill from here for Brian Kelly and his team as Notre Dame looks to have taken a step back towards 2011 rather than forward from 2012.
Quarterback play for Notre Dame is still a major concern, and it doesn't look like that problem will be resolved anytime soon.
It probably doesn't matter if you believe Oklahoma will be a national championship contender or not, one thing is perfectly clear: Notre Dame is not.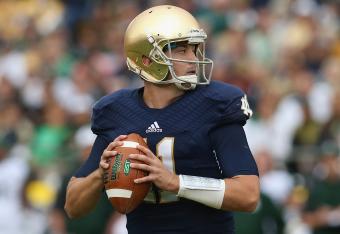 Tommy Rees's stat line... Not pretty.
| | C/ATT | YDS | AVG | TD | INT |
| --- | --- | --- | --- | --- | --- |
| Tommy Rees | 9/24 | 104 | 4.3 | 2 | 3 |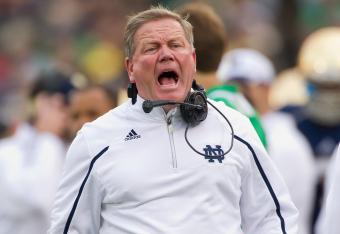 Brian Kelly understandably prickly in his post-game interviews. After spotting Oklahoma 14 points, Notre Dame could never quite claw back into this one.
Today's final stats.
| | OKLA | ND |
| --- | --- | --- |
| 1st Downs | 25 | 12 |
| 3rd down efficiency | 5-14 | 4-12 |
| 4th down efficiency | 0-1 | 0-0 |
| Total Yards | 450 | 324 |
| Passing | 238 | 104 |
| Comp-Att | 23-31 | 9-25 |
| Yards per pass | 7.7 | 4.2 |
| Rushing | 212 | 220 |
| Rushing Attempts | 42 | 29 |
| Yards per rush | 5.0 | 7.6 |
| Penalties | 4-31 | 8-77 |
| Turnovers | 0 | 3 |
| Fumbles lost | 0 | 0 |
| Interceptions thrown | 0 | 3 |
| Possession | 35:11 | 24:16 |
Notre Dame football takes years off my life....still wouldn't trade it for anything. #NDFamily

— Patrick Kilcline (@Kilcline8406) September 28, 2013
Blake Bell takes a knee, and that's going to wrap it up. Oklahoma wins.
FINAL SCORE: Oklahoma 35, Notre Dame 21.
Stay tuned for our wrap-up!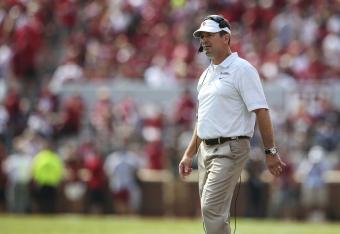 Three minutes left, clock running, Oklahoma has the ball, first down with a 14-point lead and Notre Dame now with just one timeout?
That'll pretty much do it for the Irish's chances to win this game.
Make sure you stay tuned after the conclusion of the game for analysis, wrap-up and reaction to today's result.
Another first down for Oklahoma will likely put this game on ice. Notre Dame starting to burn timeouts.
Tommy Rees is now 0-of-8 for his last eight passes, and Notre Dame's offense has completely come off the rails.
Another punt down 14 with 5:39 left.
Here's the hit that got Council ejected...
Guys, I don't want to be alarmist, but Notre Dame might not make it back to the championship.

— Jack Lamb (@StealSheep) September 28, 2013
Another hold for the Notre Dame defense.
Where was this earlier?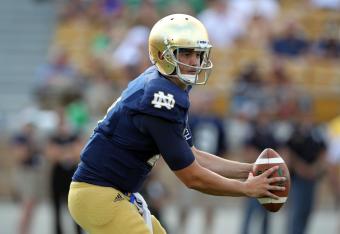 Three-and-out for the Irish.
That's the bad news. The good news, if you can call it that, is that only about 20 seconds came off the clock on that drive.
Oklahoma tips yet another Rees pass at the line.
That's at least six by my count.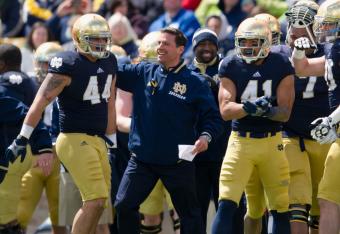 Notre Dame holds on the next third down, and the Irish will get a shot to cut back into the Sooners' lead.
But perhaps the most important part of that drive is the time Oklahoma was able to bleed off the clock. Notre Dame will have just eight minutes to come up with a score, a stop and another score.
That's a tall mountain to climb against this Oklahoma team.
A targeting hit on third down extends the drive for Oklahoma.
Ben Council is also ejected on the play, and the ejection will stand on review.
Oklahoma holds, Notre Dame is forced to punt and now the pressure is really on for the Irish defense.
A score here will likely put this game out of reach.
Tommy Rees has just now eclipsed the 100-yard mark passing...
Wow.
Rees can hit receivers for TDs, but it's a lot easier when they're this wide open.
The Irish need more of this, and quick.
TOUCHDOWN, Oklahoma!
Blake Bell to Sterling Shepard short over the middle, and Shepard does the rest. Oklahoma's two-point conversion is successful, making the score 35-21.
Blake Bell back in the game, and another outside completion for the Sooners.
Why are the Irish refusing to adjust to those quick hit outside passes from Bell?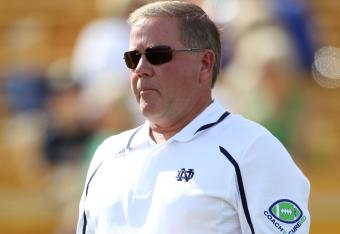 Now, will Notre Dame be able to hold Oklahoma? So far today the Irish have allowed the Sooners to respond after every score. If Notre Dame is to have any shot at winning this game, a stop here is almost mandatory.
TOUCHDOWN, Notre Dame!
Tommy Rees to Troy Niklas, and the Irish are within six points!
This article is
What is the duplicate article?
Why is this article offensive?
Where is this article plagiarized from?
Why is this article poorly edited?