South Alabama vs. Tennessee: Live Score and Highlights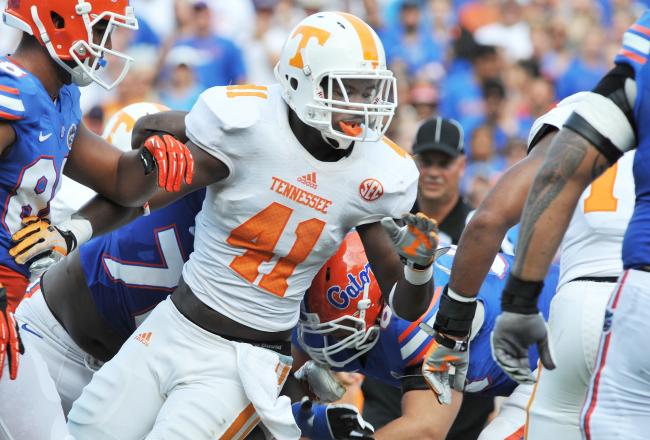 Al Messerschmidt/Getty Images
Tennessee 31, South Alabama 24—Final
Tennessee squeaked out a close win over Sun Belt foe South Alabama at Neyland Stadium on Saturday afternoon, avoiding what would've been a catastrophic upset.
Justin Worley threw three interceptions for Tennessee, but some timely turnovers from the Volunteers defense kept the Vols ahead late in the game.
Saturday's result was a telling moment for Tennessee's season, and I recapped everything we learned at the below link.
Thanks for following along with the live blog, and stay locked to B/R for more analysis on everything sports.
That's all from me—thanks for following along this afternoon with Bleacher Report and tuning into the live blog! Follow me on Twitter, where I talk non stop about Vols athletics.
Also, check out B/R's college football page for more news, analysis and opinion on Saturday's slate of games.
Here's the postgame box score from the NCAA.
Another notable discovery—Neal was given 25 carries, while Lane notched just five despite not seemingly doing anything to deserve it. Lane wasn't really featured after his 50-plus-yarder in the first half, while Neal seemed to get the bulk of his carries after his long run.
It may just be a byproduct of going with the hotter hand—Neal had a career day and was running the ball with force—but it's at least worth noting.
Tennessee and South Alabama quarterbacks combined to complete 44 passes for 461 yards and six interceptions. Has to be some kind of record.

— @GrantRamey (@GrantRamey) September 28, 2013
Final Stats
Worley (QB, Vols): 20-of-36, 204 YDS, 2 TD, 3 INT
Neal (RB, Vols): 25 CAR, 169 YDS, 1 TD
Lane (RB, Vols): 5 CAR, 66 YDS, 1 TD
Croom (WR, Vols): 3 REC, 50 YDS
Metheny (QB, Jaguars): 21-of-42, 234 YDS, 2 INT (10 CAR, 67 YDS, 2 TD)
Dinham (RB, Jaguars): 7 CAR, 33 YDS, 1 TD
Smith (WR, Jaguars): 4 REC, 83 YDS
Postgame Thoughts
Tennessee QB
What will it take for this coaching staff to hand the keys to one of two true freshmen, Riley Ferguson or Josh Dobbs?
Don't get me wrong, Worley had his moments on Saturday. But three interceptions against a Sun Belt foe—including two in the end zone—is nothing short of unacceptable.
Especially when your defense has to force a late pick to preserve the victory.
After seeing Worley's performance and looking ahead to the upcoming schedule, I'm going to assume that Jones is kicking himself for not giving one of his youngsters a chance to build some confidence before the daunting SEC slate.
Rushing Attack
If there's one thing this offense will be able to do against upcoming foes like Georgia, South Carolina and Alabama, it's run the football. The Vols racked up 278 yards on the ground, including a career-high 169 yards on 25 carries and a touchdown for Rajion Neal.
The Vols abandoned the run at times against Florida, and it hampered their ability to come back.
On Saturday, Tennessee had the most success offensively when it ran the ball on first and second downs and kept the ball in the hands of its speedy rushers.
Playing Down to the Competition
It may go without saying, but UT's worst seasons as of late have come when they struggled against incredibly inferior competition (see: Wyoming, 2008, or Troy, last year).
Not that it wasn't already apparent that this team would struggle, but seeing it nearly give up a game to a Sun Belt foe indicates just how many more bricks need to be laid by Jones' staff.
Final: Tennessee 31, South Alabama 24
It wasn't always easy, and it was the furthest thing from pretty, but the Tennessee Volunteers improved to 3-2 on the season by picking up a much-needed win over South Alabama.
There were glimpses of promise. There were indicators of this Tennessee team being leaps and bounds better than the opposition.
But overall, Jones has a lot to address with his team and plenty of issues to fix before the Vols host Georgia next weekend.
The Vols pound the rock for a first down to lock up the game, as South Alabama is out of timeouts and the clock dips underneath one minute.
Somehow, Butch Jones' crew is getting out of here today with a win.
Brian Randolph with the INT, and Tennessee is going to escape the mighty South Alabama Jaguars.

— Barrett Sallee (@BarrettSallee) September 28, 2013
Interception
The Vols again get pressure on Metheny, who fires a line drive to the end zone that lands happily in the hands of safety Brian Randolph.
The receiver was really never open on the play, but Metheny had no time left to get the ball out of his hands with true freshman Corey Vereen wrapping him up in the backfield.
South Alabama takes a timeout to discuss the play. The Jags have one timeout left—notable if they end up failing to convert.
The Vols get pressure on Metheny on 3rd-and-goal, and he dumps it to the flat for a short gain.
It'll be 4th-and-goal, a play that will likely decide the game. Not sure how many folks in Neyland Stadium expected that to be the case with two minutes left.
South Alabama with the play(s) of the game coming up. 3rd & goal from the 14, trailing 31-24...2:19 left.

— Daniel Lewis (@DanielNooga) September 28, 2013
Metheny gets absolutely walloped by Corey Miller on 2nd-and-goal right before he releases the ball and somehow holds on to it to preserve a third down.
This is undoubtedly four-down territory with a little over two minutes left and USA down by seven. The Jags have two cracks at tying the game here.
Get the popcorn ready (and the mattresses to burn, if you're a UT student).
South Alabama picks up another timely chain-mover on third down, as Metheny gets the Jags into a 1st-and-goal situation.
It's incredible how many twists and turns this game has taken.
Dinham gets into the open field for South Alabama, then trucks a referee in the middle of the field and still picks up more yardage. That—was interesting, to say the least.
Another first-down run for Dinham has the Jags flirting with the red zone, as collective blood-pressure levels skyrocket across the eastern side of the state of Tennessee.
South Alabama picks up another first down as it enters UT territory. Metheny is heating up and looks more confident by the play.
A pass tips off Woodson's fingertips and nearly leads to another Volunteer interception. Whoa, that would've absolutely killed the momentum the Jags have been building for the entire half.
South Alabama with a couple of first downs. I've got to think if they score they'll strongly considering going for two.

— Patrick Brown (@patrickbrownTFP) September 28, 2013
And Metheny completes it to Saxton to move the chains. Once again, the Vols defense can't stand tall when it needs a stop.
The Jags quickly pick up another first down on a quick slant to Lavender as the offense gets out past its own 40-yard line. Uh oh.
South Alabama is unable to get a big play on first and second down, leaving a 3rd-and-6 with a little more than seven minutes left.
This is the play of the game to this point.
I know he won't, but I really wish Butch would go off on the fans for leaving the game at halftime and killing the atmosphere.

— David Cobb (@DavidWCobb) September 28, 2013
The Vols are one slip-up away from being tied late in the game, and Neyland Stadium is continuing to thin out.
Butch Jones very well may have an open quarterback tryout across Tennessee's campus this week. This has been borderline painful to watch, even for spectators without a dog in the fight.
Worley throws behind Howard on a very manageable 3rd-and-6, for what should've been an easy completion, forcing yet another UT punt.
South Alabama has the ball with less than eight minutes left and a chance to tie the game. No, I'm not making this up.
South Alabama goes for a pooch kick to catch UT off guard, because why not, but it ends up unsuccessful as the ball floats out of bounds.
The Vols take over near midfield, but there's no telling for how long with this stagnant offense.
This article is
What is the duplicate article?
Why is this article offensive?
Where is this article plagiarized from?
Why is this article poorly edited?