Stevenson Retains Light Heavyweight Title with Dominant TKO of Cloud in Montreal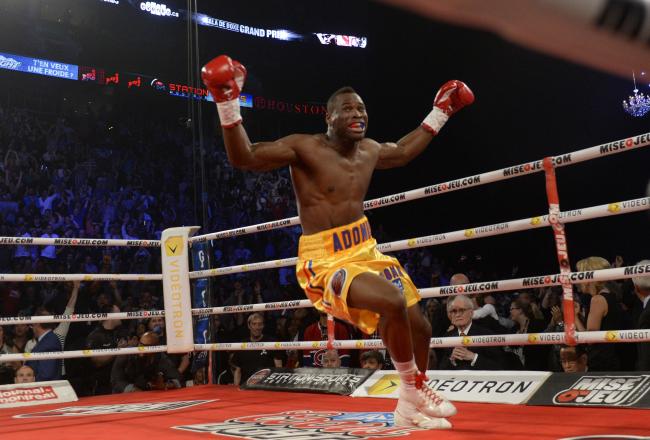 Adonis Stevenson will make the first defense of his light heavyweight championship on Saturday night.
Eric Bolte-USA TODAY Sports
All it took was 76-seconds for Adonis Stevenson to knockout Chad Dawson and claim the legitimate light heavyweight championship this past June, but his performance on Saturday night might be his most impressive to date.
Stevenson (22-1, 19 KO) took seven rounds to dispatch of former light heavyweight belt-holder Tavoris Cloud (24-2, 19 KO) on Saturday night in Montreal, but it was one of the most one-sided fights in recent memory.
The champion battered, bloodied and just flat out beat up his opponent in virtually every minute of every round. He showed he was more than just a power-puncher by utilizing surprisingly quick footwork and counterpunching to shred Cloud whenever he attempted to get on the inside.
The sixth and seventh rounds were particularly lopsided, and forced Cloud's corner to halt the contest, and save their bloodied and beaten fighter from further punishment.
Many in the boxing community were reluctant to anoint Stevenson as the legitimate top-dog at 175-pounds after his demolition of Dawson, but after tonight's performance, that bandwagon is sure to get a lot smaller.
That'll do it for our live coverage of Stevenson vs. Cloud.
Here's your quick recap:
Adonis Stevenson TKO 7 Tavoris Cloud (Stevenson retains WBC/The Ring Magazine Light Heavyweight Championships)
Jump over to our Chavez vs. Vera live blog for coverage of tonight's main event, and as always, stay tuned to us here at Bleacher Report for all your post-fight coverage!
@ChrisMannixSI Stevenson just had a "Wanna get away" moment when asked about facing Kovalev. #boxing

— Gabriel Montoya™ (@Gabriel_Montoya) September 29, 2013
Yeah, that's a helluva fight.
But I don't know anyone in the sport who'd willingly wanna fight that BAAAAAAAAAAAD Russian dude.
That said, it'd be a helluva war.
That's about as dominant a performance as you'll ever see.
Adonis Stevenson is LEGIT, and Tavoris Cloud is DONE.
Adonis Stevenson TKO 7 Tavoris Cloud.
Absolute domination for the champion.
Cloud had no answers, and didn't seem remotely interested in trying to find them.
Lotsa blood from Cloud.
Stevenson is just walking in with his hands down and Cloud can do absolutely nothing. Just unwilling to let his hands go. Totally mailing it in.
And that's IT!
Cloud's corner waves the towel at the end of the seventh round!
Stevenson vs Kovalev...who wins?

— Michael Woods (@Woodsy1069) September 29, 2013
Boxing wins...
Cloud has lost every round. Time to take some chances.
Time to let the hands go...right?
Maybe not. It's Adonis who looks like he's trying to close the show in the seventh.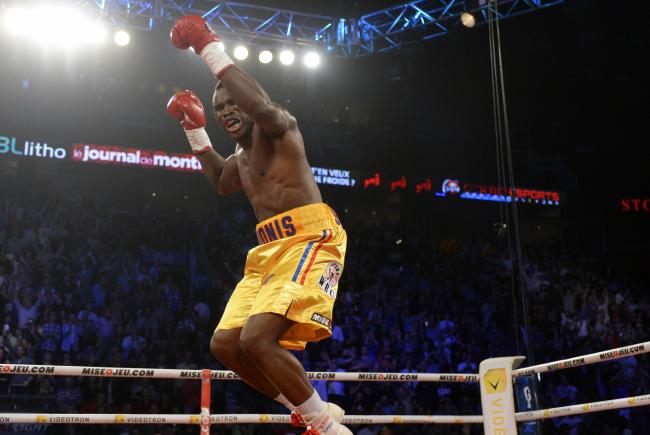 Sheesh. Is Stevenson this good, or is Cloud this bad?
Adonis has shown tremendous footwork, speed and counterpunching. But Tavoris is showing him NOTHING offensively.
Six to zero for the champion.
Very impressed with Adonis foot movement and counterpunching.
He's definitely showing that he's more than a one-trick pony.
Stevenson ups his aggression again, but he needs to be careful.
That's giving Cloud opportunities that he can't get when the fight is on the outside.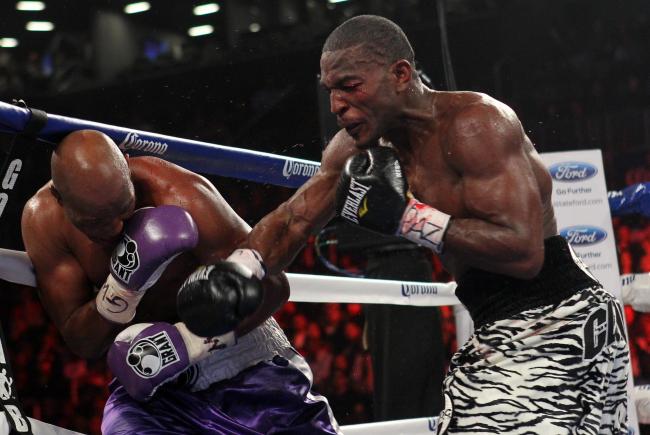 Easy fight to score. Stevenson has won all five round as Tavoris Cloud stalks around hoping to land one big shot.
It's not going to come unless he...you know...throws punches.
Stevenson looks bigger, stronger and more comfortable. Cloud looks totally unprepared. No pop on his punches.

— Chris Mannix (@ChrisMannixSI) September 29, 2013
Stevenson on another level thus far. Cloud doesn't seem to have any plan whatsoever.
Both fighters throwing punches there on the break, and the referee calls time to warn both that a point will be taken next time.
Cloud clearly frustrated.
Stevenson should take it to Cloud

— Kendall Holt (@Kholt456) September 29, 2013
He sure did that round.
Tavoris looks ready to quit. He has nothing working thus far.
Big fourth round for Adonis.
Cloud looks frustrated and without a plan B.
Four rounds to none. 40-36 for Adonis Stevenson.
Great work along the ropes there from Stevenson. A big body shot forces Cloud to take a huge breath. Looking like this fight is getting away from him.
Cloud is just walking straight forward. No angles, no movement and nothing different. Easy to pickoff.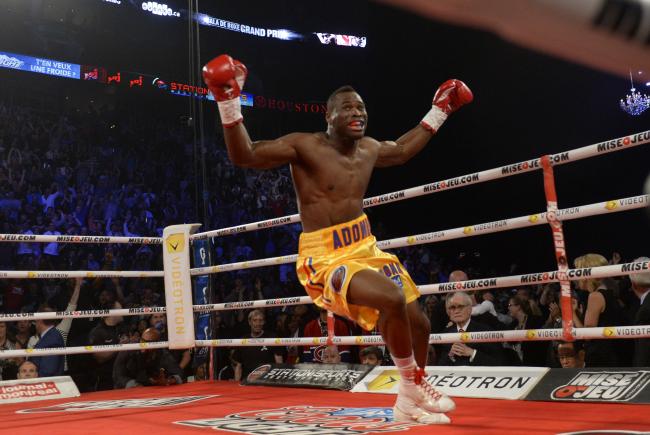 Beautiful straight left from Adonis to start the fourth round.
Much more aggressive at the start of this round.
i don't think Tavoris Cloud has throw a combination in his 31 years. dictionary definition of a fighter who "looks for one punch". #boxing

— Pistolero Pazzy (@vinnie_paz) September 29, 2013
He's using the jab tonight...but that's about it thus far.
Stevenson hasn't done a helluva lot either, but he's the ring general and he's landing more.
Cloud needs to be more aggressive and get on the inside.
Cloud has Bald Bull's predictable shuffle.

— Jimmy Tobin (@jet79) September 29, 2013
Not much different about what he does...
Cloud closing the distance a little more early in round three, but Stevenson's footwork and countering has been good thus far.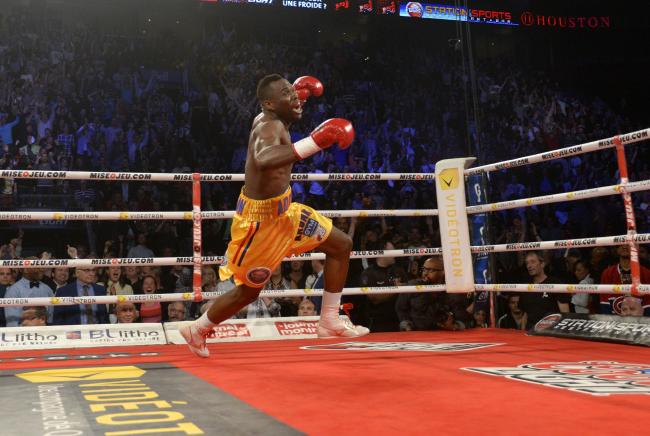 Another good round for Superman. Neither guy landed anything telling, but Stevenson is the ring general. He's moving backwards, but uncorking that left-hand to score.
Cloud is struggling to get close enough to score with his shots. He has a nice jab going, but that's about it.
20-18 Stevenson.
Roy: "It was a good left hand, right in the eyeball. That often causes you to have issues. The eyeball."

— Scott (@scottchristBLH) September 29, 2013
Roy Jones Jr. ladies and gentlemen...
Stevenson looks very confident. He has his hands low and appears a tad cocky. He better be careful though. His opponent can punch.
This article is
What is the duplicate article?
Why is this article offensive?
Where is this article plagiarized from?
Why is this article poorly edited?