Borussia Dortmund vs. Freiburg: What We Learned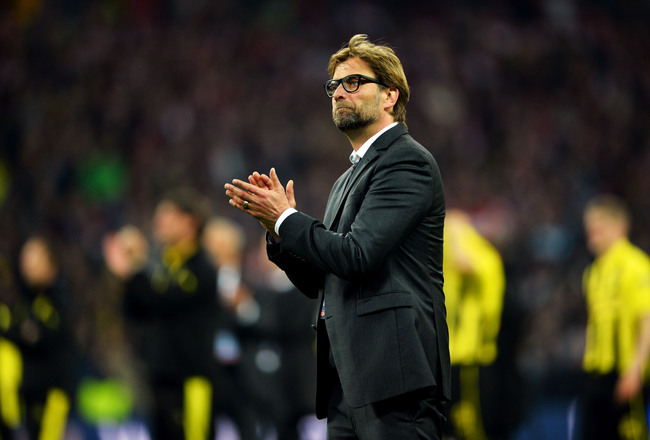 Laurence Griffiths/Getty Images
Dortmund hammered Freiburg 5-0 on Saturday as for the first time in four competitive games, BVB earned victory without requiring extra time.
Marco Reus scored twice in the first half, his second coming from the penalty spot after Fallou Diagne was sent off. Down to 10 men, Freiburg were unable to mount a comeback and Robert Lewandowski (twice) and Jakub Blaszczykowski scored for Dortmund before full-time.
The win saw Dortmund retain their spot atop the Bundesliga table with 19 points from seven matches. Freiburg, meanwhile, remain deep in the relegation zone, ahead of only Braunschweig with just three points.
The match came with a number of talking points; click "Begin Slideshow" for a rundown of the major take-home messages from Saturday's action.
Dortmund May Not Be Exhausted for Tuesday's Champions League Match After All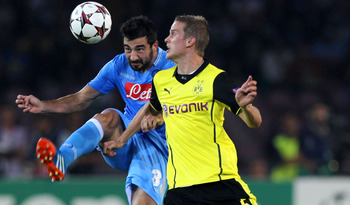 Sven Bender was given a well-deserved rest in the second half.
Paolo Bruno/Getty Images
Before kickoff, things did not look good for Dortmund. Marcel Schmelzer was diagnosed with a muscle tear that will keep him out of action for three weeks. The loss of their only natural left-back added to BVB's already hefty injury concerns, with Ilkay Gundogan, Sebastian Kehl and Lukasz Piszczek already absent. To make matters worse, Dortmund played 120 minutes as they scraped past 1860 Munich in the DFB-Pokal on Tuesday.
But on Saturday, BVB managed to effectively beat Freiburg within 45 minutes. Two goals ahead and with their opponents down to 10 men at half-time, the hosts were able to conserve their energy in the second half. Oliver Kirch came on as a substitute for Sven Bender at the break, and Marco Reus and Henrikh Mkhitaryan were limited to just over an hour each.
The leisurely pace of the second half was encouraging for BVB as they prepare for a difficult encounter with Marseille on Tuesday.
Refereeing Culture in the Bundesliga Is Changing... Perhaps Not for the Better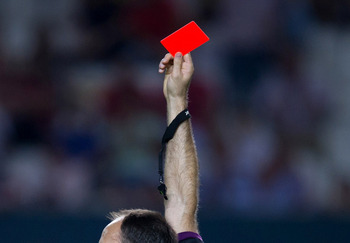 Denis Doyle/Getty Images
Historically, Bundesliga referees have been rather laissez-faire when it comes to the awarding of penalty kicks and red cards. But there has been a change this season. Bild recently sounded the alarm that the rules seem to have changed, specifically with hand-ball calls as penalties have been awarded at an outrageous rate.
A year ago, Fallou Diagne would not have been sent off for his foul on Robert Lewandowski. A penalty may have been called, but it's unlikely that there would have been the triple punishment of penalty, red card and suspension.
Curiously, it was not long ago that FIFA was considering taking action to reduce red cards given in the penalty area.
Dortmund Will Rely on Jonas Hofmann More and More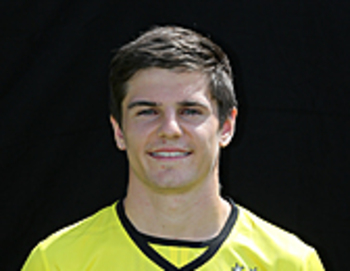 Last season, Jonas Hofmann was a reserve at Dortmund who scored five goals and gave as many assists in the 3. Liga: A wholly unremarkable player.
This season, the 21-year-old has come on brilliantly. An outstanding preseason saw him retain a role in Klopp's squad as Leonardo Bittencourt was offloaded to Hannover, and since then he's given seven assists for club and the Germany U21 team.
With the likes of Marco Reus, Henrikh Mkhitaryan, Jakub Blaszczykowski and Pierre-Emerick Aubameyang as his competition for three spots in the BVB attacking midfield, it may have initially appeared that Hofmann's chances would be limited. But with many of Dortmund's players struggling with injuries and given the club's congested schedule, Hofmann has had many chances to show his quality.
The young Hofmann impressed again on Saturday as he came off the bench and orchestrated an assist to Robert Lewandowski in his 28-minute appearance. And at this rate he will be trusted more and more, which will mean much-needed relief for many of BVB's stars.
Streich Needs to Dig Much Deeper If Freiburg Are to Avoid Relegation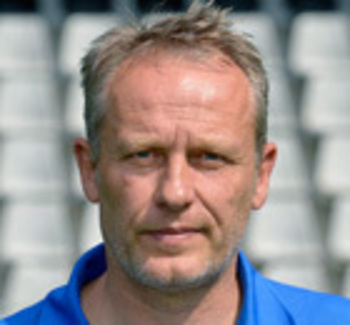 What Christian Streich has managed to do at Freiburg is nothing short of the incredible. He steered SCF out of the relegation zone when it had appeared that all hope was lost, then led the same team to an improbable fifth-placed finish in the Bundesliga.
Freiburg's summer transfer window was reminiscent of Felix Magath's time at Wolfsburg and Schalke. Since last season, 13 players have left and 13 more have arrived. Man-for-man, the team is arguably no worse now than it was in May. But there is so much more to football than that.
Freiburg are missing the team chemistry, the determination and the drive that made them a success last season. Streich had a unit, a team of players who understood one another and believed in the team's ability to do great things. That is no longer the case.
Even before Diagne's red card, Freiburg were against the ropes. They had little fight in them and were overwhelmed by Dortmund's pace and energy. Jakub Blaszczykowski's goal to make it 5-0 summed up the day quite well: The hosts had self-belief and realized their goals. The visitors simply were left behind.
Keep Reading