Oklahoma State vs. West Virginia: Live Score and Highlights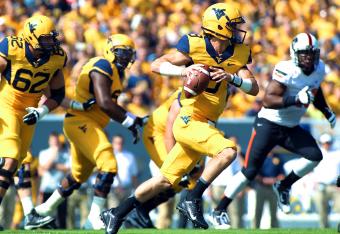 West Virginia 30, Oklahoma State 21—Final

It was not pretty, but it was a huge win for a West Virginia squad that had struggled all season against talented competition.
That was not the case in this one, as the Mountaineers defense came to play and the offense made just enough big plays to hang on for the victory.
The win moves West Virginia to 3-2 overall and 1-1 in Big 12 play. Oklahoma State falls to 3-1 and 0-1 in the Big 12.
It is still early in the season, but this game told us a lot about these two teams.
Here are 10 things we learned in the Cowboys loss.
Also follow along on Twitter.
We can hear the WVU players celebrating from where the OSU press conferences are happening.

— Gina Mizell (@ginamizell) September 28, 2013
Needless to say, West Virginia is pumped up after this victory.
With that victory, it will be interesting to see if West Virginia can maintain its momentum heading into the most challenging part of its schedule.
Oklahoma State on the other hand will now have to regroup and find a way to bounce back.
Here is a box score of the game, courtesy of NCAA.com.
Here are some final stats on the game.
Total Offense
West Virginia: 433 YDS
Oklahoma State: 388 YDS
Passing
Clint Trickett: 24-of-50, 309 YDS, 1 TD, 2 INT
J.W. Walsh: 20-of-47, 322 YDS, 3 TD, 2 INT
Rushing
West Virginia: 68 YDS
Oklahoma State: 111 YDS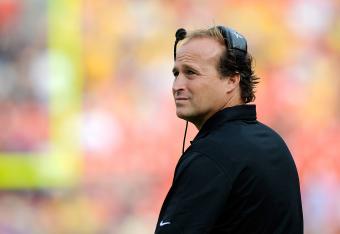 I would like to thank everybody for following along today. Check back shortly for a postgame story on the 30-21 West Virginia victory.
Final Score: West Virginia 30, Oklahoma State 21
It is all over in Morgantown, as West Virginia pulled off the huge upset over Oklahoma State.
The Mountaineers did it with defense and a few big plays.
Quarterback Clint Tricket toughed out a huge win, and West Virginia got a much-needed victory over a nationally ranked opponent.
This stupid West Virginia college football game is screwing up the race coverage.

— Spencer Saunders® (@S_Saunders7) September 28, 2013
Some race fans are antsy for this one to end.
Wide receiver Jhajuan Seales was hit by Darwin Cook in the right shoulder.
He is flat on his back and being helped by the training staff.
Seales is the second-leading receiver for the Cowboys. It does not look like he will be playing the rest of the way, with what appears to be a head injury.
Justin Gilbert has been ejected for Oklahoma State for a punch thrown.
He is not back to return the kickoff and will be watching the rest of the game from the sidelines.
West Virginia Field Goal: West Virginia 30, Oklahoma State 21

Josh Lambert hits a 34-yard field goal to basically ice the game for West Virginia with just over one minute remaining.
Do they teach football logic at West Virginia??

— Michelle (@uscfox) September 28, 2013
The clock management is awful right now for West Virginia.
With two minutes remaining, West Virginia is still passing. But it is working right now.
J.W. Walsh is picked off by Darwin Cook, and West Virginia takes over inside the 40-yard line.
Josh Stewart landed hard on his head and is being helped off the field.
He already has seven receptions for 127 yards and a touchdown.
If he does not return, it is not going to be easy for Oklahoma State.
Field Goal West Virginia: West Virginia 27, Oklahoma State 21—Late 4th Quarter
Josh Lambert hits a 27-yard field goal, and with four minutes remaining, West Virginia now has a six-point lead.
Check out what Dana Holgorsen did to his headset during a timeout.
The shoulder injury does not appear to be affecting Trickett when the action is happening, but he is in pain between plays.
Still, he is looking very impressive on this drive.
The newest player down on the field for West Virginia is junior linebacker Brandon Golson.
A player was low-blocked into his knee. It looked painful, but he is OK.
He is walking off the field under his own power, and it appears that he will be fine to return in a few plays.
Clint Trickett is back in the game for West Virginia.
His first pass is complete. He appears to be fine, after being in a lot of pain on the sideline just a few minutes ago.
This Oklahoma state West Virginia game is insane. Another short field goal missed. Sloppy but entertaining football

— KC Whitten (@kc_whitten) September 28, 2013
This is a great way to describe how the game has played out so far.
A 23-yard field-goal attempt by Ben Grogan bangs off the upright and is no good.
The West Virginia defense holds once again.
Dontrelle Hyman busts through the line on 3rd-and-goal from the 1 for West Virginia, and the Cowboys will likely be forced to kick a field goal.
The play is under review, as they are checking to see whether or not Jeremy Smith fumbled.
The jeopardy music is getting a little old today.
Doug Rigg is down on the field for West Virginia. Looks like a knee injury.
The Mountaineers continue to drop like flies.
West Virginia is a little thin at linebacker, and the injury to Rigg could prove costly if he can not return.
A huge facemask penalty on West Virginia keeps the Oklahoma State drive alive.
The Cowboys would have likely had to settle for a field goal, but instead get a 1st-and-goal.
Trickett is going back to the locker room. His day appears to be finished.
Looks like a shoulder injury, as he was in a lot of pain on the sideline.
This article is
What is the duplicate article?
Why is this article offensive?
Where is this article plagiarized from?
Why is this article poorly edited?