There's the slightest of chills creeping into the air, football is once again dominating Sundays and, the tension of the World Series inserts itself into everyday living.
The MLB postseason is at its grandest stage, folks.
The Boston Red Sox advanced to the World Series on Saturday night after beating the Detroit Tigers 5-2. Boston won the series 4-2.
On the National League side, the St. Louis Cardinals won their fourth National League pennant in 10 years. They will look to win their third World Series title during that same span when they take on the Red Sox, the team that swept them in the 2004 Fall Classic.
Excited yet? You can practically taste the October baseball.
Below is a look at the schedule as it stands.
Note: Postseason games can be streamed live on TBS.com.
Schedule (via MLB.com)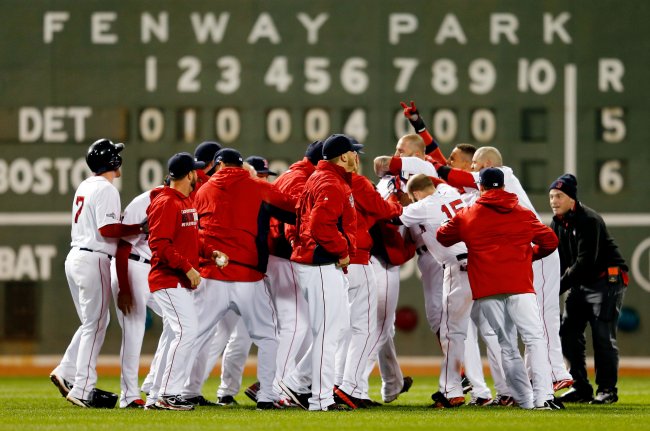 Jim Rogash/Getty Images
Completed Series
Game
Matchup
Date
Time (ET)
TV

Streaming

Game 1

Boston Red Sox 8

St. Louis Cardinals 1

Wed, Oct 23
FOX
Postseason.TV
Game 2

St. Louis Cardinals 4

Boston Red Sox 2

Thu, Oct 24
FOX
Postseason.TV
Game 3

St. Louis Cardinals 5

Boston Red Sox 4

Sat, Oct 26
FOX
Postseason.TV
Game 4

Boston Red Sox 4

St. Louis Cardinals 2

Sun, Oct 27
FOX
Postseason.TV
Game 5

Boston Red Sox 3

St. Louis Cardinals 1

Mon, Oct 28
FOX
Postseason.TV
Game 6

Boston Red Sox 6

St. Louis Cardinals 1

Wed, Oct 30
FOX
Postseason.TV
World Series
Game
Matchup
Date
Time (ET)
TV
Streaming
Game 1

Detroit Tigers 1

Boston Red Sox 0

Sat, Oct 12
8:00 p.m.
FOX
Postseason.TV
Game 2

Boston Red Sox 6

Detroit Tigers 5

Sun, Oct 13
8:00 p.m.
FOX
Postseason.TV
Game 3

Boston Red Sox 1

Detroit Tigers 0

Tue, Oct 15
4:00 p.m.
FOX
Postseason.TV
Game 4

Detroit Tigers 7

Boston Red Sox 3

Wed, Oct 16
8:00 p.m.
FOX
Postseason.TV
Game 5

Boston Red Sox 4

Detroit Tigers 3

Thu, Oct 17
8:00 p.m.
FOX
Postseason.TV
Game 6

Boston Red Sox 5

Detroit Tigers 2

Sat, Oct 19
4:30 p.m.
FOX
Postseason.TV
ALCS
*** "TBS will air three of the four Division Series games on Friday, October 4 and up to three games on Monday, October 7. MLB Network will air one Division Series game on both of those dates. TBS will air 18 of the 20 Division Series games." (Via MLB.com)