Houston Rockets Media Day 2013: Photos, Interviews and Takeaways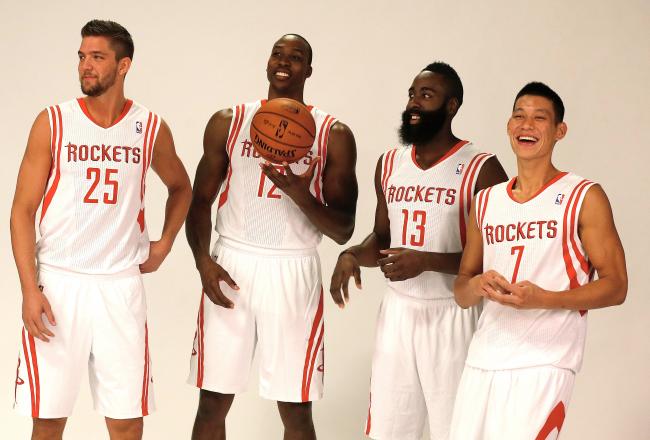 The Houston Rockets' ability to play as a group will be a greater factor than the sum of all its parts.
Scott Halleran/Getty Images
The Houston Rockets haven't had this much hype surround the team since the days of Yao Ming and Tracy McGrady.
The overwhelming theme that permeated through Houston's Media Day was that this was a franchise with a new outlook and attitude. The addition of the league's best center in Dwight Howard not only elevates the Rockets to a potential title contender. It brings forth a whole new level of expectations and demands that this newly-assembled "Big Three" step up to the plate.
Immediately.
Bring it. @JHarden13 #NBAMediaDay pic.twitter.com/iBNT9FsoPa

— Houston Rockets (@HoustonRockets) September 27, 2013
The biggest obstacle the trio (and, by extension, the rest of the team) will face is getting adjusted to each other. James Harden and Chandler Parsons had breakout seasons last year as one of the best, young one-two punches in the league. Now, they have to accept a new alpha dog in the form of Howard.
Houston's Time Is Now
Rockets General Manager Daryl Morey and head coach Kevin McHale led off the festivities. McHale tackled a number Dwight Howard-related issues from the big man's health to what the team is hoping he can bring to the table.
"We want to collapse the defense," the Celtics legend said. " With Dwight, it just gives you another chance to collapse the defense by throwing the ball into the paint. ...Last year, we had to penetrate the ball in the paint to kick it out and try to get stuff."
McHale also said Howard "looks good, looks quick, looks strong and looks fresh." The coach also expects point guard Jeremy Lin to play better after "being able to look at his game more realistically in the scope of 82 games" last season.
Covering rockets media day. Coach McHale and GM Daryl Morey talk about the upcoming season. pic.twitter.com/nL1CllGzK5

— Jacob Murphy (@JacobMurphy13) September 27, 2013
As for Morey, the chief mastermind behind the construction of the NBA's newest superteam stressed that the expectation is for the team to contend immediately.
"We're focused on winning now. Everything's about all-in right now," Morey said. " We had Yao Ming. We had Tracy McGrady. Both very young, and it looked like that run was going to be a long time. Your chances to be very good in this league are very special and, when you have them, you got to focus 100 percent on getting as far as possible."
Morey: "We're focused on winning now. We want to be great come mid-April."

— Jonathan Feigen (@Jonathan_Feigen) September 27, 2013
The reference to the old days of Yao and T-Mac fits when compared to Houston's new inside-outside duo. Like Howard and Harden, Ming and McGrady were perceived as a premier center/guard tandem that would bring great things to Houston. In the end, their bodies quit on them too soon, and the Rockets were forced back to square one quicker than expected.
That sense of mortality should give this Rockets team a greater sense of urgency this season as well as the years to come.
"Our young guys need to step up," Morey continued. "We're not all the way there. We're not a finished team."
As with any team trying to create chemistry, there will be some time needed early on to jell. However, with pressure and expectations from within and outside the organization being what they are, the margin for error will be very small.
The Combination of Dwight Howard and Omer Asik Will Be...Interesting.
McHale addressed one of the biggest questions facing the team, which is how new acquisition Dwight Howard and last year's free agent find Omer Asik will function together. When asked the amount he foresees his two prized big men playing in the same lineup, the coach said "they will determine how much."
"If it works really well, it will be a lot. If it works like crap, it won't be much," McHale said. "We're going to find out, but we're going to give it every opportunity to work."
James Harden:'We 'can go as far as we want to go. We have no more excuses."

— Jonathan Feigen (@Jonathan_Feigen) September 27, 2013
While stylistically playing Asik and Howard could be problematic, it does give the Rockets two quality big men who can defend, rebound and run the floor. Howard's athleticism allows him to step outside of the paint and guard power forwards, and both men have the ability to protect the rim.
"Me and Omer have an opportunity to really mess up a lot of teams on the defensive end because of our presence," added Dwight Howard. "Me and him playing together is giving me a chance to roam around and block a lot of shots and be who I am on the defensive end. So, I'm very excited about that."
On the offensive end, Howard said the key to him and Asik playing together will be setting each other up for easy scores in transition.
"If I get the rebound, he has to run the floor, be that first big to seal, try to get easy buckets and get into our offense that way," he explained. "Or if he gets the board, it's the same thing. Get down the floor."
Asik wouldn't comment on the trade demands he made back when Howard first signed in July. For now, he seems willing to be the company guy and see how it all plays out. As long as the center from Turkey is happy, there's a good chance of this project working out.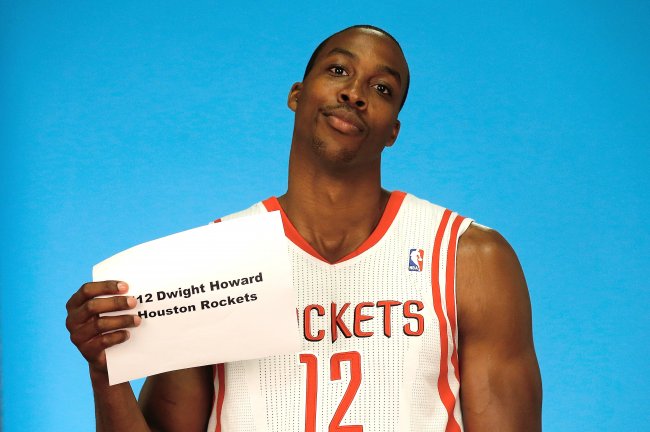 Scott Halleran/Getty Images
If it does, the Rockets would have stumbled upon one of the best frontcourt pairs in the league.
James Harden Wants To Be Better On The Defensive End
Omer Asik on if he wishes to be traded: "I have no comment on any of these things. I'm just going to do my job. That's all I can say."

— Jonathan Feigen (@Jonathan_Feigen) September 27, 2013
Improving the Rockets' woeful defense doesn't end with the acquisition of three-time Defensive Player of the Year Dwight Howard. There will have to be other guys, particularly on the perimeter, who show the ability to make stops as well.
James Harden knows this as well. That is why he spent the summer working on becoming a more complete shooting guard. Last season, the adjustment of going from a key reserve in Oklahoma City to being the primary scorer in Houston wore him down to the point it became difficult to be a factor defensively.
With Howard on board, there is less pressure on The Beard to shoulder the scoring load. That will allow him to focus more energy on hindering the league's best two-guards. Harden made it a point in the offseason to get better in ways beyond lighting up the scoreboard.
"Defensively, it is something I've been working on. Something that I want to be great at," Harden said. "This year, I talked to coach McHale about me guarding the other team's best player, and it's something I'm looking forward to."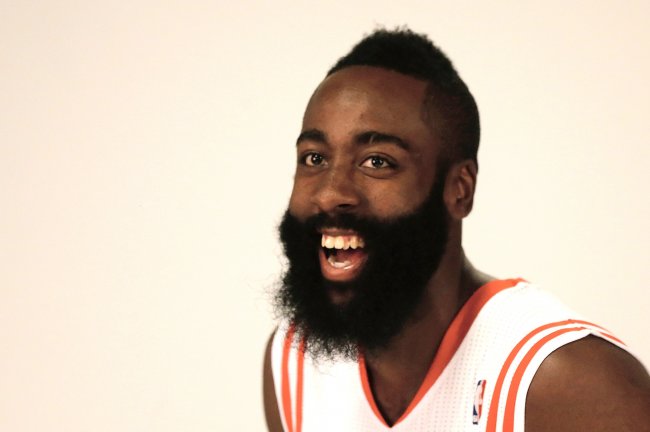 Scott Halleran/Getty Images
The NBA doesn't have many elite two-way guards. At times, Harden flashed the potential to join the likes of Kobe Bryant and Dwyane Wade on the list of guys who can be dominant on both ends. However, it appeared that trying to do both took the wind out of his sails down the stretch.
With a greater commitment to defense and conditioning, it is scary to think that Harden could become even better than he was last year.
Takeaways
There was plenty to take home from listening to all of the major names speak at Houston's Media Day. From the moment Dwight Howard signed, chemistry became the team's focus. To help in that aspect, the core group spent an extraordinary amount of time together.
Harden said he's been working on conditioning and defense. Wants to defend teams' top scorers.

— Jonathan Feigen (@Jonathan_Feigen) September 27, 2013
They hung out off the court. They played a ton of pickup basketball games. They worked out together. They were the NBA's version of the boys from "Entourage." That will be key for this team's chances of hitting the ground running and becoming instant contenders.
The vibe in Houston is that it is "championship or bust." While every team (in theory) has title aspirations from Day 1, every member of the Rockets that spoke emphasized the need to win immediately. James Harden said there are no more excuses. Dwight Howard stressed everyone needing to sacrifice something for the greater good.
This team knows the score. They know that, with all of this newfound publicity, all eyes will be on them. Howard, who has been hampered by injuries and distractions the past three seasons, claims to be feeling the best he's felt in years.
With no pending free agency or recent surgery, there are no ready-made excuses for Howard to fall back on this season. He is Houston's $88-million man and his ability to assimilate himself onto this team will be huge.
.@DwightHoward up now: "We have an opportunity to do something special if we stay together and stay focused."

— Houston Rockets (@HoustonRockets) September 27, 2013
Dwight Howard says he thinks @TerrenceJones1 can be a special player and blossom in this offense.

— ClutchFans (@clutchfans) September 27, 2013
Lastly, while Harden and Howard deservedly got a bulk of the attention, the biggest subplot of the 2013 Houston Rockets will be the lower-key guys.
Chandler Parsons got himself in better shape to become better defensively. Jeremy Lin is coming off his first full season as a starter.Terrence Jones has been working on his jumper to become more of an outside threat in the hopes of gaining more playing time. Omer Asik will be fighting for minutes in a suddenly crowded frontcourt.
What To Watch For
This Houston Rockets team is so packed full of potential that it is hard to put a finger on how they will fare if everything breaks their way in 2013. Offensively, they have enough weapons to be one of the NBA's top scoring teams again.
The addition of Dwight Howard opens up so many fun dimensions and will allow them to attack opponents on both ends of the court in so many ways. The attention he draws in the paint will create opportunities for any of the team's plethora of outside threats.
Parsons says he's gained 8lbs. Sounds like a man on a defensive mission this year. Always fun seeing him guard Kobe & LeBron.

— Hiren Joshi (@htown747) September 27, 2013
Also, if he and Asik work together, Houston will have an advantage on the interior on a nightly basis. There aren't many teams that have a big man that can rebound or defend at a high level. The Rockets happen to have two, and the plan is to play them together for as long as it proves to be beneficial.
Furthermore, the team's perimeter defense could be vastly improved if Harden and Parsons make good on their commitment to become better stoppers. With a variety of scoring options, one guy doesn't have to worry about wearing himself out on the offensive end.
The keys for Houston reaching their goal this year is two-fold. First, the chemistry they showed with each other during the summer has to translate onto the court when the games matter. It is one thing to be on the same page in pickup games. It is another to do it against elite competition with the world watching.
From the looks of things, this is a core of guys with similar personalities that want to compete as much as they like to have fun. That certainly works in their favor.
Secondly, they are going to need things to break their way in a deep Western Conference. For as great as they are on paper, they will be going head-to-head with great teams that have been together for a lot longer than Houston's core has.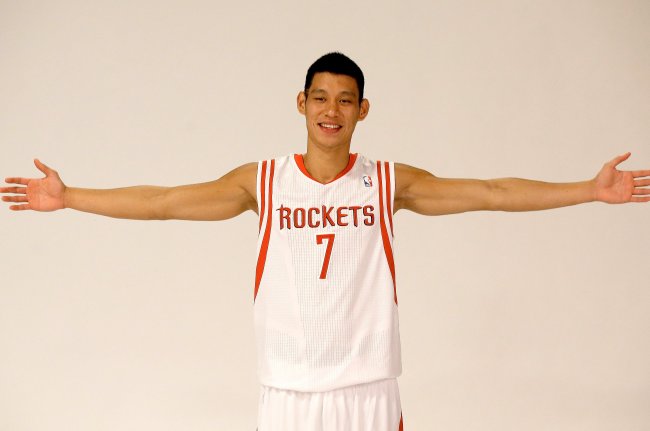 Scott Halleran/Getty Images
Lin, Howard accustomed to scrutiny Rox face. Besides, Howard said, "We want a championship. That's all that matters." http://t.co/T2wBLtmrWg

— Jonathan Feigen (@Jonathan_Feigen) September 27, 2013
The future is bright for these Rockets but, as Daryl Morey pointed out, that small window of time as contenders can shut quickly. Houston won't be a young team forever and they are going to cut their teeth against great teams in Oklahoma City and San Antonio.
The ability to get past the Thunder, Spurs, Clippers and other solid teams out west will show this team's mettle. For now, they said all of the right things and appear to all be on the same page.
Let's see if that remains the case when the regular season tips off.
This article is
What is the duplicate article?
Why is this article offensive?
Where is this article plagiarized from?
Why is this article poorly edited?

Houston Rockets: Like this team?