The Atlanta Falcons aren't far from being 3-0. They couldn't defend two leads against the New Orleans Saints, and a last-minute touchdown by the Miami Dolphins put the Falcons at 1-2.
Much of the blame for Atlanta's record is pointed at the secondary. The Falcons allow 296 yards through the air per game (25th in the NFL) and a 65.6 completion percentage.
Meanwhile, there's talk about New England's defense being elite in part because the Patriots' pass defense is ranked sixth overall, allowing just 188.3 yards per game and limiting opposing quarterbacks to a 50.5 completion percentage.
New England's numbers probably won't hold up as well against Atlanta's passing attack.
Not only have the Patriots not faced a quarterback of Atlanta's Matt Ryan caliber, the Falcons have one of the best receiver corps in the NFL.
Start with Julio Jones, a big receiver with downfield speed who's averaging 124 yards per game. Opposite of Jones is the accomplished Roddy White, a six-time 1,000-yard receiver, four-time Pro Bowler and a 2010 All-Pro. White can also stretch the field and does some of his best work along the sidelines with his sticky hands.
Overshadowed but very dangerous is third receiver Harry Douglas, who takes advantage of the space created by Jones and White on the outside.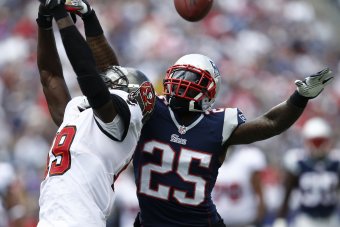 Mark L. Baer-USA TODAY Sports
Patriots cornerbacks Aqib Talib, Alfonzo Dennard and Kyle Arrington dealt with difficult matchups this season, but not of the caliber of Atlanta's top three. More importantly, the Falcons have a quarterback who will get the receivers the ball.
This is a game where the defensive backs need help from the pass rush. But will they get to Ryan? He does a great job of getting rid of the ball quickly, as Ryan has been dropped just five times in 119 attempts, or once every 23.8 pass attempts.
Ryan's embarrassment of riches might make New England QB Tom Brady a little jealous with Julian Edelman, Kenbrell Thompkins and Aaron Dobson to throw to. But the competition between the Patriots receivers and Atlanta's defensive backs might be even.
Rookies Thompkins and Dobson will see a lot of Atlanta's rookie cornerbacks, Desmond Trufant and Robert Alford. The Falcons selected the pair in the first and second round, respectively, with holdover Asante Samuel to mentor them.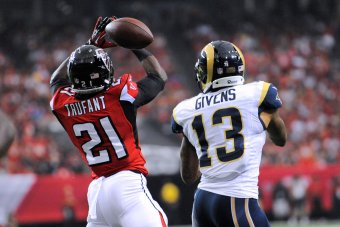 Dale Zanine-USA TODAY Sports
Trufant and Alford are taking their lumps early on. While Alford has an interception, he's the only Atlanta corner with a pick. If it's a fair fight between the opposing rookies, Brady gives Thompkins and Dobson the edge.
Brady's edge could be significantly enhanced if tight end Rob Gronkowski returns to the field, especially with Atlanta outside linebacker Sean Weatherspoon on temporary injured reserve with an ankle injury. Gronkowski might be rusty, but he's still a tall order for safeties William Moore and Thomas DeCoud to contain.
New England's safeties can relate. Devin McCourty and Steve Gregory have to find ways to slow down tight end Tony Gonzalez. The greatest tight end of all time may have lost a step but remains difficult to handle, especially in the red zone.
McCourty and Gregory could see a lot of help from rookie linebacker Jamie Collins. New England selected Collins in the second round in part for his coverage abilities and may call his number frequently to cover the future Hall of Famer Gonzalez.
When fully stocked, both offenses can put up points in bunches. While Ryan is torching defenses by averaging more than 300 yards per game and completing 68.1 percent of his passes, this could be a breakout week for Brady as he goes against an inexperienced Falcons secondary.
Already New Orleans' Drew Brees burned Atlanta for 357 yards and two touchdowns. And St. Louis' Sam Bradford carved the Falcons for 228 yards and three TDs in the second half. Bradford finished with 352 total passing yards.
With two premier quarterbacks taking turns producing air shows, the secondary with the better radar could decide the game.
Questions? Comments? Send to randolphc82@comcast.net.