Each MLB Playoff Team's Biggest Roadblock to a Deep 2013 Run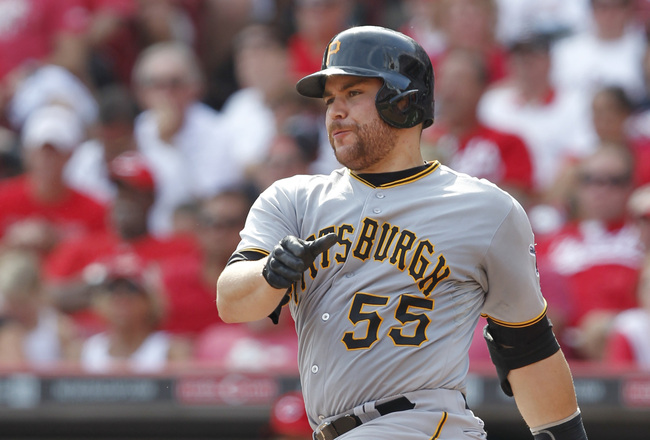 Russell Martin and the Pittsburgh Pirates have problems producing with runners in scoring position.
John Sommers II/Getty Images
Following the final weekend of the MLB regular season, there are only 11 contenders remaining for the 2013 World Series. Each of them faces roadblocks that threaten to derail their playoffs runs prematurely.
These are weaknesses on their own rosters or features of their upcoming opponents that could hinder progress to the Fall Classic. In some cases, particular individuals have the potential to impact an entire team.
The Tampa Bay Rays and Texas Rangers meet in Arlington on Monday night to decide who will claim the second wild-card spot in the American League postseason bracket. For the time being, we'll include both of them on this list.
If the team you're rooting for gets knocked out early this October, it will probably have something to do with these discouraging matchups.
*Stats provided by Baseball-Reference.com unless otherwise noted. Updated through the end of the 2013 regular season.
Atlanta Braves: Strikeout Tendencies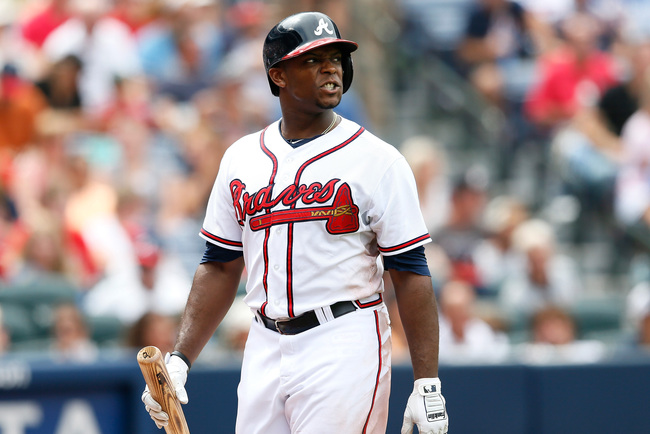 Kevin C. Cox/Getty Images
The 2013 Atlanta Braves had nine games in which they were held scoreless while striking out at least 10 times. The only teams in MLB history to suffer more defeats that met that criteria in a single year—the 1960 Philadelphia Phillies, 1963 New York Mets and 2011 San Diego Padres—all finished in last place.
Of course, don't take that to mean that Atlanta's offense stinks; it's just inconsistent. The Braves actually finished this past season third in the National League with 51 games of six-plus runs scored, behind only the St. Louis Cardinals and altitude-aided Colorado Rockies.
During the six-month summer, their fiery stretches outweighed the mini-slumps, culminating in an easy route to the NL East title.
However, the playoffs present an entirely different breed of baseball. A few matchups often determine the outcome of an entire series.
How do you expect this Jekyll-and-Hyde lineup to fare against Clayton Kershaw, Kenley Jansen and the mighty pitching staff of the Los Angeles Dodgers? We'll find out shortly during the NLDS. Moreover, the Pittsburgh Pirates, a potential opponent in the following round (should the Braves make it that far), seemingly have a big edge with strikeout artists A.J. Burnett, Gerrit Cole and Francisco Liriano leading their starting rotation.
Wasted plate appearances will undoubtedly hinder Atlanta's production this October. The question is whether or not they'll do enough damage on balls in play to overcome them.
Boston Red Sox: Shaky Middle Relief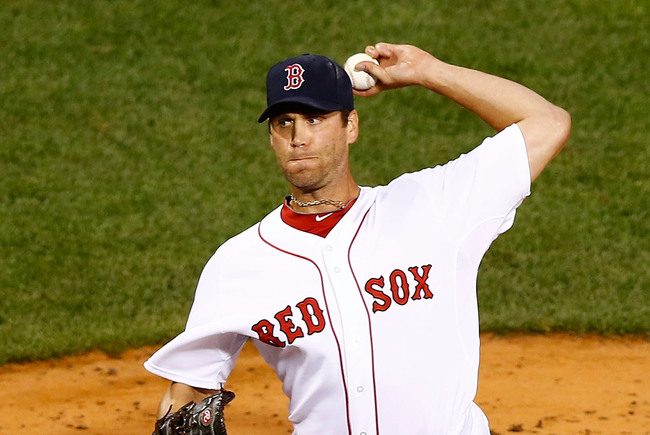 Matt Thornton has been flirting with disaster since the Red Sox acquired him in July.
Jared Wickerham/Getty Images
This is what happens when injuries force Craig Breslow and Koji Uehara into high-leverage roles. Yes, those two have been extraordinary during the past several months, but now the Boston Red Sox lack trustworthy sources of relief for the middle innings.
Matt Thornton, for example, hasn't been as effective as advertised versus left-handed batters. His 3.52 earned run average with Boston is extremely misleading, as he allowed a .349 batting average against following a midseason trade from the Windy City. Thornton's strikeout rate in 2013 is by far the lowest of his decade-long career.
For the first time since 2007, Ryan Dempster is working out of the bullpen. Although he can generate swings-and-misses, the command issues that led to his demotion constantly put him at risk of imploding. The same is true of southpaw Felix Doubront.
Even Junichi Tazawa is a big question mark. The 27-year-old finished 2013 on a sour note by posting a 6.48 earned run average in September. He surrendered multiple runs in three separate outings that month.
According to MLB.com, the Red Sox were 16th in the majors this year with a 3.80 earned run average in the seventh inning. More importantly, that ranks 10th among the 11 teams still fighting for a championship.
Cincinnati Reds: Matt Carpenter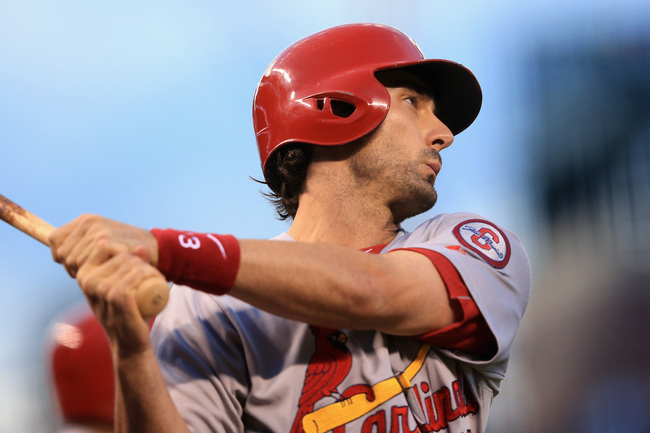 Doug Pensinger/Getty Images
Matt Carpenter makes his greatest impact as an offensive player, particularly when the Cincinnati Reds are concerned. Should the Reds remain standing after the National Wild Card Game, he'll single-handedly make their NLDS experience a living hell.
The All-Star leadoff man bats from the left side, which gives him a platoon advantage against every starter in Cincy's rotation. That's largely why he batted .351/.395/.500 against the team this summer and scored 15 runs in only 17 starts.
However, don't overlook the effect of Carpenter's fielding at second base.
The two most dangerous hitters on the Reds, Shin-Soo Choo and Joey Votto, love to drive the ball up the middle. This season, both sent the majority of their balls in play in that direction.
Although Carpenter isn't as athletic as Cincinnati counterpart Brandon Phillips, FanGraphs rates him among the best in the business at turning double plays. He'll be starting rallies for the Red Birds and killing those that threaten them.
Cleveland Indians: Patient Opposing Lineups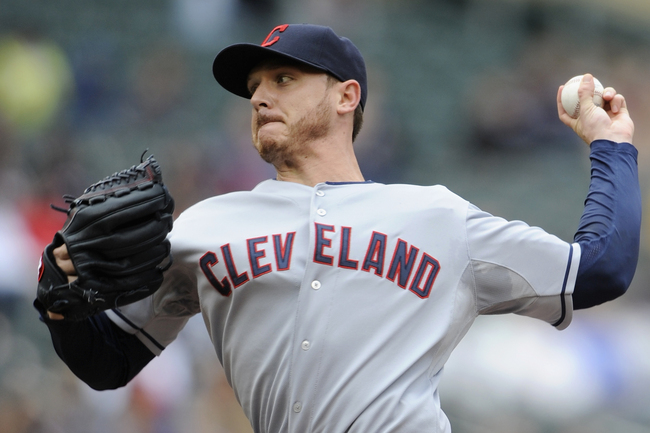 Scott Kazmir only succeeds when he tempts batters to expand their strike zones.
Hannah Foslien/Getty Images
The Cleveland Indians surged into the playoffs on the strength of their 21-6 September record, and great pitching had plenty to do with it.
That doesn't mean they'll be able to keep it up.
Assuming that rookie right-hander Danny Salazar can lead the Tribe through the American League Wild Card Game, manager Terry Francona will lean heavily on veterans Ubaldo Jimenez and Scott Kazmir. They racked up plenty of strikeouts against the Houston Astros, Minnesota Twins and other cupcakes down the stretch, but can the same be done against tougher competition?
The primary issue for Kazmir will be right-handed batters. They have combined for a .794 OPS against him in 2013 with 16 home runs. That's going to be exploited if he faces the top-seeded Boston Red Sox at Fenway Park. Dustin Pedroia and Shane Victorino won't have any trouble spoiling Kazmir's best pitches and tiring him out so that Jonny Gomes and Mike Napoli can do damage further down in the lineup.
For different reasons, Jimenez also struggles to survive into the deeper innings. His first-pitch strike percentage is lower than the league average, and reduced velocity prevents him from generating swings-and-misses to escape every jam. It doesn't help that Boston drew the second-most walks in the AL this summer.
Detroit Tigers: Oakland's Platoons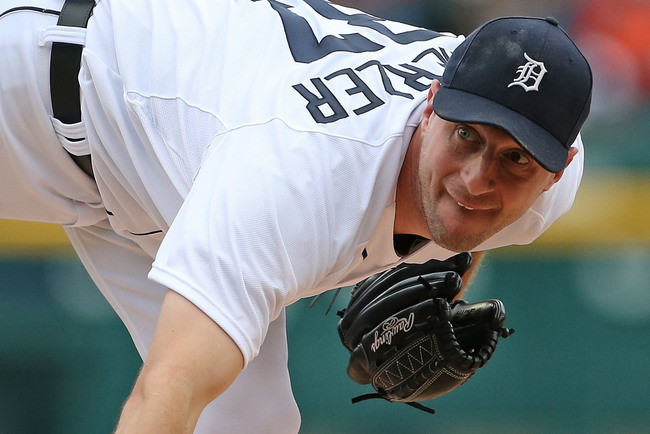 AL Cy Young Award candidate Max Scherzer won't have an easy time with Oakland.
Leon Halip/Getty Images
The Oakland Athletics, who the Detroit Tigers will face in the best-of-five ALDS, scored the second-most runs of any MLB team following the All-Star break.
They didn't rely on outstanding talent to do it.
Rather, manager Bob Melvin took advantage of particular matchups and allocated significant playing time to many different position players. Only Coco Crisp, Josh Donaldson and a couple others started regularly when healthy. Melvin allowed platoons to dictate most of his lineup decisions, trusting Brandon Moss, Seth Smith and Eric Sogard against right-handed pitching and Nate Freiman and Chris Young when southpaws took the mound for the opposition.
Max Scherzer will have the A's to blame if another pitcher receives the American League Cy Young Award. On Aug. 29, he tied season worsts by surrendering eight hits and two home runs to them at Comerica Park. The five innings and five strikeouts were among his lowest totals in any 2013 outing, and Scherzer was uncharacteristically inefficient with 101 pitches thrown.
In hindsight, his struggles that night weren't too surprising. Oakland loaded up on lefties, who combined for a .222/.278/.367 batting line against Scherzer this summer—compared to a .165/.219/.275 line for right-handed swingers—and slashed .292/.366/.465 in 2012. Scherzer also has greater difficulty generating swings-and-misses when at a platoon disadvantage.
Similar story for fellow Tigers starter Anibal Sanchez. He didn't wrap up the AL ERA title until the season's final weekend, largely because the A's pushed across four runs in five innings when they opposed him on Aug. 26. Sanchez holds right-handed batters to a .544 OPS, but lefties to a less-than-stellar .676 OPS.
Detroit has slim odds of claiming another AL pennant if Melvin chooses to mix and match against Scherzer and Sanchez as well as late-inning relievers like Drew Smyly and Jose Veras. Their platoon splits have been even more dramatic.
Los Angeles Dodgers: Ineffective Baserunning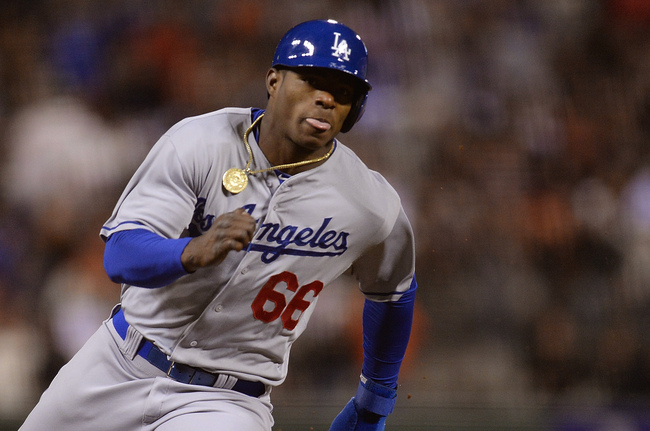 Yasiel Puig, L.A.'s best athlete, tends to make over-aggressive decisions.
Thearon W. Henderson/Getty Images
Hanley Ramirez and Carl Crawford were outstanding base-stealers early in their careers, but such has not been the case for either since joining the Los Angeles Dodgers last summer. Crawford, in particular, has only attempted seven steals in his past 66 games.
Although Yasiel Puig's athleticism leaps off the screen, he still hasn't harnessed it.
The Cuban phenom was only successful on 57.9 percent of his stolen base tries (11 for 19) this summer. There were also two instances in which Puig was retired while trying to scramble back to first base on pick-offs. On top of that, he has made 11 other outs on the bases by behaving recklessly on balls in play.
Taking everything into consideration, FanGraphs rates Puig among 2013's most counterproductive baserunners. Those ahead of him on the list include full-time designated hitters (Billy Butler, Victor Martinez and David Ortiz) and a bunch of catchers...and Dodgers teammate Adrian Gonzalez.
A healthy Matt Kemp could have partially remedied this situation. Too bad that balky ankle of his will prevent him from participating in the postseason (h/t MLB.com).
Los Angeles lacks the power-hitting to compensate for stagnation on the base paths. Moreover, NL contenders like the Atlanta Braves and Pittsburgh Pirates boast great defenses, so extra bases will seldom be available on base hits.
Dee Gordon has the raw speed to cure what ails the Dodgers, but it's unclear if he'll crack the postseason roster. The 25-year-old often struggles to get on base in the first place, and his defense is tough to stomach.
Oakland Athletics: Detroit's Lineup Depth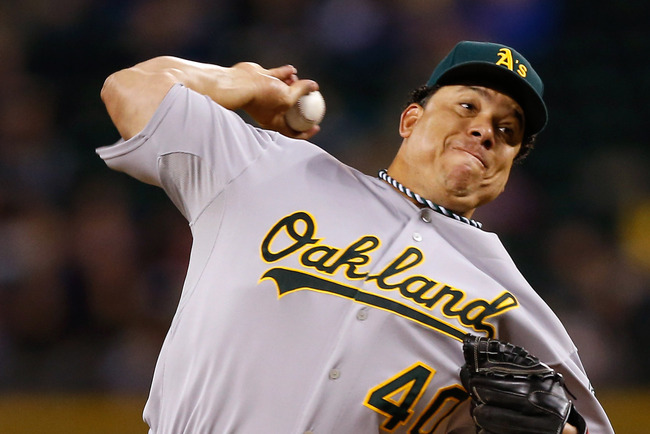 Bartolo Colon won't find many landing spots in the Tigers batting order.
Otto Greule Jr/Getty Images
Don't read too much into the fact that the Detroit Tigers were no-hit on Sunday. Half of their usual position players were given the day off.
When the Tigers actually try to compete, it takes overpowering pitching to contain them. The Oakland Athletics starting rotation is ill-suited for that challenge.
Bartolo Colon's steady diet of fastballs won't work against everybody in their lineup. So what if Miguel Cabrera is less than 100 percent healthy? Prince Fielder and Victor Martinez still have the platoon advantage. When Colon opposed the Tigers in late August, he generated only three swings-and-misses, and Alex Avila, Torii Hunter and Jhonny Peralta weren't starting that afternoon.
Now that Peralta has returned from suspension, Detroit has seven regulars with a 100 OPS+ or better. That doesn't even include Avila, who batted .343/.430/.522 during September.
Unfortunately for Oakland, you cannot succeed against the Tigers by relying on balls in play. Although right-hander Sonny Gray has shown the ability to dominate, he's also a rookie who has already thrown more innings than in any other season of his pro career.
Pittsburgh Pirates: Struggles with Runners in Scoring Position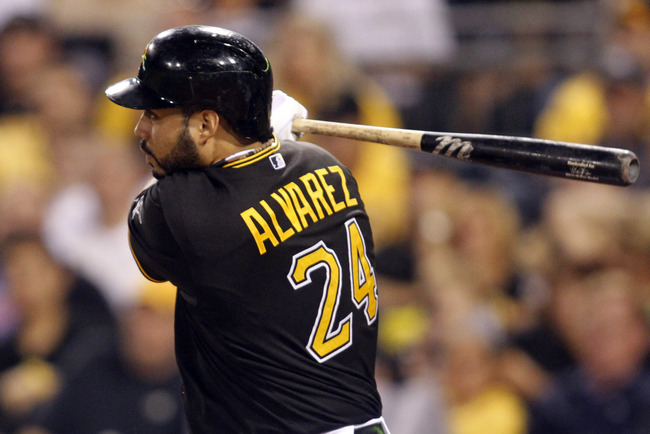 Pedro Alvarez.
Charles LeClaire-USA TODAY Sport
With 634 runs scored this season (less than four per game), the Pittsburgh Pirates are easily the weakest offensive team in the 2013 playoff field.
They get steady power-hitting contributions from Pedro Alvarez and Andrew McCutchen (and against right-handed pitching, Garrett Jones). Everybody else in the lineup needs teammates to reach base in front of them.
However, the Bucs wasted a lot of opportunities with runners in scoring position. They collectively batted .230 in those situations and ranked next-to-last in the National League with only 29 sacrifice flies.
Home runs will be tougher to come by in chilly October weather against the best pitching staffs in the sport. As presently constituted, Pittsburgh doesn't have the ideal personnel to produce in those conditions.
St. Louis Cardinals: Closer Controversy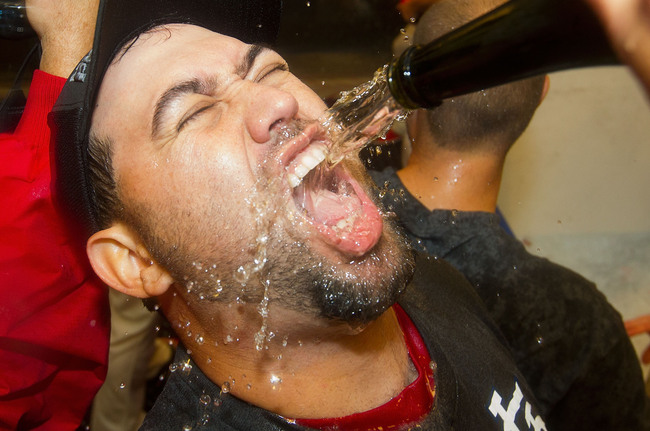 Edward Mujica drinking away the pain of his awful September.
Dilip Vishwanat/Getty Images
Right-hander Edward Mujica seized the closer's job in mid-April.
The St. Louis Cardinals couldn't have been more thrilled with the initial results. Mujica didn't walk a single batter during his first 26 appearances in that role, and as recently as August, his season earned run average sat comfortably below 2.00.
From there, however, he admits that fatigue began to compromise his mechanics. Brooks Baseball confirms that the free-agent-to-be lost a full mile per hour on his fastball during September. He surrendered runs in six of 10 his games in that final regular-season month (11.05 ERA, 18 H in 7.1 IP). The Cards have yet to announce whether or not he'll even make the playoff roster.
Now, it's Trevor Rosenthal's gig, with rookies Carlos Martinez and Kevin Siegrist ready in case he falters.
At least there's some precedent for this. Jason Motte emerged as the St. Louis closer late in the 2011 campaign and pitched beautifully in October to ensure a National League pennant.
Tampa Bay Rays: Back-End Starting Pitchers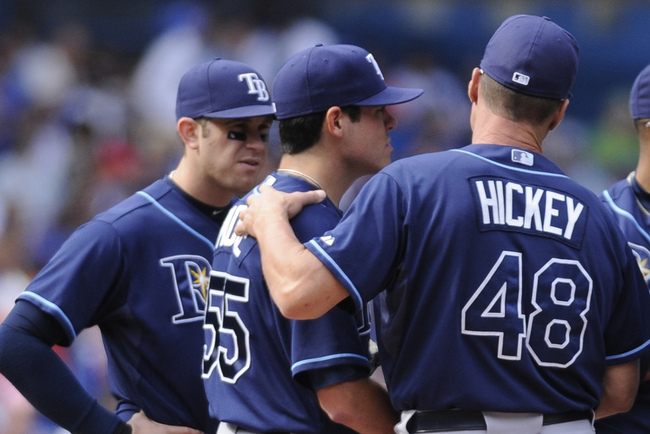 Matt Moore doesn't know where the ball is going anymore.
Brad White/Getty Images
Rotation leader David Price will take the mound for the Tampa Bay Rays on Monday night. Although Game 163 is being hosted in Rangers Ballpark, where Price has had past issues, the team ought to feel relatively confident in its chances to survive.
Of course, the reigning AL Cy Young Award winner won't be available for Wednesday's tilt against the Cleveland Indians. Vanquishing the Boston Red Sox in the following round is also going to hinge on how the non-Prices perform.
Don't be fooled by the calm countenance of skipper Joe Maddon—he's melting on the inside.
Jeremy Hellickson, who ranks second on the club in innings pitched, has fallen apart. The right-hander did not last longer than six innings in any of his post-All-Star break starts, and since the beginning of August, he owns a 7.02 earned run average (7 HR allowed in 41.0 IP). Likewise, Alex Cobb faded toward the end of the summer, as batters had a 28 percent line-drive rate against him in September (4.78 ERA).
Then there's Matt Moore, who looked like a competent No. 2 option earlier this year. Throw out the 17-4 record—his command has deserted him. Moore recorded only one quality start in his past seven tries of the season, and he has an ugly 6.2 BB/9 since returning from the disabled list.
Aside from Price and Alex Cobb (who lacks postseason experience), the Rays won't have any favorable matchups going forward.
Texas Rangers: Worn-Down Bullpen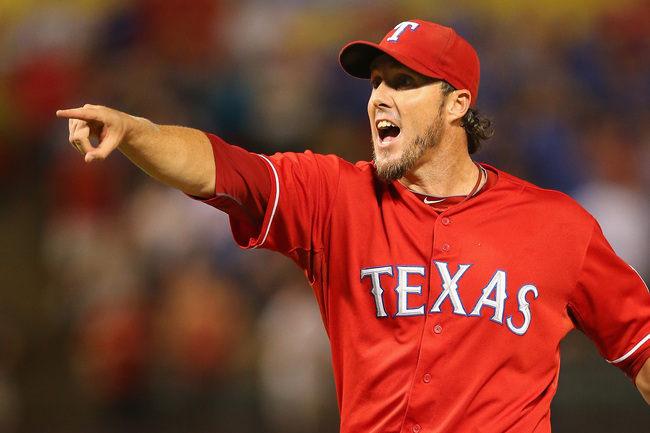 Joe Nathan was overworked by the Rangers down the stretch.
Ronald Martinez/Getty Images
The Texas Rangers avoided a total collapse by completing a sweep of the Los Angeles Angels in the regular-season's ultimate series.
Then again, they may have worn-down their deep bullpen in the process. Joe Nathan and Tanner Scheppers each pitched in 9 of the final 13 games, including all four against the Halos. Those vitally important relievers now head into Game 163 without any time to recover.
Even if Texas does advance to the AL Wild Card Game or the ALDS, the odds of making a "deep" run seem slim. The members of Ron Washington's rotation have not consistently provided quality starts in recent weeks, which suggests he'll need to continue reaching into the 'pen early and often.
Desperate decisions that were made down the stretch could come back to haunt the Rangers, but at least they still have a pulse.
Anything can happen. It's corny, but completely true.
Keep Reading