Chris Paul's Ultimate Training Camp Checklist for 2013-14 Season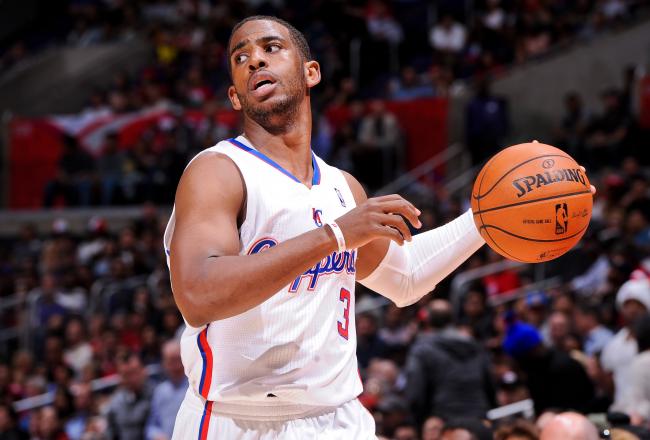 Andrew D. Bernstein/Getty Images
Chris Paul's presence has nearly transformed the Los Angeles Clippers from NBA cellar dweller to playoff contender single-handedly. He's almost unanimously seen as the best point guard in the league today, but that moniker hasn't helped the Clippers win a single playoff game past the first round in two seasons.
CP3 is a transcendent talent. During the 2012-13 season alone, he was named an All-Star, All-Star Game MVP, All-Defensive First Team member, All-NBA First Team member and was the NBA steals leader.
Despite the plethora of accolades accumulated by the team's point guard, though, "Lob City" has a lot of work ahead before it can hope to compete for a championship.
Many of the Clippers' questions revolve around the supporting cast, but there are still some areas in Paul's game that he can improve for the 2013-14 season.
1. Be More Assertive on Offense
CP3 has the offensive talent necessary to compete for an NBA scoring title, but that simply isn't his forte.
He attempted just 12.2 shots per game last season. Compare that with scoring champion Carmelo Anthony's 22.2 shot attempts per game, and it's easy to see that basket making isn't Paul's primary objective.
He averaged 16.9 points per game last season, which isn't alarming when you consider that he also averaged a career-low 33.4 minutes per contest. Nevertheless, CP3 hasn't eclipsed 20 points per game since the 2008-09 season in New Orleans. It may be time for him to shoot for similar offensive production.
The Clippers point guard lives to set up his teammates for easy baskets and open looks, but that doesn't mean he shouldn't look for his own shot more often.
Good things happen when Paul asserts himself on offense. As you can see from the embedded clip, he glides effortlessly to the basket for an easy layup—well, easy for Paul—even with all five Milwaukee Bucks players giving him their undivided attention.
Paul's situation draws parallels to the run-and-gun Phoenix Suns teams that were competing for a championship just a few years ago. Steve Nash was the maestro who orchestrated the offense with nearly flawless precision, but there were times when fans begged him to be more aggressive and look for his shot.
Sometimes, Nash was so dedicated to getting his teammates involved that it actually hindered the team as a whole.
Blake Griffin and DeAndre Jordan aren't as offensively sound as Amar'e Stoudemire and Shawn Marion were for the Suns. As a result, it makes sense for Paul to shoulder more of the offensive load to take pressure off the rest of the offense.
2. Take Fewer Straightaway Threes
Last season, Paul shot just 32.8 percent from three-point range. That percentage was not only the lowest since his rookie year, but it also ranked him well out of the top 100 in the NBA.
He was less efficient from beyond the arc than Lance Stephenson, Metta World Peace, Raymond Felton and A.J. Price, among others—not whom you'd call "sharpshooters."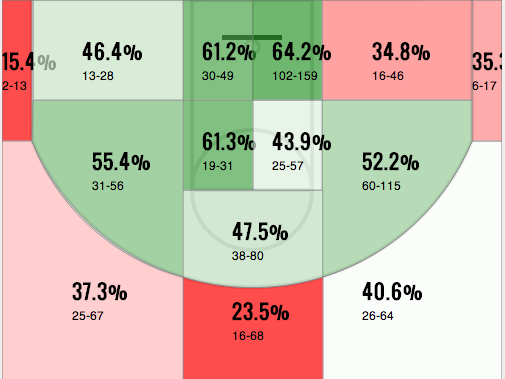 The bulk of Paul's three-point-shooting woes occurred on straightaway threes, as we see from his 2012-13 regular season shot chart via Vorped.com. He made just 23.5 percent of his attempts from the top of the arc, which was far worse than his numbers from the wings—40.6 percent and 37.3 percent, respectively.
Being aware of hot and cold zones is a must for any NBA player. So if Paul isn't taking mid-range shots (where he was tremendous a season ago), avoiding those straight-on threes isn't a bad idea.
3. Rely on Doc's Coaching
Vinny Del Negro's coaching ability (or lack thereof) was the media's punching bag during the majority of his stint with the Clippers.
Bill Simmons of Grantland.com wrote in a May column, "(The Clippers) don't run plays in crunch time except for 'Clear Out for Chris' or 'Jack One Up, Jamal!' which is kind of a problem."
That assessment certainly falls into the "funny, but true" category.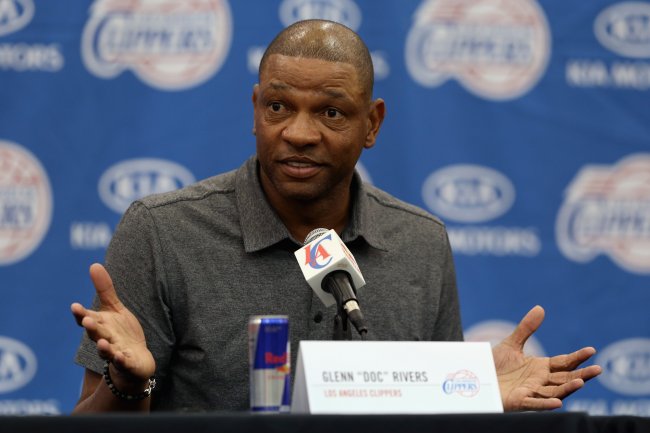 Jeff Gross/Getty Images
As we enter the 2013-14 season, Del Negro has been replaced with Doc Rivers—one of the most respected coaches in the league. He won Coach of the Year in 1999-00 with the Orlando Magic and a championship in 2008 with the Boston Celtics.
His ability to draw up plays in clutch situations and get the best out of his players will be an invaluable addition to the Clippers culture. But, perhaps most importantly, he'll take coaching pressures off of his point guard.
At times, Paul can be a tyrant out on the court. He has a tendency to bully young teammates when they make mistakes. He does this as an attempt to get the best out of them, but it has frequently done the opposite by causing strife in the locker room.
Griffin and Jordan haven't responded favorably to Paul, according to an April article by T.J. Simers of the Los Angeles Times, who wrote the following:
The pair have also grown tired of Chris Paul's voice, which is understandable at times.

Paul, very much like Kobe Bryant—who has turned off Dwight Howard with his out-of-this-world standards—is relentless. He never shuts up. And Jordan and Griffin have become weary of him.

When asked about being annoying, Paul smiled and said, "I need to work on being a better leader."
Bill Simmons referenced the Simers piece in his column and broke it down like this:
The young guys want to run. Chris wants to win. The young guys think Chris is condescending. Chris thinks they care too much about getting on YouTube. Blake feels like he gets frozen out of games late. Chris doesn't want to pass to him because Blake can't make free throws. […] Chris doesn't think Blake works hard enough at defending high screens. Etc. etc. etc.
Paul has continually pushed the buttons of his teammates, which has reportedly bristled the team's big men.
Moving forward, Paul no longer has to play the role of older brother/disciplinarian. That responsibility can be handed off to Rivers, who commands respect as an NBA champion.
Admittedly, there isn't much that Paul needs to change moving forward. That shouldn't come as much of a surprise considering he made the All-NBA First Team and All-Defensive First Team a season ago.
As long as he trusts his new coach, looks to score more points and tweaks his offensive game to become even more efficient than he already is, the Clippers should be able to take the next step toward a championship in 2014.
This article is
What is the duplicate article?
Why is this article offensive?
Where is this article plagiarized from?
Why is this article poorly edited?

Los Angeles Clippers: Like this team?