Russell Westbrook Injury: Updates on Thunder Star's Knee, Likely Return Date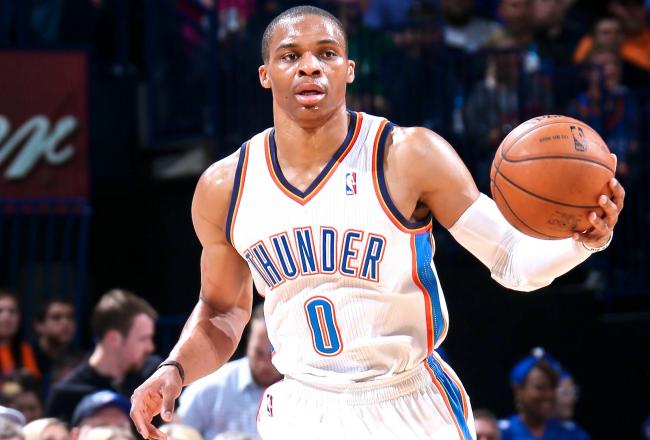 Oklahoma City Thunder superstar point guard Russell Westbrook has been in recovery mode since undergoing surgery to repair a torn meniscus in his right knee, suffered during the first round of the 2013 NBA playoffs.
Westbrook underwent surgery to reduce swelling in the knee and was expected to miss the first four to six weeks of the NBA season. He will instead play on Nov. 3.
From Darnell Mayberry of The Oklahoman:
R. Westbrook has passed all medical/physical benchmarks in rehab. Russ, his reps, physicians & medical team agree. He will play tonight.

— Darnell Mayberry (@DarnellMayberry) November 3, 2013
Adrian Wojnarowski of Yahoo! Sports provides a major update on Westbrook's recovery:
Oklahoma Thunder star Russell Westbrook has made significant progress in his recovery from a second surgical procedure on his knee and could return to the Thunder's lineup within two weeks, league sources told Yahoo Sports.

The Thunder issued an original timetable of six to eight weeks from Wednesday's opening night for Westbrook, but barring an unforeseen setback he could be back in the lineup by mid-November.

Westbrook began participating in Thunder practice sessions and has impressed everyone with his explosion and fast return to form, sources said.
Anthony Slater of NewsOK.com talked to Reggie Jackson after Russell Westbrook returned to limited practice with the Thunder:
"Oh, man. Russell today…" Jackson said when asked how Westbrook looked, cracking a sly smile. "It's actually funny. My brother and his brother talk a little before games. His brother told mine that Russell's probably bouncing better than ever. I had to see it to believe it. One of the dunks (today), he went up and looked like the old Russell, plus some, head at the rim. We'll be happy when he gets back fully healthy, but it's good to see him with a smile on his face, being about the team, bouncing back and happy to be back on the court."
UPDATE: Tuesday, Oct. 1
From Howard Beck of Bleacher Report:
Bad news for OKC: Thunder announce that Westbrook had arthroscopic surgery on right knee. Will miss first 4-6 weeks of season.

— Howard Beck (@HowardBeck) October 1, 2013
From Darnell Mayberry of The Oklahoman:
Thunder point guard Russell Westbrook underwent successful arthroscopic surgery today to alleviate swelling in his right knee.

— Darnell Mayberry (@DarnellMayberry) October 1, 2013
The procedure confirmed Westbrook's meniscus has healed properly, but his expected return will be pushed back by a few weeks. Story coming.

— Darnell Mayberry (@DarnellMayberry) October 1, 2013
UPDATE: Friday Sept. 27
From Darnell Mayberry of The Oklahoman:
I wouldn't read into Westbrook saying he's "not sure" if he will be back for the start of the regular season.

— Darnell Mayberry (@DarnellMayberry) September 27, 2013
He also said "on the first day of training camp I'll be on the floor."

— Darnell Mayberry (@DarnellMayberry) September 27, 2013
Original text:
Westbrook is clearly in a positive frame of mind and feeling confident about his rehab, but he is unsure whether he will be ready for the start of the 2013-14 regular season.
It remains to be seen when Westbrook will return, but this latest update should provide some optimism for Thunder fans.
The good news is that Oklahoma City has virtuoso scorer Kevin Durant to shoulder the load while Westbrook recovers, so the Thunder don't have to rush him back to the hardwood.
However, the sooner Westbrook returns, the better.
The 24-year-old went down in Game 2 of the Thunder's opening-round postseason series against the Houston Rockets. Although Oklahoma City advanced 4-2, the Memphis Grizzlies trounced the Thunder sans Westbrook 4-1 in the Western Conference semifinals.
This article is
What is the duplicate article?
Why is this article offensive?
Where is this article plagiarized from?
Why is this article poorly edited?