Virginia Tech vs. Georgia Tech: 3 Biggest Takeaways from Hokies Win
September 27, 2013

Kevin C. Cox/Getty Images
The Virginia Tech Hokies boldly announced themselves as ACC contenders with a huge 17-10 win over the Georgia Tech Yellow Jackets in Atlanta that few people saw coming.
Between defensive coordinator Bud Foster's dominant defense, the rejuvenated passing game and some greatly improved offensive play-calling, this is a team that seems much more imposing than it did a week ago.
Most college football fans only got to see the Hokies when the Alabama Crimson Tide beat them down in the Chick-fil-A Kickoff game.
But the team just put itself back on the national stage and took the upper hand in ACC Coastal Division contention.
Foster's Defense
It can't possibly be overstated how well Virginia Tech's defense played on Thursday night.
Not only is the unit ranked fifth in the country, but it held Paul Johnson's vaunted flexbone offense to just 129 yards on the ground. 
That's the fourth-fewest rushing yards Johnson's Jackets have ever tallied.
It's been no shock that the Hokies' deep defensive line has played well, but the real surprise has been the young cornerbacks.
Freshmen Kendall Fuller and Brandon Facyson both recorded interceptions last night and were a big part of shutting down the Jackets' quarterback, Vad Lee.
Lee has experienced a lot of success going down the field so far this season, but the cornerbacks almost entirely neutralized this element of the offense.
The quarterback only completed seven passes all night, and the only deep balls came against free safety Detrick Bonner, not the young corners. 
Facyson is now tied for the most interceptions in the country with four, and this is all before senior cornerback Antone Exum returns in the next few weeks.
Head coach Frank Beamer told the Richmond Times-Dispatch's Mike Barber (h/t Virginia Tech Sports Blog) exactly how valuable those corners have been. "Both of them are smart kids, tough kids, understand the game," he said. "They're legit. They're for real."
If Facyson and Fuller keep dominating, this defense can carry the Hokies very far.
Return of the Pass
For the first four games this season, Logan Thomas has been bad and his receivers have been worse.
That all changed against the Jackets.
Thomas played a nearly perfect first half and ended up completing 19 of his 25 passes for 221 yards and a score.
He even accomplished all of this with a strained abdominal muscle that stopped him from even attempting a pass in practice this week.
Yet, on a day when his running backs could only tally one yard on the ground, Thomas came through with his best game yet.
Not only was he accurate, but he played with a confidence he hasn't displayed since 2011.
But he hardly deserves all the credit.
His much-maligned receivers finally came to play in Atlanta.
The group just hasn't been able to find any consistency so far this year, plagued with a variety of drops and poor route-running.
Against Georgia Tech, eight different players caught a pass from Thomas, led by Demitri Knowles with six catches and Willie Byrn with four. 
Although they had a few drops in the second half, this was still the best game the unit has played all year and their continued development is crucial if the offense wants to repeat this performance. 
Byrn told The Roanoke Times' Aaron McFarling exactly how big this game was for the receivers: "Finally, it's here," he said. "Finally, it's coming all together. But I think it's fair to say that our first quarter and a half was much more explosive than the rest of our game. We want to get all four quarters going."
If the receivers can stay as excellent as they were in the first half for the entirety of future games, this offense will finally be consistently explosive.
Loeffler Wakes Up 
Scot Loeffler is a new face at offensive coordinator for the Hokies, but his techniques seemed like more of the same.
Previous coordinator Bryan Stinespring was widely known for nonsensical pre-snap motion and a puzzling refusal to do anything but run Thomas directly into the line of scrimmage in short-yardage situations. 
Both of these were on perfect display on this play on a crucial fourth down against the Marshall Thundering Herd in the team's last game.
But Loeffler seemed like a new man against the Yellow Jackets.
When it became clear that the running game wasn't working from traditional pro-style formations, Loeffler adjusted instead of pushing ahead.
He called on Thomas to deliver short passes out of spread formations to serve as a de facto running game and, as Barber observed, it worked like a charm.
It was certainly disconcerting that the team couldn't run the ball in the fourth quarter and had to rely exclusively on Thomas running the option.
Yet, Thomas seemed increasingly comfortable making his reads and, if Loeffler can keep showing the type of creative thinking he displayed against the Jackets, the Hokies will be real contenders.
And that's really what this game comes down to—Virginia Tech showed the country that it can contend in the ACC.
The Roanoke Times' Andy Bitter perfectly sums up what this could mean for the Hokies:
But in a bigger picture look, this seems like a team that might be able to make the leap to competing for that Coastal Division crown again. The Hokies are on the cusp of the Top 25. I'm not sure if that win gets them in — so much of the polls this early in the season depends on who loses ahead of you — but that was a primetime win that a lot of voters saw. And it came against a team that hadn't lost this season.
The team now has a tiebreaker over the Jackets and, with a win at home against the North Carolina Tar Heels, they'll be the clear favorites in the division. 
The road tilt with the Miami Hurricanes on Nov. 9 will be absolutely crucial, but if they keep getting these big ACC wins, it'll give Beamer more reasons to celebrate like this.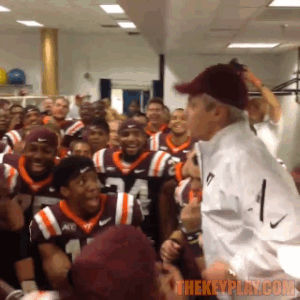 All in all, this game showed the country that the Hokies should not be taken lightly and that a trip to the ACC Championship Game just might be in the cards.