Brian Cookson has been elected as the next president of the Union Cycliste Internationale, as the challenger upset incumbent Pat McQuaid in a close decision, according to the staff of Cycling News.
Cookson won 24-18 after a final run off vote amongst 42 UCI authorized delegates, which took place in Florence, Italy on Friday.
The British victor spoke about the surprise decision immediately after, as per Cycling News:
It's a huge honour to be voted president and I thank you for your trust. The real work starts now. I call on the global community to unite so that the sport lives up to its potential. We must have a new style of government and a collegiate system. My first act as president is to ensure anti-doping is fully independent and to sit down with WADA.
Cookson had been campaigning for months against McQuaid, standing on a platform largely comprised of improving anti-doping measures and fighting corruption within the UCI.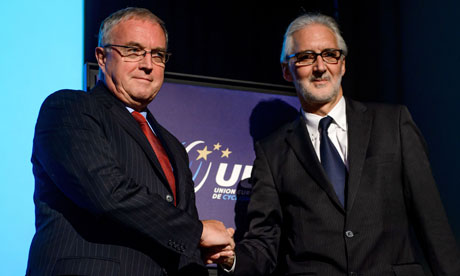 Fortunately, Cookson is not willing to rest on his laurels now that he has won:
The campaign to get to this point has been intense but I am under no illusion that the real work starts now. So I call on the global cycling community to unite and come together to help ensure that our great sport realises its enormous potential. This is the vision that will drive and focus my activities over the next four years.
Cookson won a hard-fought war that came down to the final battle inside the Palazzo Vecchio, the town hall that once held the offices of Machiavelli.
According to Robin Scott-Elliot of The Independent, it took more than four hours of confusing and chaotic arguing before the new president stood up and declared that a final vote should be held.
Do you think Cookson was the best choice?
Cookson's decision was clearly the right one, as he narrowly edged McQuaid and ousted the incumbent. McQuaid had been installed as the UCI president since 2006, although his term has gone anything but smoothly.
The Lance Armstrong doping scandal put an intense light on the organization's issues and things only got worse as McQuaid fought a seemingly dirty campaign to desperately try and retain his power.
However, the reformer won in the end and now has a chance to guide cycling out of the Lance Armstrong era. It's a tall task, but one that Cookson seems up for after winning the UCI presidential election.