The ongoing Ed O'Bannon lawsuit took a major turn Thursday when Electronic Arts—previously one of three co-defendants in the case along with Collegiate Licensing Company and the NCAA—announced it would not produce its popular college football video game next year (and perhaps longer).
Not coincidentally, EA and CLC settled all claims brought forth by the plaintiffs, which will result in more than 100,000 athletes becoming eligible for compensation for the use of their likeness in the game over the years, according to a report from Jon Solomon of al.com.
EA Sports and CLC have bailed on the NCAA, which told USA Today Thursday it still plans to fight the O'Bannon plaintiffs at the Supreme Court level, if necessary. It would appear, based on Thursday's actions, that it's a losing fight.
Attempting to convince the general public that QB No. 2 for Texas A&M isn't Johnny Manziel—or, at least, the virtual version of him—is utterly hilarious. Manziel knows it's him, gamers know it when they play and the co-defendants in the O'Bannon case know it. It's his likeness and he should be compensated for its use.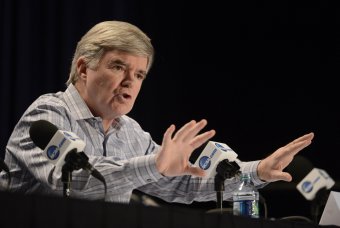 Robert Deutsch-USA TODAY Sports
But, EA and CLC are profit-making businesses, and there's no point in paying someone in the eyes of a business if it's not mandatory. Since there was previously no voice for the athletes before O'Bannon—no NFLPA, for example—no one making those video games had to share the profits.
But now the video game makers have decided to shut down the college football video game franchise, at least for the time being, rather than inevitably pony up to athletes in the future.
Its disintegration has been months in the making. Over the summer, the NCAA opted not to renew its licensing partnership with EA. Some conferences, including the SEC, Pac-12 and Big Ten, followed that lead.
"This is as profoundly disappointing to the people who make this game as I expect it will be for the millions who enjoy playing it each year," Cam Weber, the general manager of American football for EA Sports, said in a statement on the company's website.
It is disappointing. The "NCAA Football" franchise, as it was previously known, was fun and increasingly realistic, right down to the upset I pulled over Georgia in my North Texas dynasty because #GoMeanGreen.
Perhaps no one is taking the news harder than Bleacher Report's own Adam Kramer, whose weekly simulations have become one of the must-read articles for our college football coverage.
And now I'm sad.

— Adam Kramer (@KegsnEggs) September 26, 2013
As is anyone who has ever enjoyed the thrill of going Four Verts all the way down the field, starting at your own 1-yard line.
It was fun while it lasted, but you can't blame the end of the video game franchise on the O'Bannon plaintiffs. Athletes, both current and former, deserve to be compensated for the use of their name, image and/or likeness in whatever medium it is used. For anyone to think otherwise, especially for a video game, is selfish.
Should athletes be paid beyond the value of their scholarship?
It wouldn't have changed the gaming experience had actual names been used in the game going forward. You can download rosters to put the names in anyway.
You already know South Carolina DE No. 7, who has a skill set similar to Jadeveon Clowney, is Jadeveon Clowney. It's the same concept for paying athletes a portion of the television revenue made off their talents. Your experiences as a fan and viewer do not change at all.
But, EA, CLC and the NCAA would like to have you believe college football players are amateurs, and two of those entities would rather close up shop and settle than admit they're wrong.
The NCAA is now on its own and willing to fight all the way until the end. That's understandable given the natural stance of their business. But if there is an end coming to the facade of amateurism, the death of "NCAA Football" may prove to have been the beginning of it.
Ben Kercheval is the lead writer for Big 12 football. All quotes cited unless obtained firsthand. You can follow Ben on Twitter @BenKercheval.