The Top 10 Big Ten Football Players in 2009
Even if the Big Ten is bashed year in and year out for being the worst football conference in America, due to Ohio States big losses in title games and it's overall conference bowl record, the Big Ten still has some of the best football players in the nation year in and year out.
From high-flying defensive backs, rough and tough defensive lineman, to the prolific pocket passing quarterbacks, the Big Ten is home to many of college footballs top players.
I know some will disagree with that, but it's the truth. Go back and look over the years at some of the guys who have came through the Big Ten. It may be known for it's big losses in bowl games and its choking in BCS games, but the Big Ten deserves more respect than it gets.
Here's my list of guys to watch out for in 2009.
#10: Eric Decker (Minnesota Wide Out)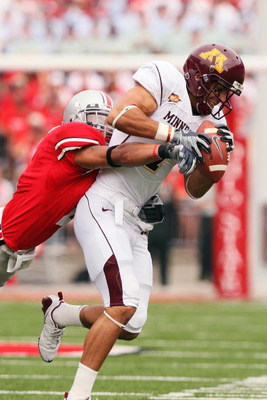 Decker is a fast, explosive, wide out who has very good hands and doesn't mind to take a big shot. He has missed some time over his career as a Golden Gopher, but if he can stay healthy in '09 he could really be a big plus for Minnesota.
In 2008 Decker had 84 receptions, 1,074 yards and 7 touchdown grabs.
His numbers should go up in 2009. With Minnesota's schedule and his starting quarterback, Adam Weber, coming back, Decker's stats should look pretty solid.
My predictions: 89 receptions, 1,245 yards, and 12 touchdowns.
He should be named as an All Big Ten team selection, and could show up as a candidate for many other awards across the country.
#9: Kellen Lewis (Indiana Quarterback)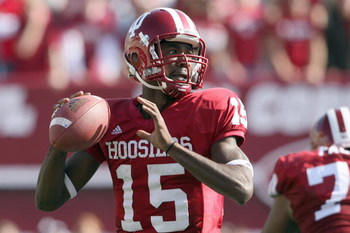 The 2008 Kellen Lewis had struggles; many of them. Just 1,131 passing yards and six touchdowns.
The 2007 Kellen Lewis was one that Indiana fans are dying to see again. His 3,043 passing yards and 28 touchdowns were something that had Hoosier fans excited for '08. Sure he had James Hardy to throw to, but he also had injuries that kept him out for some time.
In '09 Lewis should return back to his old self or at least that's what Indiana fans are hoping for.
Lewis will have to up his play from a year ago, and stay away from the injuries. His double threat of running and passing in '07 was something many NFL experts looked into. Hopefully he can turn things around not only for himself in 2009, but for Indiana. I truly believe he can.
My predictions: 2,984 passing yards, 23 touchdowns, 688 rushing yards, 10 touchdowns.
Those numbers should help Lewis regain confidence in himself and also help Indiana to a solid '09 season.
#8: Adam Weber (Minnesota Quarterback)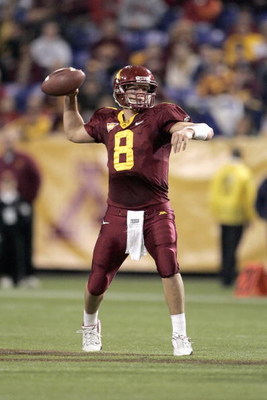 Can Adam Weber be the Golden Gopher quarterback he was through the first eight games of 2008?
Weber completed over 68 percent of his passes for 1,824 yards and 10 touchdowns and just three picks.
I'm sure Minnesota fans are hoping he isn't the Weber of the final five games. He completed just 54 percent of his passes for 937 yards, five touchdowns, and five picks.
In '09 Weber should have another solid season. With the return of the No. 10 selection, Eric Decker, Weber should put up better numbers than he did a year ago.
My predictions: 3,198 passing yards, 25 touchdowns, 10 interceptions.
The Golden Gopher signal caller should have a good 2009 and help Minnesota to another successful season and another bowl appearance.
#7: Sean Lee (Penn State Linebacker)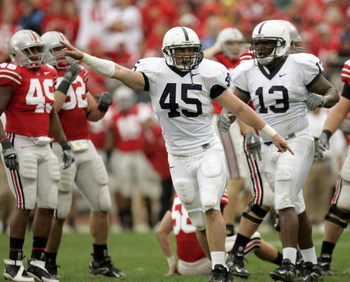 Even if he didn't play a down in 2008 for the Nittany Lions, Sean Lee still is a deserving member of the ten best players in 2009 in the Big Ten.
If Lee is healthy in '09, as he should be, then he could be the best linebacker in the Big Ten and a top linebacker in the country.
Lee is coming off a bad ACL tear which resulted in his absence from the 2008 season.
Lee's last season, in 2007, was very solid. Lee had 138 tackles, 3 sacks, and an interception. A healthy Lee in 2009 means those numbers should do nothing but increase.
My predictions: 145 tackles, 6.5 sacks, 4 interceptions
Lee will be the key to Penn State's solid defense in '09. If they want another run at a Big Ten title and another BCS game, Lee will need to have much success for the Nittany Lions.
#6: Corey Wootton (Northwestern Defensive Lineman)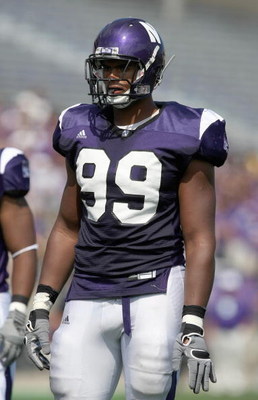 Wootton is a big defensive lineman who loves to mix it up. He is quick, loves getting to the quarterback and will be needed deeply in 2009 if Northwestern wants to have the kind of success they did in '08.
Wootton will be coming off a knee injury he suffered in the 30-20 loss in the Alamo Bowl against Missouri. His knee is doing better and he should be ready to go in '09.
His numbers were solid a year ago: 42 tackles, 10 sacks, and an interception. Those should increase in 2009 with Wootton fully healthy.
My predictions: 61 tackles, 14.5 sacks, one interception
Those numbers are very capable for Wootton. His NFL draft stock, which is already considered pretty high, should rocket.
#5: Kurt Coleman (Ohio State Defensive Back)
Coleman will be the key defensive back for Ohio State in 2009. Now that the likes of Malcolm Jenkins and Donald Washington are gone, Coleman should have a breakout year in '09.
The Ohio State defensive specialist is coming off a very good 2008 season for the Buckeyes. He recorded 79 tackles, had a sack and four interceptions.
Coleman also had a very nice Fiesta Bowl game in the loss to Texas with 11 tackles.
Look for his numbers to increase in 2009. Coleman is easily a top defender in the Big Ten and if he plays as capable as he can, in the nation.
My predictions: 89 tackles, three sacks, six interceptions
Coleman will lead the Buckeye defense and try and regain the respect for the Ohio State University football team. Look out for this hard hitting defensive back in 2009.
#4: Arrelious Benn (Illinois Wide Out)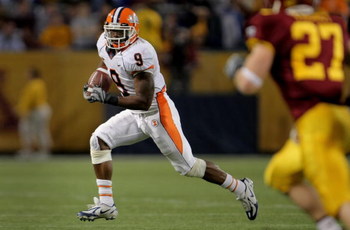 This Illinois speedster should be the top wide out and Juice Williams' favorite target in 2009.
Benn is coming off a stellar 2008 season. He recorded 67 catches, 1,055 yards and three touchdown grabs. His numbers could have been better if Juice Williams could have played like the Juice of 2007.
Benn should have a very solid '09 behind Williams. If he can continue to get open and run the route as well as he has in the past, Benn should have no trouble increasing his 2008 numbers.
The key to this, as I have said, is Juice Williams. If he can stay in the pocket long enough for Benn to break free and run his routes, they will both have great 2009 seasons.
My predictions: 76 receptions, 1,301 yards, 11 touchdowns.
#3: Evan Royster (Penn State Running Back)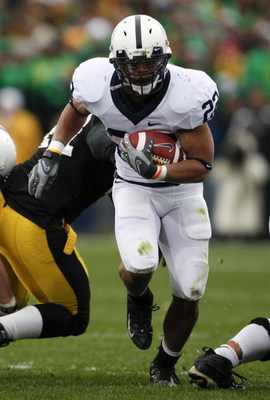 Evan Royster has to be on this list somewhere, especially in the top three.
Royster is a bolting back who has great speed, great hands, runs very well and doesn't avoid contact. His ability to run has shown his skills for Penn State over the years. Royster was a key to the Nittany Lions successful 2008 season.
Royster is coming off an 191 rush attempt, 1,236 yard and 12 touchdown season. Those numbers are pretty solid.
Look for them to increase in 2009.
With most of the Nittany Lion offensive line coming back in '09, his holes should be just as big as ever. Which means bad news for opposing defenses.
My predictions: 217 rush attempts, 1,458 yards, 17 touchdowns.
Those numbers will bolt him into many national awards and Big Ten accolades in 2009. Don't be surprised if this kid gets hot enough late in the year to make a late Heisman push. Not saying it will happen, but you never know.
#2: Daryll Clark (Penn State Quarterback)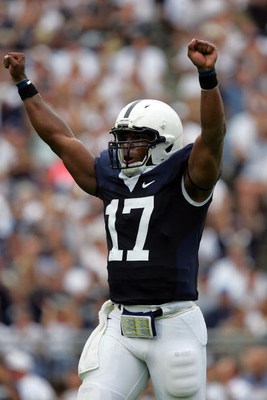 The Penn State quarterback is returning for another year in 2009, something Nittany Lion fans are happy about, while other Big Ten defenses are not so happy.
Clark is coming off a spectacular 2008 season, which many didn't expect him to have.
Coming into the season it wasn't even clear if he would be the starter at quarterback, but after winning over Joe Pa and the Penn State coaching staff, it wasn't a mistake putting this man under center.
In 2008 Clark completed 60 percent of his passes for 2,592 yards, 19 touchdowns and just six picks.
Maybe not Heisman-like numbers, but it was good enough for Penn State to post a 11-2 record and earn a spot in the BCS Rose Bowl game.
Look for Clark to improve in '09. He may not have the type of weapons he did a year ago, but his numbers shouldn't decrease because of that.
His smarts, his arm and his ability to get outside of the pocket and still create, will help Clark to another successful season and his NFL draft stock to rise.
My predictions: 3,009 passing yards, 26 touchdowns, nine interceptions.
Look for Clark to get Penn State back to the top of the rankings all season long. He should have a great '09 season and maybe even pick up some hardware along the way.
#1: Terrelle Pryor (Ohio State Quarterback)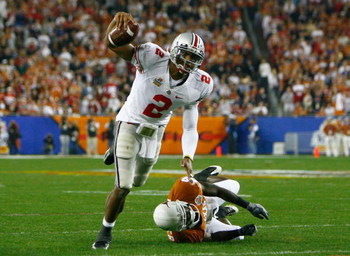 Say what you want, but last season as a true freshman, Terrelle Pryor was the most exciting guy to watch in the Big Ten.
Well at least for me anyway.
Pryor took limited snaps in the first two games of the 2008 season. Then after a horrific showing by the Buckeye starter Todd Boeckman, Pryor was thrown to the dogs in the USC game.
Look what he did though: 7-of-9 passing for 52 yards and 40 rushing yards on 11 attempts. Not to bad huh? Especially for a true freshman in his first true big minutes of playing time and against the USC Trojans.
Pryor would go on to have a successful 2008 season, becoming the full-time starter. His first game against Troy, he went 10-of-16 for 139 yards and four passing touchdowns. He would break an Ohio State freshman record that was set way back for touchdown passes in a game by a freshman.
His 2008 numbers: 1,311 passing yards, 12 touchdown passes and four interceptions. He also had 631 rushing yards and six touchdowns.
Pryor should have a great 2009 season. He will have the talent around him and the offensive line to protect him. His numbers will jump way up from 2008, now that he is the full-time starting quarterback.
My predictions: 2,877 passing yards, 25 touchdowns, seven interceptions. 711 rushing yards and 10 touchdowns.
Look for Pryor to have an outstanding 2009. He should help the Buckeyes to a solid regular season record and another major bowl game. Preferably a BCS bowl. Pryor should also pick up major hardware in 2009. Also, don't be shocked if he is a top five candidate for the Heisman. Look at Troy Smith's 2006 Heisman numbers, not too far off from my predictions for Mr. Pryor.
Honarble Mentions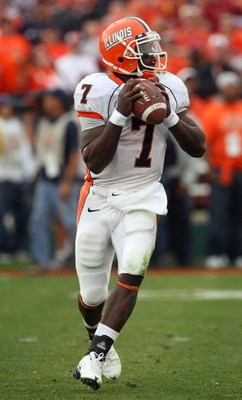 1. Juice Williams (Illinois QB) - Very solid quarterback who I wanted to see in the top 10. He didn't have the best 2008 season, but he should bounce back. He was just outside my list, so don't freak out on me.
Season predictions: 2,775 passing yards, 21 touchdowns, 533 rushing yards, eight touchdowns.
2. John Clary (Wisconsin RB) - Explosive back who will get much more carries now that Hill is gone. Look for him to help Wisconsin out tremendously in '09 with his running game.
Season predictions: 1,199 rushing yards, 13 touchdowns.
3. Boom Herron (Ohio State RB) - Should have a great 2009 being the Buckeyes starer at tailback. I like Herron. I like his game and his abilities. Look for him to shine in 2009.
Season predictions: 1,002 rushing yards, 11 touchdowns, 250 receiving yards, four touchdowns.
4. Pat Angerer(Iowa LB) - Big linebacker who has NFL speed and can deliver big hits. Look for him to be a star on Iowa's defense in '09. His draft stock should also rise with his outstanding play for the Hawkeyes.
Season predictions - 118 tackles, 6.5 sacks, 3 interceptions
Keep Reading