What began as a competitive NFC West battle quickly got out of hand as the San Francisco 49ers dominated the St. Louis Rams to move to 2-2.
Final Score
St. Louis Rams - 11
San Francisco 49ers - 35
St. Louis Rams Game Grades

| | | |
| --- | --- | --- |
| Position Unit | First-Half Grade | Final Grade |
| Pass Offense | B | C- |
| Run Offense | F | F |
| Pass Defense | C+ | C |
| Run Defense | D | F |
| Special Teams | B- | B |
| Coaching | B | C |
vs. 49ers Week 4
Game Analysis for St. Louis
Pass Offense: Quarterback Sam Bradford was mostly efficient during the first half, save for his game-changing interception at the 49ers' goal line.
In the second half, Bradford and the rest of the Rams offense were remarkably inefficient, which never allowed St. Louis to get back into the game.
On the night, Bradford completed just 19 of 41 pass attempts for 202 yards with one touchdown, one interception and a fumble.
Run Offense: Due a large deficit on the scoreboard, the Rams didn't run the football much in the second half. Their yardage total probably wouldn't have changed much if they had. The leading rusher for St. Louis was Daryl Richardson, who gained just 16 yards on 12 carries.
Pass Defense: The Rams did a solid job of limiting Colin Kaepernick in terms of passing yardage (167).
However, the defense couldn't stop Kaepernick from picking up first downs or from tossing a pair of touchdowns. It also couldn't force Kaepernick into making critical mistakes, which is one reason the 49ers quarterback was more effective than in recent weeks.
Run Defense: St. Louis couldn't find a way to stop Frank Gore and the 49ers' rushing attack when the game was still close. The Rams certainly couldn't rise to the occasion when San Francisco was playing with the lead.
Gore rumbled for 153 yards and a touchdown, which was 135 more yards than the Rams rushed for as a team.
Special Teams: Unfortunately, special teams was the one unit that appeared competitive on Thursday night. Punter Johnny Hekker averaged 45 yards on his 11 punts, making his effort one of the only bright spots for St. Louis.
Coaching: It is difficult to find positives in a performance this disheartening, even when the coaching staff put together a solid game plan to begin the contest.
Thanks to physical defensive play and a creative passing attack, St. Louis was still in this game at halftime. The problem was that the Rams' halftime adjustments seemed to have the opposite effect of what the staff likely intended.
The blame must specifically go to offensive coordinator Brian Schottenheimer, whose unit took a significant step backward after the intermission. Not only did the Rams fail to find the end zone until late in the fourth quarter, but their two turnovers led directly to 14 San Francisco points.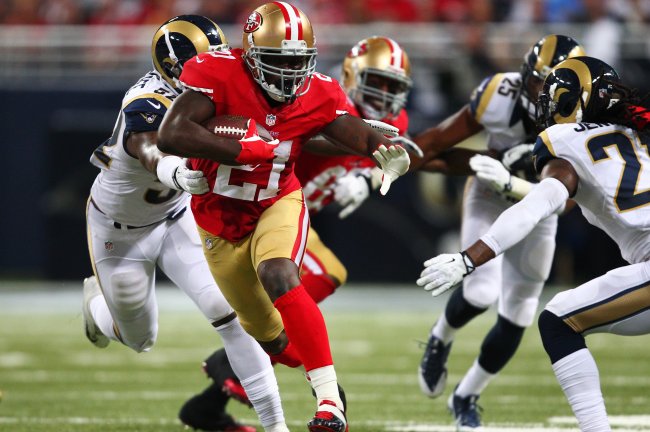 Dilip Vishwanat/Getty Images
First-Half Analysis for St. Louis
Pass Offense: Quarterback Sam Bradford was mostly successful against San Francisco, at least between the 20s. Bradford's interception at the 49ers' goal line led to a long drive and San Francisco's second touchdown of the day.
Still, Bradford's numbers have been respectable and give some reason to believe the Rams can find a way to close the scoring gap in the second half.
Run Offense: The Rams have struggled to field a consistent running attack so far this season, but the ground game against the 49ers in the first half has been especially disappointing.
Daryl Richardson has gained just 16 yards on 12 carries for a paltry average of just 1.3 yards per attempt.
Pass Defense: The St. Louis defense started the game strong against both the run and the pass but began to fall apart in the second quarter.
49ers quarterback Colin Kaepernick was allowed to complete eight of 12 pass attempts for 104 yards and a touchdown.
Run Defense: After a solid start in run defense, the Rams seemed to collapse.
49ers starting running back Frank Gore has already run for 107 yards and a touchdown that came on a 4th-and-short attempt.
Special Teams: No major gaffes to speak of. However, penalties—including a fair-catch interference and a holding call—have hurt the Rams' fight for field position.
Coaching: Head coach Jeff Fisher has called a sound game thus far, and the fact that St. Louis is behind on the scoreboard appears to be more of a matter of execution.
The only major criticism right now would go against offensive coordinator Brian Schottenheimer and his decision to run the ball on early downs even after it became apparent that the ground game was going nowhere.