FIFA 14: Precision Movement Feature Makes Latest Game Edition Unique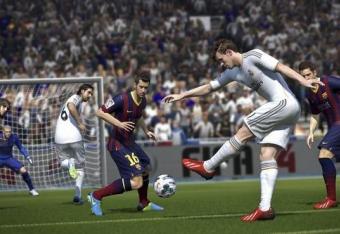 Photo Credit: EA Sports

FIFA 14 is a visual and game-playing marvel, as the popular video game franchise has outdone itself with the latest release. What makes this version stand out from the rest, though, is the addition of the Precision Movement feature.
Enhancements to graphics, perpetual expansion of clubs to from which to choose and other changes are expected on an annual basis, but this new game is defined by the aforementioned improvement.
According to EA Sports' official website, it took the company's FIFA team nearly two years to see this innovative technological change come to fruition, but it adds a great deal to the game's realism.
Defensive artificial intelligence was a big criticism of the previous FIFA edition, so the creators decided to step it up several notches in an effort to make players roam around the pitch in the "most realistic way possible."
How much of an improvement is FIFA 14 over the previous game?
The results are encouraging, with the players' running feeling far more authentic. As recently as FIFA 13, when players hesitated but still moved forward in a full sprint, they would appear to slide seamlessly across the pitch.
Those flaws are no longer present this time around. The fact that they stand out so much now is a testament to the level of improvement this new locomotive technology has brought on.
Defense is easier to play as well—not only because of the increased artificial intelligence of the CPU players, but also due to the Precision Movement. Attackers can no longer change direction so suddenly, which gives defenders more time to recover.
Jon Robinson of ESPN.com documented what FIFA producer Sebastian Enrique had to say about Precision Movement back in April. The big difference is in that players have more intuition and a better grasp of understanding match scenarios:
When you look at "FIFA 13," players were thinking every frame, "Should I do this? Should I do that?" It was just based on one frame, what was happening that second. But now, the players are trying to predict what will happen next, and their thinking incorporates multiple frames of thought. They have much better decision-making. On "FIFA 13," the defense played so loose, it gave the player too much room to sprint and it caused the game to be in this constant state of sprint, and there's nothing rewarding about that. So one thing we're introducing this year is dynamic defensive pressure.
Gone are the days of pesky gamers passing the ball around hapless, lax defenders to close out showdowns online, says Enrique, as the defenders have the awareness to understand the sense of urgency in that particular situation.
CVG UK's Ben Griffin got an inside look at this feature before the game was released, and noted that players were indeed fed code with every step.
The Precision Movement eliminates the subtle lag between their steps, making for a smoother user experience.
So, while there are other exciting and new elements of FIFA 14, the foundation of its progression from the last edition is in the Precision Movement feature.
This article is
What is the duplicate article?
Why is this article offensive?
Where is this article plagiarized from?
Why is this article poorly edited?