San Francisco 49ers at St. Louis Rams: Live Commentary and Analysis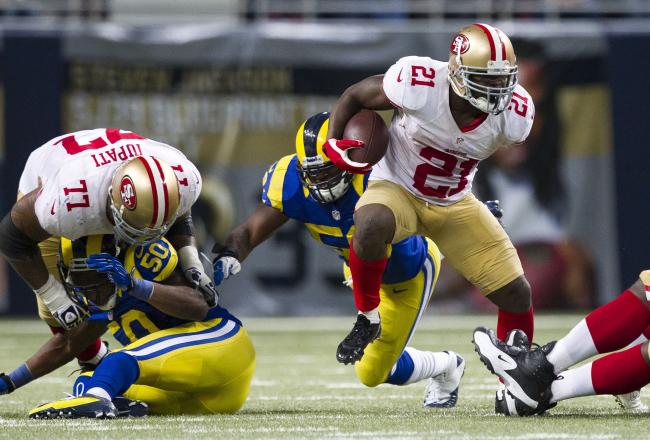 David Welker/Getty Images
What a difference 30 or more injuries make.
Two weeks ago the 49ers were at the top of every meaningless power ranking across the Internet. Now they're a mere 1-2 and face what could be a season-deciding game against the St. Louis Rams. Vernon Davis and Patrick Willis are both questionable for tonight's contest, though the Rams will also be without their favorite throwing target: Nnamdi Asomugha.
A win would be a pretty big deal for Jim Harbaugh, as it would get his team back to .500 with a week-and-a-half to prepare for a home game against the Houston Texans. By then, the 49ers might actually have most of their roster intact and Aldon Smith will be halfway through his Pilates sessions.
Last year, the 49ers gave away both their games to the Rams. In their previous game in St. Louis, the Niners were up eight points before Kaepernick threw a horrendous pitch to Ted Ginn, Jr., who inexplicably tried to pick the ball up and run instead of just falling on it for an easy recovery. Naturally, the Rams ran it in for a game-tying touchdown and won the game in overtime.
David Akers also missed overtime field goals in both games, though that was nothing unexpected.
Hopefully, the 49ers saved one of their mulligans for tonight. If anything, Bay Area fans would at least like to see the offense move the ball past 15 feet on each drive. Ugh.
The Rams make their smartest play of the night and let the clock run out. The 49ers offense wasn't dominant by any stretch, but their defense played great without Aldon Smith and Patrick Willis and San Francisco got their dominant running game going again. San Francisco now gets a week-and-half layoff to soak in the win and prepare for the Texans.
You gotta admire the Rams. After three and a half quarters of failing, they still don't abandon the running game.
There's about 20 fans left in the Edwards Dome.
Kendall Hunter atones for that fumble with an awesome 30-yard touchdown run. Save some of it for next week team.
It's a good thing Hunter and Gore made their mistakes with the game already out of reach. Turnovers are a tough lesson, but they're always tougher when they cost the team a win.
Looks like this game's over. I'm off to watch the Breaking bad marathon on AMC.
Anytime Anthony Dixon scores a touchdown, you know things are going well. Then you remember it's the Rams.
Anthony Dixon joins the party with an easy touchdown.
Great sack and fumble recovery. Niners ready to triple their offensive output from the last two games.
Kaepernick had about 30 yards of open space before he got sacked.
That was about a 15-yard punt by Hekker.
Bradford trying to set an NFL record for most incompletions in a game.
Kaepernick suddenly doesn't remember where the first down marker is, and he missed another open receiver on the previous play. Despite today's success, there's still a lot of room for improvement.
36 penalties for the 49ers. Most in the NFL. The Raiders have a lot of catching up to do.
Navorro Bowman was thinking pick-six all the way, and dropped it. That would have been the clincher. Yup, 21-3 and I still don't think this game is over. My confidence in the 49ers is that low after the last two games.
These fans are getting pretty restless. Reminds me of Candlestick last week.
Kaepernick throwing a missile at McDonald on a three-yard pass. That's something he has to avoid going forward.
The 49ers are just a Mario Manningham and a Michael Crabtree away from having an elite offense.
With all eyes on Boldin, Kap finds Davis in the end zone for the easy touchdown.
It was inevitable. The 49ers can't get a play set in time and burn their second timeout of the half.
TJ McDonald being carted off the field. 49ers and Rams both kneeling and hoping he's OK.
Kapernick is playing catch-me-if-you-can with the Rams.
Kaepernick slides feet first, gets hit, and there's no flag by the refs. Let the conspiracy theories begin.
First catch by Baldwin, good sign for this 49ers offense.
Now I'm starting to figure out why Kaepernick doesn't throw the ball towards the middle of the field.
This article is
What is the duplicate article?
Why is this article offensive?
Where is this article plagiarized from?
Why is this article poorly edited?

San Francisco 49ers: Like this team?