Picking the All-Time Great Australia Test XI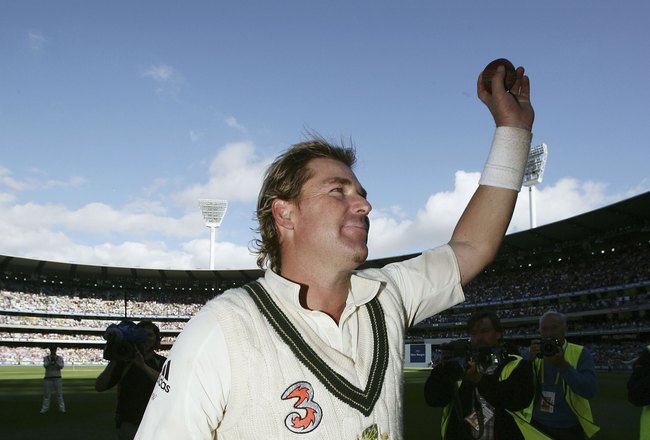 Kristian Dowling/Getty Images
These are the fun lists, the debates over the greatest players of all time.
None of us will ever agree, will ever see eye-to-eye, for each of us have contrasting memories and opinions of the players who have shaped the game.
Australian cricket certainly has a rich history of champions, a long line of men who have stamped an unforgettable mark on the game.
Perhaps more than any other cricketing nation, Australia has produced the greatest number of iconic players, the greatest array of men who have either changed the way the game has been played, or simply dominated like few others have.
Yet whittling down that list to decide upon Australia's greatest XI is a tricky one. Selecting a team that has logical balance hurts the chances for some of the country's finest ever cricketers, but that's the nature of the task. Selecting the nation's finest XI isn't simply a matter of collecting the most prolific run scorers and wicket takers.
The task is to select the greatest ever team, so presented on the following slides (in batting order) is Australia's greatest side of all time.
1. Matthew Hayden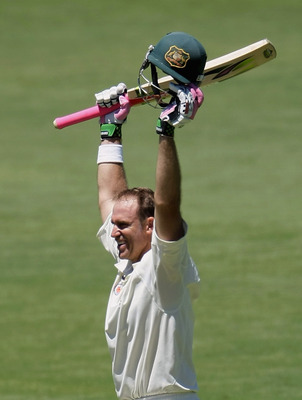 Robert Cianflone/Getty Images
Picking the first opener's position was a rather straight forward one. Matthew Hayden is one of the game's true greats.
Undoubtedly the most imposing opener in Australia's rich history, Hayden became one of the most feared batsmen on earth for close to a decade during his country's golden generation.
His immense stature combined with his thunderous stroke play made the left-hander a different beast when compared with both his predecessors and his contemporaries.
The Queenslander treated opposing bowlers with contempt rarely previously witnessed at the top of a Test order. His trademark charge and heave over mid-wicket was among the most iconic shots in the game.
In 103 appearances, Hayden compiled 8,625 runs at an average of 50.73, which included 30 brutal hundreds.
Few will ever forget his record-breaking 380 against Zimbabwe in Perth in 2003, or his savage 203 against India in Chennai in 2001.
As openers go, few around the world have ever rivalled Hayden.
2. Victor Trumper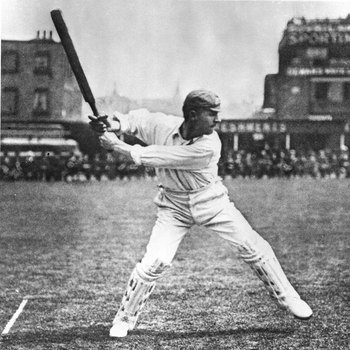 Universally considered the finest Australian batsmen of his generation, Victor Trumper claims the second opening position in his nation's greatest side.
Not only was Trumper the most popular player of his time, he was also among the most feared. His ability to dominate bowling attacks on both flat and treacherous wickets was unequalled, while his blend of grace and force was irresistible.
That combination of style and power made him the iconic cricketer of the early 1900's.
When one considers the standard of pitches and level of equipment that Trumper was presented with, his record of 3,163 runs at 39.04 is outstanding. His 214 not out (from just 247 balls) against South Africa in Adelaide in 1911 was the first double hundred by an Australian in the 20th century.
A pioneer of attacking cricket during a time that contained a more genteel sporting environment, Trumper comfortably finds himself in Australia's greatest XI of all time.
3. Sir Donald Bradman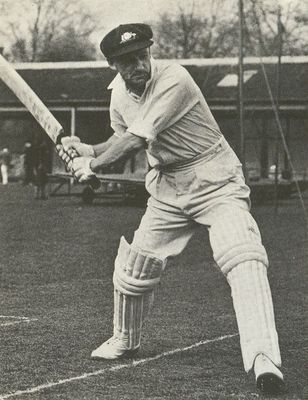 An automatic selection, Sir Donald Bradman is universally recognised as the greatest player the game has ever seen.
The Don's batting average of 99.94 is perhaps the most famous statistic in all of sport, the most celebrated achievement in Australia's sporting history.
Superlatives to describe Bradman, to capture his brilliance, simply don't exist. His influence went far beyond the game of cricket.
Bradman was a national hero, a man cherished and idolised by his nation. During the darkest years of the Great Depression of the 1930's, Bradman was Australia's shining light. His unparalleled dominance over England, over his country's fiercest rival, created a reverence for Sir Donald that no other man has ever managed to capture.
In just 52 Tests, Bradman scored an astonishing 6,996 runs, with 29 hundreds, 10 of those double hundreds, a further two of them triple hundreds.
No cricketer has ever compared. It's unlikely that one ever will.
4. Ricky Ponting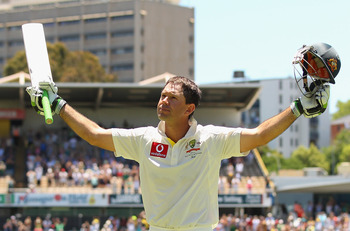 Robert Cianflone/Getty Images
Only the incomparable Bradman forces Ricky Ponting to settle for number four in Australia's greatest XI.
The most prolific run scorer in his nation's history, Ponting is widely considered among the greatest batsmen in the game's history.
13,378 runs at an average of 51.85 with 41 glorious hundreds, Ponting led the charge for Australia from the beginning of the century onwards.
So many will remember the flourish of his bat, his balance at the crease, the brutality of his pull and hook shots. Yet Ponting was so much more than that.
He was a fighter, a grinder, a man prepared to peel the skin from his body before accepting defeat to his opposition.
His none-shall-pass 156 against England at Old Trafford in 2005 was among his finest. So too his 123 against India in Bangalore in 2008.
His fighting qualities and dogged determination only enhanced his extraordinary batting talent, making him a certainty for Australia's greatest side.
5. Greg Chappell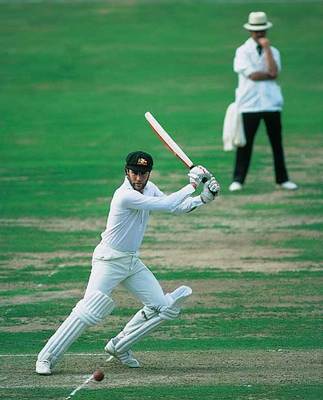 The most contentious position in Australia's greatest XI, Greg Chappell rises above Steve Waugh and Allan Border to claim the number five spot.
Chappell's upright and fluid style was flawless, the time he possessed at the crease simply phenomenal. He scored centuries in both his first and last Tests, as well as another 22 for good measure.
His feat of scoring twin hundreds in his captaincy debut also remains unmatched.
Chappell's average of 53.86 is also greater than both Waugh and Border, further enhanced by his encounters with a West Indies attack of unprecedented hostility.
Although both Waugh and Border enjoyed more successful periods in charge, neither topped Chappell for his command at the crease, his penchant to nonchalantly destroy bowling attacks.
Chappell was simply a class above during his time in the game.
6. Keith Miller
The greatest all-rounder in Australia's history, Keith Miller comfortably walks into his nation's finest ever side.
Although he first made his mark as a classic middle-order batsman, Miller's importance for Australia tended to lie with the ball and his opening partnership with Ray Lindwall.
An impressive physical specimen, Miller's pace and hostility made him an immense threat, despite his relatively short approach to the crease. Yet his variety really set him apart. He could deliver anything from a bouncer to a leg-break with the same apparent motion.
His 170 wickets at 22.97 is among the best bowling records in Australian history, made even more astonishing by his 2,958 runs at 36.97 (that included seven hundreds) with the bat.
His ability to turn a match at will was perhaps only trumped by his flamboyance away from the field, which saw Miller among the first cricketers to enter popular culture.
Fifty-four years after his retirement, Miller remains the standard by which Australian all-rounders are judged.
7. Adam Gilchrist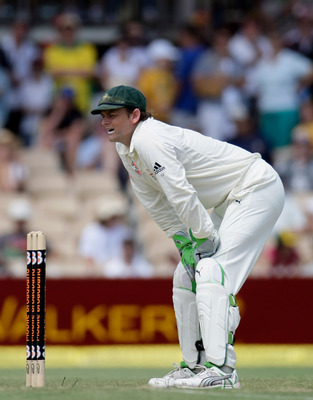 Robert Cianflone/Getty Images
He's the wicketkeeper-batsman that all others are judged by.
From the minute he walked into the Test arena in 1999, Adam Gilchrist was a genuine force of the game.
Never before had a team's most dangerous player arrived at the crease following the fall of the fifth wicket. His explosions at number seven made the Australian side of the early 2000s the most indomitable team cricket has known.
Yet the beauty of Gilchrist was that he'd blaze his team towards victory, regardless of the situation. When coming in with a platform well set, he'd simply take the game away from the opposition, such was his swashbuckling ability.
However, Gilchrist had a knack for using the same method to haul his team from danger. His 149 not out against Pakistan in Hobart was arguably his finest example, perhaps only rivalled by his astonishing 122 against India in Mumbai in 2001.
But forgotten behind his feats with the bat, was Gilchrist's ability as a keeper. In his early days, he was capable of the spectacular behind the stumps, his footwork and athletic ability his finest traits.
While his predecessor Ian Healy was a finer gloveman, no keeper in the history of the game has had an impact comparable to Gilchrist's.
8. Shane Warne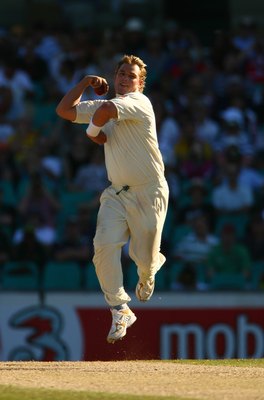 Tom Shaw/Getty Images
An artist, a genius, a maverick, a revolutionary—they all describe the mesmerising Shane Warne.
Single-handedly responsible for revolutionising both spin bowling and the game itself, Warne is perhaps the most obvious selection behind Bradman in Australia's greatest XI.
Few have ever impacted their sport in the way Warne did. His tantalising blend of unprecedented skill and showmanship made him the quintessential modern sportsman—as entertaining as he was brilliant.
His haul of 708 wickets tops Australia's all-time list, so too his 37 five-wicket hauls.
Yet perhaps most staggering was Warne's control. His economy rate of 2.65 is the second best mark among Australia's six highest wicket takers of all time. His unparalleled array of deliveries, combined with that extraordinary control made Warne unplayable at his best.
His dismissal of Mike Gatting in 1993 remains the most famous wicket in the game's history, fittingly serving as a permanent reminder of a once-in-a-lifetime cricketer.
9. Ray Lindwall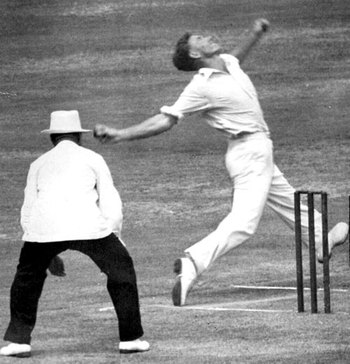 The undisputed leader of Australia's attack for a decade during the middle of the century, Ray Lindwall finds himself selected into Australia's finest XI.
His flowing, rhythmic action was as powerful as it was beautiful, his control and ability to swing the ball simply breathtaking.
England's John Warr once said: "If one were granted one last wish in cricket, it would be the sight of Ray Lindwall opening the bowling in a Test match," according to ESPN Cricinfo.
In combination with Keith Miller, Lindwall helped power 'The Invincibles' to unparalleled heights. His 228 Test wickets came at an average of 23.03.
Yet just like Miller, Lindwall could do damage with bat, scoring 1,502 runs at 21.15, which included his remarkable innings of 100 off just 90 balls against England in Melbourne in 1947.
Unquestionably, Lindwall was the model fast bowler of his generation.
10. Dennis Lillee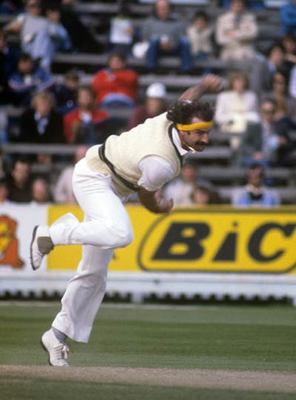 The undisputed king of Australian fast bowling, Dennis Lillee is an obvious selection for this team.
Full of ferocity and fire, Lillee was one of the world's most feared fast bowlers in his generation. His accuracy and precision combined with his pace and brutality made him a simply lethal cricketer.
Despite a string of career-threatening injuries, Lillee remained as the game's preeminent bowler as he carefully altered his craft to suit his deteriorating body.
His 355 wickets at 23.92 was a Test record when he finished his career in Sydney in 1984.
Fans will never forget his run-up or his swagger, will never forget the "Lillee, Lillee" chants that would echo around Australian arenas.
The most combative cricketer of his time, Lillee embodied the mentality that has been the hallmark of Australian cricket since his time.
11. Glenn McGrath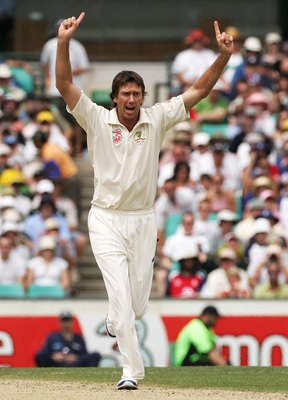 Hamish Blair/Getty Images
Australia's second most prolific bowler in history, Glenn McGrath is the worthy occupant of the final position in his country's all-time XI.
Although he didn't possess the brutality of Lillee, McGrath's qualities were more like those of a surgeon. His unrelenting accuracy was never overcome by the world's batsmen, his ability to extract subtle movement simply unmatched, while his stranglehold over other greats stood him apart.
His 563 wickets are only behind Warne, his average of 21.64 the best mark among Australia's 14 highest wicket takers.
Without question his greatest quality was his ability to shine on the biggest stages the game had to offer him.
His record in the Ashes was phenomenal, seeing him claim 157 wickets at 20.92, while his domination at Lord's (26 wickets at 11.50) is unmatched. Yet perhaps his destruction of Brian Lara is arguably the greatest feather in his cap.
McGrath also claimed Man of the Series honours in Australia's victorious World Cup campaign in 2007, his final appearance in national colours.
An unforgettable bowler, McGrath is a fine player on which to conclude this list of Australia's greatest ever cricketers.
Keep Reading