Why Russell Westbrook Is Definitive X-Factor for OKC Thunder Title Hopes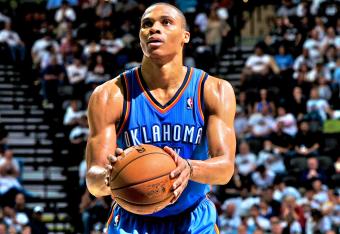 The Oklahoma City Thunder are going nowhere without Russell Westbrook, which is why it's more than a little troubling that general manager Sam Presti is being so guarded on the topic of his point guard's return from injury.
Presti gave his annual pre-training-camp address to the media Sept. 25, and after reeling off the requisite proclamations of general excitement about his team's prospects, he got down to the business of giving an update on Westbrook's progress. You can see the pertinent clip over on the Thunder's official site.
According to the Associated Press via ESPN.com, Presti said:
He's on pace, to this point, in the recovery process, but we're not going to put a specific timetable on his return, simply because it's just too big of a decision. His health is most important, not just for this season, but for many years to come...We expect him to come back at full strength, but he's got to finish the rest of the benchmarks.

I wouldn't say that he will be (ready) and I wouldn't say that he won't be. We've got to see how the next month goes.
Not exactly the most encouraging update, huh?
It's important to keep in mind that Oklahoma City has no reason to promise a return date if it isn't absolutely certain Westbrook will be able to meet it. The franchise has nothing to gain by over-promising and under-delivering.
Based on the progress of Westbrook's recovery and the lack of setbacks so far, it's probably safe to assume he'll be ready to start the season—even if the Thunder won't publicly say so.
After all, Westbrook made it pretty clear that he was finished with his crutches back in July.
Russell Westbrook is back.. https://t.co/1pQVyaNJps

— Sports Vines (@TheSportsVines) July 15, 2013
And really, it's precisely that defiant, aggressive attitude that makes the explosive point guard so important for the Thunder and their title hopes.
His bold style and reckless approach to the game make him the heart of the team in a way that Kevin Durant can't be. Westbrook ignites the break and sets the tempo. He plays with an angry edge that looks downright violent at times.
Durant is the better player on balance, but the Thunder's intensity comes straight from their fiery guard.
Maybe the discussion of Westbrook's intangible value isn't enough to solidify his X-factor status. That's fine; the statistical case for his importance is even easier to make. That's because we've seen exactly how punchless OKC is when he's not on the floor.
Playoff Bummers and A Nasty Case of the Splits
The Thunder lost Westbrook to a torn meniscus in Game 2 of their first-round series against the Houston Rockets.
As a result, Patrick Beverley is no longer allowed in the state of Oklahoma.
Because James Harden and Co. weren't quite ready to knock off a No. 1 seed—full strength or not—the Thunder managed to advance.
But the Memphis Grizzlies made short work of the weakened Thunder, keying their entire defense on Durant and daring the supporting cast to do damage.
KD floundered, shooting just 42 percent in the series and logging a whopping 45.7 minutes per game, per NBA.com. Given the ceaseless defensive attention and the extra minutes, it was no wonder that Durant found it exceptionally difficult to get the job done down the stretch of a couple of excruciating OKC losses. Plenty of misguided critics piled onto KD for his perceived failure, but the truth was that his disappointing performances—and his team's failure to advance—were inevitable.
Anyone who watched OKC during the regular season could have seen the Westbrook-less Thunder's playoff collapse coming a mile away.
Oklahoma City's 2012-13 season showed just how much Westbrook meant to the team.
Russell Westbrook: Regular Season

| | | | | |
| --- | --- | --- | --- | --- |
| | Offensive Rating | Defensive Rating | Net Rating | |
| Westbrook On | 111.8 | 99.6 | +12.2 | |
| Westbrook Off | 105.8 | 98.3 | +7.5 | |
NBA.com
His on- and off-court splits tell the story of a two-star Thunder operation that didn't function nearly as well when Durant had to go it alone. Oklahoma City's numbers were still good without Westbrook during the year, but signs of what could happen if he went down for a long period of time were clearly there.
It shouldn't be a surprise that the splits became more pronounced during the playoffs. In fairness, it's vital to mention that Westbrook played only a couple of games in the postseason. So the small-sample-size caveat is especially applicable here.
The Grizzlies' uniquely potent defense also played a major role in the OKC's ugly numbers. If any team was going to expose a weakness, it was going to be Memphis.
A Crisis of Strategy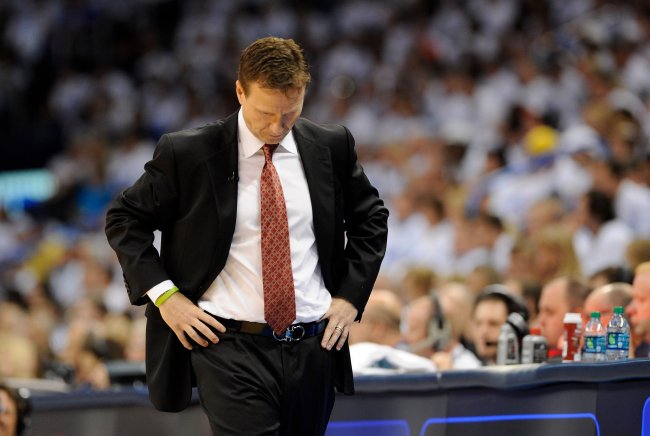 USA TODAY Sports
Getting away from the statistics, it was painfully obvious against the Grizzlies that the Thunder simply didn't have a plan for life without Westbrook. All season, OKC relied on a heavy dose of isolation sets for both of its stars. And when the team mixed things up offensively, the fallback option was a quirky pick-and-roll that required both Durant and Westbrook's involvement.
Everything the Thunder did required both of their big guns.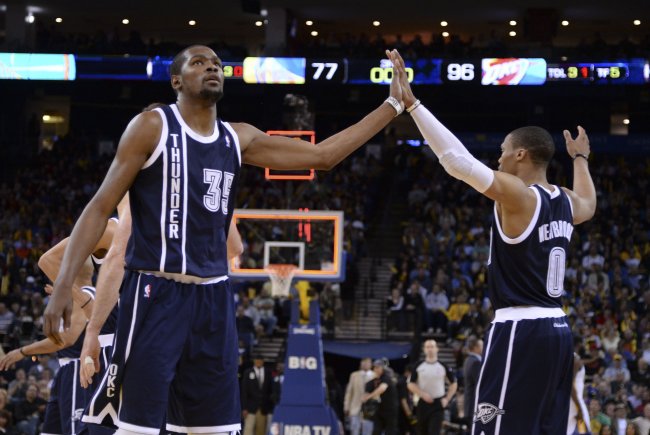 Kyle Terada-USA TODAY Sports
It's tempting to view head coach Scott Brooks' failure to adjust on the fly as a damning referendum on his skills as a coach, except that nobody ever assumed he was a master strategist in the first place. The Grizzlies basically exposed what everyone already suspected about his limited offensive creativity.
And to be fair, the way he had the Thunder playing worked extremely well during the regular season. OKC finished just a fraction of a point behind the Miami Heat for the league lead in offensive efficiency, per ESPN, so it's hard to fault Brooks for not having a totally different, fully developed backup plan at the ready.
Still, the point is that Oklahoma City hasn't shown itself to be anything close to a title contender without a fully healthy Westbrook. The Thunder need all of their stars in order to make a championship run. In that respect, they really aren't so different from a number of elite NBA squads.
The Chicago Bulls need Derrick Rose to lead them, but they probably can't contend without Joakim Noah. The San Antonio Spurs still revolve around Tim Duncan, but they won't get far without Tony Parker. And the Charlotte Bobcats can rely on Al Jefferson for a while, but Kemba Walker has to be at 100 percent for them to pursue a ring.
Just kidding on that last one. Making sure you're still paying attention.
Guarded Optimism and Room to Grow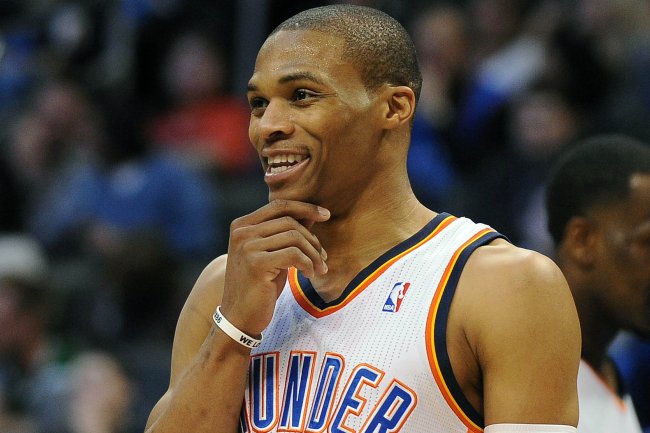 Mark D. Smith-USA TODAY Sports
It's fair to be optimistic that the Thunder can manage for a while without Westbrook. The potential growth of Reggie Jackson and Jeremy Lamb should help in that effort. During the regular season, OKC might be able to offset Westbrook's absence—or reduced effectiveness—for a while.
But when the playoffs roll around, the Thunder's supporting cast won't be enough to get the job done. Oklahoma City needs Westbrook to be as good as ever, and perhaps better, to reach the promised land.
It's difficult to envision Durant taking another step in his development; he's already as close to a perfect offensive star as there's ever been in the league. Serge Ibaka hasn't shown signs of becoming more than a role player yet, and the rest of OKC's reserves aren't blessed with the surprising amount of upside Westbrook still possesses.
That's what sets him apart as a true "X-factor."
If he can come back healthy, Westbrook will put the Thunder in the title mix. But if he manages to make modest improvements in his consistency, defensive focus and understanding of when to balance aggression with patience, OKC might get the last little push it needs to seal the championship deal.
This article is
What is the duplicate article?
Why is this article offensive?
Where is this article plagiarized from?
Why is this article poorly edited?

Oklahoma City Thunder: Like this team?