Blueprint for Teenage NASCAR Phenom Ryan Blaney to Become Sprint Cup Series Star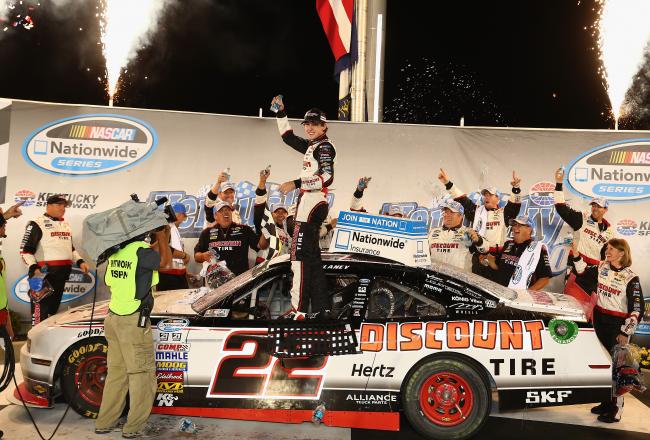 Blaney's win at Kentucky solidified him as more than just a flash in the pan.
Andy Lyons/Getty Images
With his monumental win at Kentucky on Saturday night, Ryan Blaney's stock is steadily on the rise. He's been having an excellent season in the Camping World Truck Series driving the No. 19 Ford for Brad Keselowski Racing, having earned his second career win at Pocono. Ever since he started running a limited Nationwide schedule for Roger Penske he's been posting excellent results there as well.
At 19, he's full of raw talent that can be utilized into something that will bring him success for years to come. He's consistent enough according to his stats in both series. In the truck series, he sits fifth in points with one win, six top-fives and 10 top-10s. Meanwhile, in the Nationwide Series he has earned one win, two top-fives and nine top-10s in 15 starts.
He's batting a pretty good record, and once he is put in a Sprint Cup car he's bound to turn heads. Of course, that would dictate a season or two in the Nationwide Series. His win at Kentucky shows that he could be a legitimate contender in the Nationwide Series.
Blaney got his first truck series win at Iowa last year in just his third series start.
Blaney has got the trucks figured out, and considering the Nationwide Series races on many of the same tracks as the Sprint Cup Series does, some extended time in the Nationwide Seres would be good for him. At least good enough to maybe claim a title, if not back-to-back top-fives in the season points. Not to say he isn't good enough for a title because he is.
Penske should start up a third Nationwide car for his Cup regulars, Keselowski and Logano. Let them drive in that one. His No. 22 Nationwide ride is high-profile and would be a good full-time fit for the youngster. Keep him in that car for two seasons, much in the way they've done to Austin Dillon. Only in this case, Blaney would post more results.
He'll post more wins in the Nationwide Series as he goes along. Nothing that is absolutely insane like Kyle Busch numbers or Kevin Harvick's 2006 season, but enough to make him a threat. He'll have hiccups, but they'll be few and far between.
During his second season in the Nationwide Series, Penske should resurrect the No. 12 for a limited run for Blaney. Fans have gotten behind that car more than the No. 77, considering the success it had with Jeremy Mayfield and Ryan Newman. Personally, I'd like to see a throwback paint scheme on that No. 12 like it had in the late 90s', but that's just me.
By then Penske should have their Ford program figured out, and in that case Blaney would be able to focus more on learning the tracks he'll be racing on. He'll post typical limited schedule results ranging somewhere in the top-20, namely because Sprint Cup cars and Nationwide cars are different animals entirely. He'll need to run at least 15 races to get the hang of things before getting a full-time ride in the Sprint Cup program, preferably in the No. 12.
Will Ryan Blaney be successful in the Sprint Cup Series?
His rookie season may be a bit troublesome, but I doubt. He's a smart driver, insanely smart, and focuses on running his race as opposed to being a showboat. That is a rare hallmark for a driver his age, but it has netted him amazing results. He'll be a shoe-in for Rookie of the Year when he begins his rookie campaign. He'll post some top-10s, maybe a couple of top-fives, but a win would be calling it a long shot until late in the season or the next season.
He thrives on the mile speedways as well as the mile-and-a-half speedways. But by the time he gets settled in the Sprint Cup Series, he'll be well-rounded enough to be a threat on every type of track. He's focused enough and he is a fast learner. Look for a title within the decade.
That's right. Within 10 years, Ryan Blaney will be a Sprint Cup champion.
Follow me on Twitter: @ThatSheltonGuy
This article is
What is the duplicate article?
Why is this article offensive?
Where is this article plagiarized from?
Why is this article poorly edited?