Major League Baseball commissioner is set to formally announce his retirement at a 3 p.m. ET press conference in New York City on Thursday, which will take effect in January of 2015.
CBS Sports' Jon Heyman first learned of the impending announcement, which has since been confirmed by multiple other outlets:
Bud Selig will today announce formally he's retiring, effective in January 2015

— Jon Heyman (@JonHeymanCBS) September 26, 2013
Selig's retirement will coincide with the end of his current contract, running through the 2014 season. The announcement falls in line with a stance the 79-year-old commissioner has taken since signing a two-year extension in 2012. He told reporters last July and has reiterated his stance ever since, so this move isn't exactly coming out of left field.
However, had Selig changed his mind, it wouldn't have been the first time the outgoing MLB commissioner has pulled a fast one.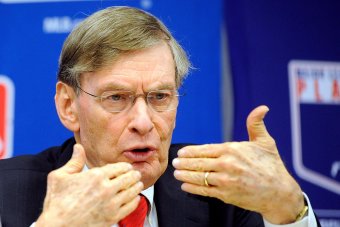 Patrick McDermott/Getty Images
Selig has flirted with the retirement for the better part of a decade. He first broached the subject when his contract was due to expire in 2003, then again as his term was due to expire in both 2009 and 2012. In the end, MLB owners talked him into extending his stay each time.
This time, with his 80th birthday coming next July, Selig finally convinced ownership that it was time for a change. He'll leave the game after serving 23 years as either acting or full-time commissioner. His term, which began in 1992 with the resignation of Fay Vincent, has included adding two wild-card playoff teams, instituting and watching profitability for all 30 teams skyrocket.
MLB has also fallen victim to rampant performance-enhancing drug use, which Selig has worked to address during his tenure. So to say Selig's impending retirement comes with a wide range of emotions is an understatement. With that in mind, let's take a quick look around the Internet's proverbial water cooler and gauge the Twitter reaction.
While those who haven't been keeping abreast of Selig's situation displayed relative shock about his retirement, plenty of people in the know are wondering why there is such widespread reaction to something we already knew. Bleacher Report's Will Carroll, Deadspin's Tim Marchman and Craig Calcaterra of Hardball Talk all wondered what all the fuss was about:
This Bud Selig news is not news. We've known this, but honestly expected him to change mind. Now, pressure to find successor.

— Will Carroll (@injuryexpert) September 26, 2013
Bud Selig announcing he swears he'll do something a year from now is not really news, you know.

— Tim Marchman (@timmarchman) September 26, 2013
Am I missing something on Selig? This was from over a year ago and he's not wavered at all when asked. http://t.co/oU3qZRYuCx

— Craig Calcaterra (@craigcalcaterra) September 26, 2013
One wonders, if this is already something that's been announced, why Selig wants to lock his retirement in for good this time around. ESPN's Jayson Stark thinks this press conference is designed to send a message:
Bud Selig's retirement announcement clearly designed to send signal to owners who think they can convince him to stay. But I bet it doesn't!

— Jayson Stark (@jaysonst) September 26, 2013
Jim Souhan of the Star Tribune disagrees, saying this retirement presser is little more than a pre-negotiation tactic:
What I read: Selig retiring. What I believe: Selig really wants someone to beg him not to retire.

— Jim Souhan (@SouhanStrib) September 26, 2013
Either way, with Selig's announcement comes a realization: 2014 is the dawning of a new era for American sports commissioners. NBA commissioner David Stern will be handing off the reins to deputy commissioner Adam Silver on Feb. 1, 2014.
ESPN's Marc Stein expressed some disbelief that the two staples of their respective sports will be stepping away in such close proximity:
So 2014 will be remembered as the year both David Stern AND Bud Selig leave their commissionerships

— Marc Stein (@ESPNSteinLine) September 26, 2013
Unlike Stern, though, there's not a ready-made successor for the commissionership in baseball. Want proof? Eric Fisher of the Sports Business Journal highlights the numerous candidates who could get consideration:
Among Selig successor candidates identified in our Mar story: Manfred, Brosnan, Dombrowski, Werner, Levin, Baer, Attanasio, McGuirk, Conrad

— Eric Fisher (@EricFisherSBJ) September 26, 2013
Throughout the 2013 MLB season, New York Yankees closer Mariano Rivera has been showered with gifts from opposing teams as he approaches retirement. Amanda Rykoff wonders whether Selig will be making similar rounds next year:
Will there be a "Farewell Selig" tour during the 2014 season where teams present him with gifts?

— Amanda Rykoff (@amandarykoff) September 26, 2013
On that retirement tour note, well, this is just funny:
Looking forward to the Selig Farewell Tour hitting Montreal.

— Old Hoss Radbourn (@OldHossRadbourn) September 26, 2013
A polarizing figure in Montreal and plenty other baseball-loving cities across America, it's hard to argue with Selig's record of success. He's expanded the game across the globe, helped create stability for his franchises despite some rocky times and even started making a concerted effort on the PED front.
For many of those reasons, Maury Brown, president of the Business of Sports Network, called Selig the best commissioner in baseball history:
Love him or hate him, history will show Bud Selig as best commissioner MLB has ever had. Can't deny the incredible growth under his watch

— Maury Brown (@BizballMaury) September 26, 2013
Bleacher Report MLB lead writer Zach Rymer also praised Selig's business acumen and the increased parity throughout the sport:
Some black spots on Selig's legacy, for sure. But has also done a lot of good for the game. Business is booming. Gotta love the parity.

— Zachary D. Rymer (@zachrymer) September 26, 2013
Selig's autograph legacy, however? Not so great, according to ESPN's Darren Rovell:
Bud Selig's autograph legacy: 1 of the worst in commissioner history pic.twitter.com/NPFnYEAKxR

— darren rovell (@darrenrovell) September 26, 2013
No matter who gets chosen as Selig's successor, a large shadow will inevitably loom. Any commissioner who has more than two decades of tenure is bound to draw some controversy here and there. What Selig leaves, though, is a game brimming with young talent and teams with massive profit margins.
Not bad. Not bad, at all.
Follow Tyler Conway on Twitter: