Los Angeles Angels vs. Texas Rangers Live Blog: Play-by-Play Analysis, Reaction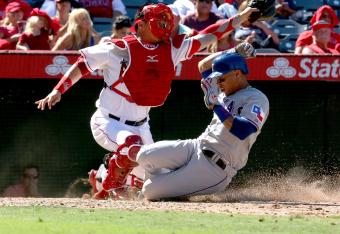 Stephen Dunn/Getty Images
Jurickson Profar kept the Texas Rangers in the playoff hunt with a pinch-hit, walk-off home run in the ninth inning to defeat the Los Angeles Angels, 6-5.
It was a back-and-forth ballgame that the Rangers had to have—and they got it.
Texas took the lead in the sixth inning on a Leonys Martin two-RBI double, but Tanner Scheppers could not hold the lead in the seventh. Kole Calhoun greeted the Rangers' reliever with a triple and scored on Mark Trumbo's RBI single.
The Rangers didn't do themselves any favors in the top of the second by putting up a club-record four errors in the inning, allowing the Los Angeles Angels to re-take the lead 4-3.
Ron Washington's club had to feel pretty good after taking a 3-1 lead in the first. Pitcher Matt Garza cruised to two quick outs in the second, but it was all downhill from there for the Rangers. Mitch Moreland booted a routine grounder, Ian Kinsler did the same and added a throwing error to the mix, and Adrian Beltre added another for good measure.
Jerome Williams has escaped several jams for Los Angeles, the biggest coming in the fifth inning. Texas loaded the bases with no outs, but Williams struck Alex Rios out on a full count and induced a Beltre double play to end the threat.
Texas fell behind early but came up with a quick response to take the lead over the Los Angeles Angels after one inning,
Tampa Bay and Cleveland both held serve in their games, keeping Texas out of the playoff picture for now.
Can Texas come back and make a run at the postseason?
Follow all the action right here on Bleacher Report's live blog.
Profar. The Rangers aren't gone yet, folks.

— Jon Morosi (@jonmorosi) September 27, 2013
Jurickson Profar comes up with the pinch-hit homer to right field to put the Rangers in the win column. Texas had to have it to stay alive for the playoffs.
Joe Nathan proved me wrong. Back-to-back strikeouts get the Rangers out of the inning. It's all tied up going into the bottom of the ninth.
That passed ball could be a back-breaker for Texas. Kendrick fails to get the sac bunt down, but Nathan gifts second base. Ground ball gets the runner to third with one out.
Rangers have to find a way to win a game like this. Had 3 chances on the road trip and didn't get it done. Why they're in this position.

— Todd Wills (@wtwills09) September 27, 2013
Neal Cotts walks Hamilton to open the ninth, and Joe Nathan gets the call from the bullpen.
It will be interesting to see how Washington handles his bullpen if the game remains tied going into the ninth. Would hate to fall behind when you have Nathan available, but do you bring him in in a non-save situation? My best guess is he goes with Cotts in the ninth in a tie game.
Scheppers gives up leadoff triple. Really?

— Jean-Jacques Taylor (@JJT_ESPNDallas) September 27, 2013
And just like that, Tanner Scheppers gives up the lead. Lead off triple followed by a single.
HUGE two-run double by Leonys Martin. He has come up with some clutch hits the last few days. Rangers take the lead, 5-4.
Gentry filling up the stat sheet

— Todd Wills (@wtwills09) September 27, 2013
I will say this: Craig Gentry has been a spark for the Rangers. Three hits tonight, stolen base and threw a guy out at home plate.
Matt Garza allows 11 hits, gets letdown by his infield defense and leaves down 4-3 in the sixth.

— Todd Wills (@wtwills09) September 27, 2013
Garza's night is over after 110 pitches and 5 2/3 innings. He deserves a lot of credit for hanging in there and keeping the Rangers in the game after his defense failed him.
Robbie Ross in the game for Texas.
Rios strikeout, Beltre grounds into double play.
Romine helps Texas out by mishandling that bunt. Bases loaded, no outs for Texas. Could be the turning point in the game.
Matt Garza works around three hits and a walk in the top of the fifth and holds the deficit at one run. He's at 98 piches already.
Can the Rangers use that escape to create some momentum?
Craig Gentry throws Howie Kendrick out at the plate to save another Angels run. Kendrick goes for the truck stick on Pierzynski, by AJP holds on. It's an exciting play, but I hate it because it is so dangerous. Why not just slide on a play like that? I think Kendrick could have avoided the tag that way.
Jerome Williams had a rough first inning, but he deserves some credit for keeping the Rangers at bay for the last three.
Through 4 innings:
Angels 4, Rangers 3
The moment Rangers' fans can't get can't get out of their heads for the past three years:
2011: Nelson Cruz misplayed ball in World Series.
2012: Josh Hamilton missed pop fly and subsequent loafing in Oakland.
2013: Four-error inning in final series of the season?
Angels get two hits off Garza, but gets out of the inning without allowing any more runs.
It would be very beneficial for the Rangers to respond quickly and get this game tied again. It can't be easy to get over an inning like that.
A historic moment: first 4-error inning in Rangers history.

— Gerry Fraley (@gfraley) September 27, 2013
I have no idea how Garza didn't do his usual cursing into his glove after that. Angels lead 4-3.
Rangers defense...absolutely killing them. FOUR ERRORS IN ONE INNING. And it costs them three runs and the lead.
#Rangers showing ability to score right away and prevent #Angels momentum so far. Important to take lead right away like this.

— Richard Durrett (@espn_durrett) September 27, 2013
3-1 Rangers after one inning. Three throws to the plate, but all score.
Texas' aggression on the basepaths comes in handy this time as Kinsler just beats a throw to the plate.
Pierzynski comes a few feet from a three-run bomb, but settles for a long single. Rangers take the lead 2-1.
Top of the 1st but this already seems like a crucial moment in this game with #Rangers down 1-0 & runners at 2nd & 3rd and 2 outs

— Mike Peasley (@PeasESPN) September 27, 2013
Angels get on top early. Slow ground ball by Mike Trout and the Rangers can't turn two.
Garza does a nice job to get out of more trouble with another ground out and foul out. It took him 24 pitches to get through the first.
Garza has seven career starts against the Angels and is still looking for his first victory.
Angels have first and third with no one out to start the game. Seem to have picked up where they left off against Oakland.
Ron Washington should tread lightly when talking about the fans. Rangers fans won't forget Josh Hamilton's comments about Arlington after he jumped ship to L.A.
I've always been a big Wash fan, but he needs to be reminded that Tampa Bay has drawn about 10,000 fans in recent games. The Rangers had over 42,000 last night. That lack of "joy" he mentions is a product of Rangers fans being nervous.
This article is
What is the duplicate article?
Why is this article offensive?
Where is this article plagiarized from?
Why is this article poorly edited?