Nagler's Never Right: 2013 Week 4 Predictions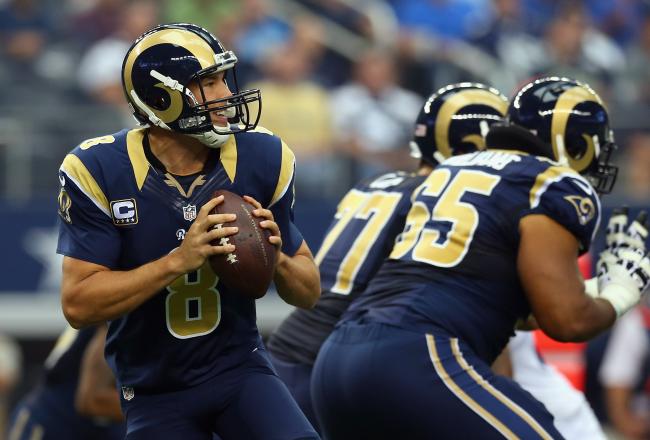 Ronald Martinez/Getty Images
Sometimes you eat the bar, and sometimes the bar eats you.
Needless to say, I was the one getting eaten last week, as I crashed back down to Earth after going 14-2 with my picks in Week 2.
Week 4 beckons with all sorts of chances for redemption.
Let's have at it.
The predicted winner is in italics.
Last Week: 9-7
Season: 33-15
San Francisco 49ers vs. St. Louis Rams
Both these teams looked downright bad at times last week. Maybe that's not a surprise when talking about the Rams, who have hardly been consistent ambassadors of well-played football. But the way the Colts manhandled the 49ers was shocking. The Rams handled the 49ers well last year, and I don't think much will change this season. I see a close game and a Rams win.
Baltimore Ravens vs. Buffalo Bills
Last week, the Ravens showed us a glimpse of the team that won the Super Bowl in New Orleans, while the Bills were busy looking discombobulated against the Jets. Baltimore's offense is still a concern, but the Ravens get it done this week against the Bills.
Arizona Cardinals vs. Tampa Bay Buccaneers
Greg Schiano has gone to Mike Glennon at quarterback—not that it will make much of a difference. Anyone who has watched the Bucs play can see that yes, the quarterback was playing poorly and no, it was far from the reason this team is losing. The Cardinals are no powerhouse, but they have what's needed to get by the Bucs.
Pittsburgh Steelers vs. Minnesota Vikings
We already declared our independence and won the Revolutionary War. Do we really need to rub it in the faces of the English by sending them two 0-3 football teams to watch? Yes, this game will be in London, and yes, both these teams have major issues. The Steelers have the better quarterback. That's all I got.
New York Giants vs. Kansas City Chiefs
Man, the Giants look bad—stink-up-the-joint-until-the-customers-ask-for-a-refund bad. The Chiefs are a surprising 3-0 on the strength of a bad-ass defense and a careful offense. That formula won't hold up for every team they face, but it's more than enough against the hapless Giants.
Indianapolis Colts vs. Jacksonville Jaguars
Poor Jacksonville.
Seattle Seahawks vs. Houston Texans
The Texans haven't looked anything like the team that raced out to a fast start in 2012. That may actually serve them well in the long run (because teams that start the season off hot rarely end it the same way), but against the Seahawks, they need to play a perfect game to pull out the victory at home. Russell Wilson and Richard Sherman won't allow that to happen. Seattle goes to 4-0.
Cincinnati Bengals vs. Cleveland Browns
All those good feelings about the Browns will be wiped away after they run into a Bengals team that is more talented and better coached, especially on the defensive side of the ball. Brian Hoyer makes his second start, and he'll see a difference between the Vikings secondary and the Bengals secondary. Mostly, that first one is just OK, and the other is really, really good.
Chicago Bears vs. Detroit Lions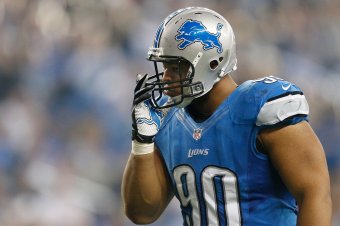 Gregory Shamus/Getty Images
Marc
Trestman
isn't doing wonders or working magic
—
but he has this Bears team playing well. The unsung star of the Bears' 3-0 start is defensive coordinator Mel Tucker. His unit is playing as well as it ever did under Lovie Smith, and maybe even better in certain areas. The Lions are dangerous on their home turf, and the Lions defensive line will be a big test for this improved Bears O-line, but
Jay Cutler
will make one more play than Matt Stafford to get the win.
New York Jets vs. Tennessee Titans
Both these fanbases hate me and enjoy letting me know it. That's fine. It's part of the gig. I'll spend the rest of the 2013 season letting people know how wrong I was about both these teams. Although I think I was more wrong about the Titans than the Jets. Both are playing well on defense. I think Jake Locker will make fewer mistakes than Geno Smith to earn the Titans their second victory in a row.
Washington Redskins vs. Oakland Raiders
Matt Flynn gets his first start since throwing six touchdowns against a hapless Lions secondary in 2011. And this Washington secondary may be worse. Robert Griffin III and the offense showed signs of life against the Lions, but the defense looks horrific. Yes, the Raiders have their own issues, but they'll play a buttoned-up game, limit what they ask of Flynn and get the win.
Philadelphia Eagles vs. Denver Broncos
The top two offenses in the NFL square off in what could turn into a track meet. Both defenses have their work cut out for them, but the Broncos will get out in front early and won't need to look back.
Dallas Cowboys vs. San Diego Chargers
Tony Romo and Philip Rivers have taken tons of grief over the years—some deserved, most of it not. Both are playing well in 2013, but Romo ends up on the winning side of the ledger in this one.
New England Patriots vs. Atlanta Falcons
Miami Dolphins vs. New Orleans Saints
This article is
What is the duplicate article?
Why is this article offensive?
Where is this article plagiarized from?
Why is this article poorly edited?