Raising money for charity never sounded so awesome.
The Memphis Grizzlies have announced that chairman and controlling owner Robert Pera will go one-on-one against guard Tony Allen in an effort to raise money for St. Jude Children's Research Hospital:
It's ON, #GrizzNation! Battle on the Bluff: @robertpera vs. @aa000G9 Watch on http://t.co/ErnhOQYicr. Date + details: http://t.co/oQEVn866zD

— Memphis Grizzlies (@memgrizz) September 26, 2013
Interested? You should be. Now prepare to be amazed.
All exhibitions worth playing need referees, and according to Yahoo! Sports' Marc J. Spears, the Grizzlies will seek that level-headed and objective point of view from none other than Zach Randolph:

Grizzlies owner Robert Pera will play guard Tony Allen in an exhibition game of one-on-one on Saturday for charity. Zach Randolph is the ref

— Marc J. Spears (@SpearsNBAYahoo) September 26, 2013
Note: This is not a misprint. Z-Bo will actually be officiating a game between the man who signs his paychecks and the teammate who live-tweets Disney on Ice.
From the team's press release:
Memphis, September 26, 2013 – Memphis Grizzlies Chairman and Controlling Owner Robert Pera will play Grizzlies guard Tony Allen in an exhibition game of one-on-one in the Coventry Health Care Practice Facility at FedExForum on Saturday, Sept. 28 at 4 p.m. Grizzlies forward Zach Randolph will officiate. Media is invited to attend.

Pera and Allen agreed to the exhibition contest and to donate $100,000 to St. Jude Children's Research Hospital to tip-off the 2013-14 season. This event is closed to the public.
The fact that this event is not open to fans is just cruel. Depriving the casual fan of an opportunity to watch an owner wage battle against his player while also seeing Z-Bo dressed to the nines as "Zebra" seems sacrilegious.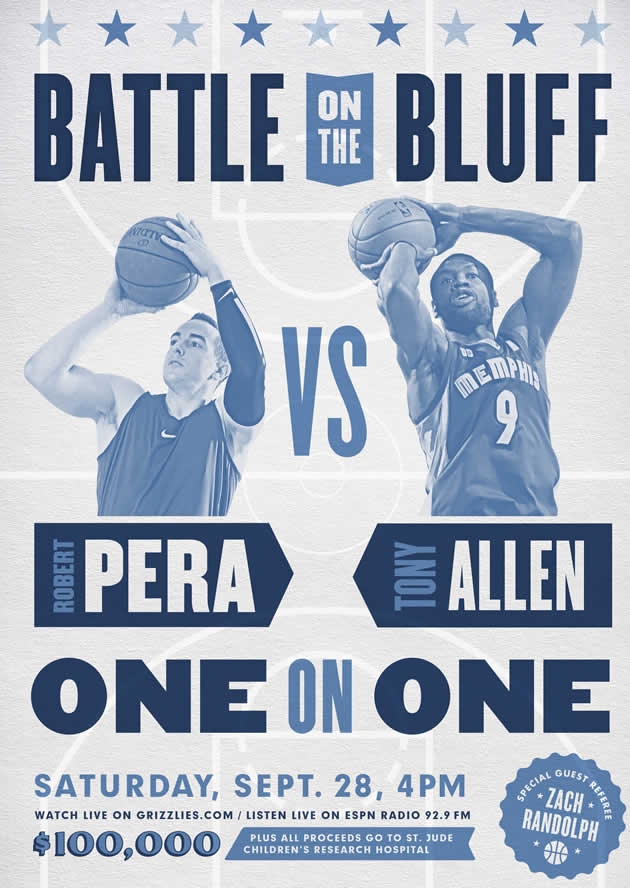 Since this is for a worthy cause, I urge those who feel slighted to take it in stride. That, or they should ask the most clever Dallas Mavericks fans how to successfully impersonate a reporter.
Gate-crashing this event is bound to be worth it, after all. These two have been on a collision course ever since Pera challenged the Grindfather on Twitter:
Hey GrindFather @aa000G9 -- How about we play 1:1 in Memphis before training camp start? I'll spot you a couple baskets to make it a game!

— Robert J Pera (@RobertPera) September 9, 2013
@aa000G9 I'll personally donate a hundred stacks to your charity if you beat me

— Robert J Pera (@RobertPera) September 9, 2013
Pera sure seems confident for someone who sports a suit more than he does a uniform. He's seen Allen play defense; does he really think he'll score? And doesn't he know he could lose an eye?
Perhaps he's a closet expert at flopping. Maybe he has the ref in his back pocket (oh wait...). Perhaps he's just so loaded he doesn't care.
Or maybe he's feeling particularly generous, recognizing that no matter who wins and who loses, St. Jude's will come out on top.