Grading the Toronto Maple Leafs' 2013 Offseason
John E. Sokolowski-USA TODAY Spo
The Toronto Maple Leafs made some significant moves in the offseason under the direction of general manager Dave Nonis.
The Leafs came within minutes of being a second-round team in the 2013 playoffs; however, Nonis did not sit on his hands in the offseason despite the team's relatively good play all year.
The Leafs haven't torn apart their roster, but there are a number of new faces, both at the NHL level and in the minors as well. We have given the Leafs grades in four major categories as well as a final grade that considers all of the categories in addition to the players the team retained.
All regular stats are from nhl.com.
Advanced stats can be found at Behind the Net.
2013 Entry Draft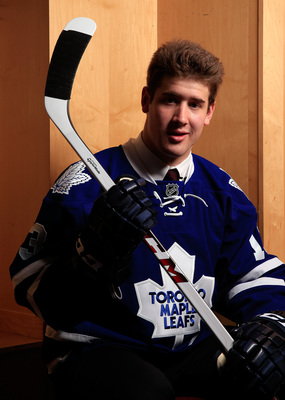 Jamie Squire/Getty Images
Grade: B-
Analysis: The Maple Leafs made deals that saw them give up some of their picks at the 2013 entry draft. With their first pick, the Leafs selected the talented Frederik Gauthier.
The QMJHL star has size at 6'5", although he doesn't play a physical brand of hockey. He uses his reach and deceptive speed to create space for himself. When it comes to his great shot, he has an excellent release. Gauthier could end up being a significant player for the Leafs in a few seasons, but don't expect him to have an impact any time soon.
Another significant pick was local product Carter Verhaeghe of the Niagara Ice Dogs. Verhaeghe also has good size and projects to be a third- or fourth-liner for the Leafs if he develops as hoped.
Antoine Bibeau was another noteworthy selection. The QMJHL goalie had some very good numbers in 2012-13, highlighted by 28 wins and a respectable junior save percentage of .911. The Leafs only made five picks in total, which is not a great volume of picks for the day in terms of stocking the organization's prospect cupboard.
Major Trades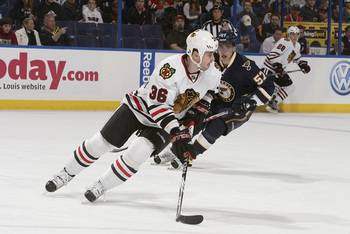 Mark Buckner/Getty Images
Grade: B+
Analysis: The Leafs made two significant trades in the offseason. The Dave Bolland deal saw the Leafs pick up the former Chicago Blackhawk for three draft picks.
Bolland is a "tweener" in that he is likeliest to play on the Leafs' third line, but he can contribute offensively on one of the top lines. At times, he could find himself on the Leafs' second line when needed. Three draft picks may have been a steep price to pay, but none of picks were first-rounders.
The Leafs also acquired Jonathan Bernier from the Los Angeles Kings for goaltender Ben Scrivens, forward Matt Frattin, a draft pick and cash. Bernier was highly rated by many clubs and while the Leafs overpaid, general manager Dave Nonis obviously felt the team needed an upgrade in goal.
It will take some time to assess the trade, but it was a bold move that gave the Leafs a better tandem than they had in 2013.
Significant Free-Agent Signings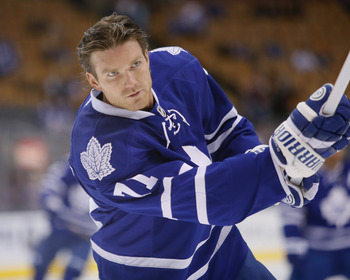 John E. Sokolowski-USA TODAY Spo
Grade: C+
Analysis: David Clarkson was one of the most pursued unrestricted free agents in the league this offseason. While his career numbers are relatively modest, Clarkson holds promise in terms of his physical play, his defensive awareness and his ability to make teammates play bigger.
Unquestionably, the Leafs were forced to overpay for Clarkson with several teams in hot pursuit. Clarkson has topped 40 points just once in his career, and a seven-year contract for a 29-year-old forward, whose most productive years might be behind him, should raise some eyebrows.
While Mason Raymond has not received any of the fanfare that Clarkson has, the speedy winger should be a good fit on the bottom two lines. It remains to be seen how Randy Carlyle will shape his lineup when the season begins, but Raymond gives the coach a good option when he wants additional skill and speed at his disposal.
Roster Deletions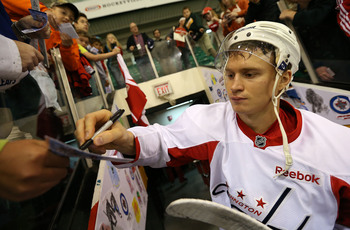 Dave Sandford/Getty Images
Grade: A-
Analysis: Mikhail Grabovski had some good advanced stat numbers, particularly in the playoffs with a Relative Corsi number of 19.3, but he didn't seem to fit into Toronto's long-term vision. He was one of two buyouts along with defenceman Mike Komisarek.
Grabovski had expressed his displeasure with the club, which had obviously been festering for a while. It's never good for an organization to retain players who are that displeased with their situation.
The situation was different with Mike Komisarek. Quite simply, he was not good enough to play regularly in Toronto's top six. The Leafs are flush with NHL-calibre defencemen, and Komisarek was not going to increase his foot speed in the offseason.
These moves made a lot of sense for the organization, although Grabovski's play on the ice could be missed as other players take time to settle into their new roles.
How It All Adds Up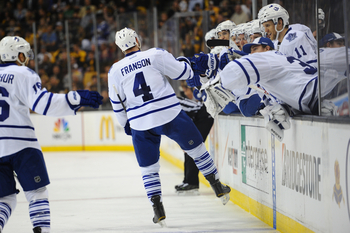 Brian Babineau/Getty Images
Final Grade: B+
Analysis: The Leafs also retained some key players from within the organization: Tyler Bozak, Carl Gunnarsson, Paul Ranger (who had been playing in the AHL with Toronto's affiliate), Nazem Kadri and, not until just recently, Cody Franson.
One ongoing issue is that the Leafs are up against this year's salary cap. Nevertheless, they have signed Cody Franson to a one-year contract worth $2 million. He's a mobile defender with a great shot who is entering his prime in his mid-20s.
He posted 29 points in the shortened 2013 season and displays all the makings of an exemplary top-pairing defenceman. He is comfortable with the puck in all zones, and his Relative Corsi numbers are strong year after year.
Granted, the Leafs have young Morgan Rielly, who seems ready to take a regular shift in the NHL, but he is not in the same league as Franson or the talented Jake Gardiner at this stage. Signing Franson to a long-term contract needs to happen, but getting him in the fold for the upcoming season was paramount.
Should things have gone more smoothly with the Kadri and Franson signings? Likely yes, but the bottom line is that both players are returning with a lot of incentive to have great individual years while also helping the Leafs continue to build something good in Hogtown.
Keep Reading

Toronto Maple Leafs: Like this team?