NFL Predictions Week 4: Struggling Teams That Will Rebound with Win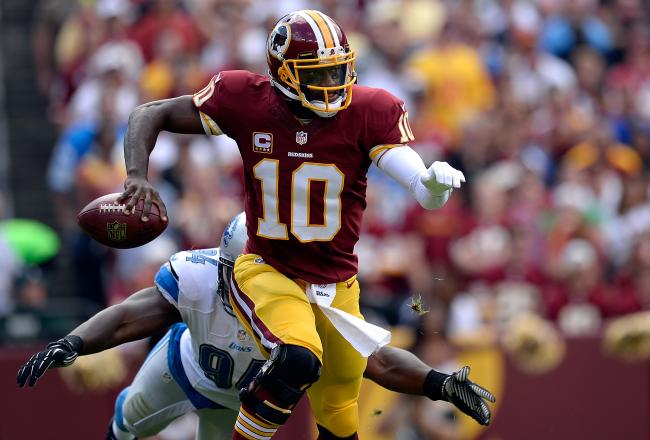 Patrick McDermott/Getty Images
There are plenty of teams struggling out there in the NFL to begin the 2013-14 campaign, but some squads will snap out of their funk come Week 4.
The San Francisco 49ers are perhaps one of the bigger surprises in the NFL after three weeks since they were the trendy Super Bowl pick coming into the season. The Niners will catch a break this week as they play a fellow struggling 1-2 team in the St. Louis Rams on Thursday Night Football.
The Washington Redskins are winless to start the season and have seen their defense let them down time and time again. Week 4 presents a pretty favorable matchup, though, when the Redskins head to Oakland to take on the Raiders.
One of the few teams playing as badly as the Pittsburgh Steelers is the Minnesota Vikings, who just so happen to be the Steelers' Week 4 opponents in London. If nothing else, this showdown between two teams with zero wins will have at least one squad walking out a happy customer with its first win of the season.
In breaking down all three of these games, it's clear why the Niners, Redskins and Steelers will snap out of their funk this week.
Week 4 Predictions
| | | | |
| --- | --- | --- | --- |
| Date | Road Team | Prediction | Home Team |
| Thursday, Sept. 26 | San Francisco 49ers | 27-17 | St. Louis Rams |
| Sunday, Sept. 29 | Cincinnati Bengals | 24-13 | Cleveland Browns |
| Sunday, Sept. 29 | Baltimore Ravens | 20-14 | Buffalo Bills |
| Sunday, Sept. 29 | Arizona Cardinals | 21-9 | Tampa Bay Buccaneers |
| Sunday, Sept. 29 | Indianapolis Colts | 28-7 | Jacksonville Jaguars |
| Sunday, Sept. 29 | Seattle Seahawks | 28-20 | Houston Texans |
| Sunday, Sept. 29 | Chicago Bears | 21-17 | Detroit Lions |
| Sunday, Sept. 29 | New York Giants | 16-24 | Kansas City Chiefs |
| Sunday, Sept. 29 | Pittsburgh Steelers | 31-21 | Minnesota Vikings |
| Sunday, Sept. 29 | New York Jets | 10-19 | Tennessee Titans |
| Sunday, Sept. 29 | Washington Redskins | 34-20 | Oakland Raiders |
| Sunday, Sept. 29 | Dallas Cowboys | 31-21 | San Diego Chargers |
| Sunday, Sept. 29 | Philadelphia Eagles | 27-34 | Denver Broncos |
| Sunday, Sept. 29 | New England Patriots | 21-27 | Atlanta Falcons |
| Monday, Sept. 30 | Miami Dolphins | 24-35 | New Orleans Saints |
San Francisco 49ers (at St. Louis Rams)
The Niners have been a major disappointment thus far, and while a loss to the Seattle Seahawks in Week 2 at CenturyLink Field was excusable, a loss to the Indianapolis Colts in Week 3 at home was not. That loss was mostly a result of being overmatched in the physical aspect of the game, which is something quite foreign to San Fran's defense.
This week is another chance at redemption for the Niners. Not only are they playing a division rival in St. Louis, but it seems the Rams are struggling worse than the 49ers going into this matchup. The Rams just got creamed by the Dallas Cowboys 31-7 in Week 3 after winning one game versus the Arizona Cardinals to start the season and being competitive in Week 2 in a loss to the Atlanta Falcons 31-24.
One of the bigger problems for the Rams is their rushing attack. Not only does it rank No. 29 in the NFL thanks to a lack of production from its backs, but St. Louis is also dealing with an injury to running back Daryl Richardson, who is questionable, per ESPN.com, and was forced to leave the game with the Cowboys after having his foot stepped on after just one play, according to Jim Thomas of the St. Louis Post-Dispatch:
RB Daryl Richardson was in for only one play, got his injured foot stepped on, and that was it.

— Jim Thomas (@jthom1) September 22, 2013
Granted, the Niners have been bad against the run (29th-worst run defense in the NFL), but that shouldn't be a concern in this contest considering the Rams' woes. Not to mention, St. Louis loves to throw the ball with Sam Bradford having success this season. Through three games, he's tossed for 891 yards and six touchdowns to just two picks (No. 8 passing attack).
That kind of predictability will make things much easier for a Niners defense that has had its issues, as evidenced by its allowing 28 points per game, good enough for eighth-most in the league.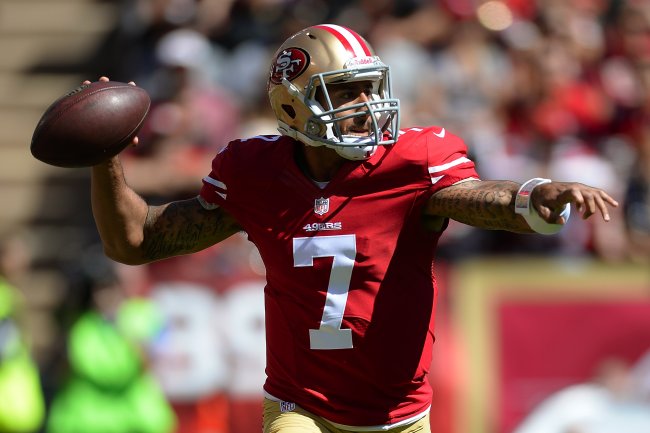 Thearon W. Henderson/Getty Images
A great sign for the Niners offense and quarterback Colin Kaepernick is that while the Rams are struggling against the run (ranked No. 16), they are even worse against the pass (No. 23). That will be of great benefit for Kaepernick, who has failed to break the 200-yard mark in his last two games. Running back Frank Gore and even Kaepernick himself will also have plenty of room to run after the Rams allowed an astounding 175 yards on 26 carries to DeMarco Murray last week.
Look for the Niners to use more of the Pistol offense in order to avoid becoming stagnant in this game. Sure, they'd love to keep Kaepernick in the pocket more often, but head coach Jim Harbaugh must know that Kaep's ability to run is one of his best weapons after the 25-year-old scampered for 415 yards in 63 attempts to the tune of 6.6 yards per carry last season. That pocket-passing experiment can be put on hold until the Niners start reeling off some wins and get their injured players back—one of which was tight end Vernon Davis, who missed last week's game against Indianapolis.
Adding to the importance of Kaepernick's legs in this game is the fact that San Fran's receiving corps may not be at 100 percent thanks to injuries to receiver Kyle Williams (questionable, rib and knee) and Davis (questionable, hamstring), per ESPN.com.
Final Score: Niners 27, Rams 17
Washington Redskins (at Oakland Raiders)
The lackluster play of the Redskins' defense (No. 31 against the run and pass) and quarterback Robert Griffin III's pedestrian numbers running the ball (62 rushing yards, no touchdowns) have overshadowed the fact that RG3 has been an effective pocket passer.
He has made some bad throws this season with four interceptions, but he has thrown for 975 yards in three games with a completion percentage of 63.3 and five touchdowns. In fact, RG3 is on pace to throw for 5,200 yards as Daniel Jeremiah of NFL.com points out:
RG3 is on pace to throw for 5,200 yards.

— Daniel Jeremiah (@MoveTheSticks) September 23, 2013
The Raiders have not been awful against the pass (ranked No. 16), but they also haven't been great, either. After all, Oakland has faced Indianapolis in Week 1 (No. 27 passing attack) and the Jacksonville Jaguars in Week 2 (No. 29), both struggling passing games up until this point.
But last week against the Denver Broncos and their elite passing attack (No. 1) proved to be a different story, as quarterback Peyton Manning was as close to perfect as you can get with an 86.5 percent completion rate and 374 yards for three touchdowns.
Manning showed that the Raiders secondary can be picked apart, and while few can play like Manning, there's no question RG3 can come close to matching what the future Hall of Famer did in Week 3.
The Redskins will need it because they have been horrific on defense this season, having allowed more yards (1,464) than any team in the league, and their 32.7 points per game allowed is second-most in the NFL.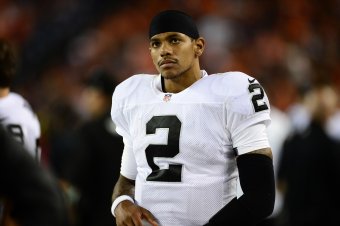 Ron Chenoy-USA TODAY Sports
Oakland won't exactly throw the rock all over the field (No. 28 passing game), but it can certainly run it (No. 3 rushing attack) with a solid back in Darren McFadden. However, that high ranking may not come to fruition in this game should Terrelle Pryor be unable to make it on the field after suffering a concussion last week. He is listed as questionable and did not practice on Wednesday, per ESPN.com.
That would leave Matt Flynn as the starter should Pryor be out, and such a scenario would take a huge chunk of offense away from the Raiders ground game; Pryor is responsible for 198 of the team's 446 total yards rushing. Flynn is strictly a passer, so he could help add to the air attack, but how much remains to be seen with a small sample size of just four games in two seasons.
This won't be a defensive matchup by any means, and whether Pryor is in the lineup or not, the Redskins will still emerge victorious. After establishing the pass early and often, running back Alfred Morris will have tons of space to operate, which should lead to an offensive explosion and a big win for a Redskins team in desperate need of one.
Final Score: Redskins 34, Raiders 20
Pittsburgh Steelers (at Minnesota Vikings)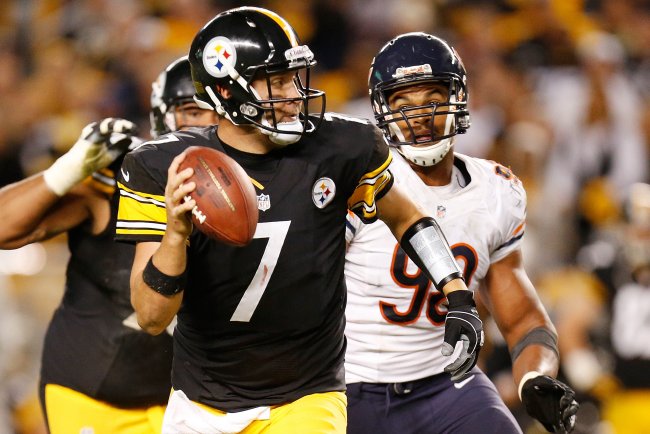 Gregory Shamus/Getty Images
The Steelers are the third team on this list that will win on the road, although this game against the Vikings will be played at Wembley Stadium in London, so it is more like a neutral field for both teams despite the official road-team designation for the Steelers.
Both teams are off to an 0-3 start and a disappointing one to say the least, especially for the Vikings who were a playoff team in 2012-13. Minnesota is coming off a dreadful loss to the Cleveland Browns in Week 3, while the Steelers began showing some life on offense in a loss to the Chicago Bears.
Which team avoids an 0-4 start?
Offense continues to be a cause for concern in Pittsburgh, although the Steelers did bounce back with 23 points against Chicago after putting up a sickening 19 points throughout the first two games.
The passing attack (No. 10 in the NFL) is the lone thing keeping this offense propped up as the rushing attack (No. 31) has not given the support it should. Quarterback Ben Roethlisberger did show some positive signs against the Bears after throwing for 406 yards and two touchdowns, but he must limit his mistakes. He's thrown four picks and fumbled four times coming into Week 4.
Luckily for the Steelers, the Vikings have been bad protecting against the pass (No. 28-ranked pass defense) and that's music to the Steelers' ears. Adding to their defensive woes, the Vikings' run defense (No. 21) hasn't fared so well, and that's a huge help to Pittsburgh's ailing ground game.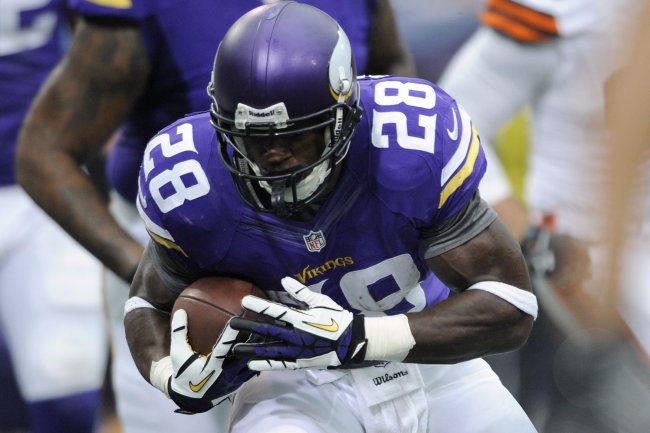 Hannah Foslien/Getty Images
On defense, Pittsburgh really only needs to focus on stopping superstar running back Adrian Peterson. Despite the mystique around Peterson and his near record-breaking season a year ago, he hasn't exactly blown the roof off any place he's played, with just 281 yards and three touchdowns in three games.
Peterson may have his best game of the season against the Steelers' weak rush defense (No. 22), but it remains to be seen if Christian Ponder can do enough to stop the Steelers from stacking the box in anticipation of the run, thus making Peterson's job much tougher. Ponder certainly hasn't proven he can do that yet as he leads the No. 24 passing attack in the NFL, and he's actually questionable in this one with a ribs injury, per ESPN.
Pittsburgh can throw the rock, and that's where its success will come from on offense in Week 4. The return of tight end Heath Miller in Week 3 was a huge plus for Roethlisberger and company as the QB welcomed back one of his favorite targets from last season (third in targets, second in yards in 2012-13). Miller eased himself back into the lineup with just three catches for 35 yards, so expect him to have an even bigger impact this week as the Vikings' struggling secondary puts all of its focus in shutting down receivers Antonio Brown and Emmanuel Sanders.
Final Score: Steelers 31, Vikings 21
This article is
What is the duplicate article?
Why is this article offensive?
Where is this article plagiarized from?
Why is this article poorly edited?